A wedding is always a special occasion and planning it till the last detail is an exciting experience for both the bride and groom. However, it is very essential that you plan the entire event to the actual details. At first you actually need to dream about the wedding you want to plan. Then structure this dream in plans and start executing it. There are many who dream of a vintage wedding, which could be based on any era that could be the retro style or something which could be of the past with a modern touch. Here are some ideas to plan a vintage wedding.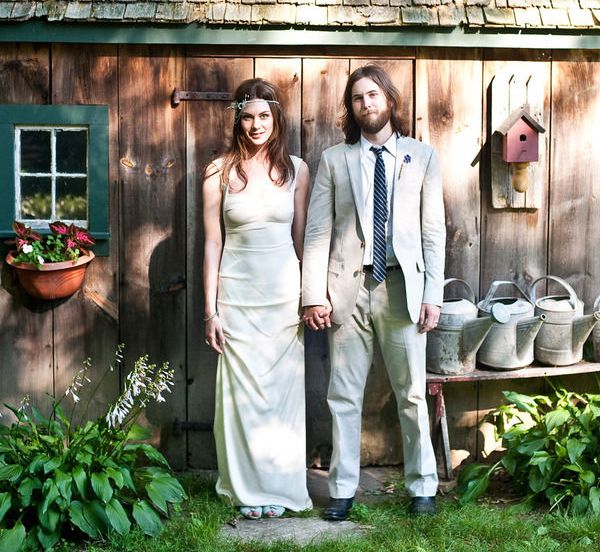 Planning
A vintage theme wedding can also be converted into an eco friendly one. Here are some tips for planning it.
a. Select an era which will decide the tone of the wedding.
b. Find a location which could be a manor where in you can hold your ceremony and reception. This will give a perfect ambiance and you don't even have to spend on extra theme based decorations.
c. For the wedding gown, you can wear on which has been passed on in your family or procure it form a second hand shop. Even for your bridesmaids or the men, they can wear their own clothes or one from second hand shop.
d. Use the recycled paper to make your invitations. It will have the 'old world' effect and you can give it out, hand written. For the table cards, you can use antique photo frames.
e. For the arrival of the bride or even for the transport of the married couple, get a horse carriage, as it will match the tone of the era and also is eco friendly.
f. Create the menu, based on your theme and use the ingredients that are available locally.
Theme ideas
Every era has some unique style and if you stick to the details, then you can make it special. If you go for the 20's then have a wedding which is more associated with elegant banquets and hollywood parties. You can get inspired by your old movie star like Audrey Hepburn and plan getting married which will help you to make your choices on the right type of venue to hold your reception. The most exciting aspect of the 20's is that you can find genuine vintage clothing or can have reproductions made.
Being the most popular wedding theme you have many choices and resources on and off the web. It is a very fun theme as you have an amazing music choice and you also get many genuine vintage items of the 1950's that are easily available and inexpensive. You can find them at a local thrift store or online vintage sellers.
The other theme could be trying every era together. You can mix them up in little things like the cake topper, you get real vintage ones and they are pretty easy to find. An amazing set of silver or crystal vase can make an amazing vintage idea.
Vintage photography:
Style the photography based on the vintage style. Talk to the photographer and arrange and recreate certain scenarios of that particular era and can get all your reception photographs done there.
Like, if your wedding is based on the 50's, then the photographs must be like the advertising style, vivid colors and very happy family portraits.
During the 70's the photography had a lot of pastel colors and a touch of certain blurriness.
Vintage venues:
Venue is a very important aspect in planning any wedding, and when it comes to a vintage wedding, the right venue is really important. There are many places all around where the vintage venues are available. Some of them are:
Vintage villas hotel, Texas: This is beautifully located and is just 30 minutes from the Texas town, Austin. It has a charming culture and complements the hill side setting of Texas
Chateau Polonez: It is a French inspired wedding venue that has the traditional gazebo, fireplace terrace and huge antique side chandeliers.
Hotel Galvez, Wyndham Historic Hotel: It is Texas's one of the most beautiful historic hotel that has Victorian charm along with a beach setting. You can go for an outdoor or indoor marriage.
Orangery in London: Although it is expensive, it is the most ideal place for a vintage wedding, if you can manage to book it.
All these options of vintage location are perfect if you can afford it. But if you are having a budget problem, all you have to do is to get a nice place and decorate it according to your taste.