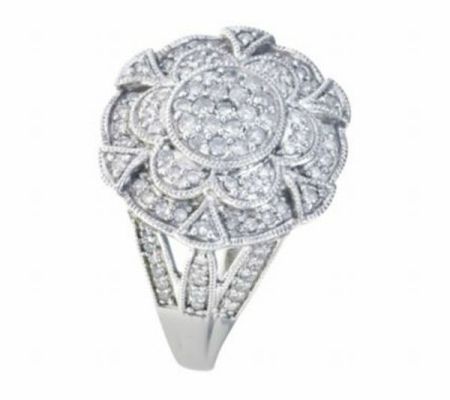 Wedding day is one of the most awaited occasions in a person's life. From new commitments to a new beginning, everything seems to be very beautiful and promising with hope and love flying high. A ring is one of the most important things, without which the wedding is incomplete. A lot of things have to be kept in mind while picking a ring for your bride, keeping in mind the bond of love it represents. Have a look at some of the prettiest wedding rings for an equally pretty bride.
One Hundred Diamond Cluster Ring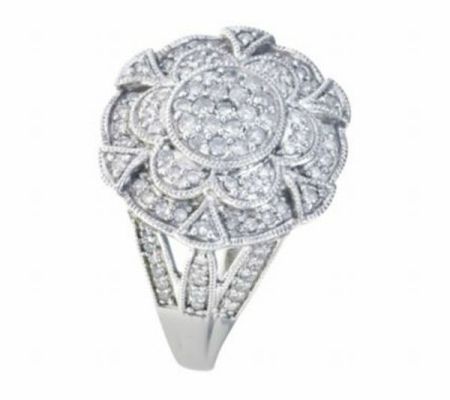 The awe amazing ring will lend an effortlessly elegant look for the most special day of your life, giving all the more reasons to make the bride feel loved. The gorgeous jewelry piece comes smothered in vintage styling and will remain in vogue for years to come. Styled out of 18 carat white gold, the presence of 100 diamonds will freeze stares as it graces the hand of the lovely bride.
18ct white gold diamond wishbone wedding ring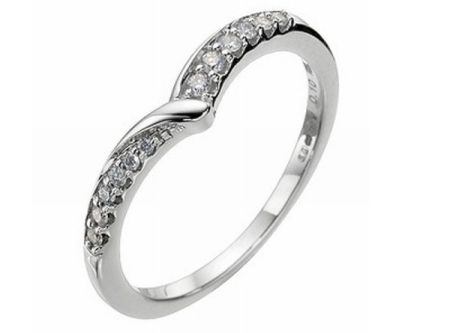 Make your dream wedding all the more special with the stunning wishbone wedding ring set that is bound to make jaws drop and eyes pop. Fashioned out of 19 carat white gold, the sleek and trendy design will make the woman of your dreams scream in excitement as you slip the ring complete with claw set diamonds in her finger. The round cut 0.1 carat stones will add the necessary sparkle on the D day, sealing the moment into a bond of love forever and ever.
9ct Yellow Gold Half Carat Diamond Bridal Set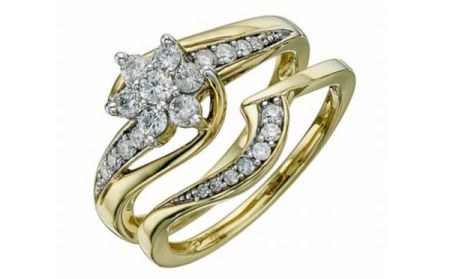 The bridal set has a simply irresistible design that will act as a magic wand and make your wedding dream-like and that too right out of a fairytale. The 9 carat yellow gold ring will capture the bride's attention and giving it added grace will be half carat diamonds. The awesomely crafted wedding jewelry has a twist design that gives it a unique aesthetic appeal, which will draw a lot of attention.
14K Yellow gold wedding ring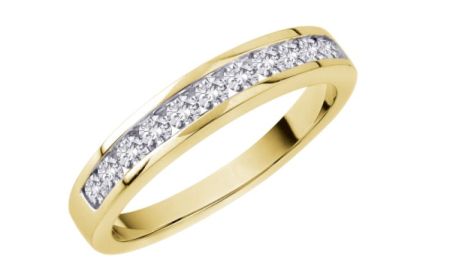 The wedding band comes smothered with a romantic feel, which will make the bride skip a heartbeat as you kiss her hand after decorating her hand with the 14 carat yellow gold creation. The women's wedding band looks all the more stunning with the presence of 1/4 carat TDC white diamonds giving it the much needed shine that will mesmerize many present at the venue. The band has been given a highly polished finish that enhances its beauty further.
9ct Two-colour Gold 4mm Wedding Band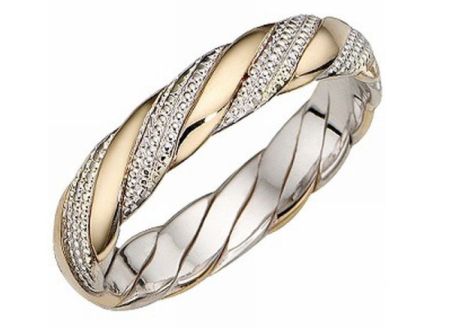 Give the love of your life a wedding band that she will hold close to her heart till her last breath. The tasteful creation has been given the desired look with the help of two color 9 carat gold. The 4mm band features a twisting and twirling design that give the piece of jewelry sheer uniqueness, making it all the more special for the most awaited day of your life. The subtle twists on the band gives it added sparkle making the band look simply breathtaking.
ROSE & KARA yellow gold wedding ring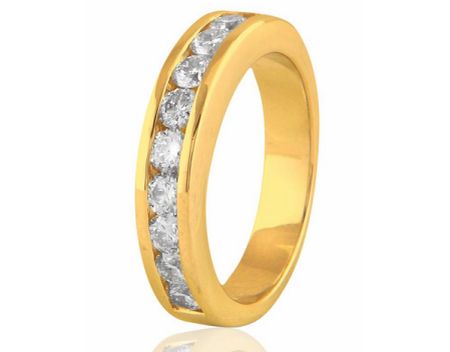 This elegant 18 carat yellow gold wedding band features brilliant, round-cut white diamonds. The row of shimmering diamonds gives this wedding ring a graceful look, adding a bit of extra sparkle that too without overpowering the simplicity of the design. Rose and Kara yellow gold diamond wedding band is truly beautiful and will without a second thought leave the bride thrilled when she sets her eyes on it.
Two tone gold diamond cut wedding band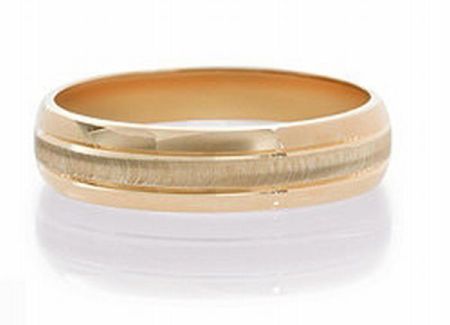 Give your honeybunch a sweet token of love that will express your perpetual love in the form of this breathtaking wedding band. The sumptuous 9 carat two tone gold creation is a statement piece of jewelry that will cast a spell on onlookers with its smooth appearance and charismatic shine. The design comprises of a white gold band that has been beautifully sandwiched between two yellow gold bands, giving it a two color effect. See your sweetheart jump with joy as you slip the well cut design into her hand while exchanging vows.
10k White Gold 1/5ct TDW Diamond Women's Wedding Band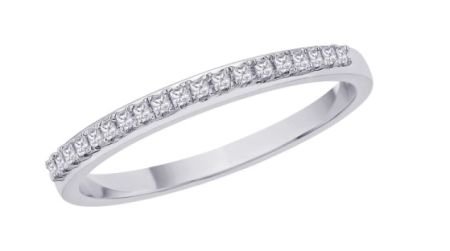 Here is a stylish wedding band that will express your lasting love perfectly if you wish to say it with diamonds. The absolutely gorgeous band has been fashioned out of 10 carat white gold. Giving it a mystic appeal are 19 round cut 1/5 carat diamonds that will bring a spark in the eyes of the bride. The symbol of undying love will sparkle for years to come reminding you of all the vows that you guys exchanged on the dream like day of your life.
New ladies diamond wedding ring set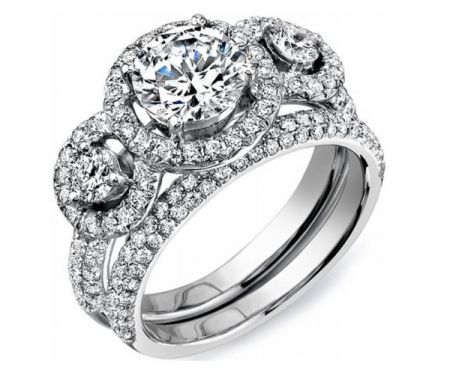 Give your loved one something absolutely exquisite, which she will adore and fall for in a single glance. The mesmerizing diamond wedding ring set has a mystic appeal that will prove to be a perfect gift for that special someone in your life. The ring set is nothing less than a fashion statement and will bring out the festive cheer as the bride gets enchanted by the 18 carat white gold ring intricately placed 82 round diamonds. It will wow onlookers and will surely make the bride slip into a state of ecstasy when she gets the wedding ring set that is nothing less than a fashion statement.
18ct white gold diamond bridal ring set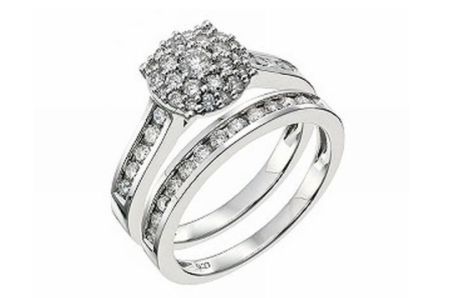 'Oh My God!' is what your loved one will whiff when you present the sparkling diamond clustered ring on your wedding day. See an eternal smile etch on her face as she spots the well concealed ruby under the cluster of diamonds on the18 carat white gold ring. The diamonds will sparkle with all their worth as the flawlessly crafted jewelry piece makes eyes swoon with its classiness.