Some brides might want to break free from the traditional look and go in for something that can be a trend setting wedding designer wear.If you want to look different in your wedding and wish to wear something different then go in for a funky jumpsuit. Yes, that is the best way to look a different yet pretty bride.
Dare to be bold
Dare to show off your skin then just go out there and be bold.
Go for long sleeves and a low back. Let the white fabric be covered with lace material. You can also opt for a shimmering belt.
Look gorgeous with strapless white lacy attire and high heels.
Convert a simple looking jumpsuit into a stylish fashion wear by keeping the neckline a bit low.
Backless jumpsuit with a low neckline is surely for the bride who can dare to go bold.
Figure perfect
So you think you have the perfect hourglass figure then go ahead and flaunt it girl!
Wear a tight fitting jumpsuit which shows off your figure.
You don't mind flaunting your midriff then go in for a jumpsuit which shows off your midriff.
The royal touch
There are ways of looking like royal queen in a jumpsuit
Go in for a design which has a cape and looks like a charming queen.
Have a really long trail on a simple jumpsuit design and look chic.
Simplicity is beauty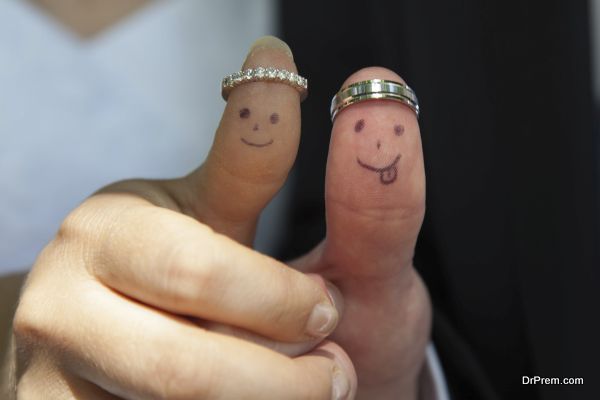 You love to keep it simple well then just go for a simple yet cute jumpsuit design
Add bridal charm to a simple jumpsuit with some lovely accessories like a diamond necklace and diamond earrings.
Cover the jumpsuit with intricate floral design and wear a tiara of flowers.
Wear a bridal jumpsuit with long sleeves and match it up with a coloured floral pattern on the sleeves and coloured belt.
Pick up a retro styled design jumpsuits and wear flat platforms.
Play with the hemline
Design unique jumpsuit by playing with the hemline
Get a jumpsuit with a skirt which can be strapped around the trousers.
Opt for a jumpsuit which has wide stylish trousers.
Flaunt your legs with a rising hemline and look gorgeous
Get the conventional look with detachable long gown
Select a bridal jumpsuit which suits your style and budget and makes you feel comfortable and stylish. Whatever design you select make sure that you don't look awkward and are able to carry the outfit well.