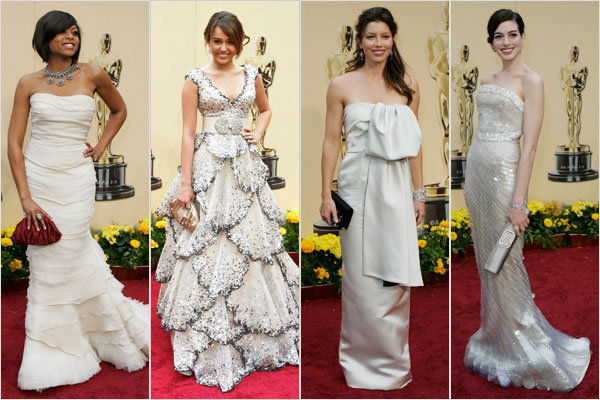 If you are obsessed with tinsel fashion and you blindly follow the onscreen and off-screen wardrobe of divas, then their appealing and gracious gowns will surely fancy your taste for your big and blazing wedding. Here you have an added benefit as you can now mould the happening apparel according to any of the tinsel diva style. So, we present you here a few hot numbers that will not let you compromise on your glam image. Let's peak-a-boo into some popular and hot favorite picks that will enhance your wedding couture.
Mesmerizing Miley Cyrus: You can't keep your eyes off the style statement reflected by the diva. Let the old fashion wedding apparels stick to their ages. It's time for you to get hooked to some new red-carpet trends. What looks gorgeous on screen definitely catches your eye. After all it's star inspired. Miley's Zuhair Murad dress sparkled throughout the Oscar event. The white-sterling silver-ish hue is apt for your glittering and sparkling marriage function. When your Prince Charming is waiting, you ought to look like a fairy in this ensemble. Isn't it?
Anne's appeal in amazing attire: Your star-phobia ends here. The Anne inspired couture will surely make you more razzle-dazzle at your D-day. Just sneak-peek into the style-details. If her frilly gown can rule the red carpet, why should your dreamy day lag behind? Capture the same aura of Oscar fashion. With her Arvani Prive off-shoulder gown with scattered Swarovski crystals that can be the most radiant choice for your special someone and special moments. So get ready to enthrall him in the most flattering and filmy way.
Tantalizing fashion-tale of Taraji: You can stay relaxed on your most memorable day only if you look best like the dusky diva. You can hit the right note with Taraji P.Henson's Academy Award trend. A Roberto Cavalli strapless gown with a bold oxidized neckpiece can become the best out of the many in-vogue fashion trivia. Cream-colored gown can give you an earthy look and make you chic and smart. And the red blinging bag teamed up with your couture will make the outfit all the more sassy and seductive. The delightful gown will set your better half to woo you once again.
Get jazzy like Jessica: How about having the best couture on your best moments and that too in a silver-screen damsel way? Sounds like a double blessing. Isn't it? Jessica Beil's front layered gown that enlightened the Oscar evening is an appealing choice for your drape-style on marriage. Who would not like the sizzling satin look of the jazzy Jessica? A little black clutch with an off-shoulder number is the unique style that can be adorned outside the red-carpet.
Make sure you are redcarpet styled girl from now especially when it comes to an equally happening and memorable day. Getting adorned like a silver screen babe will make you all the more eye-catchy. So girls, just keep up to the star's appeal and let your man drool in your irresistible charm and grace.