We've all heard stories of lavish weddings where champagne flows and the cuisine is to die for. But, it's a whole different ball game when an engagement party turns to be a gala affair. Here, the norms are cast aside and there's freedom to go all out. We're citing British boxer Amir Khan's engagement to Faryal Makhdoom, a Pakistani American beauty, as an example of engagement affairs where no expense is spared. The engagement party cost a whopping $236,445 and was held at the Reebok Stadium, home stadium of English football club, Boston Wanderers.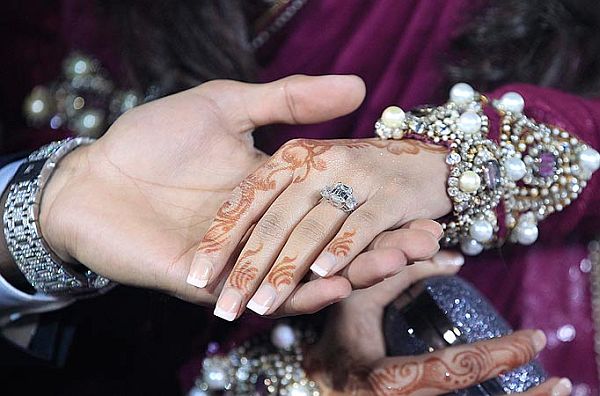 The New York-based bride-to-be and her family flew to the United Kingdom for the lavish affair. The purple and silver themed party saw the happy couple exchange rings in the midst of 1,000 glittering guests. But what caught everyone's attention was the ring Makhdoom received from Khan: a very gorgeous platinum band with three large diamonds. If you're wondering how much you'd have to shell out for something with so much bling, it's about $157,630, definitely not a ring for the ordinary masses. In exchange, Makhdoom presented Khan with an equally stunning platinum ring. A happy Khan excitedly tweeted about the engagement affair post-party, saying how much he loved his ring.
After the rings were exchanged, the guests showered the couple with rose petals, perfectly complementing Makhdoom's deep red sari. The stadium was beautifully decorated with intricate floral arrangements and guests were treated to a sumptuous cake that was almost ceiling high.
With such a lavish engagement party, we can only imagine what the couple's wedding is going to be like. No details have been given yet but we're pretty sure it'll rival some of the best weddings the United Kingdom has seen. Following the wedding, Makhdoom has said she'll be moving to Bolton to live with her hubby.
Via: DailyMail