Rosa Clara's 2012 bridal collection is quite simple and elegant. The dresses are spotlessly white and soft. It is a perfect choice for the bride who wants to look like a goddess. A surprising thing about Rosa Clara Wedding Dresses collection is that the gowns do not have too many accessories and details on them. Instead, they have been designed to look more feminine and classy. It is true delight for the modern bride who is looking forward to wear something top class and extra fashionable on her big day.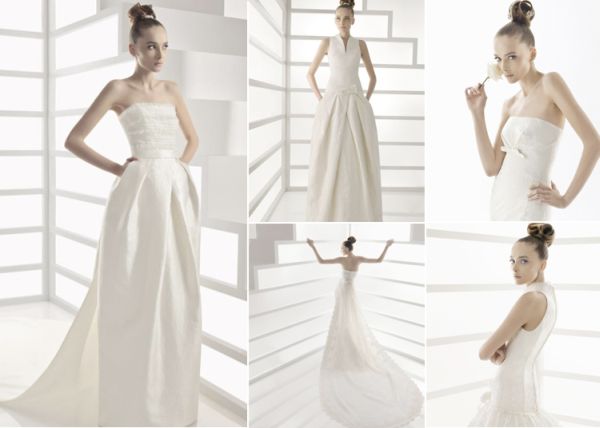 Rosa Clara
Rosa Clara is a very common name both in Spain and internationally, when it comes to wedding dresses. Presently, Rosa Clará has a huge collection of cocktail dresses of many styles. Since its inception, Rosa Clará designed its own wedding dress collection and it used the novel concept of licensing with other designers. This strategy has proved to be very effective. Rosa Clará began its first collaboration with Jesús del Pozo, a Spanish artist, in 1995. Encouraged by success of this venture, they began to look out for international collaborations too and contracts were finalized with Karl Lagerfeld and Christian Lacroix, two of modern-day fashion world's top stalwarts.
Spain is already a powerhouse in the wedding sector, thanks to the designs, quality of work and brand power. Like Rosa Clará, many Spanish designers dominate international markets in this sector and they dictate the rules.
Inspiration and goal
Rosa Clará is an old timer in the fashion industry and in the early 1990s, she understood that most women about to get married were not happy with the stock and variety of wedding dresses in the market. These women were employed and they had a good sense of fashion. They wanted to have a perfect and unique wedding gown for the special occasion. The desire of such women inspired Rosa Clara and she launched a prêt-à-porter wedding gown store in Barcelona in 1994. With the goal of becoming a trend setter in the fashion industry both locally and internationally, novel strategies were implemented and soon the company grew and became the ROSA CLARÁ GROUP.
Rosa Clara has swooped up more than 30 percent of the Spanish domestic market. Spread across 47 countries, the Rosa Clará Group makes its presence felt with more than 100 stores and over 1500 multi-brand points of sale. These facts are a direct proof of the milestones achieved by the group in reaching their goal. Their dynamic work ethic, that created waves in the entire wedding sector, transformed them into a big company with a strong international client base in just 15 years. The stats speak for themselves.
Rosa Clará 2012 wedding dresses
These latest dresses are much more rich and detailed in texture having novel and unique embroideries on them. This impressive collection will make you stand out quite easily with its unique design, comfort of wearing and extravagance.
Below is a detailed description of the wedding dresses by Rosa Clará:
1. Acanto silky tulle ball gown decorated by appliquéd rebrodé lace and silky tulle paired with a rebrodé lace jacket.
2. Wedding gown with Agnes cotton sateen and silk organza.
3. Wedding gown made up of Alcántara silky tulle and silk organza.
4. Héctor silk voile wedding gown which has two color options: natural and beige.
5. Harmoni silk voile draped strapless Grecian wedding gown, with two color options: natural and beige.
6. Hechizo silk voile one-shoulder draped gown with bow accent, also available in two shades: natural and beige.
7. Adagio silky tulle, Actual rebrodé lace and silky tulle wedding dresses.
8. Laya taffeta silk strapless ball gown clubbed with draped bodice, in ecru.
9. Acuario silk tulle and silk organza wedding gown with appliquéd lace; clubbed with lace jacket and silk tulle of ivory shade.
10. Adelfa silk gazare wedding gown and train with beads and appliquéd rebrodé lace.
What's so great?
Rosa Clara is known for its elegant and super classical designs. You will find an amazing culture among simplistic bodices, Chantilly lace and silk. With minimal lines, the gowns are plain with wide and swishy skirts. They match the bodices, which have been inspired from T-shirts with necklines that are asymmetric or even bareback. To sum up, the Rosa Clara 2012 Wedding collection clearly says two words: VOLUME and MINIMAL.