Santorini is by far one of the most popular islands and holiday destinations in the world, located at the central south end of the Cyclades in the Aegean Sea.
It is widely known for its incomparable beauty and breathtaking landscapes. The whitewashed houses and the blue-domed churches, the stunning sunsets, the numerous colorful beaches with crystal blue waters, the romantic ambiance, and its famous wines. It's no coincidence that thousands of tourists every year from all around the world visit Santorini. They too want to feel the island's magical vibes and live a once-in-a-lifetime experience.
Some of them even pick Santorini as the special place where they will say their "I do's". Are you thinking about getting married in Santorini? Then this article is for you.
Is Santorini a Good Place to Get Married?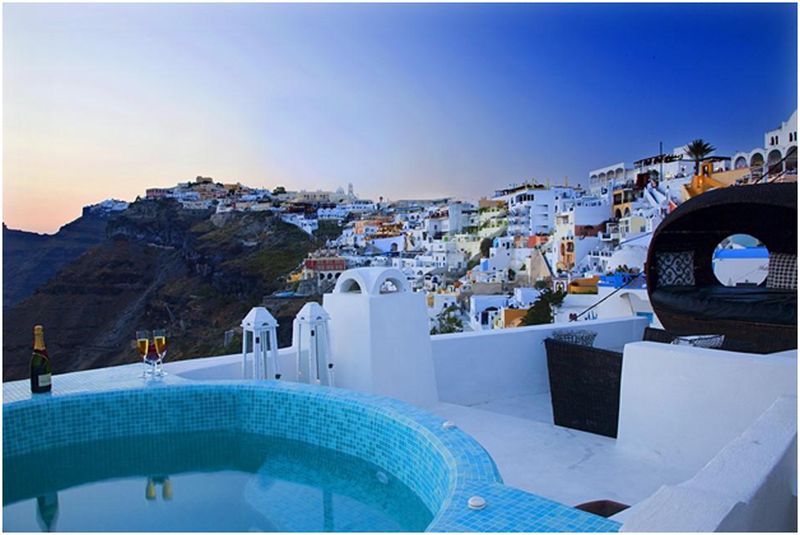 White-painted walls, light blue dome-shaped churches and resorts, small windy roads, a brilliant blue sky, sharp cliffs, and the eternal sun sparkling on the calm sea. These are some of the things that Santorini is made of and some of the reasons that couples decide to exchange vows on this special island in the Cyclades.
With stunning views over the Aegean Sea and the caldera, a wide range of wedding venues to choose from, and the chance to feel the romance during one of the most astonishing sunsets in the world, Santorini's wedding creates a memorable scene for years to come.
So, whether you decide to plan your wedding on a magnificent villa, on a sandy shore, on top of a hill, on a romantic vineyard, or on a sumptuous hotel, the scenic island of Santorini promises you passion, amazing views, splendid sunsets, unforgettable gastronomic experiences, and everything you need to experience the wedding of your dreams.
How Much Does a Wedding in Santorini Cost?
The cost of planning your marriage at Santorini can vary widely based on different factors. You should definitely expect to spend even double your budget in case you work with well-qualified wedding vendors, designer brands, famous event places, and you are looking for unique ideas or services. Of course, you should do good research, and study as many options as you can.
If you wish to make a church orthodox wedding, as most Greek couples do, you must expect to pay an average of 1.500€ to 2.000€. Most Greek ceremonies are held inside the church and many of the churches can be found on a cliff, from where you will take astonishing pictures by the sunset after the ceremony.
You can also choose a civil wedding package, which costs a bit less than a church wedding, from 1.000€ to 1.500€. Civil weddings can be performed almost everywhere on the island. The west side of Fira, Imerovigli, or Firostefani, are some of the most popular locations for civil ceremonies.
Regarding all kinds of services that you may choose for your wedding ceremony, there are plenty of options to choose from. You need to keep in mind things like the flowers, the music, the hairdresser and makeup artist, any form of entertainment activity like dancers, any transportation expenses for your guests, and also a photographer and/ or a videographer.
The final cost varies depending on your choices so it's usually better to arrange all these extra details with an experienced marriage planner. In any case, the golden rule is: what you give is what you get.
Where do People Get Married in Santorini?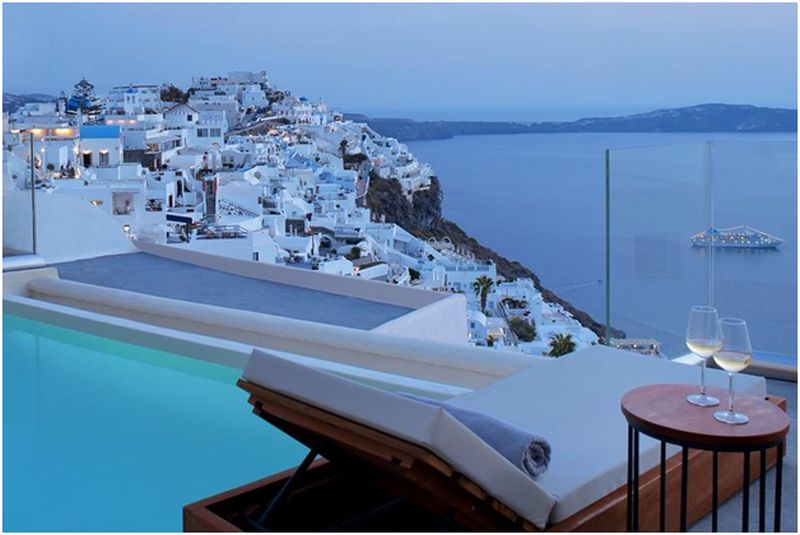 There are countless private wedding venues with stunning views and these are the most popular choices amongst couples who are dreaming of a unique wedding experience in Santorini.
You could also find scenic chapels or churches with blue domes and amazing landscapes which are absolutely appropriate for weddings.
Can you Legally Get Married in Santorini?
Many people wonder about the legal issues regarding such a ceremony in Greece. We have to point out that couples from all around the world have the right to get legally married in Santorini.
Of course, paperwork will differ depending on the kind of wedding – civil or religious. The certificates which are required also differ from case to case and mostly depend on the citizenship and residence of the couple, as well as their marriage degree (1st, 2nd). Such certificates include a full birth certificate of the couple, a marriage license, a divorce or adoption certificate when applied, and of course their passports.
All of the above papers have to be legalized for use abroad and also have to be translated in an official way. The paperwork procedure can last up to 6 months, depending on the expiration date of the certificate of marriage license.
To make your life easier, consider working with a wedding planner who will be able to guide you through all the details of the procedure. A well-experienced wedding planner will respect your vision and philosophy, apply their know-how, and make your wedding dream into reality.
Article Submitted By Community Writer