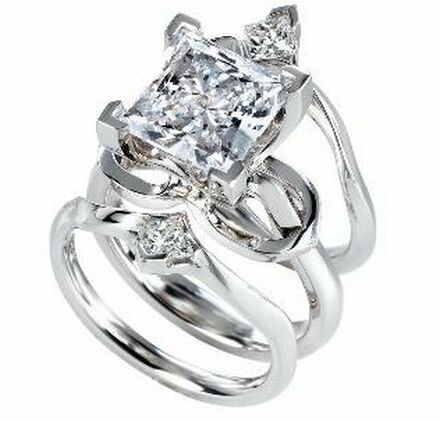 Acclaimed Scott designer, Maeve Gillies roped in the prestigious 2006 Best Bridal Jewellery Design award for an elegant pair of platinum wedding ring.
Gillies' Lismore Wedding Ring Set boasts of an engagement ring, beautifully encrusted with a 6.0 ct princess-cut diamond and two wedding bands swanking 0.60 ct princess-cut diamonds. She made this design by ingeniously combining two materials, platinum as well as 18 K rose and yellow gold.
However, for the fashionistas, an all platinum wedding set is also made available for the exclusive day.
The feeling is incomplete without a glimpse of her stunning creation. Therefore, have a look at the best designer wedding set yourself.
Via: PLATINUM