A bridesmaid is the heart of a wedding ceremony. After the bride, it is the bridesmaid who is the center of attraction. So, it becomes important for a bridesmaid to look beautiful, sexy yet elegant in the bridal parties and wedding. Though, there are several stunning bridesmaid dresses and gowns available in the market, but if your choice is short and petite bridesmaid dress, then this article can provide you with a quick glimpse of 10 most beautiful and short bridesmaid dresses to jazz up yourself in the wedding and bridal celebrations.

1. Vera Wang Organza Dress with Draped Bodice and Bubble Skirt (Style VW360018)
PRICE : USD 158
This short and chic dress designed by Vera Wang is an ultimate bridesmaid dress. It is crafted meticulously from luxurious organza fabric, which is quite sheer, light and delicate. Contemporary design of the dress makes it unique and classy. Moreover, it features draped bodice and bubble style skirt with inverted pleats. The dress is fully lined because the fabric is quite sheer.
USP
A sparkling crystal sash at the waistline adds glamour and style to this short and sweet bridesmaid dress.
PROS
The dress is available in various hues, such as amethyst, blush, champagne, charcoal, ebony, midnight, moss and orchid.
The dress features invisible back zip.
2. Lazaro Black Strapless Tissue Tafetta Bridesmaid Dress (Style LZ3022)
PRICE : USD 125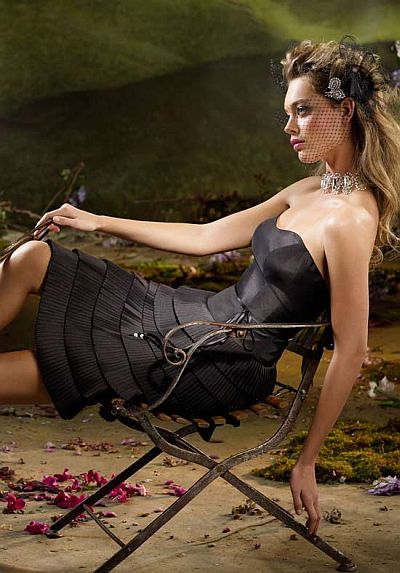 This extravagant dress by Lazaro is crafted of tissue taffeta fabric. Its classic black color and design classify it as one of the most popular bridesmaid dresses by Lazaro. It is a strapless and knee length dress, which makes it perfect for a bridal party. The skirt of the dress is pleated to add elegance. A black satin ribbon at waist creates volume and dimension to this subtle dress.
USP
Tiered skirt is most unique in this gorgeous bridesmaid dress.
PROS
Black satin ribbon with jewel accents adds a bit of sparkle to this refined dress.
3. David's Bridal Short Strapless Organza Dress with Ruched Waist (Style F14335)
PRICE : USD 149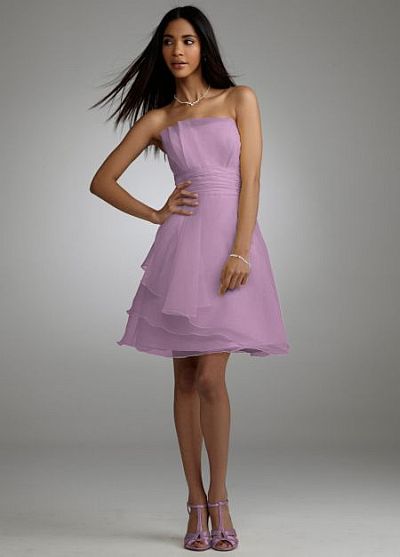 This short bridesmaid dress from David's Bridal is sweet, feminine and extremely elegant. It is a petite strapless organza dress, which is perfect for a bridesmaid. Dimension is added to the dress through subtle pleating details on the bodice. Layered organza skirt of the dress creates a soft and romantic look. In a nutshell, this dress is extremely elegant as well as stylish.
USP
Ruched waist in the dress creates a flawless and flattering look.
PROS
The dress is fully lined.
Dress features back zip.
4. Noir by Lazaro Black Organza Bridesmaid Dress (Style NZ3179)
PRICE : USD 146.99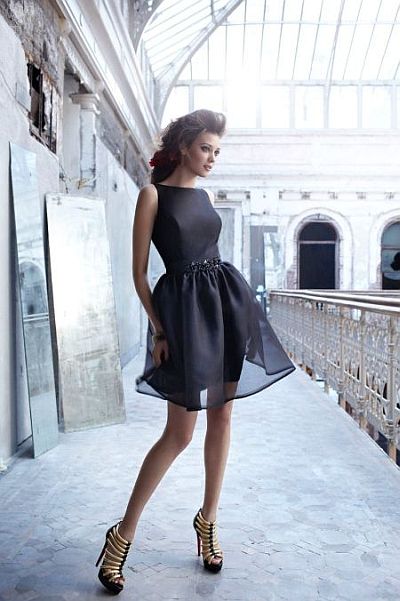 It is a stunning and sexy bridesmaid dress, which comes under the Noir collection by Lazaro. It is crafted from black organza fabric that features pencil skirt with sheer gathered organza overlay. The neckline is in bateau style along with wide sheer organza straps at back. Moreover, the dress features natural waist, which is adorned by black ribbon belt with beaded appliqué at natural waist.
USP
The total look of the dress is quite different and elegant, thanks to the beaded applique at the waistline.
PROS
If you're looking for a petite and sexy bridesmaid dress, this one is just made for you.
5. Alfred Angelo Luxe Taffeta Bridesmaid Dress (Style 7189)
PRICE : USD 165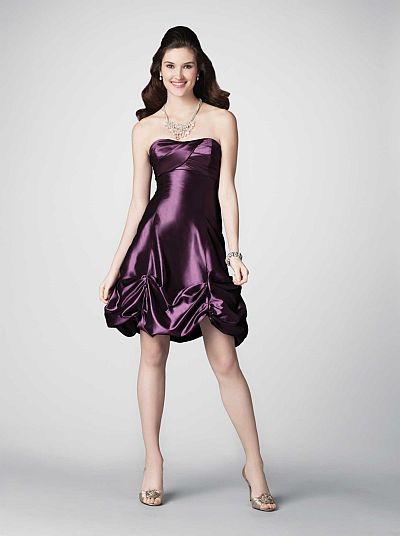 This gorgeous bridesmaid dress is highly stylish. It is crafted of luxurious luxe taffeta fabric, which is quite comforting and sophisticated. It is a part of Alfred Angelo's spring 2012 bridesmaid dresses collection. It's an appealing strapless and cocktail length dress. Moreover, spaghetti straps are also provided with the dress in case you're not comfortable with strapless neckline. This beautiful dress is available in a variety of colors to choose from. Furthermore, the dress is completely stunning and is available at a decent price.
USP
The pickup style offers the dress a very interesting and elegant look.
PROS
It comes with optional spaghetti straps.
Available in 23 luxe taffeta colors.
6. Vera Wang One Shoulder Organza Dress with Black Belt (Style VW360012)
PRICE : USD 198
Vera Wang created this utterly beautiful and elegant one shoulder bridesmaid dress. It features bias cut flange skirt and a waist slimming elastic belt. Moreover, the shoulder of the dress is designed and tied in a raw edged way that offers uniqueness to this sumptuous dress. This dress inspires celebrations and gala nights and makes all the eyes follow you wherever you go.
USP
The dramatic, curvaceous and eye catching flange skirt adds sensuality and sophistication to this dress.
PROS
The dress features invisible side zip.
It is available in two tone, classic ivory and charcoal.
7. Alvina Valenta Ivory Tulle Bridesmaid Dress (Style AV9978)
PRICE : USD 150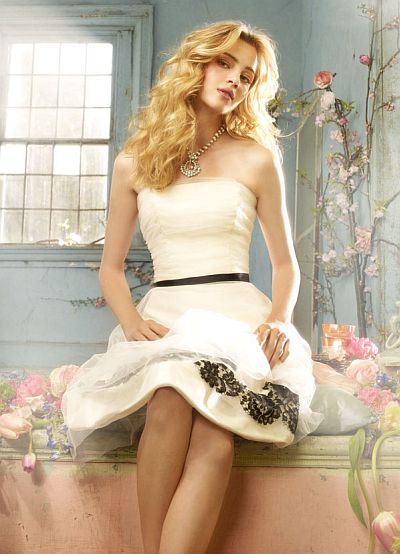 Alvina Valenta crafted this stunning dress in purely authentic bridesmaid design and look. It is made from Ivory duet satin adorned with Ivory tulle over the dress. Dress is designed in A line silhouette, which makes it opulent and gives a royal feel. Moreover, the skirt of the dress is decked with black lace appliqués, which keeps it minimal and simple. There is a black grosgrain ribbon on the natural waist.
USP
Black lace appliqués on skirt offers imperial look to this lovely bridesmaid dress.
PROS
Grosgrain ribbon is available in ivory and black colors.
The lace appliqués are available in ivory, mocha and black.
8. Lazaro Black Mikado Bridesmaid Dress (Style LZ3121)
PRICE : USD 122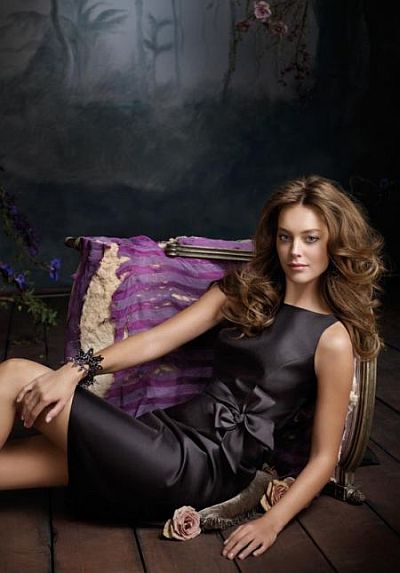 This stunning black dress from Lazaro looks extremely royal and sophisticated. It is made luxuriously from black mikado fabric. It is a knee length dress, which features bateau neckline and a self band natural waist with bow accent. The skirt of the dress is designed in a bell shape.
USP
The bow accent at natural waist adds elegance and sensuality to this fabulous bridesmaid dress.
PROS
This dress made from luxurious black Mikado makes the bridesmaid look stunning and gorgeous.
9. David's Bridal Strapless Dress with Point D'Esprit Pick Up Skirt (Style 84624)
PRICE : USD 99.99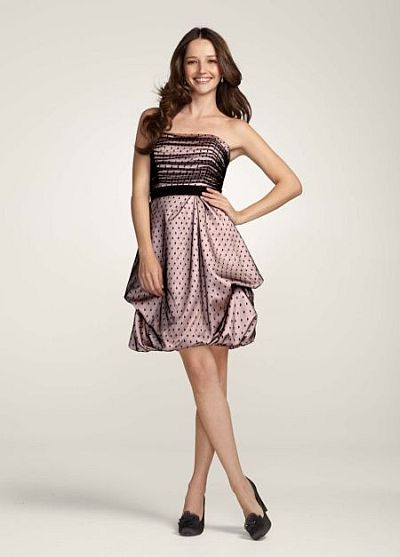 Very peppy and lively, this dress is perfect for vivacious and bubbly bridesmaids. The dress is designed in a fun and trendy approach. It is crafted of point d'esprit textured fabric, which makes it unique and extravagant. Bodice is decked by ruching details, which creates dimension and drama to this beautiful dress. Pick up bubble hem skirt adds volume to the dress while making it fresh and preppy.
USP
Point d'esprit textured fabric makes this stunning bridesmaid dress an exclusive one.
PROS
The dress is fully lined.
It is available in black, peacock, plum and shell pink hues.
10. Alvina Valenta Blue Moon Bridesmaid Dress (Style AV9887)
PRICE : USD 269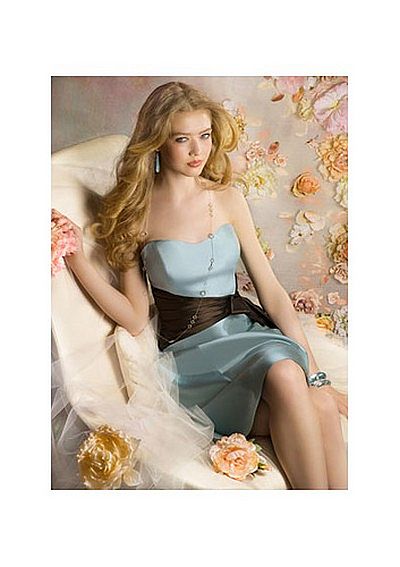 This dress by Alvina Valenta is designed of blue moon duet satin fabric. It is a tea length formal bridesmaid dress that uplifts your total personality in your sister's or friend's wedding. This gorgeous dress features soft scoop strapless neckline, which enhances your neck and shoulder. Furthermore, the dress features chocolate asymmetrically draped band that leads to a bow and streamers at the waist.
USP
Asymmetrical chocolate color draped band at the waistline that leads to a bow and streamers accentuates the total look of the dress.
PROS
The dress is available in any solid color or two tone duet satin color combination.