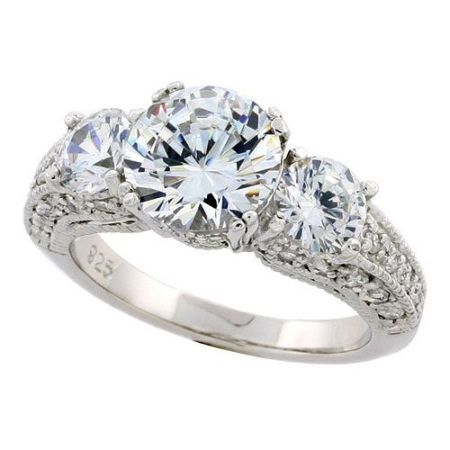 From wedding dress to jewelry to shoes, everything is of utmost concern for a bride-to-be who wants to make a style statement on her big day. When it comes to selecting jewelry, there is a range of options to go for, but what matters the most is that your jewelry must complement your outfit. Undoubtedly, there is no better way for a bride to shine than to get some sparkling jewelry pieces, and silver jewelry seems to be a great option. Silver jewelry has always been in the trend and when combined with precious stones, it become a symbol of elegance and affluence. You can easily find silver bridal jewelry sets of your liking while maintaining a healthy balance of price and quality. Here are some of the best silver jewelry pieces that are sure to make any bride sparkle on her wedding day.
Sterling Silver Vintage Style Ring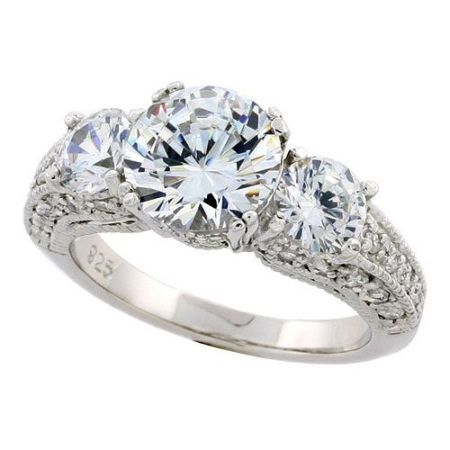 This sparkling silver vintage style ring on a bride's finger would definitely attract eyes at the wedding. Crafted in Solid Sterling Silver, it features High Quality Cubic Zirconia stones. Rhodium Plating makes the luster of the 925 Sterling Silver dull, giving the beautiful ring the appearance of white gold. A total of three zirconia stones are set on the sterling silver girdle. Two small zirconia stones are set on either side of the central zirconia, which is a little bigger in size. The width of this scintillating ring is 7 millimeters and in spite of the brilliant quality, appearance and setting, it has been priced reasonably.
Sterling Silver CZ Marcasite Grey Pearl Bangle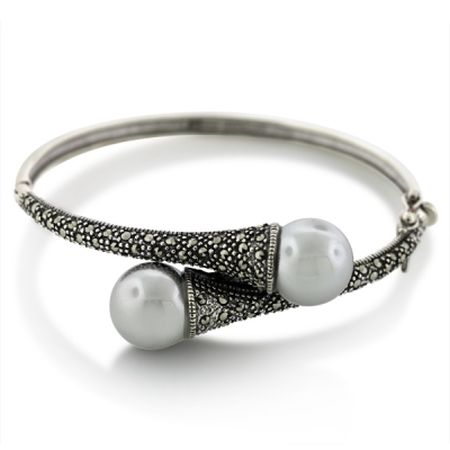 This fine piece of jewelry in sterling silver is quite unique and would be quite noticeable whenever you wear it, be it your big day or any other occasion. The Sterling Silver CZ Marcasite Grey Pearl Bangle features two grey pearls each on either ends of the bangle that is 2.5 inches in diameter. The bangle is made in 925 sterling silver with detailed working on the metal. The bangle can be safely clasped onto any wrist size.
Sterling Silver Double Heart Charm Bracelet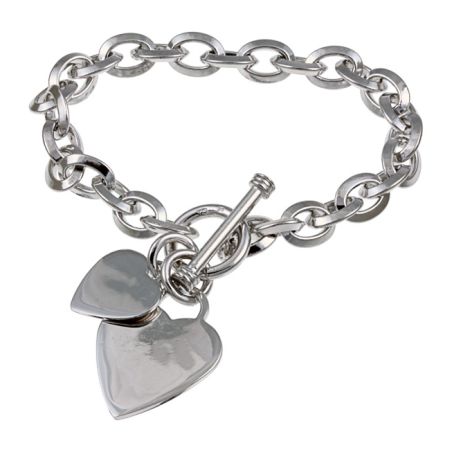 Another beautiful jewelry piece in sterling silver to adorn the bride is this Sterling Silver Double Heart Charm Bracelet that would be adored by every bride-to-be.This gorgeously shimmering bracelet is characterized by the two heart shaped amulets. The oval link bracelet is made out of sterling silver which is then furnished by a convenient toggle clasp. The heart charms and the oval links of this cute bracelet are highly polished to give a magnificent sparkle. This sterling silver bracelet would accentuate all types of dresses of any shade.
Blue Topaz and Sterling Silver Necklaces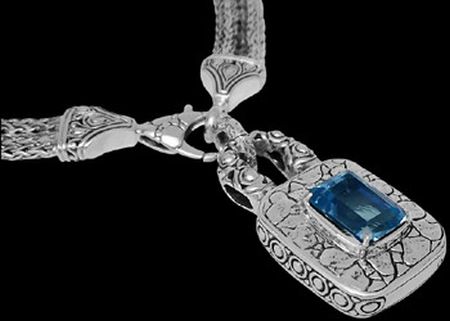 Many brides-to-be would love this distinctive piece of jewelry in sterling silver. This sterling silver 'Tulang Naga' necklace is beautifully handcrafted in an intricate crocodile pattern. Along with that, the glittering charm of the necklace is completed with octagon blue topaz gemstone. 'Tulang Naga' is a Balinese term that means "backbone of the dragon". The people of Bali have given this evocative name 'Tulang Naga' to this serpent aka 'Naga' resembling chain. The sterling silver are accurately handwoven to give a unique grace and flexibility to the shimmering 'Tulang Naga' chains
Sterling Silver Butterfly Pendant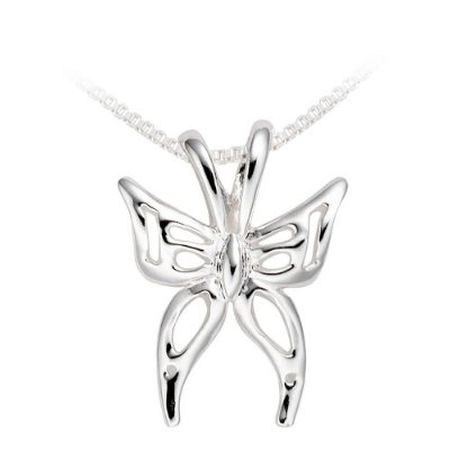 The bride would be overjoyed by the sparkling glow of this beautiful butterfly pendant crafted in shimmering sterling silver. Soft curves and pretty cut-out details are the main features of the enticing butterfly pendant. The grace of the charming pendant is completed by an unruffled and brightly polished 16-inch long box chain with an additional two inch to adjust the length of the graceful necklace according to the wish and taste of the wearer. The 925Sterling Silver butterfly pendant can be easily fastened with a spring ring clasp on the box chain.
Sterling Silver FW Pearl and Diamond Accent Dangle Earrings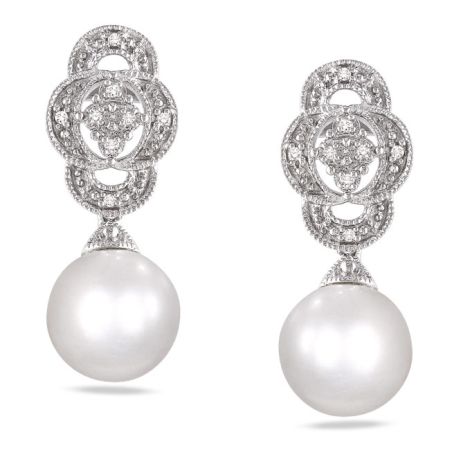 These pearl dangle earrings studded with little diamonds would be perfect choice to complement any type of attire worn by the bride on her wedding day. Crafted in sterling silver, the 9-9.5 sized, round freshwater white pearl earrings are secured with butterfly backs. The glitter of the pearl earrings is enhanced by the scintillating round cut diamonds set on sterling silver base in a pave setting. A total of 16 diamonds, each measuring 0.91 mm wide x 0.91 mm long with a carat weight of 0.05 carat. The shimmering earrings are finished with high polished accent.
Passion Lavender Tiara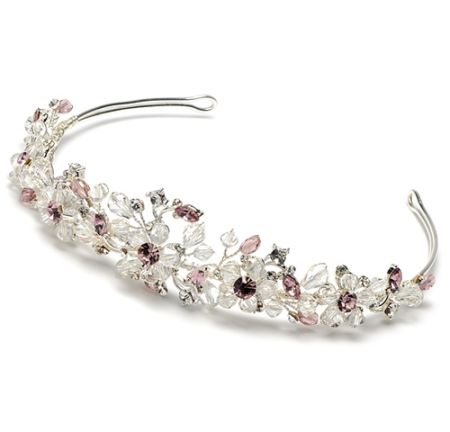 This jeweled, ornamental coronet would make the bride feel like a princess on her grand day. The hand woven sparkling Passion Lavender Tiara features a mixture of clear and lavender crystal beading, sparkling rhinestones and Genuine Swarovski Crystals. Five crystal flowers are magnificently positioned on the glittering band made of sterling silver. Out of the entire 12" sterling silver plated band of the tiara, 8" has a detail working of spectacular rhinestones. The central peak of the tiara measures just over an inch tall. For added security, each end of the fabulous tiara carries pin loops. The striking and shimmering lavender crystal can be accentuated with any color wedding gown.
Tacori Bridal Evening Sterling Silver Crystal Hair Clip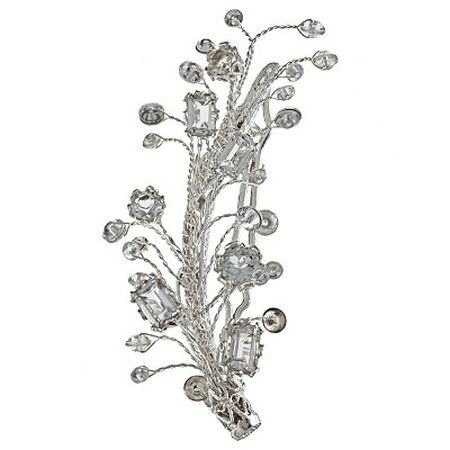 The Tacori Bridal Evening Sterling Silver Crystal Hair Clip is another hair accessory crafted in sterling silver to adorn the beauty of the bride. The crystal hair clip is constructed on sterling silver andfeatures round- and emerald-cut white topaz gemstones and crystal beads with textured finish. A total of 6 prong-set emerald-cut white topaz, two of which measures 8 mm wide x 4 mm long, two measuring 6 mm wide x 4 mm long, one measures 5 mm wide x 5 mm long and one measures 6 mm wide x 6 mm long are gracefully placed on the scintillating sterling silver hair clip. It also consists of 22 round-cut crystal beads each of which measure 4-5 mm.
Sterling Silver Elegant Rose Brooch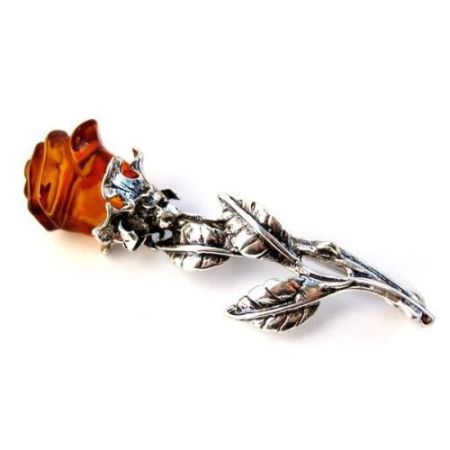 This elegant piece of jewelry is a product of Ian and Valeri Co. The marvelous brooch features 60 million years old honey amber beautifully crafted in shape of rose. This gemstone is beautifully studded on 925 sterling silver setting. The length of this sparkling brooch is 2.10 inches. The bride can adorn her bridal dress with this glittering jewelry item.
Wedding Silver Peacock Feather Hair Comb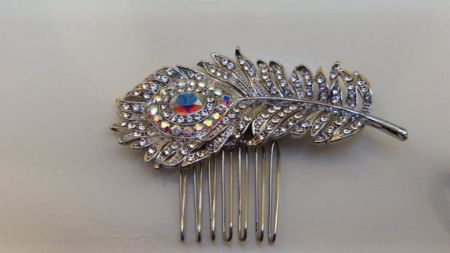 Here is another hair accessory that reminds of the Victorian ages, and is a perfect piece of jewelry for a bride who happens to have a vintage themed wedding. This Peacock Feather Hair Comb is elegantly crafted on sterling silver. The pretty comb highlights a collection of beautiful center stones displaying a play of lustrous rainbow like colors. The silver comb features a peacock feather design and measures 8 cm in length and 7cm in width.