In recent history, no other celebrity couple has made so much news for being happy and in love than Brad Pitt and Angelina Jolie. Even though the way the couple got together may have been controversial, they have been mostly known to be happy together and have managed to keep their private lives private. The couple had famously vowed not to get married till "everyone else in America had the right to do so" though with the announcement of their recent engagement they seem to be all set to tie the knot before US lawmakers allowed gay couples across America to do the same. As the hottest couple in Hollywood gets ready to walk down the aisle, Wedding Clan revisits the legend of Brangelina and tells you the story of how it all began.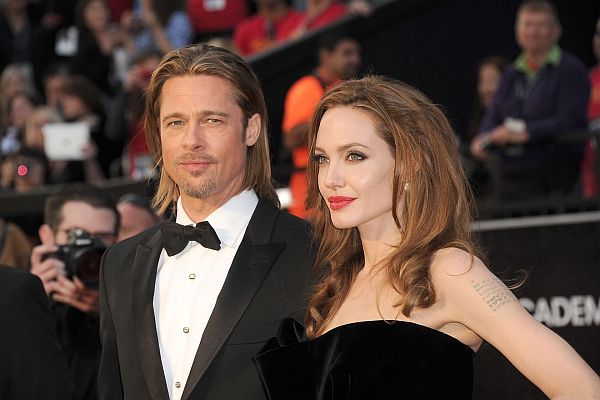 Brad Pitt
Undoubtedly one of the sexiest men alive today, William Bradley Pitt (Brad Pitt) was born on December 18, 1963 in Shawnee, Oklahoma to a truck company owner William Alvin Pitt and high school counselor Jane Etta. With an Irish-Scott-German ancestry, Brad was raised as Southern Baptist in a conservative household alongside siblings Julie and Doug. With a focus on advertising, Brad majored in journalism from the University of Missouri in 1982 though he moved to LA two weeks before earning his degree to pursue a career in acting. It wasn't until 1987 that Brad made his way onto the big screen with smaller, non-credited roles in movies like Less Than Zero, No Man's Land and No Way Out. However, the 1991 movie Thelma & Louise helped him gain recognition with the masses and he went on to star in big budget hits with his critically acclaimed role in the movie 12 Monkeys, earning him an Academy Award nomination as well as a Golden Globe Award for Best Supporting Actor. Brad has since earned two more Oscar nominations for his performance in the 2008 movie The Curious Case of Benjamin Button, while his other big screen ventures like the Oceans' series and Troy made him a major Hollywood financial success.
Angelina Jolie
Born on June 4, 1975 in Los Angeles, California, to actor parents Marcheline Bertrand and Jon Voight, Angelina Jolie Voight has been in the public eye ever since she was a child. Primarily of German, French Canadian, Dutch, Slovak and Native American ancestry, Angelina was brought up in the Hollywood lifestyle, though her parents' divorce in 1976 when she was just a year old had a dramatic impact on her. Even though her father didn't have an influence on her life till her later years, Angelina grew into a self-destructive teen who couldn't fit in with the posh crowd at the Beverly Hills High School and resorted to the use of drugs, knife play, self abuse while struggling with suicidal depression through most of her teenage and early teen years.
With education not being a major part of her upbringing and her father's infidelity bearing down very hard on her, Angelina dabbled with modeling at age 14 right before committing to an acting career at age 16. Her first movie appearance came at age 7 in 1982 in Lookin' to Get Out, a film co-written and starring her father, though it wasn't until 1993 that her professional acting career began in all earnest albeit with a straight-to-video, low-budget, science-fiction sequel Cyborg 2. Despite several periods of estrangement from her father, Jolie derived her acting skills from her father. With a series of lackluster movie roles, Jolie continued her Hollywood career.
However, her performance in the 1997 TNT miniseries George Wallace got her an Emmy Award nomination as well as a Golden Globe for Best Supporting Actress in Series, Miniseries or Television Film Award. The following year, her portrayal of destructive supermodel Gia Carangi in HBO's Gia got her yet another Golden Globe Award for Best Actress in a Miniseries or Television Film, an Emmy nomination and her first Screen Actors Guild Award. Angelina then won an Academy Award for Best Supporting Actress as well as her second Screen Actors Guild Award and her third Golden Globe Award for her role as a sociopathic mental patient the 1999 thriller Girl, Interrupted. She then continued her success with global hits like Lara Croft: Tomb Raider and other action roles in movies like Wanted, Mr. & Mrs. Smith and Salt. One of highest-paid actresses in Hollywood as well as one of the sexiest women on the planet, Jolie is also known for her work as the Special Envoy and former Goodwill Ambassador for the United Nations High Commissioner for Refugees (UNHCR), her work with refugees and other humanitarian causes.
How did they meet?
On the outset, it may seem like they are polar opposites in terms of personality. However, when Angelina Jolie met the much- and happily- married Brad Pitt, the chemistry was almost instantaneous and uncontrollable. The couple claims that they became friends while working on the movie and that Brad Pitt never cheated on his then wife of over six years Jennifer Aniston. But sources from the sets of the movie claimed that the two had displayed tremendous chemistry while shooting the intimate scenes in the movie. Throughout the promotion of the movie and the premieres, the couple maintained an obvious distance though they stepped out as an official couple on November 19, 2005 at the opening of the Muhammad Ali Center in Louisville, merely a month after Pitt officially divorced Aniston.
Previous Marriages
Brad Pitt
Brad Pitt dated actress Gwyneth Paltrow from December 1994 to June 1997 and was even engaged to her for around six months before the relationship ended. Brad met Friends actress Jennifer Aniston in May 1998 and the two got married on July 29, 2000. Considered to be one of the hottest celebrity couples of the time, Brad and Jen were the epitome of a rare and successful Hollywood marriage. However, following rumors of Brad's involvement with Mr. & Mrs. Smith co-star Angelina Jolie in 2005, the couple separated in January 2005 and their divorce was finalized on October 2, 2005.
Angelina Jolie
Angelina Jolie had her first serious relationship at age 14 when she lived in with her boyfriend in her mother's home for nearly two years. Jolie married her co-star from 1995 film Hackers British actor Jonny Lee Miller March 28, 1996 when she was just 20 years old. The couple separated in September 2007 and their divorce was finalized on February 3, 1999. On May 5, 2000, Jolie married actor Billy Bob Thornton after a two-month courtship though they split just three months later and divorced on May 27, 2003.
How long have they been together?
8 years
The hotness scale
Brad Pitt = 8/10
Angelina Jolie= 9/10
The scandals and storms they endured
1. The Angie/Brad/Jen Love Triangle
While the world is still clearly fascinated with every move that Brangelina make, the beginning of their affair was shrouded in infamy and shame for them both. When Brad met and fell in love with Angelina during the filming of Mr. & Mrs. Smith throughout 2004, he was still very much happily married to America's sweetheart and television superstar Jennifer Aniston. Since Jolie herself had spoken out several times before about the impact her father's infidelity and her parents' divorce on her, her role in the disintegration of a seemingly good marriage left her with fewer sympathizers. Even though Aniston endured a very public heartbreak while Brad and Angelina lived under constant public scrutiny, none of them publicly dissed one another and barring the odd comment, none of the three involved have ever let their private sentiments be known.
2. Brangelina sue tabloid over split claim
As a couple, Brangelina have done a bang up job of staying away from scandal though a report published on 24 January, 2010 by British tabloid The News of the World claimed that the couple were planning on separating and had even met up a high profile Hollywood divorce lawyer in December 2009 to their join assets worth over £205m at the time. However, the couple successfully sued the tabloid and donated the compensation to charity.
3. Media claims Zahara's mother wants her back
Each one of Brangelina brood have been under immense press spotlight since the time they were born/adopted and the tabloids have done their best to find gossip from whichever source they could. Shortly after Brad and Angelina adopted their second daughter Zahara in July 2005 from an orphanage in Ethiopia, a tabloid claimed that the child's birth mother Mentewab Dawit wanted her back. Dawit, who was forced to abandon the five-month-old Zahara because she didn't have any food to feed the child, later claimed that she was happy that her daughter had found such a suitable home and praised Angelina for giving her daughter a better life.
The star power scale
8/10
Their joint worth
According to a report published by Forbes, the 36-year old Angelina Jolie is worth $120 million while her 48-year old fiancé Brad Pitt is worth an estimated $150 million. This puts the couple's joint worth at around $270 million. The couple currently lives at a 1,000 acre estate located in the South of France worth around £35million.
Their brood
Angelina Jolie adopted her first child Maddox Chivan as a single parent from an orphanage in Phnom Penh, Cambodia on March 10, 2002, when the child was just 7 months old. She had announced the adoption with her then-husband Billy Bob Thornton though the subsequent breakdown of the marriage forced her to go ahead with the adoption on her own. Jolie adopted her second child from an orphanage in Addis Ababa, Ethiopia on July 6, 2005. Brad accompanied Angelina when she traveled to Ethiopia to take custody of the six-month-old Zahara Marley. The couple filed a request to have the surnames of the children changed to Jolie-Pitt and to allow Brad to be acknowledged as a legal parent which was granted on January 19, 2006.
The couple's first biological daughter was born May 27, 2006. Born in Swakopmund, Namibia, Shiloh Nouvel officially holds a Namibian passport and the couple sold her first pictures for $3.5 million in Britain and for $4.1 million in North America. All the money was donated to an African children's charity.
Next, the couple adopted a son from an orphanage in Ho Chi Minh City, Vietnam on March 15, 2007. Since Vietnamese law does not allow un-wed couples to adopt together, Jolie adopted three-year-old Pax Thien alone though her son's surname was changed to Jolie-Pitt later.
Jolie gave birth to twins- a daughter named Vivienne Marcheline and a son named Knox Léon, in Nice, France on July 12, 2008 and the couple sold their pictures of the twins for reported $14 million.
The wedding
No one knows whether Brangelina have set an official date for the wedding just yet but it is already being billed as the wedding of the century for Hollywood.
Wedding proposal
According to a report by a leading American tabloid, brad proposed to Angelina in front of all their kids on a spring day. A source close to the couple revealed that after Brad presented her with the $500,000 ring he himself designed with the help of jeweler Robert Procop, Angelina cried and smiled and showed the ring to each one of her kids after which everyone hugged.
The wedding dress
For her first wedding, Jolie wore a white silk blouse with her then husband's named written on it in blood and skintight rubber pants. For her second wedding, she wore jeans and a tank top. However, if courses close to the couple are to be believed, she may just walk down the aisle this time in a Versace gown. Unconfirmed reports suggest that Jolie has hired Jen Rade, her favorite Hollywood stylist, to help her find the perfect wedding dress and a her frock for the big day may just be sourced from her favorite Italian fashion house.
The Wedding Venue
Even though we don't have a date for the wedding yet, sources suggest that Angelina Jolie and Brad Pitt will tie the knot at a chapel on the grounds of their private estate in the South of France sometime over the summer. Located in the heart of the French Riviera near the city of Aix-en-Provence, the estate sits in a tiny hamlet called Brignoles near the village of Correns. The retreat is named Château Miraval, and the 1,000 acre grounds include the 35-room French mansion, vineyards as well as fourteenth century chapel that is official deemed a historic monument in the area.
Wedding guests
With the wedding of the century being kept top secret, it's hard to say who will be invited and who won't but sources suggest that Brangelina are flying in 200-300 of their closest pals from the business including Tom Cruise, Johnny Depp, George Clooney and Matt Damon as well as Angelina's brother James Haven, uncle Chip Taylor and godparents Jacqueline Bisset and Maximilian Schell. Whether Jolie's dad Jon Voight will be in attendance is yet to be seen.
Wedding Reception Hall
According to media reports, Brad and Angelina's reception will be held at a huge white hall that is currently under construction at their private estate in the South of France.