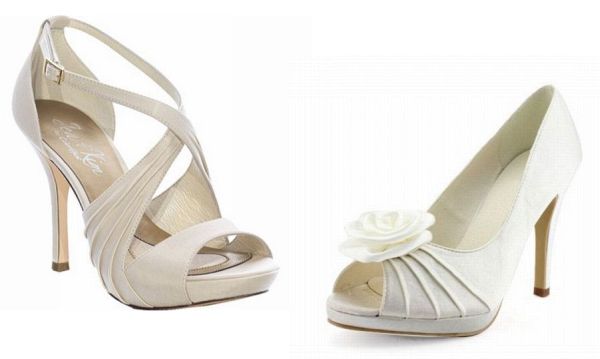 When it comes to the weddings, ivory rules everywhere. Be it the wedding gown, bridal accessories and even wedding shoes, the shade ivory does full justice to get that divine look that will make the bride look like a charming princess. Gone are the days when a bride had to choose from limited options when it came to decorating her feet. The inexhaustible options will leave you wanting for more and give a variety of styles to choose from. Bridal shoes give an elegant appearance, and if you are planning to flaunt ivory wedding shoes on your D day, the list will definitely be of utmost help.
Touch Ups Bobbie Pk White Ivory Bridal Shoes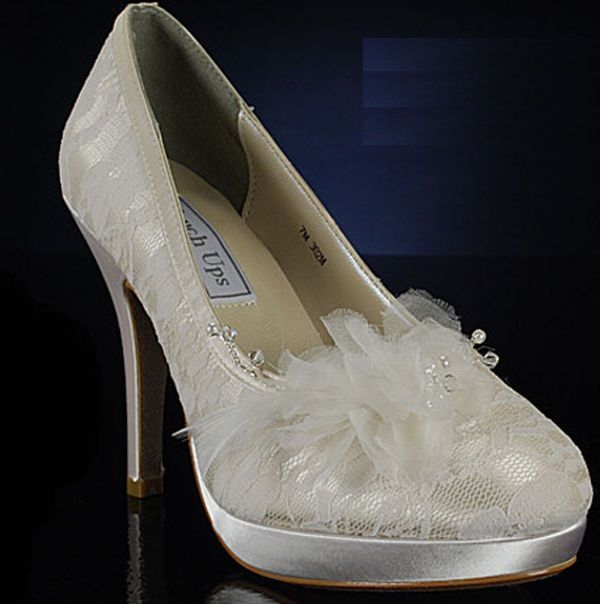 Look nothing less than an angel from heaven as you walk down the aisle wearing these white ivory bridal shoes. The use of net and a beautiful wisp decoration gives it a flavor of its own, which will spice up your wedding costume further. The intricate placement of the wisp will draw attention and force people to ask you to lift the gown, just to catch a glimpse of your lovely white pair.
Bling Crystal Faith Bridal Wedding Satin Shoes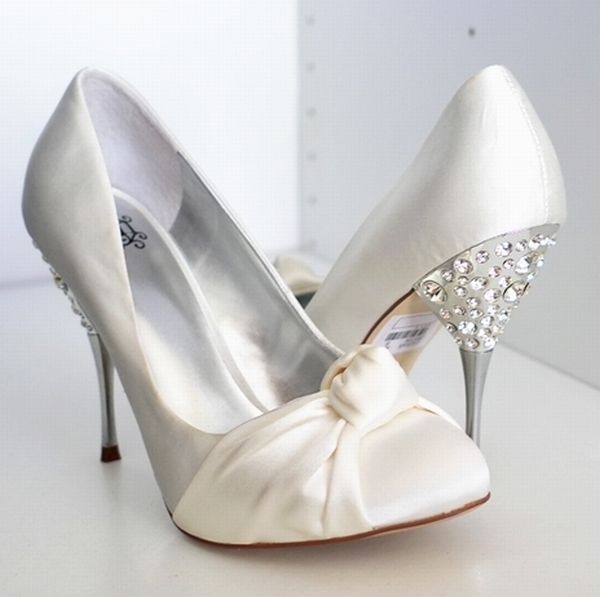 Don these dream like wedding shoes on your big day and leave everyone wheezing. The fully captivating heels will add the much required bling factor and elevate the overall styling. Feel like a super star when you slip your feet into the 'Bling Crystal Faith Bridal Wedding Satin Shoes', that will shine and shimmer with all their might throughout the ceremony. The perfect detailing on the heels has been set flawlessly and showers eternal elegance.
Pink Barbie-Pk White Ivory Bridal Shoes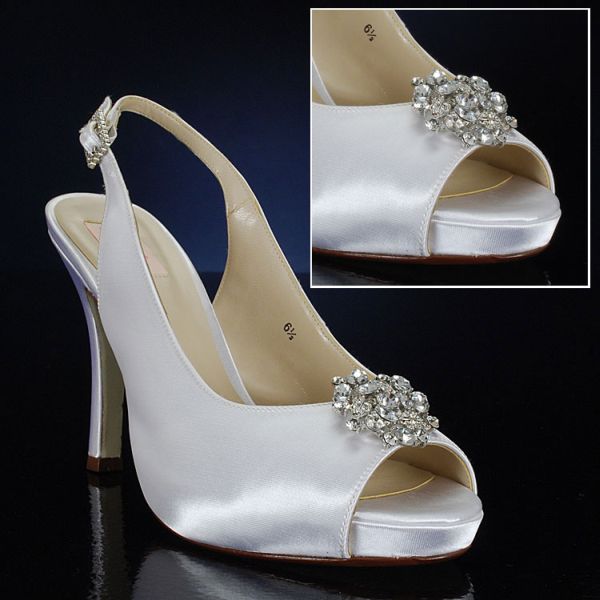 Revel in the elegance of these sexy Bling Crystal Faith Bridal Wedding Satin Shoes. Elevate your style quotient with a design that will stay with you for years to come. Look like a cute Barbie doll as the intricately placed cluster of crystals on the peep toe adds that extra zing to the design. The sling back is custom decorated and will perfectly complement the color of the awesome shoe.
Ivory Bridal Shoes by Colorful Creations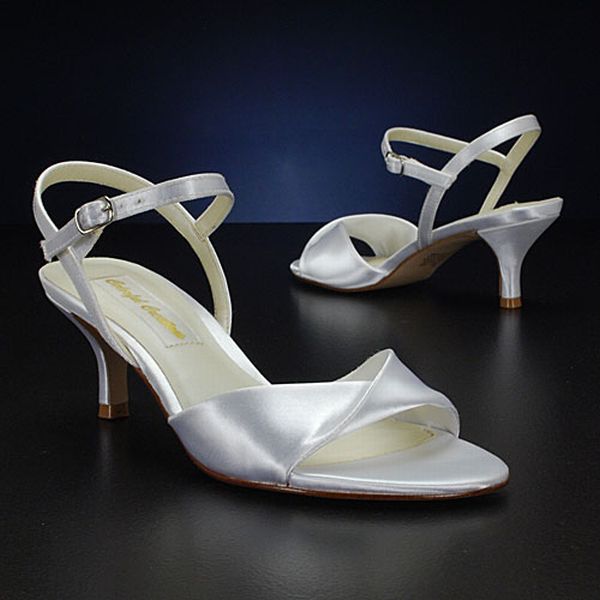 These alluring bridal shoes will have everyone doing a double-take. The elegant shoes are finished off by light ivory satin, which has a comfortable 2 inch heel. They are not richly decorated with pearls or crystals, but will manage to draw attention with their simplicity. Ivory Bridal Shoes by Colorful Creations exude sophistication and will add the much needed spark to your wedding day. The elegantly twisted satin near the toe strap gives it an enticing appeal, while the perfect fit is all a bride wants to wear on the most important day of her life.
Jen + Kim Luna Bridal Ivory Shoes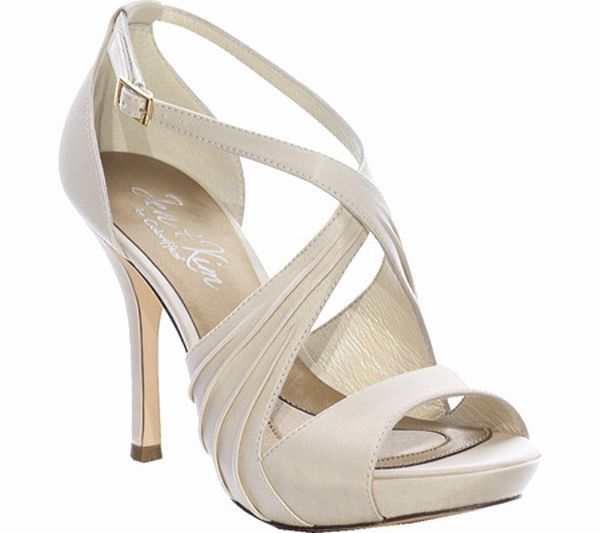 Say hello to the absolutely feminine bridal ivory shoes by Jen + Kim Luna. The precious pair will make jaws drop, as they flirt with the wedding gown. Give your feet a perfect companion and make sure that all eyes get fixed on the graciously designed ivory shoe. The curvy bridal shoes will lend the much required elegance and comfort, making you feel all the more special. The peep-toe style of the shoes is really great and the ankle strap looks awesome.
Caparros Nahla Ivory Bridal Shoes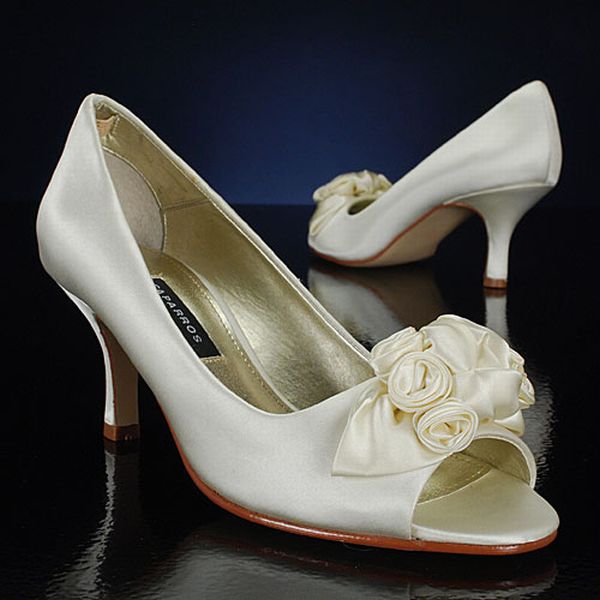 Like a romantic set up, these ivory bridal shoes will set your heart aflame. 'Caparros Nahla Ivory Bridal Shoes' will have you soaring to stylish heights with pretty rosette flower detailing. Make your wedding day one of the fanciest affairs with these divine peep toes. The stunning pair spills eternal romance and will make you look all the more beautiful as you hold exchange vows in these sugary and delightful heels.
Women's Ivory White Satin and Lace Wedding Court Heels Shoes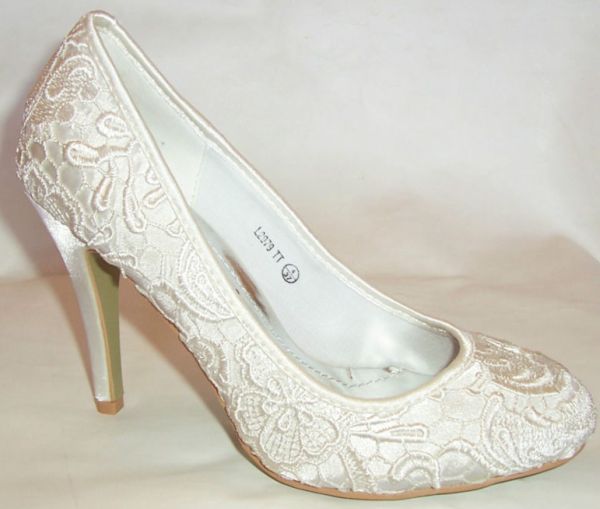 The stunning and flawless wedding court heel shoes will pamper your bridal feet, making you feel like a charming princess. Slip on these lace veiled white satin shoes, which have been crafted from good quality materials. The heavy lace finish is absolutely breathtaking, which make it nothing less than a blissful bridal fantasy. So, glow in elegant perfection as you match steps with your loved one while all the guests whiff 'wows.'
Pink Pout-Ivory Bridal Shoes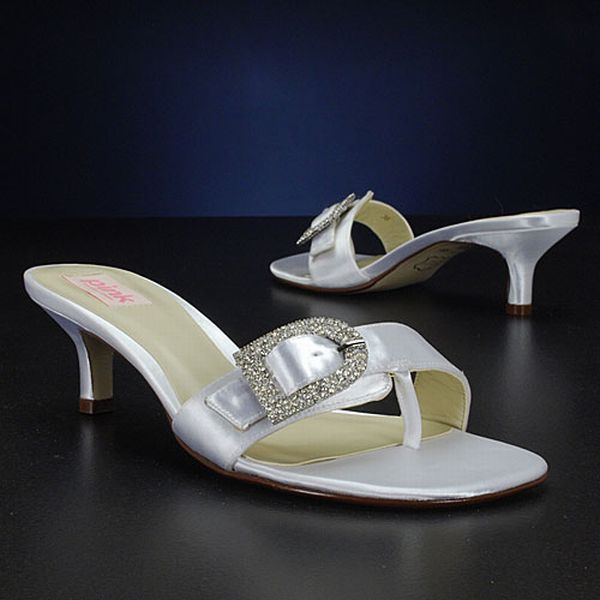 Make the new beginning of your life a memorable affair with the feminine and comfort coated bridal shoes in ivory color. The sandals are so comfortable that you will literally feel as if you are wearing flip flops. It will ooze out elegance, which is a perfect recipe to make your D day awesome. The feminine style is accentuated by the presence of a glittery buckle on the strap, which will give added confidence as you walk down the aisle in this exquisite pair.
High Heel Peep-Toes with Satin Flower Wedding Bridal Shoes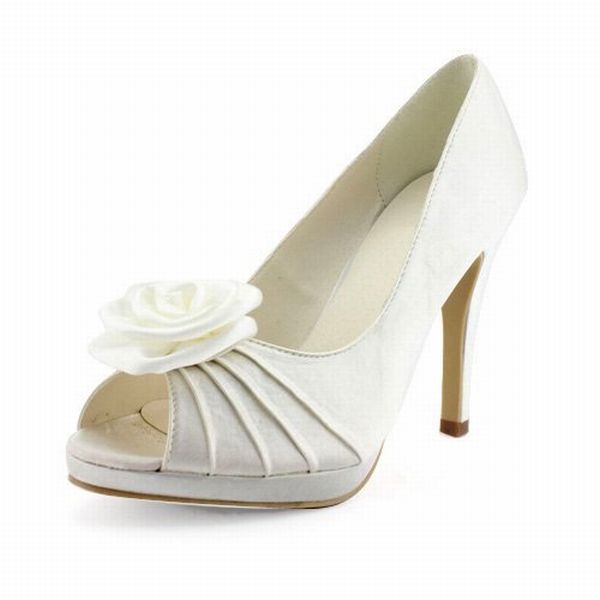 A wedding is incomplete without delicate flowers. Get the same elusively coy and sensual feel of flowers on your footsies as you slip into the effortlessly lovely Satin Flower Wedding Bridal Shoes. The extraordinary and intuitively glamorous peep toes have a satin flower neatly placed in the middle of the toe strap, which will make sure you glow down the aisle in charismatic grace. Simple yet gripping is what these peep toes can be best described as.
Ivory Peep Toe Bow Ladies Bridal Wedding Satin Platform Heels Shoes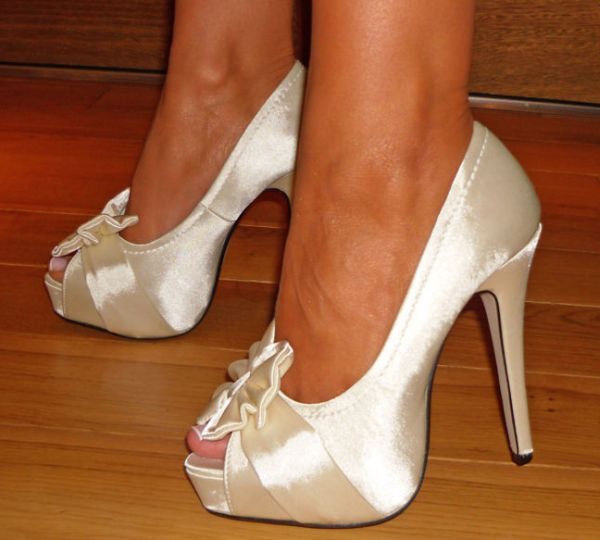 The peep toes come sweetly wrapped in ivory satin and are further adorned with an eye catching bow. The wedding satin platform heel shoes exude sheer grandeur and will undoubtedly jazz up your beautiful wedding ensemble, making the big day all the more special. The super stunning ivory creation has a platform that provides additional comfort despite high heel it comes fitted with. They will make the bride exuberate a ladylike aura, making her look incredibly gorgeous.