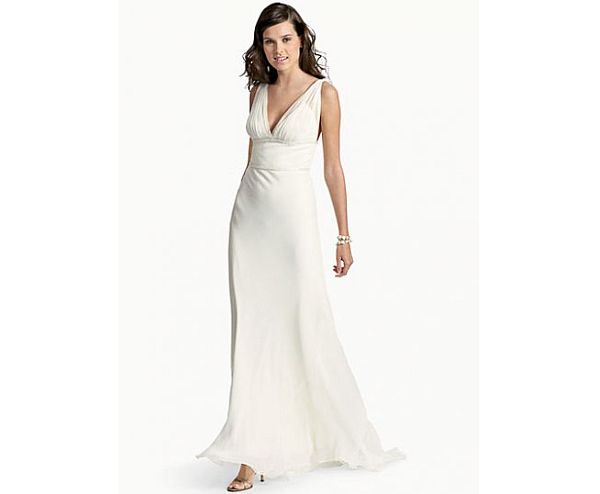 Everyone wants to look gorgeous on their wedding day and to find the perfect gown to don on that occasion can be an extremely difficult job. A lot of brides-to-be are opting for stylish and informal gowns that are more trendy and can be used later on at other occasions. Here are some elegant wedding gowns that would definitely appeal to the modern bride's taste!
Grecian A Line chiffon V neck beach informal wedding Gown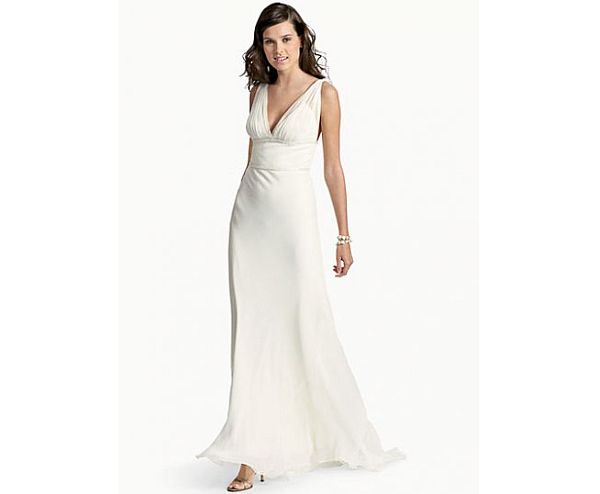 The Grecian A line informal wedding gown is a chic creation that is minimalistic with a trendy fashion statement nonetheless. The gown is made out of chiffon which lends it a romantic quality. The gown does not have any embellishment, but the cut of the gown in itself makes up for it. This sleeveless gown has a plunging V neckline that looks extremely sensuous and also has a chapel train. The backside of this gown is lacy. The design of this gown is extremely flattering with its gently flared shoulders and A-line skirt that accentuates the curves to form. It also adds an illusion of height and makes it the perfect choice for a bride who is petite.
Simple Summer Strap Chiffon Elegant Informal Wedding Dress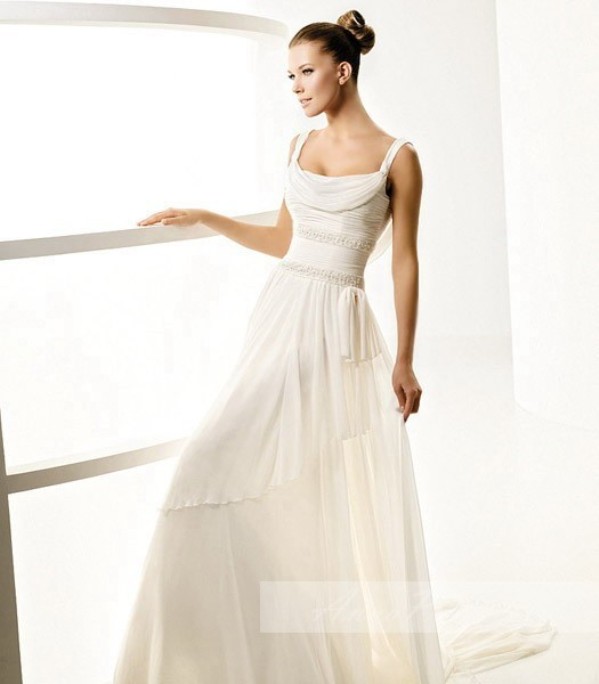 The simple summer informal wedding dress is another minimalistic gown that features a simple strap with an A-line flowing skirt. This elegant gown is made out of rich satin and chiffon and has a beaded waistline. The skirt is asymmetrically layered to lend it a modern touch with a chapel train. This gown would look great for a beach wedding or a summer wedding with its simplistic yet graceful style. The best part about this dress is that it not only looks amazing, but it makes you look smaller. You could add a princess-like grace to this outfit by teaming it up with a delicate tiara and a necklace to give it a dreamy look!
Elegant Vintage White Beaded Lace Ruffle Informal Wedding Dresses Gowns SKU-120067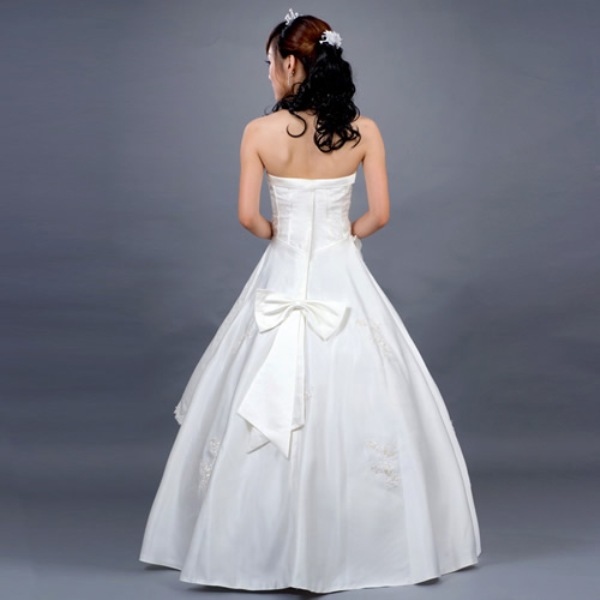 The elegant vintage informal wedding gown is a delightful amalgamation of the classic design with modern finishing. This gown is made out of taffeta and organza and features a white beaded lace ruffle along the skirt and the corset. This gown has a sleeveless corset that is embellished with white beads, sequins and gold lame to give it a very vintage appeal. The skirt is also layered asymmetrically with borders along the layers of the same embellishments like the corset. The highlight of this gown is the big satin bow at the backside that adds a true classic touch to this beautiful gown.
A-Line Jewel No Waist/Princess Seams Long Lace Cap Sleeves White Wedding Gown WD1876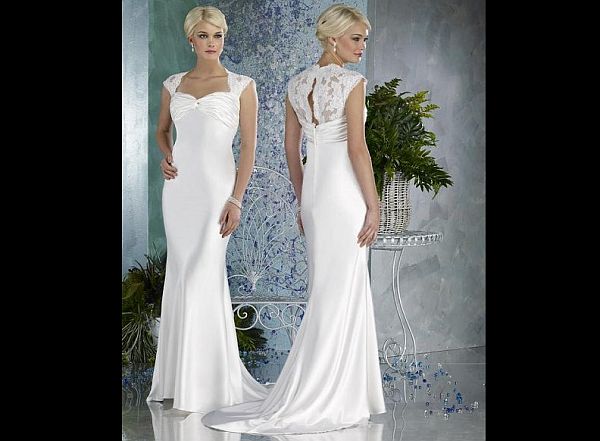 The A-line jewel white wedding gown is a very chic piece that would not only make you look grand on your wedding day, but would look perfect for other occasions too. The beauty of this gown lies in the way the satin and lace has been merged together in a classic design. This gown has long lace cap sleeves that form the backside of the gown in a rather creative way. The sweetheart neckline along with the ruched corset of the gown looks very elegant. The satin gown flows into an A-line skirt with a chapel train which looks very sophisticated and beautiful.
Informal Wedding Gowns Juno BC505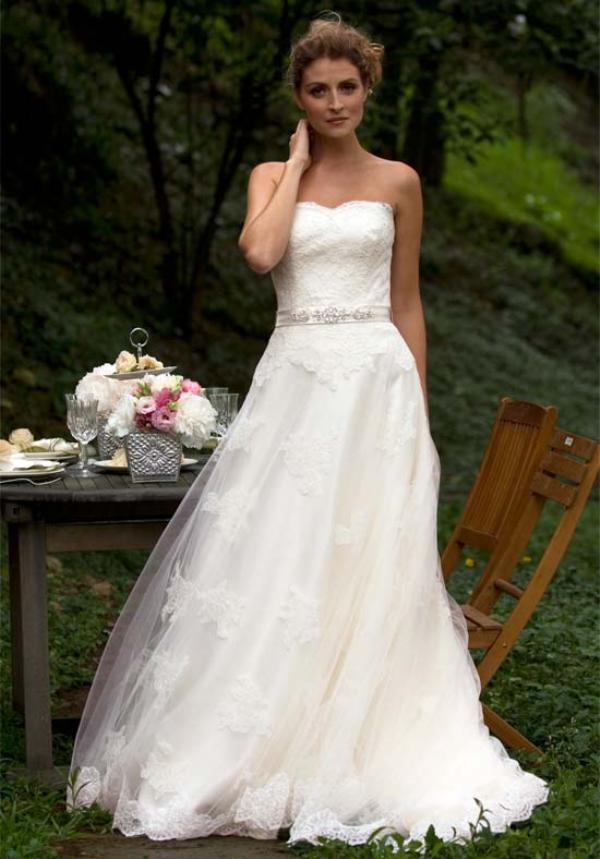 Now you can add some old-fashioned charm with the informal wedding gown called Juno from Augusta Jones Juno. Now make your wedding day memorable by walking down the aisle in this splendid creation. Juno is an elegant A-line design and is a typically English tulle gown that has a strapless neckline and a lacy bodice. The flared skirt looks splendid with a lace overlay and a hemline that is scalloped. This gown comes with a satin belt that is embellished with delicate work as well as a chapel length train. If you adore lace gowns and want to create an old world look on your wedding day, the this wedding gown would be the one for you!
Allure grecian Empire Waist Informal Bridal Gowns with Spaghetti Straps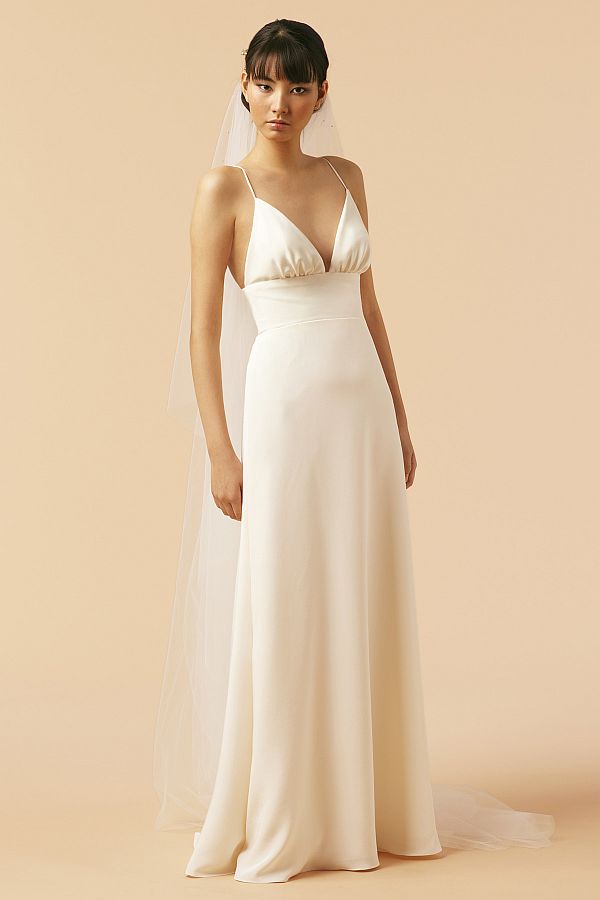 The Allure informal wedding gown is a very sensuous design that has an empire waist with spaghetti straps. This gown is minimalistic with its appeal lying in the grecian cut. This satin gown is truly alluring with its spaghetti straps and low back. The column line of the skirt would make the wearer look statuesque and tall. You could enhance the look with a lace or net veil with a striking necklace. This gown has a very modern appeal and would look great on other occasions as well.
Romantic Strapless Scoop Neck Multi-Layer Satin Informal Wedding Gown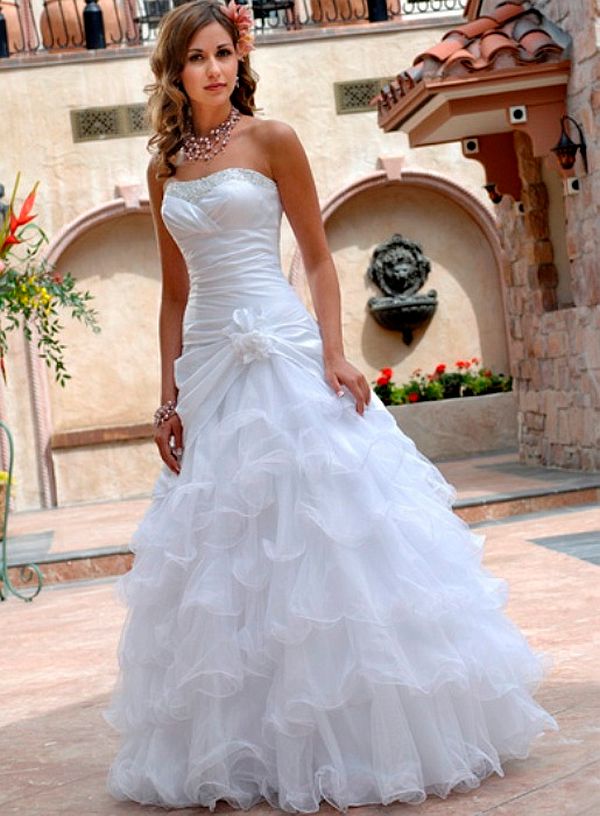 The romantic satin information wedding gown is a beautiful strapless design that features a scoop neckline. The most striking feature of this gown is the multi-layer satin trimming around the skirt all the way to the bottom that makes it look very regal. The ruffled skirt is made out of net which adds a dream-like element to this wedding creation. This A-line wedding dress is well-fitted along the bodice and accentuates the waist.
Strapless Natural Waist Pleated Long Chiffon Ivory Wedding Dresses WD3981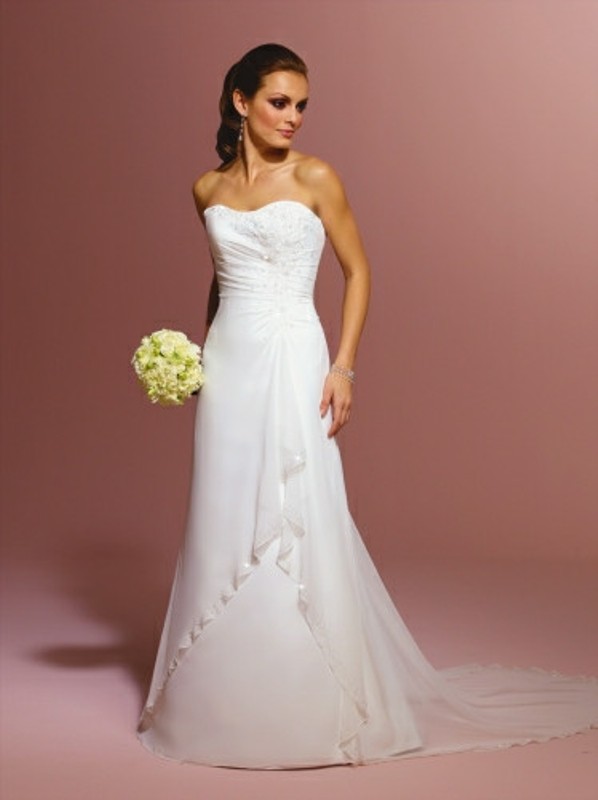 The natural waist pleated ivory wedding dress is an extremely elegant design that will definitely make head turns when you walk up the aisle! The dress is minimalistic but it still happens to stand out with its beautiful design and delicate embellishments. This chiffon dress has a very romantic element to it with its strapless bodice with beaded embellishments that look very classy. The skirt is pleated along the waist with a peek-a-boo design. The back side of this dress has a very old age look with its corset-like lace up back.
Organza Off-the-shoulder Ivory Informal Wedding Dresses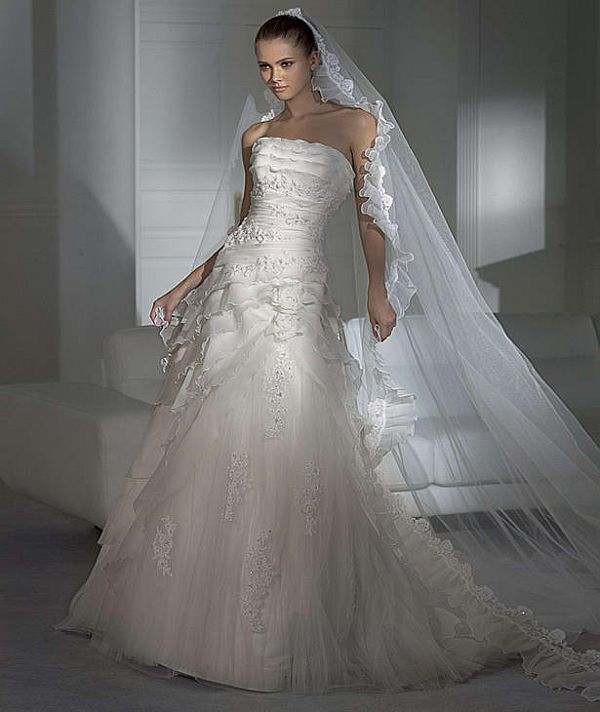 The off-the-shoulder ivory informal wedding dress is a very intricate gown with a lot of care given to detailing throughout. This off-the-shoulder dress is made out of crisp organza that lends a lot of form to the dress with each element of the dress standing out against the other. The dress has a ruffled layered look which starts from the bodice and then it parts out to form a parting peek-a-boo skirt from the front with an entirely layered look at the back. There are a lot of embellishments that are used on the gown and the bodice to add a very elegant look. This wedding gown would add a romantic element to your wedding with its classic ruffled and layered look!
A-Line Bateau Dropped Waist Long Chiffon Ivory Wedding Gown WD5583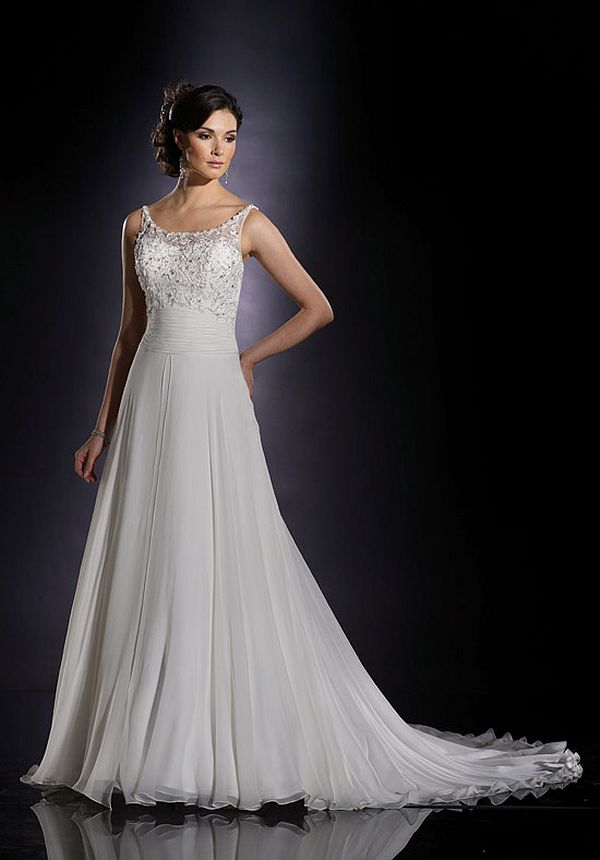 The Bateau dropped waist long ivory wedding gown is a very stylish piece that is made out of chiffon. This exquisite gown is sleeveless with the sleeveless bodice covered by lace sleeves that are heavily embellished with beads. The skirt of this gown has flowing panels which add a lot of grace to the entire look. This gown would be ideal for a summer or a beach wedding as it looks elegant and is not too heavy on the details.