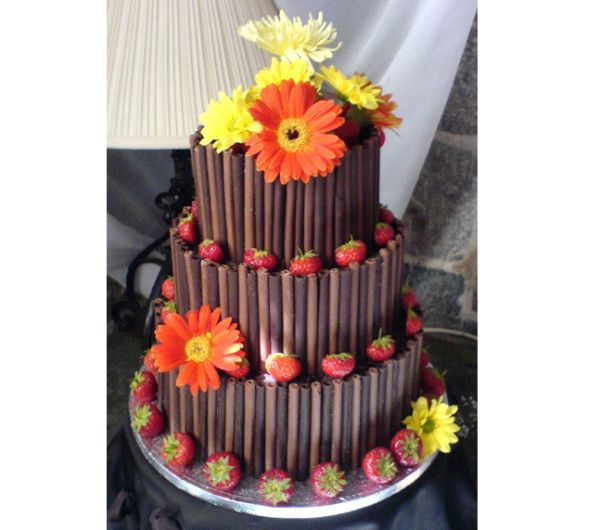 Just close your eyes and think how beautiful your wedding venue will look with miniature prototypes of the master wedding cake placed upon every dining table. Such a grand decor will give the most customized look to your wedding ceremony. These mini confectioneries can also play great role as wedding favors. Now for those who have always considered that incorporating mini wedding cakes in nuptial ceremony is a sheer wastage of money, we will only say please get some life. Read on further and unravel the wonderful world of mini wedding cakes.
Three tier chocolate curl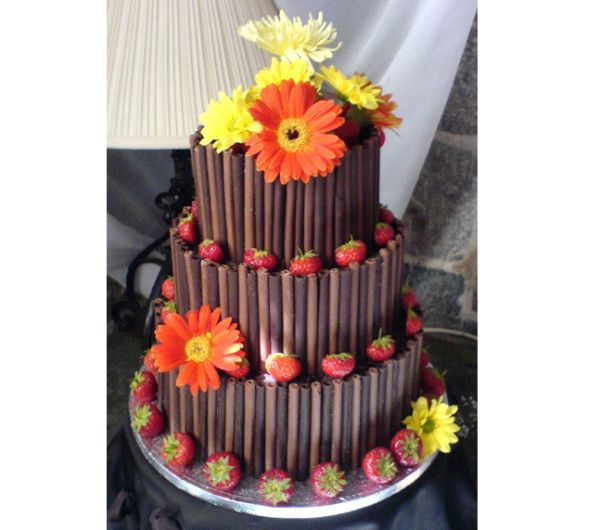 If one of your chief vices is chocolate then we have a surprise for you. Have a look at this mouth watering chocolate mini cake. It will be most appropriate thing to depict your fondness for chocolates on your wedding. The maker has incorporated dark chocolate and milk chocolate as a means to titillate your taste buds and also to abide strictly to pure chocolate decoration theme. Pure Belgian chocolates have been rolled into rods and stacked together to form the outer base of this tempting treat. Boards have been carefully inserted in between the tiers so that the cakes are easily removable.
Individual assorted chocolate curls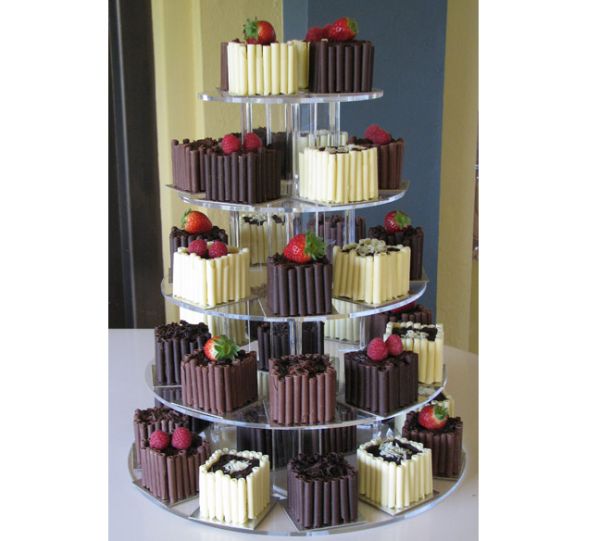 In case you have planned to set up a towering centerpiece in your wedding then this item can be a good choice for you. Since chocolates are always renowned as aphrodisiac food, so the maker has integrated different varieties to create a spell of romanticism. Therefore, you will find cubes of white milk chocolate, plain chocolate as well as dark chocolate in this mouth watering cake tower. The smaller cake cubes with rolls of chocolate sticks adorning their exterior and crushed chocolate as topping will simply drive you crazy. They have further been decorated with fresh strawberries to make the centerpiece look stunning.
Rose heart mini cake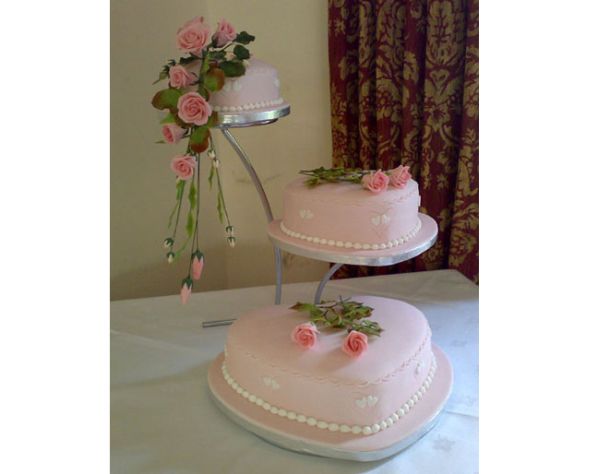 This cake will be a great item to add spark to the dining table décor of your wedding venue. It will look equally beautiful as a master wedding centerpiece too. The heart shaped cakes in this tempting wedding décor captures the magical charm of love and passion of the occasion. The milk and strawberry colored shade and strawberry flavor will take care of the taste buds of your guests as well as you. The hard icing vibrant pink roses scattered carelessly over this three mini cake centerpiece look amazing.
Rose cascade on vanilla mini cake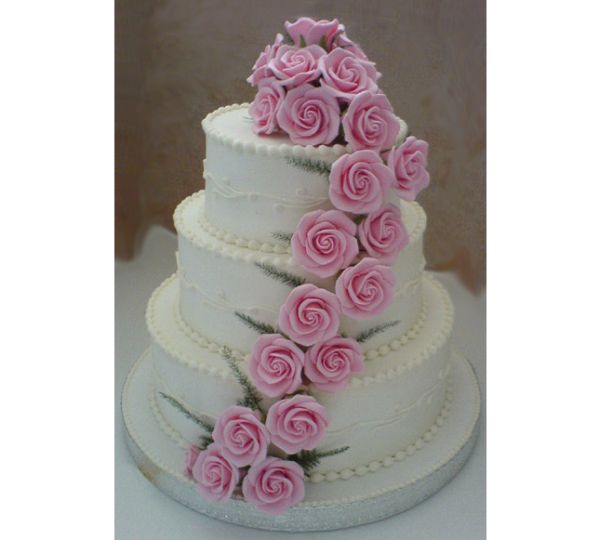 At an initial glance it will be really difficult for you to figure out if it is a real wedding cake or a smaller prototype. It has been made so artistically made that you will become spellbound. The three tiers of vanilla icing in pure white shade stacked one over the other gives a sophisticated look to your wedding table décor. The combination of blush pink frosting roses flowing from the top of the tier as a cascade beautifies the cake further. The incorporation of real fern leaves in the decoration is symbol of freshness of relationship.
Jeweled seduction mini wedding cake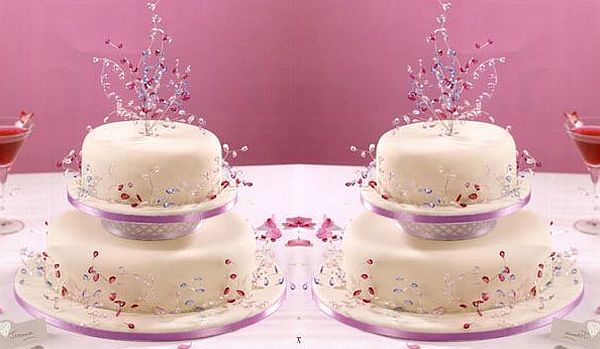 This mini cake will be a wise option for those who value simplicity. This two tier cake with glazed surface has all the qualities to felicitate even a royal wedding. Therefore, the maker has opted for a jeweled décor for the cake garnishing which will be ideal for the occasion. The combination on soft pink hard iced cake surface and the network of boughs running all over, bearing red and blue colored crystals looks simply awesome. This jeweled bough literally grows into a sapling right on top of the first tier.
Sophie mini cake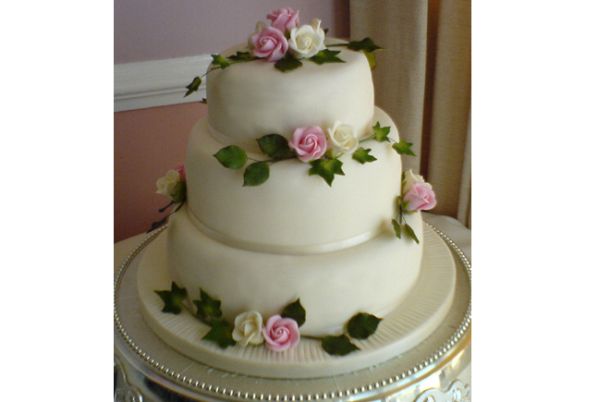 This mini cake has immense possibilities. Just adjust the size and it can become your wedding cake or the centerpiece or even a beautiful table décor. A sense of softness prevails all through the cake. So, the maker never thought of meddling with it by stuffing unnecessary accessories. Hence, a glazed smooth surface is the predominant feature of this mini cake. The softness of the cake is further enhanced by the frosted blush pink and ivory roses with ivy leaves that are the only embellishments used in this cake.
Cup cake tower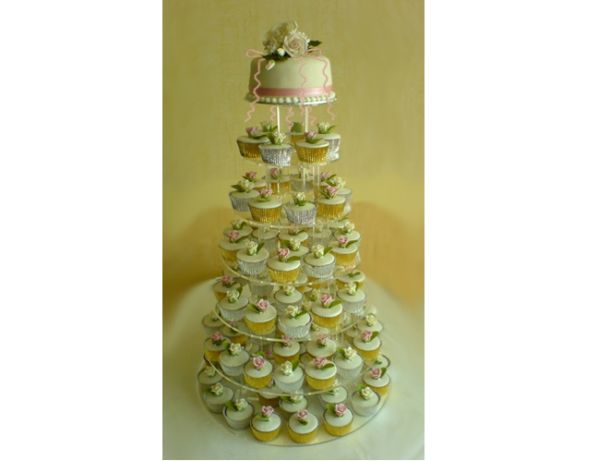 Cup cakes are all time favorites. So, the maker has thought of using them as wedding centerpieces too. This tower looks grand with gazillion of cup cakes offering different flavors and colors. They have been decorated with iconic matrimonial embellishments like roses, butterfly and hearts to hold the essence of romance and togetherness in your wedding. The flowing swirl of satin ribbon all through this cake tower gives a touch of feminine softness to this mini cake centerpiece.
Victorian style mini cakes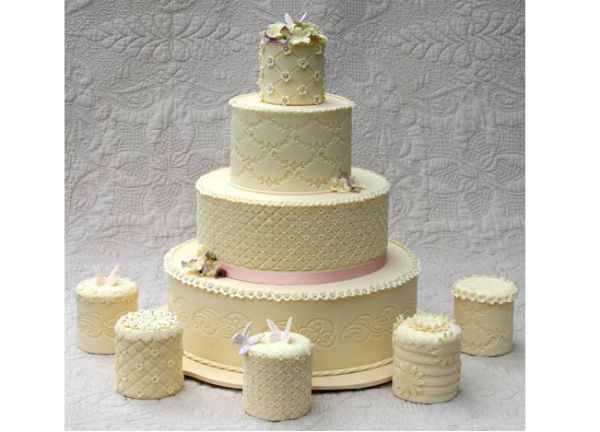 In case if you have planned for a grand Victorian style wedding then these mini Victorian wedding cakes are ideal to complement the look of the master cake as well as the overall wedding venue décor. These mini wedding cakes resemble the look of the bigger cake in their intricate surface décor and use of nuptial embellishments. Even the tone and the flavor of these cakes are also kept similar so that they give a sense of symmetry. If you order for these mini wedding cakes then we suggest that you to buy your wedding cake from the same maker too so that the table décor is flawlessly stunning.
Polka dotted mini cakes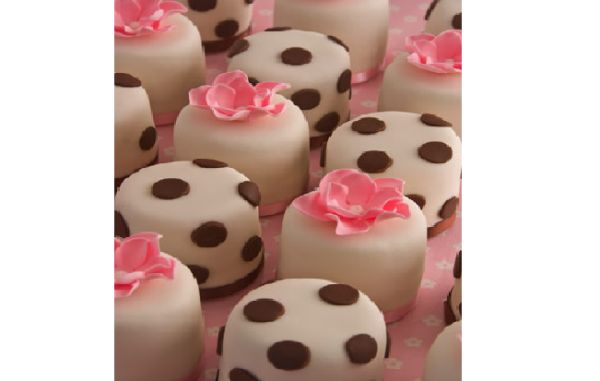 These polka dotted mini cakes are amazing options as centerpieces and as wedding favors owing of their spotty look. These polka dots give them a happy look and inculcated a sense of merriment in your wedding. The maker had been careful not to make the cakes look monotonous. So, plain versions have been matched with the dotted ones. You will love to know that the polka dots are spots of dark chocolate.
Candy stripe cakes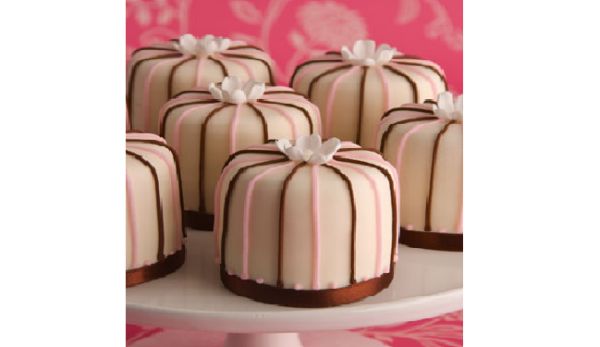 At a price tag of £11.50 these cute little cakes will make your wedding a memorable event for you as well as your invitees. The soft strawberry color and the dark chocolate base make these mini cakes extremely attractive. The combination of pink and chocolate frosting stripes running all along the length of the cakes with a white floral topping is their signature style.