For those who love the beach and spend a lot of time there, it is only natural to want to have weddings there. The sun, sandy shores and the waves of the ocean add an unforgettable background to your weddings-you can be different by adding a theme that will turn your average beach wedding into beautiful one by changing things to suit personal tastes. Here are a few themes that can help you to accomplish that: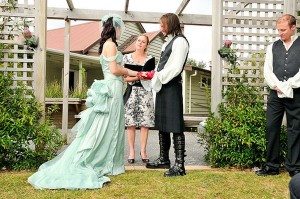 Pirates wedding themes:
If you loved the Pirates of the Caribbean movie, then plan a wedding theme around the movie. There you can ask your guests to dress as pirates and you can serve simple food by hosting a barbeque. The décor is the most important part and can include fake treasure chests, nautical maps and plenty of nets, palm trees and fake parrots.
Sandcastles wedding:
You will have to order for customized sandcastle wedding invitations available through any website after which you should move on to the dress code. The center pieces that are to be placed on guests tables can be a glasses filled with sand with a candles put inside of it. The favors can be small sandcastles or conch shells. The wedding centerpiece where you exchange vows can be a giant sandcastle, if you don't have the time to build one, use a normal tent covered in sand to get the same effect.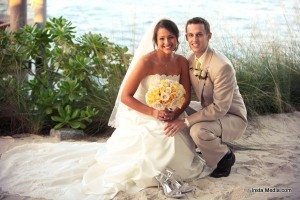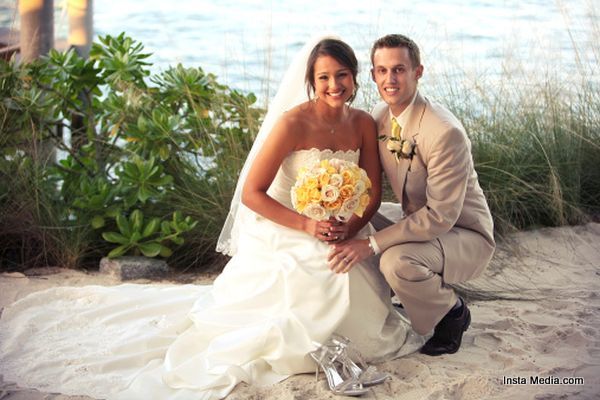 Seashell Wedding;
If you think sand would be too cumbersome, consider using shells. Use them as place card holders, tea light holders. The menu can consist of seafood and the favors can be chocolate sea shells. The centerpieces can be little sea shell sculptures or a big conch shells with the names or initials of the groom and bride printed on them. Wedding invitations can have shells printed on them or get creative by printing out the ceremony details on to a big shell.
Luau weddings:
Luau weddings are usually what people think about when they hear beach weddings. But Luau weddings are actually traditional Hawaiian weddings ceremonies. Your guests can dress in tropical clothing where the men wear don white are the women are in sarongs with a few flowers as hair pieces. The buffet can be a simple barbeque with a combination of seafood and roasted goodies. If the wedding is sometime in the evening, you can arrange a bonfire and have beach bands the entertain guests.