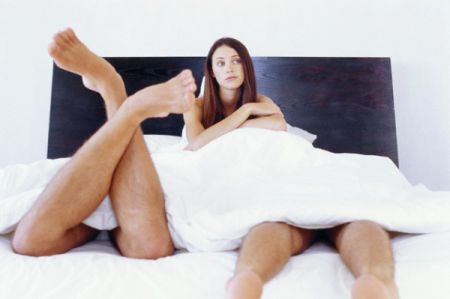 We can understand what a mess it is if you realize after years of wedlock that your husband is a bisexual! While for some the decision is easy and they call it quits immediately, but there are others as well, who struggle with themselves in the dilemma whether to continue living with the same spouse or get separated. In case if you belong to the latter clan and do not wish to end your marriage just like that, the tips we have arranged for you to accommodate with your bisexual husband will certainly come handy.
Ask your mind
The best person to guide you in this case is your mind. Ask your mind whether you wish to continue with the same man again or end the relationship forever. In this context, we will suggest that if you feel that it is too difficult to forget that your man is a bisexual, then this very thought will keep on corroding your mind. In such a circumstance, even if you feel like continuing with your bisexual husband, the marriage will never be a happy one. So, be logical when you take the decision.
Do not consider him as a stranger
We definitely understand that after years of marriage, the news of your husband's bisexuality will come as a shock! But, if you wish to continue with the marriage you need to look at it from a different perspective. Consider that he is the same man as he used to be previously. The only difference is that previously you were not aware that he is a bisexual man and now you know about it. So, it should not affect your life in any way.
Seek his commitment towards the marriage
Since now you know that your husband is a bisexual, you cannot change his sexual orientation. You cannot simultaneously be his wife and his male friend too. Therefore, have an open talk with him and seek his commitment towards the marriage.
Do not consider bisexuality as your failure
When you discover your husband's uncommon sexual orientation, the first thing that might pop up in our mind is that you are not being able to satisfy your spouse sexually. This is forcing him to indulge in these erotic pleasures. But the truth is that, your notion is completely erroneous. As we have already said, you can never take the place of his male friend and enjoying sex with both the sexes is in his blood. Hence, pondering on all these illogical ideas will make you frustrated at the end of the day.
Try to understand his inclination
As you have made your mind to live with him, so it is equally important to understand his inclination. This will act as a stronger determinant of the fate of your marriage. Try to find whether it is the fairer sex, who steals his heart or it is men, who is the top most priority for him. In case if you find that he has a balanced interest for both the sexes, then it is safe to continue with him. If you detect that fairer sex is his priority, then you have pretty good chances of making him 'straight' one day. But, unfortunately if men drive him crazy, then do think again about the fate of your matrimony!
Do not brood over the issue
We certainly admit that there are lots you need to know about your husband's sexual orientation and preferences when you discover that he is a bisexual. But brooding over the issue continuously can be detrimental for your marriage. You have every right to inquire him, at least for health reasons. But do that infrequently so that things do not become nasty.
Treat him as a man
Once you have found out that your husband is bisexual and loves men, you might assume that much of your girlish preferences, likes and dislikes will coincide with him. But this is extremely untrue. He is neither a woman and nor an effeminate. So, he needs to be treated just like a man.
Be assured of your health
Now that you know that your husband has a sexual partner besides you, so it is vital for you to remain protected from sexually transmitted diseases. Have an open talk with your husband on this and take up the necessary steps during sexual encounters that will ensure your safety from these health menaces. In case if you wish to have a thorough medical checkup done of both of you to be sanguine that you are safe, politely convey to him the same and do the needful.
Maintain healthy conjugal life
Just because your husband is a bisexual, you need not shrink from sexual pleasures. In order to maintain a healthy marital relationship it is crucial that you must continue to be sexually intimate just the way you have been before you knew of his sexual orientations. It is utmost important for you to make him realize that you are absolutely unperturbed about his bisexuality and bed is the best place to let him know that. So, give him the assurance of your love and commitment towards the relationship by continuing to be physically intimate.
Get the help of a psychiatrist
It is often very tricky to understand whether a man is bisexual or a gay. The nasty part of it is that majority of men do not find it comfortable to reveal that they are gay and do not have any interest in women. They are pressurized under social stigma and consider it unmanly. In case your husband belongs to the category of these submissive gay men, your life will become a hell. Neither will you be happy with a 'gay' husband, nor will be let you leave him as you will never know about it! The person to seek advice in this regard is a psychiatrist. Meet a qualified psychiatrist, try to figure out your husband's sexual inclinations and know where your marriage is heading towards.