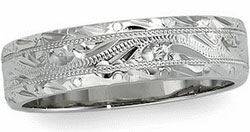 Wedding ring band means something that will be worn forever. Therefore, its selection should be with great consideration. There are many rings available in the market to confuse you.
So, before making a selection of a ring for groom remember comfort should be the first consideration.
A band up to 5mm or wider is recommended to give comfort. For extra comfort, a ring should be in extra metal may be that will cost your little more. But your hubby will not think to open it any day.
Then the question comes of which metal to choose… Go in for a metal, which is more durable and soft like titanium.