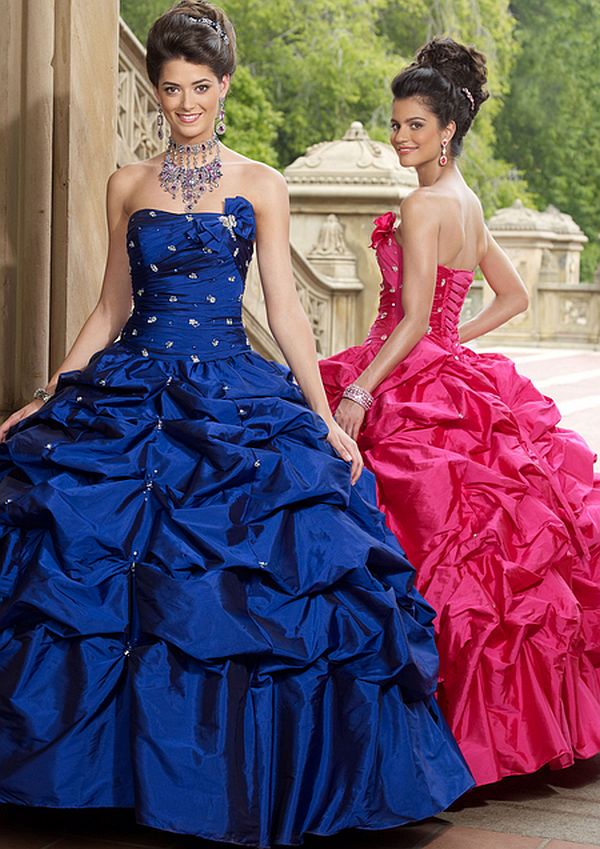 Wedding is an expensive affair with wedding dresses, accessories, rings coming at a premium. These are bound to flare up the costs of a wedding if there is no set budget. It is a dream for all brides to look their super best on the special day and most often the wedding dress causes the deepest dent in the wallet. However, one need not spend elaborately on the wedding dresses to look stunning on the wedding day. The most expensive dresses are often thought to be the best. With imagination and creativity, a bride can still look gorgeous and win admiring glances with a decorative and respectable dress that fits the budget.
Wedding are often theme based and wedding dress is one of the important element that are included to be part of the theme. A simple wedding dress can be accentuated with thoughtful accessories and will cost you very less without compromising with the glaring look of the dress. Following are some elegant wedding dresses that are wallet-safe.

1. Sleeveless Taffeta Wedding dress
PRICE : USD 229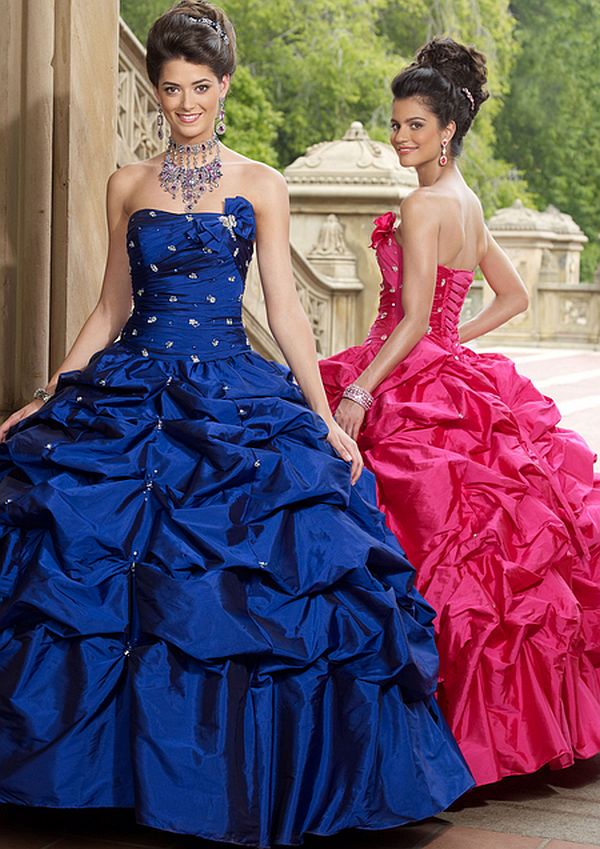 This wedding dress features a sleeveless gown that adopts the A-line type of a style for the dress. This beautiful dress is cut up to fit the hip and gradually widens towards the bottom of the gown, symbolizing the shape of the letter "A". The gown flares up further looking a trumpet enhancing the looks of the dress. The bride is sure to feel like a princess in this wedding gown with a hemline that reaches up till the floor length. This wedding dress is available in different vibrant colors such as White, Champagne, Grape, Lilac, Lavender, Royal Blue and other bright colors. This dress is available in US size 2 to 28.
USP
The stunning dress has a straight neckline and looks elegant and complete with a lace up back.
PROS
Color of thdress can be chosen from a range of around 45 lovely and unique colors.The wedding dress is beaded, which will provide a more luxurious look to the dress.
2. Strapless Chiffon Dress with Tiered Skirt
PRICE : USD 179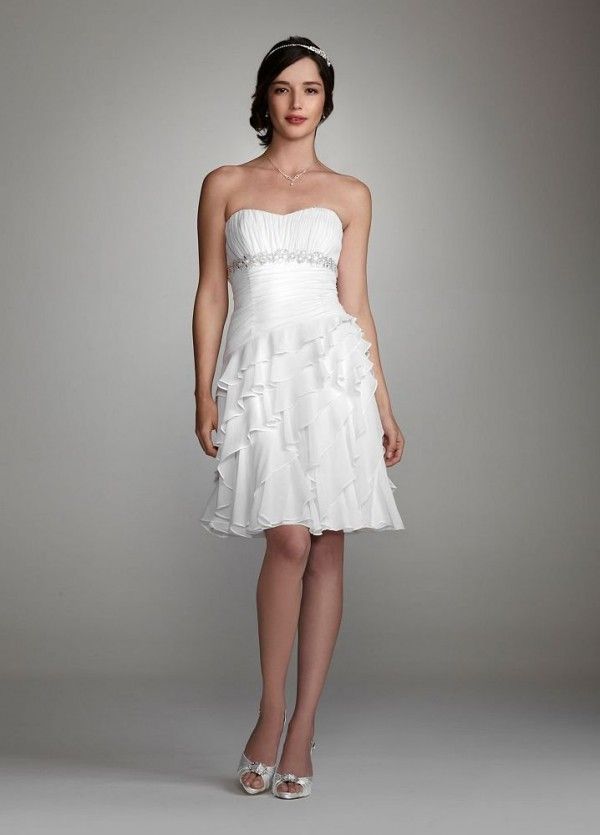 Featured in davidsbridal.com, this slick skirt is perfect for the special occasion. The skirt is tiered with soft chiffon fabric. It has flattering pleats at the waist for added coverage and comes with empire waist. This skirt is strapless and has beaded decoration at the waist.
USP
The shirred bodice of the skirt gives the wearer a slim look.The dress is made up of soft chiffon fabric which is ruched at waist and tiered skirt is perfect for special occasion.
PROS
The skirt is made of imported polyester and has back zip and strapless shirred bodice is beaded at the empire wiast
3. Pink Sweetheart Strapless Satin Wedding Dress
PRICE : USD 172.13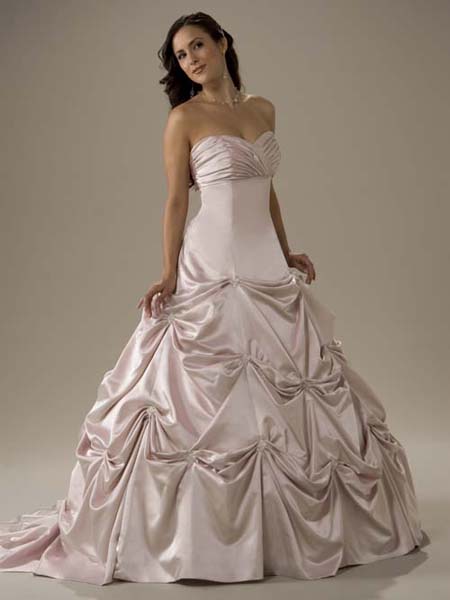 This Satin wedding dress has a sweetheart neckline and is strapless. It has a ball gown silhouette and sweeps the floor with the full length gown. It has a lacing back and is exotically trimmed to give the wedding dress a classic ball gown look. This dress is available in pink and other colors such as Blue, Sage, Royal Blue, Green, Lavender, Brown and other color. It is available from US size 2 to 28.
USP
Feel enchanted like a princess with this full blown ball gown strapless satin dress.
PROS
This dress is customizable to suit the size and the color preference of the user.
4. Champagne Beadings Strapless Bridal Dress
PRICE : USD 160.07
This excellent wedding dress from www.bridalgownsinlove.com looks very special with its ball gown silhouette. This dress is made of satin and has a chapel train sweeping down the floor. It is soft embroidered embellishments on the gown. It also has beads ornamentation which makes the gown look very unique. The taffeta satin fabric mix gives a suave and svelte appeal to the dress. The price of the gown is exclusive of the accessories seen in the picture. Range of colors is available to customize this wedding dress. This dress is available from US size 2 to 28.
USP
Look spectacular on the special day with this perfect evening dress.Satin formation and chapel train sweeping of the wedding dress will give you a spectacular look.
PROS
The wedding gown comes with underskirt to support the flowing length of the dress.Vintage Strapless Beading Style provides it a complete luxury look. So, if you are a fan of vintage style wedding dresses, this is the best one for you.
5. Ball Gown Elegant Formal Prom Wedding Dress
PRICE : USD 109.99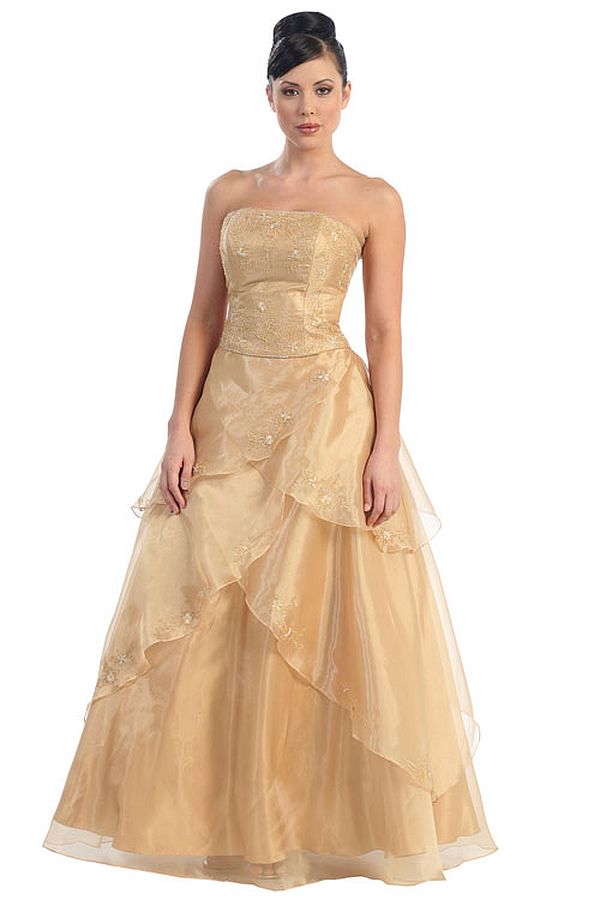 This wedding dress from US FairyTales makes a good value for money. The wedding dress looks formal and classic with its unique layered look. This skirt flows down sufficiently and is made of 100% polyester with a smooth lining fabric that flows elegantly down the gown. Intricate embellishments made of embroidery and beading in the bust area of the dress makes the gown look pretty and distinguishing. Unlike other wedding dresses that are quite heavy to be carried around, this dress is lightweight due to its fabric. This wedding gown has a side zipper as well as a lacking in the back.
USP
The lightweight flowing elegant formal dress is pretty and is worth the money.
PROS
This dress comes with a shoulder wrap and detachable straps.
6. Knee-length chiffon wedding dress
PRICE : USD 99.99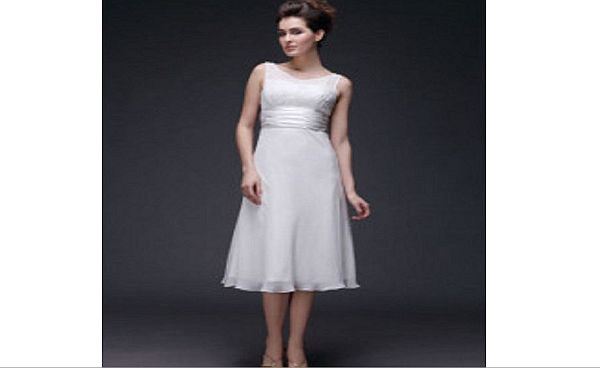 This empire sheath dress from lightinthebox.com is very charming and looks versatile with its light weight chiffon and satin fabric. It has a scoop neckline and has embroidered ornamentation. The knee length empire sheath dress looks sharp and comfortable. This dress is available in Ivory, White, Champagne and Pink colors. This elegant wedding dress is lined with satin and camouflages the body with the flowing chiffon fabric. The lengths of such skirts are 22 inches from the empire line and falls on the knee. It has a zipper back and is available in US size 2 to 26W. There is an extra charge of $9.99 for sizes 14W and above.
USP
Any bride is sure to look chic with this knee-length flattering wedding dress.
PROS
This dress can be stitched as per custom sizes as well. Look gorgeous and petite with this soft and flowing sleeveless wedding dress.
7. A-line gown with dipped neckline
PRICE : USD 190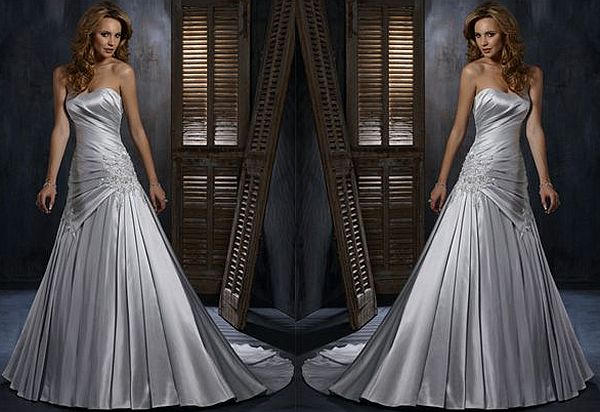 This glamorous wedding dress from Weddingo is an A-line gown that is strapless. The wedding dress is made of L'Amour Satin adding a royal and sophisticated touch. This gown features beautiful detailed embellishments on the wrapped waist. The decorations are enriched with lace motifs that hug the side hip areas. The gown has knife pleating that touches the ground. The pleats and the gown accentuate the A-line skirt. This wedding gown can be customized with color card that has up to 81 colors to choose including Champagne, Ivory and White colors. It is available from US size 2 to 28. Users have to pay additional charges of $25 from US size 20 onwards.
USP
This strapless gown with dipped neckline and corset closure is sure to make any bride look very special on her wedding day.
PROS
A trimmed lace and a full length veil can be optionally purchased along with this gown that enhances the overall appearance of the gown.
8. Satin and Chiffon Wedding dress
PRICE : USD 159.99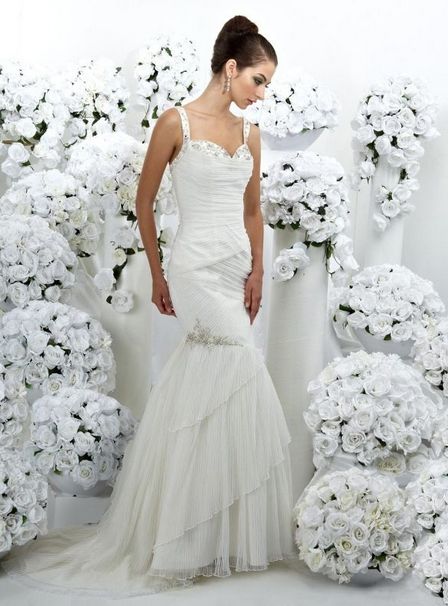 Look stunning with this pristine wedding dress made of chiffon and satin fabric. This wedding dress looks unique with its delicate work on the sweet heart neckline. The wedding dress brushes the floor with its sweeping train. It provides elegance and subtlety to the dress without much fabric in the train. The dress also offers a number of color ranges to choose from a color panel that has around 45 color shades. This mermaid wedding dress has straps made of beads which make the dress updated with style and splendor. This simple yet elegant mermaid wedding dress cut is suitable for both semi-formal and formal occasions.
USP
This chic wedding dress looks graceful made from Chiffon and Satin material.
PROS
This dress has a zipper up back and has soft decoration at the train.
9. Mermaid Sleeveless Chapel Train Organza and Taffeta Wedding Dress
PRICE : USD 259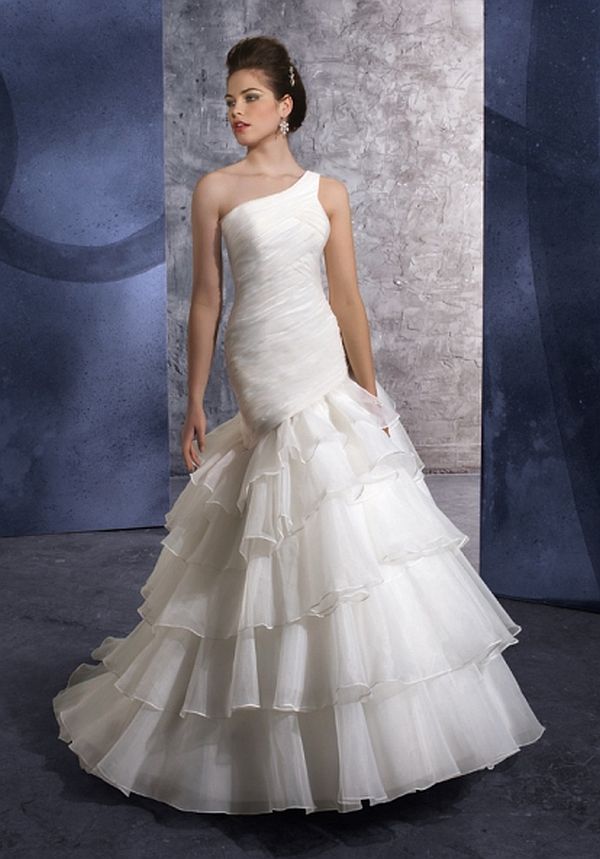 This simple and elegant wedding dress is made with a combination of Organza and Taffeta fabric. It looks modern with a mermaid silhouette. Mermaid wedding dresses fit on the bodice and the hips and flares into a trumpet shape at the knee. There are myriad of colors to choose for this wedding dress cut. The neckline of this dress has one shoulder to accentuate the looks of the dress. The wedding dress also features a chapel length train adding elegance to the dress. The chapel train flows from the waistline and is a fits perfectly for a formal as well as a semi-formal wedding gown.
USP
This lovely mermaid chapel train dress is sleeveless and adds up to the charm of the dress.
PROS
The wedding dress is available in US size 2 to 28 and has a zipper up back.
10. Strapless Cotton Sateen Dress with Bubble Hem
PRICE : USD 119.99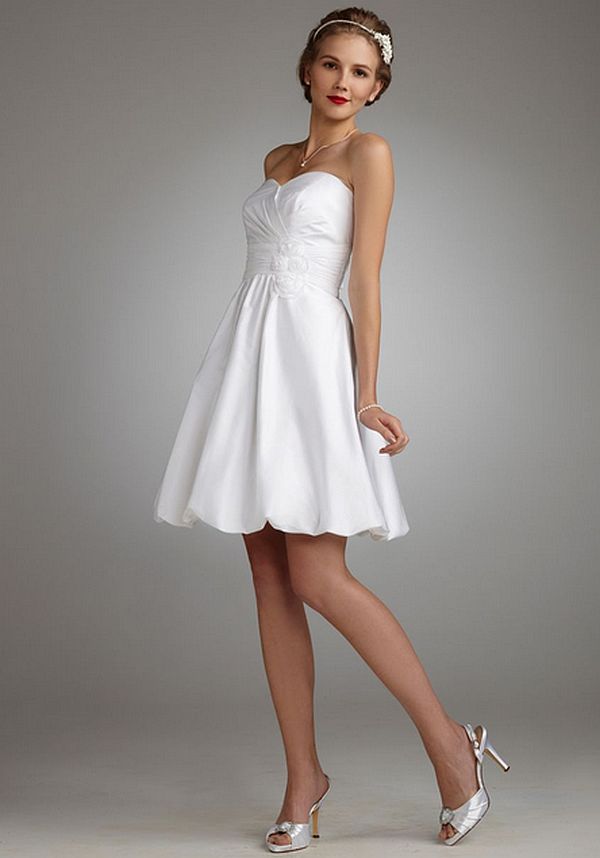 This dress is a perfect blend of sophistication and innocence. Made of sateen cotton, this dress gives a feminine and flattering look. The waistband of the dress is accentuated with soft 3-D flowers giving it a contemporary modernistic look. It has a bubble hem silhouette that gives a chic appeal to the dress. It is made of imported polyester and has a back zip
USP
This strapless dress is perfect for a more casual event and has ruche chiffon waistband.
PROS
This dress is available in ivory and white color.