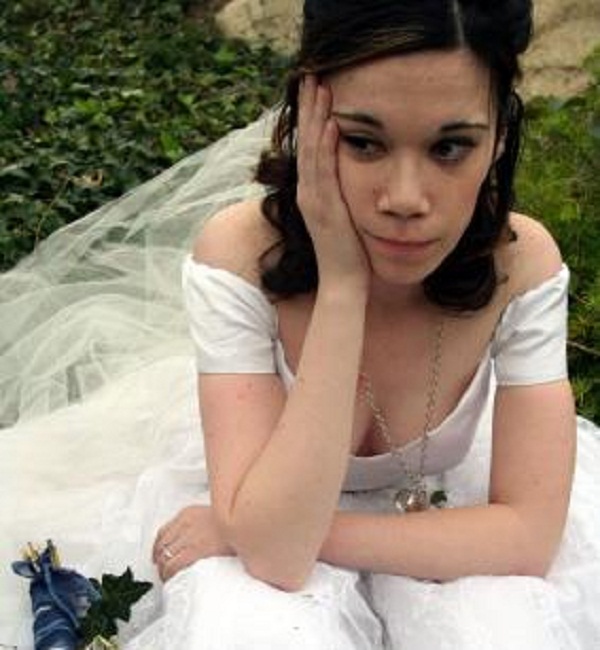 Everyone wants to make their wedding day special but despite effective planning you cannot avoid last minute hassles or problems. The best you can do is to make your self capable of tackling the last minute disasters by being aware of the most common ones. Here are the most popular last minute troubles that can ruin your reception. Read on and plan for a foolproof wedding reception.
1. Ruined wedding dress
Rain on the wedding day is always considered to bring luck but this is definitely not a good news for your wedding dress. Despite of the fact that the wedding ceremony and the reception are being held indoors, but still there are good chances that you will eventually ruin your wedding dress as first of all you need to go there in your voluminous gown that will certainly get stained with mud in the way. Although it may sound awkward but carrying a golf umbrella with you can certainly save you as it is the only cover which is large enough to protect your gown.
2. Wilting wedding flowers
Flowers are an integral part of the decorations for your wedding ceremony, but even the best quality flowers may start wilting even before the main course has been served making all the efforts that you have put into the decorations, go in vain. And there is nothing you can do to get yourself out of such situation, therefore it is much better to prevent yourself from getting into a situation like this. Go for those flowers which have tough petals and woody stems, they will certainly last long and are safe bets.
3. Wedding guests gone
You will always face difficulty in managing your guests if the ceremony and the reception site are not same. You will definitely be annoyed if there are no guests for the cocktail hour once the wedding ceremony is over. You can avoid such situations by including brief directions regarding your reception site at the very end of wedding ceremony.
4. Unexpected weather
Organizing the wedding ceremony outdoors is always considered to be a great idea as nothing could be better than being in close proximity with the mother nature on this auspicious occasion. However, weather will not always favor you. Unexpected rain can ruin all the fun and if you are of the opinion that renting a tent is going to solve your problem then you cannot be further from the fact as one problem invites another. For instance, you can restrict rain water from coming inside but what about the mud that comes along with the guests? So make sure that along with the tents, you even have access to mats so that guests can wipe their feet.
5. Wild child
No matter how much angelic kids may appear, but do not forget the fact that kids will be kids and the wild ones have the potential to ruin the entire ceremony. If you are inviting kids to your celebration then you must be mentally prepared to handle the situation as they will scream, cry and run wildly around a formal reception. Be prepared to face the worst of the situations, some of them may even overindulge in your sugary wedding cake.
6. Drinking and driving
Running low on supplies of liquor is definitely an indication of a successful party as this means that almost everyone had a good time. But this also makes most of them unfit to drive. In order to prevent yourself from getting into such situation, consider hiring a bus in order to ferry guests back and forth from hotel to reception.
7. Missing vendor contracts
The wedding is over and you are settling up all the bills with the vendors. Everyone tries their best to have everything in writing while making contracts with vendors, but what about those last minute changes and negotiations that you have to do? Quite often we forget all these details because we are so much involved with some other stuff. Therefore, it is always better to write all the details on paper, this will help you out in case you need them later.
8. Blinding sunsets
Nothing can be better than a wedding reception site which provides amazing sunset views. However, quite often your guest will even get blinded by those sunset views because of the high intensity of light. So it is always better to have a look at the reception site at the time your wedding will take place, this will give you a clear idea that the views do not become uncomfortable for your guests.
9. Burned out candles
Just imagine how awkward it will be for you when you have planned a romantic candlelit reception for your guests but the candles start burning out, the whole idea of candlelit reception will go in trash. To prevent anything like that from happening to you, make sure that the candles which you are using last longer. Just try some of them at your home, light them at the same time. This will give a clear idea about which candles you must be using for your candlelit reception.