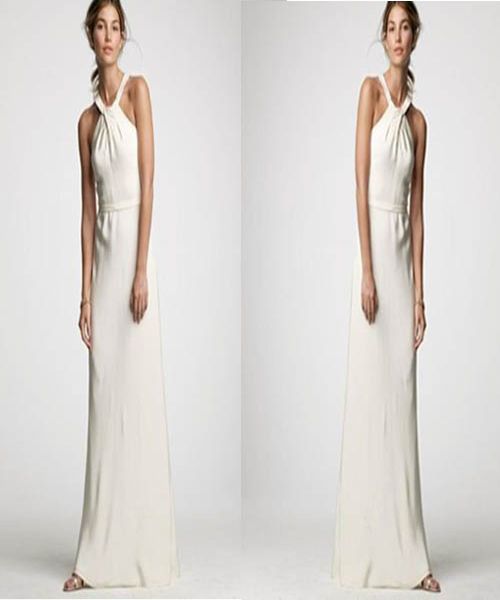 It is not a cake walk to define the word modest, especially if we are talking about a wedding dress. It takes a whole lot of research in getting the exact meaning of modest because when it comes to women, they are far different from each other in terms of cloth selection. For some, modest means a simple and chaste design and for some; it might mean nothing more but picking up an entity having an economical price. Whatever the definition of modesty be, one thing that remains constant is the passion and anticipation of a bride to look a million dollar in her wedding; with simplicity that bewitches. There is a fine range of apparels available in various stores specializing in the simple yet subtle wedding dresses for the upcoming brides-to-be. Given below are some of the most reticent wedding gowns for you to wear on your D day.

1. Silk Tricotine Gracie Gown
PRICE : USD 475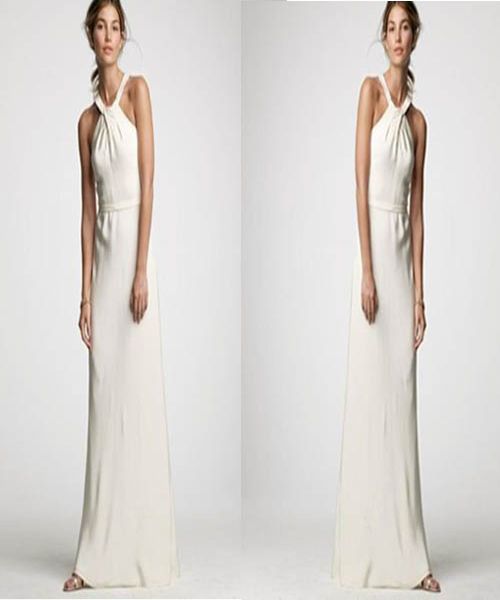 If you desire to look beautiful and elegant for your wedding without spending too much money on your wedding gown, then you must check out J.Crew wedding dresses. They are reasonably priced and modestly designed. You will look elegant and charming in these dresses. The natural simplicity of the dress will merge with your inherent character.
USP
This beautiful gown is made in 100 percent pure midweight silk tricotine which gives it a super elegant drape. There is a simple band halter neck with bare shoulders which takes a dramatic.
PROS
The dress is a complete economy package.
The design optimizes comfort; it has a back zip with button closure and you can easily get into the dress.
It is fully lined so it feels very soft to your skin.
2. Silk Tricotine long wedding dress
PRICE : USD 325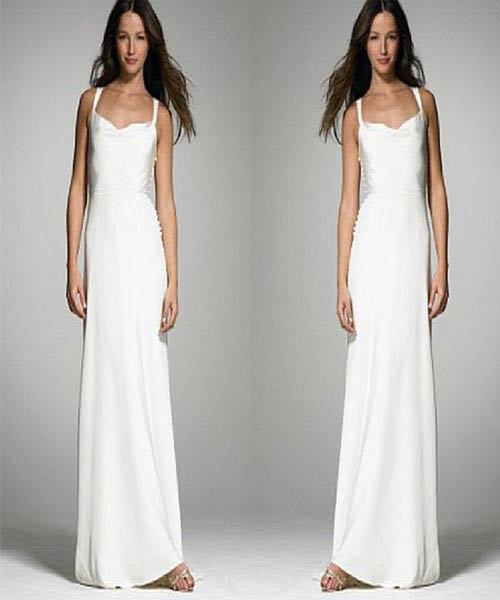 The silk tricotine long wedding dress looks simply stunning and requires no ornamentation. The design of the dress is real chaste and yet very sensual. The smooth cascading flow of the dress down to your knees is really very fine. The fabric of the dress was very carefully chosen to give it just the right luster and a lovely drape
USP
There is no wrinkle in its flow and has been inspired by the Grecian designs. The purity of the dress will immediately catch your fancy and you will not want to take your eyes off the dress.
PROS
Extremely soft satin has been used for crafting the dress and will feel great against the body.
3. BWD0004
PRICE : USD 289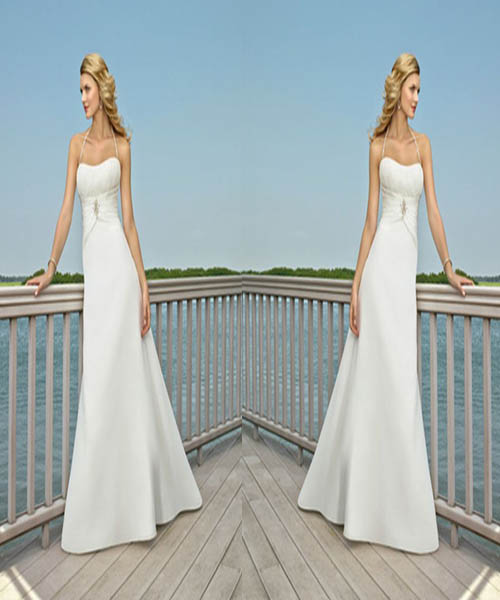 A very refreshing looking dress, the BWD0004 is graceful and will definitely take your breath away. The dress is suitable for both outdoor as well as indoor weddings. This dress is not too formal, but will give you all the comfort and all the style expected from a wedding dress. Very subtly crafted, this dress has a halter neck in a sleek beaded strap. A crystal studded broach has been fitted in the bodice of the dress and it shines out distinctly.
USP
The dress can be categorized as affordable luxury which will not escape the eyes of a single person at your wedding. It's an instant eye- catcher.
PROS
This simplicity of this dress is indescribably marvelous.
The neat finish and the smooth flow makes it very sophisticated.
4. Mermaid Modest wedding dress
PRICE : USD 299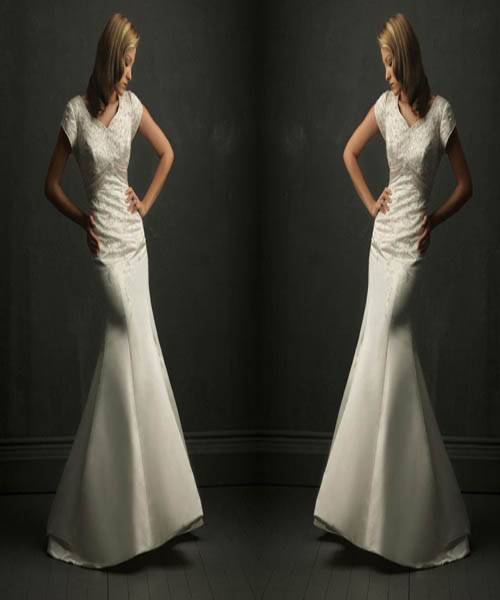 Exquisitely designed and stitched, the Mermaid modest dress is a product by Zoom Bridal whose designers are continuously making efforts to craft new designs which are modest, yet attractive. The Mermaid style dress comes with a V-neck and short sleeves. Not too sensual, it is simple and elegant. The bodice is nicely embroidered and there is a sash at the empire waist. The chapel train flows down real smooth and gives the dress an overall neat finish.
USP
The mermaid design of the dress is its biggest highlight. The full length of the dress makes it look very sleek and when worn gives the appearance of a sea goddess.
PROS
it's best to show off your curvaceous side to the world.
The trumpet dress is fitted through the bodice with flair.
5. Moonlight T-406
PRICE : USD 500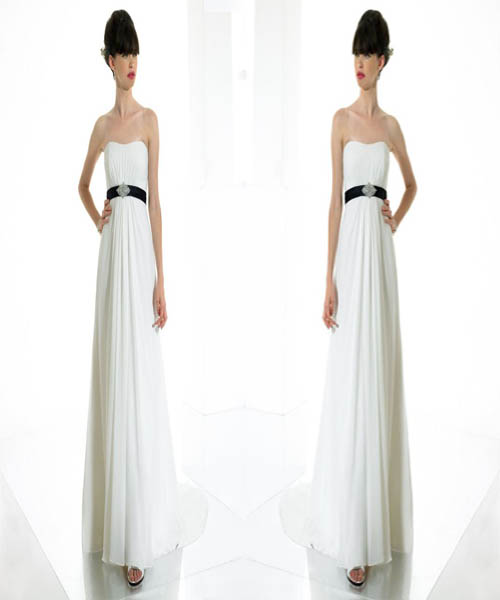 Moonlight bridal gowns well personify romanticism and luxury. Luxury does not mean that their dresses are unaffordable, but that the design and looks of the dress are extremely rich and sophisticated. T406 is also one such design which is casual yet very sophisticated.
USP
One among the few designs by Moonlight is priced under $500. The cream color of the dress sets it apart from the very common pearl whites and ivory dresses available in abundance. It is nicely adorned with a black sash at the waist embellished with crystal beading
PROS
The A-line silhouette with an empire waist is very suitable for brides with a wider waist.
Most of the attention is grabbed by the black sash and your bulges are overlooked.
6. Brush Train Taffeta Wedding dress
PRICE : USD 395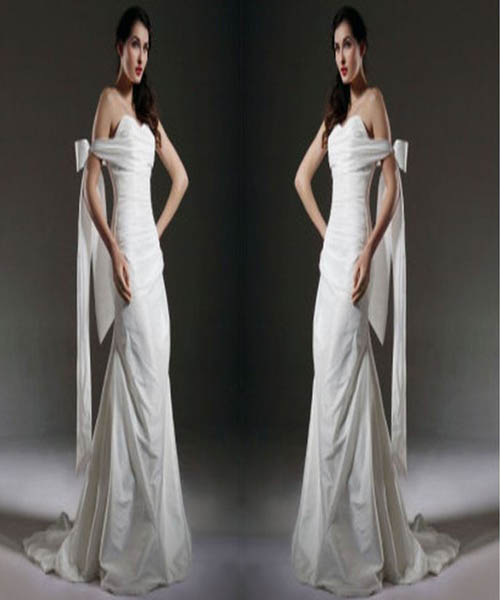 Light in the House brings you wedding dresses that will be cherished by you for the rest of your life. Their designs are glamorous, chic and modest and you can purchase them without shelling out too much from your pocket. The dress can be worn during any season, whether winter or summer. The design of the dress makes you flaunt your figure well and makes you look attractive.
USP
The dress has a beautiful sheath silhouette with a mermaid neckline that drapes sensually. The sweetheart waist and natural hemline along with a brush train gives it a nice flow down. There is a pretty knot that drapes around the bust and ends at the back.
PROS
The dress comes with a built in bra and provides good support to your bust.
You can order the dress in any size, including plus sizes.
7. Style 1398
PRICE : USD 134.95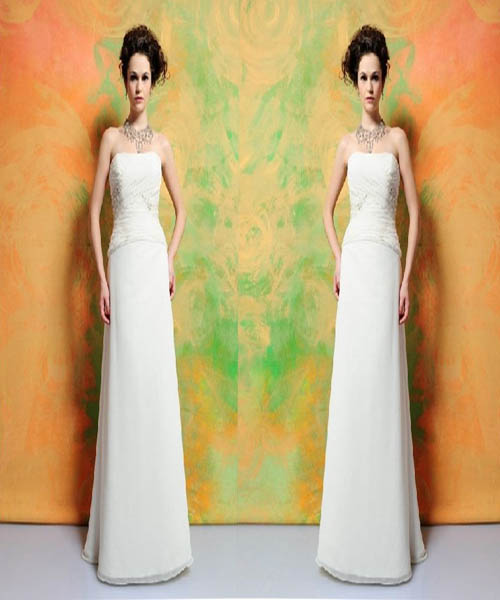 Choosing your bridal gown is a very personal thing. Your taste, your style and your budget all have to be incorporated in the purchase you make. The market is flooded with a wide variety of dresses and if you are looking for a sleek and modest dress which is not too expensive, then Style 1398 can be by considered by you.
USP
This dress comes in the category of affordable luxury. The rich looks and chaste design is an instant eye catcher. It will make you look like a princess in gorgeous luxe chiffon featuring a strapless scooped neck bodice which is hand crafted. The sparkling crystal beading at the bodice makes it gleam brightly and contrasts well with the plain dress.
PROS
The dress can be worn both for an indoor wedding and also for an outdoor beach wedding.
Very simple to carry through the wedding, this dress is light and finishes in a small sweep train.
8. One shoulder Charmeuse Dress
PRICE : USD 178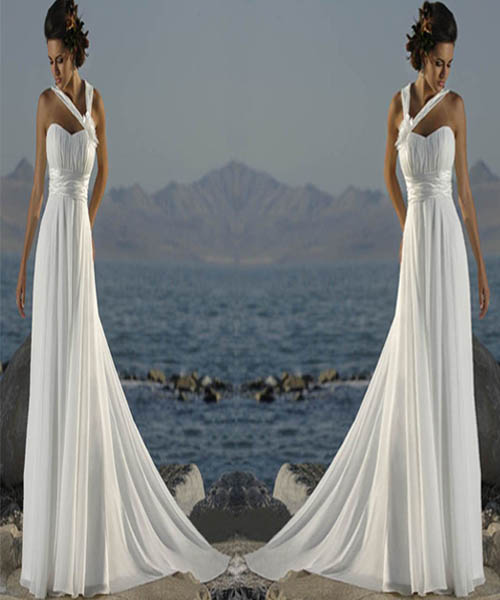 Incorporating trends, style and economy is the main aim of Adrianna Papell. Their designs have been featured in major fashion magazines including Vogue, Elle, etc. The one shoulder charmeuse dress is particularly very attractive and it will make you look like a Greek Goddess. The pearl color of the gown gives it a perfect shine and the off the center twist at the waist shapes the fit elegantly.
USP
The Grecian design is extremely sophisticated and luxuriant. It will immediately grab the attention of the on lookers with its captivating simplicity and purity.
PROS
The fabric of the dress is extremely soft and comfortable and it will feel great against your skin.
The design of the dress is such that it will make you look slimmer and taller.
It has a great white sheen and you can match it with any piece of simple jewelry.
9. T9552 Crinkle chiffon A-line gown
PRICE : USD 260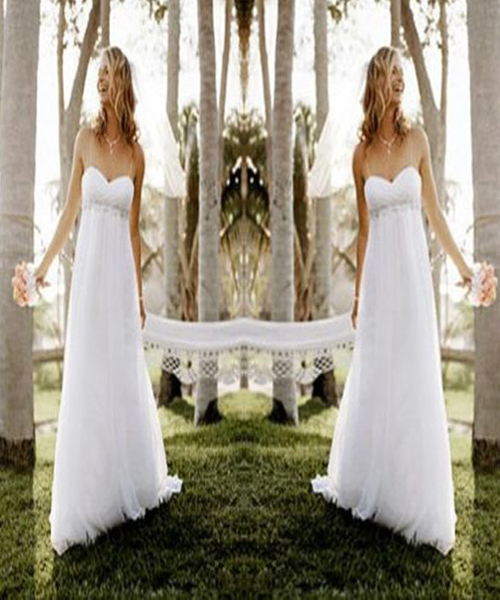 Going above and beyond your expectations is the motto of David's Bridal. They design every dress with utmost care and they also make sure that the price of the dress suits your pocket. Their modest designs make them popular among brides who prefer simple elegance over gaudy show off.
USP
The dress is very flowy and whimsical. The style of the dress makes it look very Grecian with a high empire waist which is extensively embroidered. The crinkle chiffon gives the required bounce without overdoing the fluffiness of the dress. The dress has very sleek straps that make it delicate and adorable.
PROS
The dress has been so carefully crafted that it covers all the spots you'd like to hide.
Most suitable for a beach wedding, it is both casual and sophisticated.
10. Aimee 51
PRICE : USD 299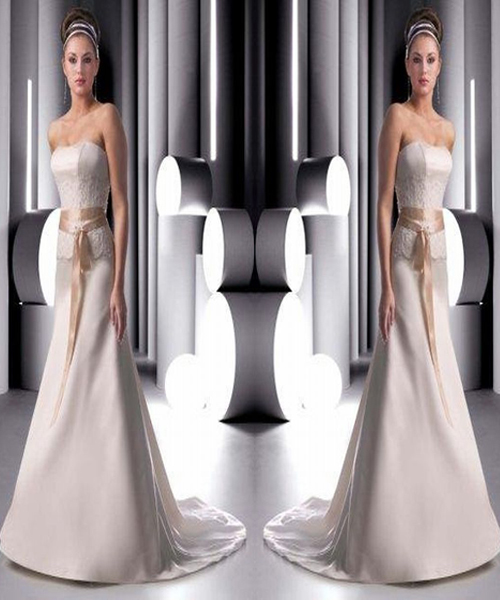 Amiee Lauren gowns are known for their comfort. Aimee believes that more than half the success is achieved by a garment if your body feels relaxed and pampered inside it. Aimee 51 is one of such gowns that looks great and feels great. The A-line silhouette is very smooth and flows down like an unobtrusive cascade.
USP
This gown is a princess gown that will make you look adorable. The plain white dress is contrasted with a golden peach sash that wraps more like a ribbon around the waist.
PROS
The super fine satin used for the dress feels great against the skin.
The zipper back will allow you to get inside the dress without any struggle.