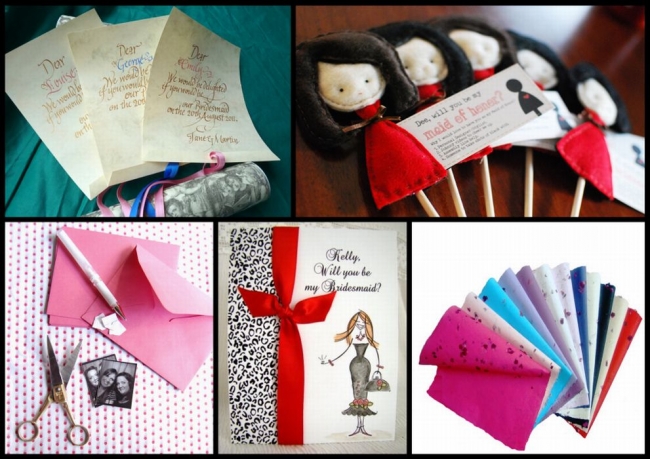 The project
When your wedding is just round the corner, it is vital that you invite all those women whom you think will be perfect bridesmaid on your wedding. While there are many conventional ways to invite your bridesmaid to your wedding ceremony, sending a handcrafted card will be a cute and innovative way to invite them. This warm greeting will inspire those people you have selected to attend your party with pleasure. You can convey your ideas in that card, which will be much more effective than any other form of invitation people generally opt for, in such occasions. It will give an impression that there is a personal touch in the message and the person holds importance in your life.
Complexity level: Easy
Time required: 20 – 25 minutes
Things required:
1. Craft paper
2. Ruler
3. Pencil
4. Colorful envelopes
5. Colored pens
Instruction
Here you will be provided with a step by step procedure on preparing a bridesmaid invitation card.

1. Note the number of bridesmaids
Make a list of the number of bridesmaids you wish to invite for your party. When you have identified the exact number, draw a tiny figure on a piece of rough paper to get a rough estimate of the area of paper each of such characters will utilize.
2. Fold paper and make your final sketch
Once you have calculated the area of paper each of such figures will utilize, multiply the number by the number of bridesmaids. The resultant you get will be the measurement of the paper you will cut finally. Once cut, fold the paper alternately, in the manner of a paper fan. Keep the measurement of each section intact.
3. Cut your bridesmaids
Draw the human figure once again on the front flap of the paper and then cut the carefully, keeping the hands and legs connected to the edges. Take out each of the figures, color them to give them hairs and dresses along with facial features.
4. Make your invitation card
Cut portion from the crafts paper that will accommodate each of the figure. Ensure that the paper is large enough that it could be folded like a greetings card. Stick the bridesmaid figure on the invitation card. Write you personal message inside and put it inside an envelope.
5. Send it to its destination
Write the address of the invitee on each of the envelopes. Seal it and post it. In case if is to be hand delivered, hire a person to do so for you.
Quick tips
Select colorful envelopes and scented pens for your invitation card as that way your happy mood will be conveyed to you invitee.
FAQ
Q. If handwriting is not up to the mark shall a typed message serve the purpose?
A. Typed messages look informal and fail to create the warmth as that of handwritten notes, no matter how illegible they are.
Things to remember
Maintain a casual tone in the message you convey through your invitation card.
Do not be too stubborn to force the person to join your party and leave the decision to the discretion of the invitee.