What you serve on your wedding menu is more important than everything else, for guests are going to remember it for a long time. Here are the top wedding appetizers trending this year.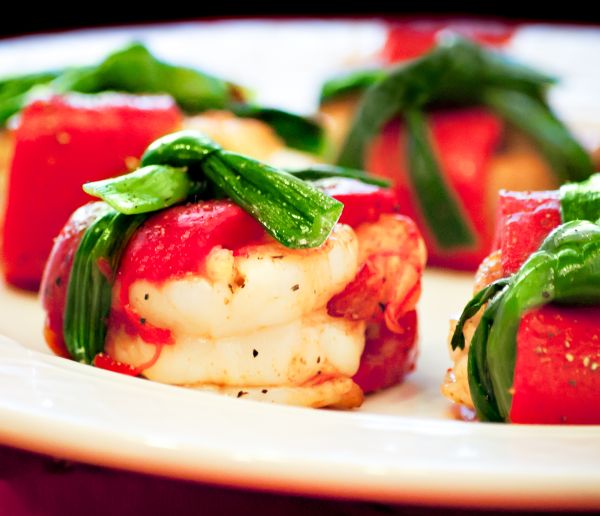 1. Shrimp
You can offer shrimp on ice with cocktail sauce, beer battered shrimp, shrimp spring rolls and more. Shrimp is a very popular main ingredient in appetizers for wedding reception platters. Recent and top wedding appetizers trends nowadays include seared scallops, lobster ravioli, shrimp scampi and what not. Guests love them!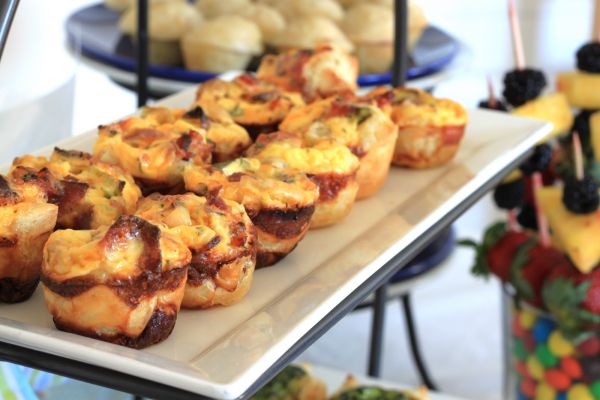 2. Mini-quiches
If you are having a brunch wedding reception, consider adding mini-quiches. They go well with both the breakfast and lunch theme and guests will be smacking their lips after they are done with and asking for more as well.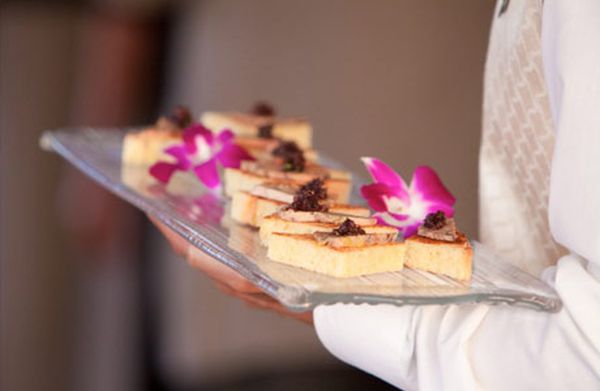 3. Mini sandwiches
The appetizers for a wedding reception just wouldn't seem complete without cocktail sandwiches. There is a variety of sandwich recipes to choose from. The mini-sandwiches make for a filling and many times economical snack to offer your guests. They are also lip-smacking delicious.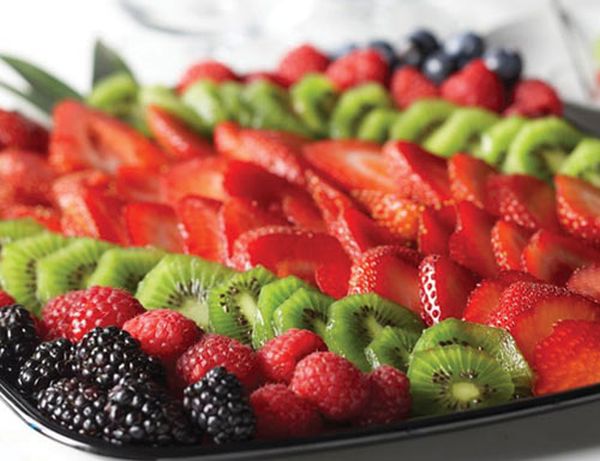 4. Veggie platters
Vegetarians need their share too right? You can go beyond a veggie tray with your appetizers for wedding reception for veggie lovers, there are sure to be many. Antipasto platters are a jazz above a conventional veggie platter.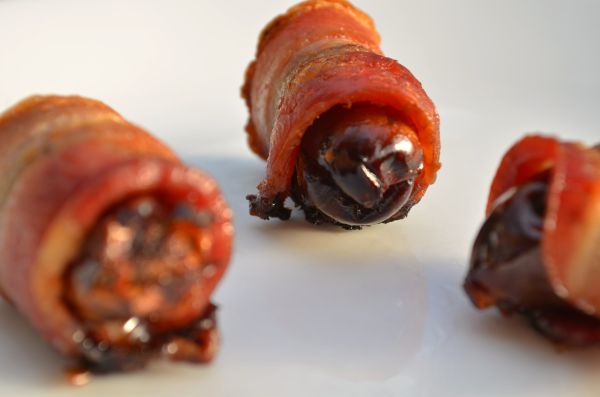 5. Stuffed dates
Warm goat cheese stuffed dates are a favorite of those who love cheese. You will need something sweet to serve on your menu. Plus they guests , especially vegetarians are going to love them.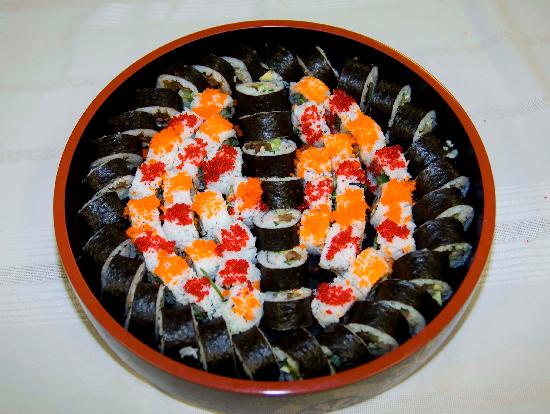 6. Sushi
Sushi is always a pleasant addition to your wedding appetizer list. Sushi can also please any guests who keep kosher. Your guests will be impressed with the cuisine as well as with the taste. Do remember to specify with your caterer that the sushi must be prepared with a kosher knife.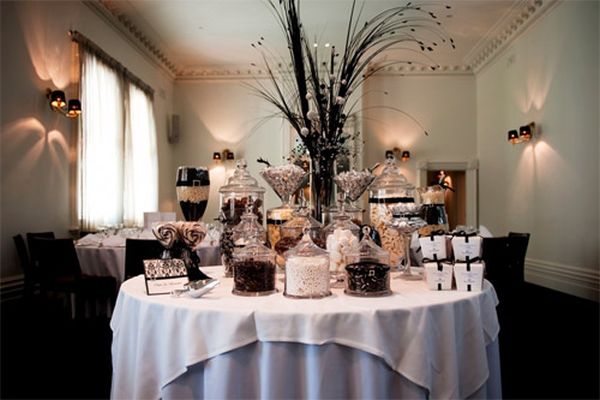 7. Sweets for your  guests
Candy bars at wedding receptions, why not? Add a personal touch by having custom made wrappers with your names and wedding date on them. It will make such a nice presentation.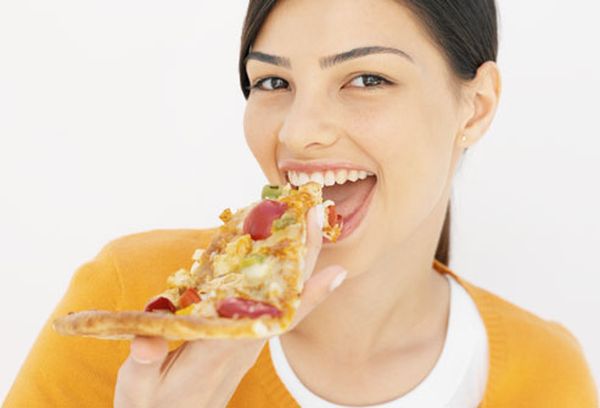 8. Pizzas
There is no age or occasion for pizzas! Mini-pizzas are a instant hit for children who will be invited to the wedding. The same can be said of adults. Everybody likes their pizza. Serve it piping hot with the cheese melting atop and between.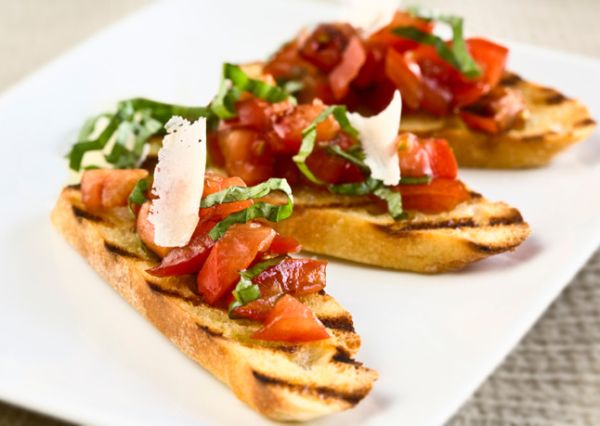 9. Bruschettas
Bruschetta is a favorite as a wedding reception appetizer. It is easy to make and cost-effective and economical. It will also lend a classy touch to your appetizer selection, it is Italian, after all.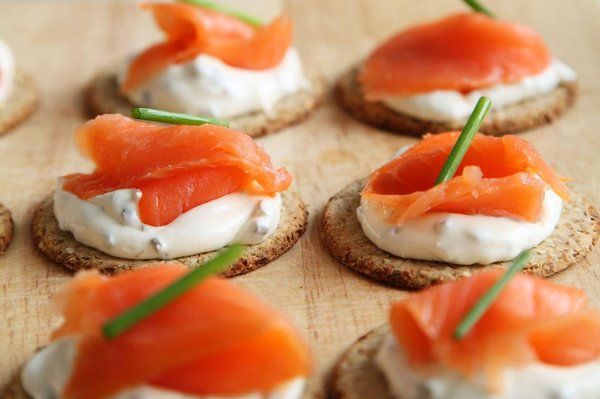 10. Cheese and crackers – Besides everything else, assorted cheeses and crackers are a standard appetizer to offer your guests.
Tips for a foodie wedding
Being a foodie is not a bad thing at all. And when we talk about the delicious wedding food then every person is bound to become a foodie. But what are the things that will help the wedding couple to make their wedding delightful for the foodies that are going to come at the wedding. Just to make a list of the wedding food and drinks will not serve the purpose. You must know the things that will make every foodie soul love the wedding food in a memorable way. Have a bite of few of these tips from us. Eat, drink and be merry.
1. Allow some space for your own recipes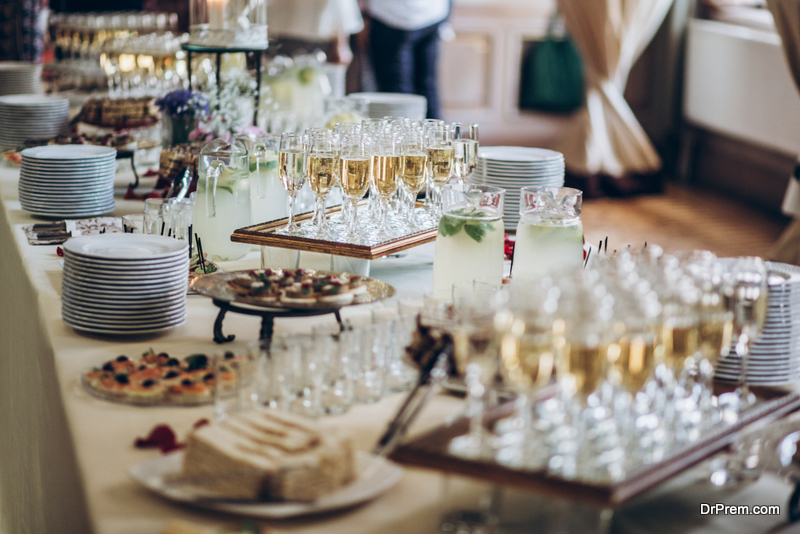 The recipe of yours will add good taste of personalization to the wedding food menu. Even the recipes that your loved ones have mastered with time can be included in the wedding food list.
2. Just placing and serving the wedding food is not enough
You must print a food menu to your wedding guests. Checking out the wedding food through the menu will be comfortable and an exciting experience for all your guests.
3. Make separate arrangements for the kids wedding food
Decorate the table nicely and put the things that kids love to eat. Candies, pies and fruit cream preparations can be included for them. Kids love to eat delicious things and your small gesture will make them happier.
4. Have good appetizers in the wedding food menu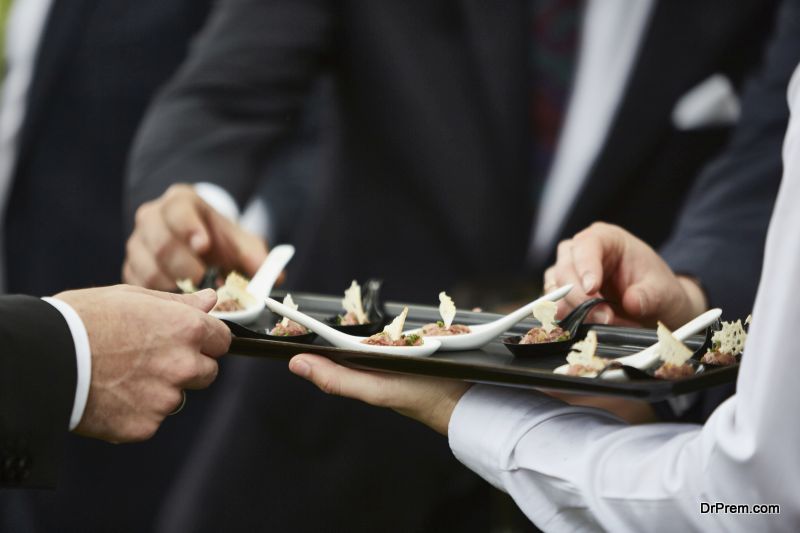 Preparations like bacon wrapped dates stuffed with some goat cheese, mini grilled cheese and the caramelized onions are few of the good things to add in this category. Good appetizers will create good excitement among your wedding guests for the food that they will eat finally.
5. Do not overlook the drinks
The form very important part of every wedding food menu. No foodie is going to love the wedding reception without neat and nice drinks options. Have cocktails and mocktails for your wedding guests. Include beer if you are having a summer wedding.
6. Make the wedding dinner fun
One important thing to remember is that the wedding dinner must be fun. It should not necessarily be food that is too stuffy. Add as much as food items to give guests a good choice for the selection.
7. Don't forget the desserts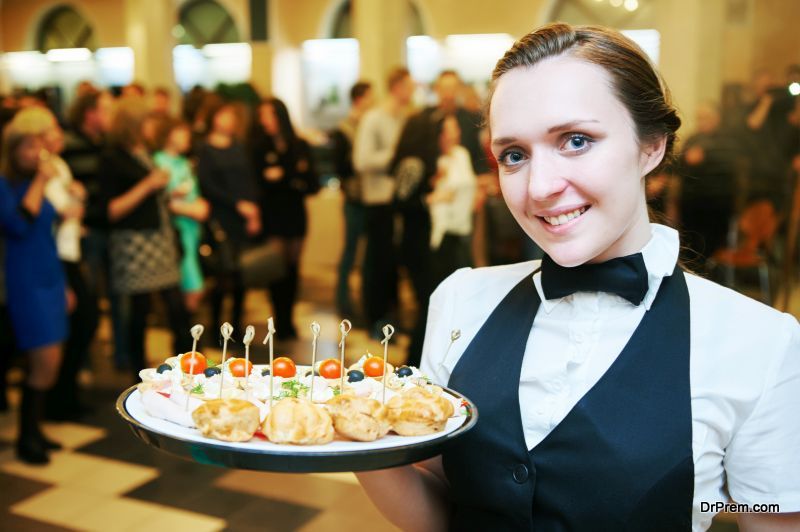 The wedding cake table along with the desserts table must be wisely opted with the flavors that let your loved ones fall in love with them.
8. Keep your guests happy
The last and the most important thing will be that you ensure that every wedding attendee eats.
Ways to keep guests happy at your wedding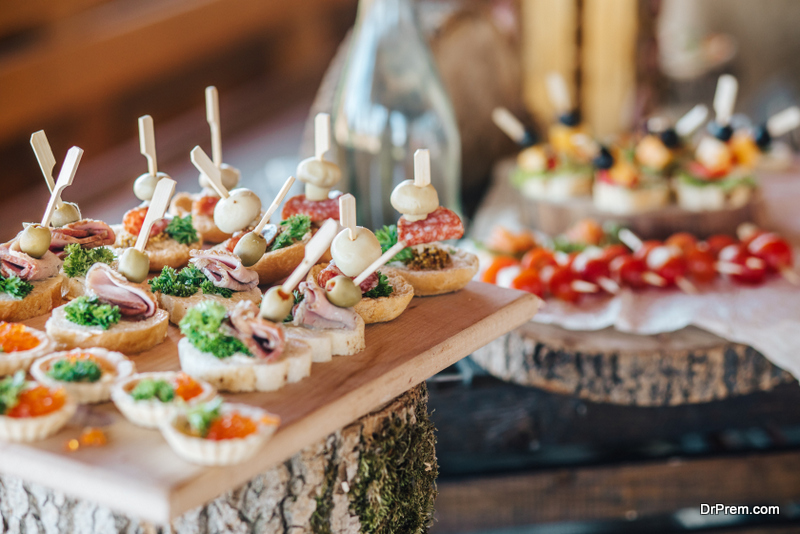 You have a wedding, and as a rule guests must have a great time and enjoy your wedding. To make the guests happy you need to do more than simply throw a great party. Managing the time and location of the party is the key here. You can surely pick Super Bowl Sunday for your wedding; but do not get surprised if your guests seems distracted from the party. Similarly, avoid major holidays because your guests might have other plans or something else to do. Here is something to ensure your guest can spend a great time from announcing your engagement until the party goes to an end.
Register well in advance
For your guests it might be difficult to search for a gift while announcing your engagement. You need to start early registry and add to it. Display all of your registries in one accurate list it is easy for you and your guests to identify. Doing so your guests can chose different ways to pick up the right gift for you.
Stick to a schedule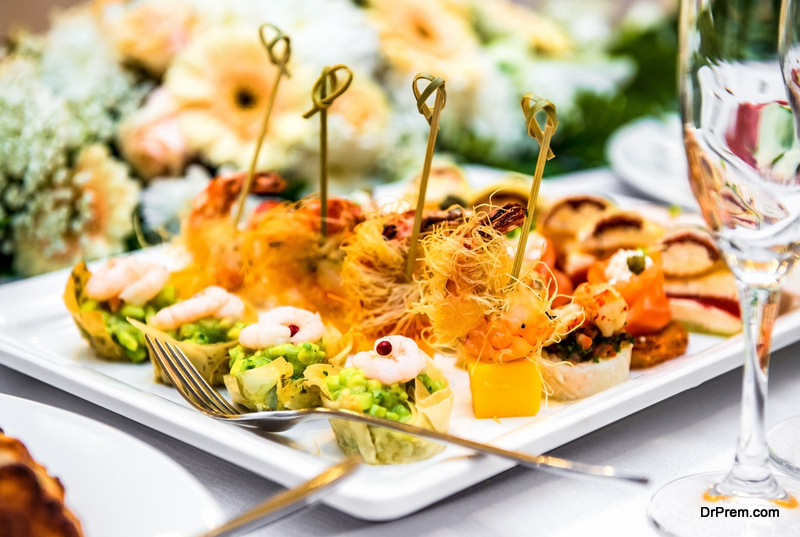 Have a schedule and let the guests know what's on offer, and what to expect next. Make your guests know the time of reception events. You can hand them the program either at the door or place them on tabletops, so your guests are in the know and don't confuse small recesses with the party approaching its conclusion.
Keep them fed, make them happy
Food is important, and well fed guests are more important. Start the reception with the appetizers, or jump right to the buffet or seated dinner. While activities like dance and festivities continue; make sure you have proper arrangements to ensure that you serve your guests food on time. Light snacks would be wonderful as your guests will enjoy them; moreover they will not be bogged down with a heavy meal. Some brides might like to complement the sweetness of the wedding cake with milkshakes, cookies, or similar edibles. Others might like sliders, French fries, or a nacho bar.
Make it a cultural affair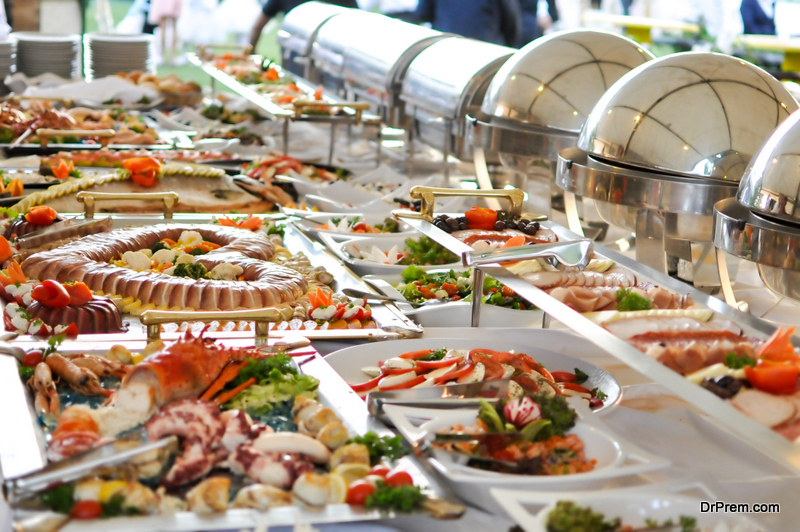 In this world, people of different cultures and religion are marrying and raising a step ahead to combine their different background into one unified family. Add a cultural theme to your party, so people can get a taste of your culture. Your relatives will enjoy it, and guests unfamiliar with your culture will find the new food and entertainment exotic. Professional dancers with a special dance form are sure to spice up your wedding party.
Summary
These are the tips following which you can make your guests enjoy the party until it ends, add some spice to your party, and make your guests happy.