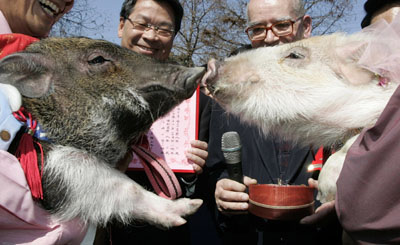 You might be thinking what is this! Actually, this is nothing more, but male pig Shui Fu-ko and female pig Huang Pu-pu kissing each other after they got married. Though it sounds bit unusual but this wedding ceremony was truly held at Yilan, Taiwan.
The owners of the two pigs married the animals on the upcoming lunar New Year, also known as the "Year of the Pig."
The local parish priest and other guests witnessed the wedding. Can you believe that the owner Shu Wen-chun was searching best match for his male pig Shui Fu-ko since last October on internet.