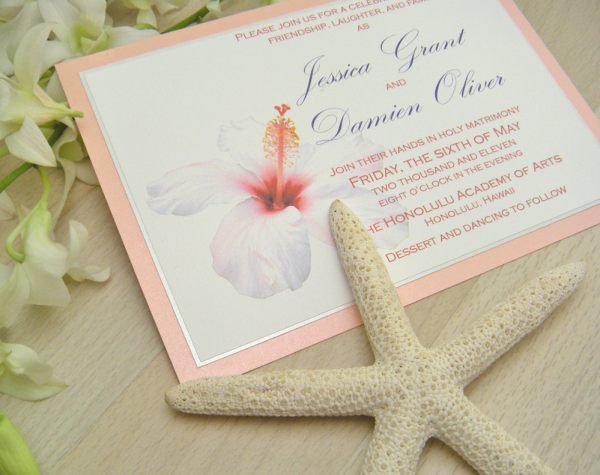 Beach weddings are becoming quite popular among the couples these days, as they are full of fun, excitement and romance. It would be indubitably an unforgettable experience for you and your partner to exchange vows on the sandy shores in the lap of Mother Nature. If you are planning to have your wedding on a pristine beach, you must start thinking of some unique and interesting beach wedding ideas to make the big day memorable for years to come. Whether you plan a Hawaiian beach wedding or an intimate tropical beach wedding, the beach wedding ideas are endless. You just need to be creative while deciding the destination, theme, flowers, food and the other things for your wedding by the waters. Hit the jump to check out some of the unique beach wedding ideas, which could help you plan your beach wedding with ease and enthusiasm.
The invitations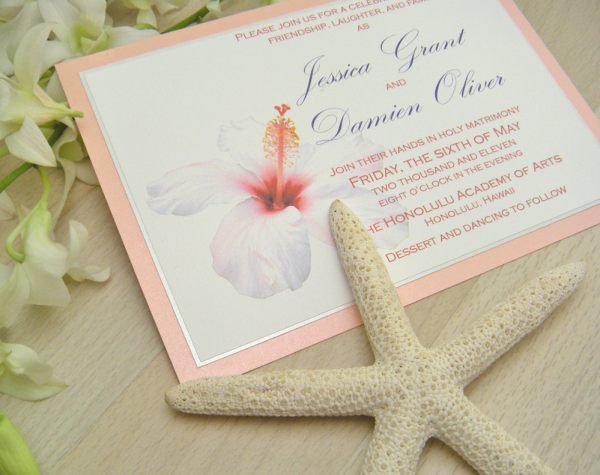 The wedding invitation card is one of the most important things to consider while planning a wedding. If you are planning to go for a beach wedding, then you must make sure that your wedding invitation card gels with the theme. One good example is wedding invitation cars by 'Designs by Lenila', an independent invitation design studio that designs fabulous invitation cards especially for beach weddings. The designer draws inspiration from the nature for her stunning artwork and uses watercolors as the medium. Each wedding card from her beach wedding collection is unique, as she designs the invitation by keeping in mind the likes and taste of her clients.
Attire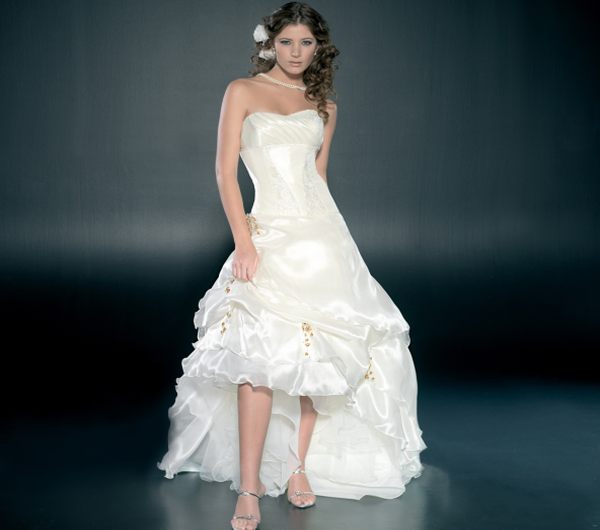 Another important thing to keep in mind while planning a beach wedding is your wedding attire. For a beach wedding, the bride should look out for some nautically inspired outfit. Long gowns, especially in white color, will quickly get dirty and will also be a hassle to walk on sand. Therefore, a classy and short dress would do well for a beach wedding. For the groom, an elegant and gallant sailor suit would match the atmosphere of the beach wedding. The groom may also go with a casual look wearing khaki pants, white button-down shirt without any shoes. The maids of honor and groomsmen can comply with the nautical theme and can go with an outfit that matches with the theme.
Beach Bucket Centerpieces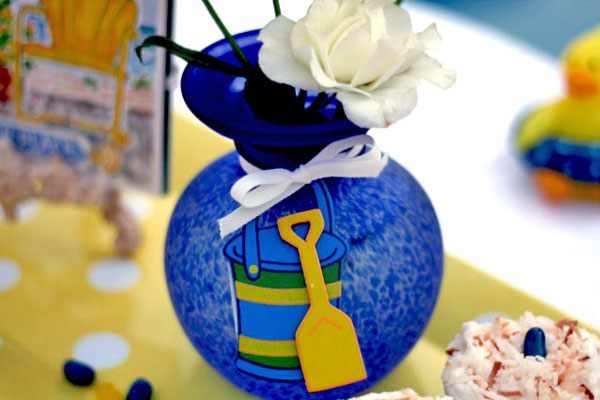 The selection of the centerpiece for a beach wedding should be done very cautiously. While picking up the centerpiece, you must consider the possibility of strong winds at the beach. Therefore, the centerpiece should be firm and strong enough to withstand the winds and it should be in harmony with the beach style wedding. You might love to consider metal or plastic buckets or pails that are available in various colors. Fill it with sand and plant sunflowers, gerbera daisies, marigolds or zinnias to add to the overall looks and complement the wedding theme. Cut them neatly with a sharp scissors. This centerpiece would look marvelous at any beach wedding reception
Wedding gifts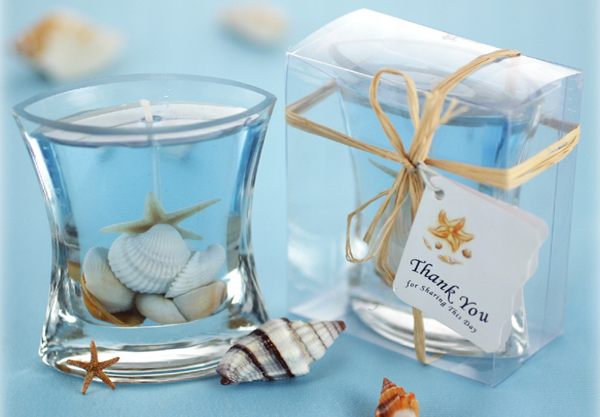 How can we forget the wedding gifts? A wedding present should always be chosen wisely, as it will always remind the couple of their special day. For a beach wedding gift, you can opt for an oil, pencil or watercolor drawing depicting the aquatic theme of their beach wedding. You can also consider shells, corals and other such ocean life that can make out to be lovely household decors. Unique kitchen utensils like crab claw crackers, seafood forks, bibs, tools for de-veining shrimp etc. would also make for a great gift for the wedding day.
Wedding flowers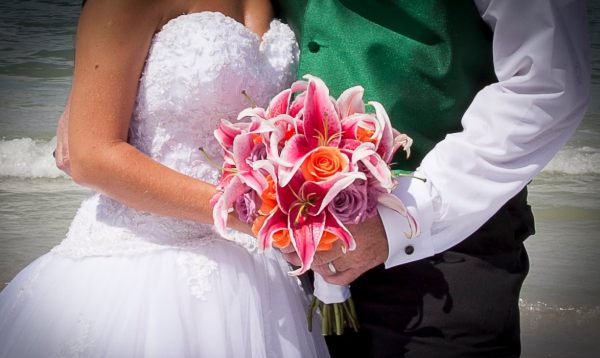 The beach will definitely render a natural and calm background for a wedding and this natural beauty will be enhanced by opting for the most appropriate flowers for a beach wedding. Although, the couple can choose any of the flowers, but it would be advantageous to choose those flowers that would contemplate the natural colors and aquatic sea elements. You can select from wild flowers, astrantias, beach roses or bridal lei. You can choose from any of these gorgeous flowers for bouquets for the bride and the decorations. All these flowers come in various vibrant colors and are sure to spruce up the wedding ambiance.
Wedding Cakes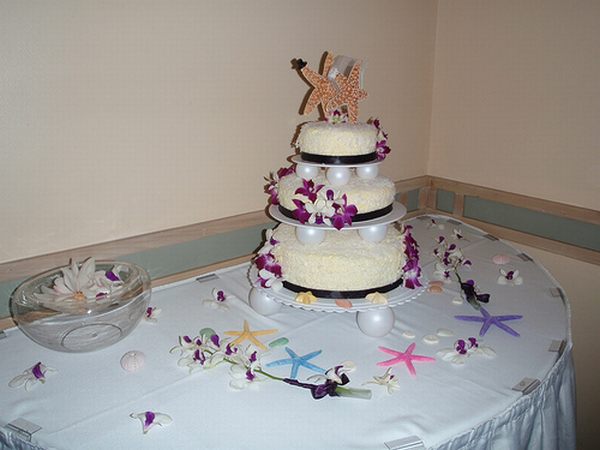 A wedding is never complete without a wedding cake. If you are planning for a beach wedding, then the wedding cake has to be special and it must be created on the beach theme. You can consider the luscious fruity flavors like lemon or orange and match it with chocolate, rich vanilla or anything else to suit your taste buds. Regarding the color, you can choose from turquoise, aqua or shades of blue that will perfectly correspond to the beach wedding. You can add beach elements to the cake, such as seashells, starfishes or dolphins made out of chocolate or fondant, to make it even more special.
Aisle Ideas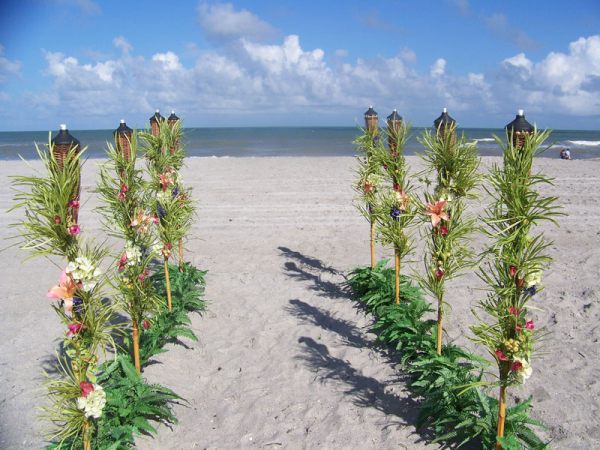 For a traditional church wedding, the aisle is often decorated with rose petals. However, for a beach wedding, you can cover the sandy aisle with aisle runner and sprinkle wedding color petals on it along with hanging cones including the same flowers on the aisle chairs. You may also like to decorate the edges of the aisle with natural seashells for a more elegant look. A casual beach wedding aisle can be embellished with starfish. The aisle chairs can be adorned sand dollars and tropical dollars hung with wedding color ribbons. For a sunset wedding on the beach, bamboo tiki torches can be used for soft lighting that will give the wedding a romantic ambiance.
Beach Wedding Music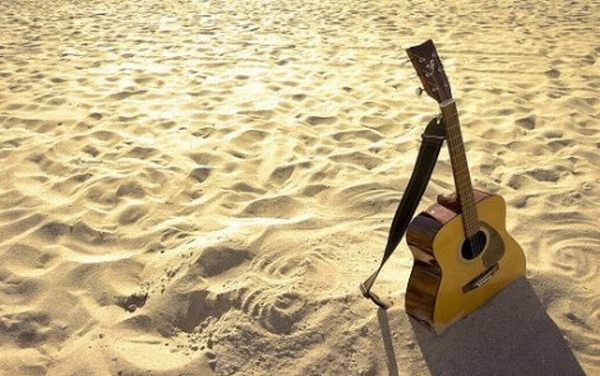 Selecting the right music would definitely add a special touch to your beach wedding ceremony. It will not only add to the overall atmosphere, but will also add to the galore of the enjoyment of the couple and the guest as well. Before choosing the beach wedding music, make sure of including both the partners' taste of music. For live music at the beach wedding, you can opt from either some jazz band or a steel drum band. You can obviously look for a DJ of your liking.
Food for a Beach Wedding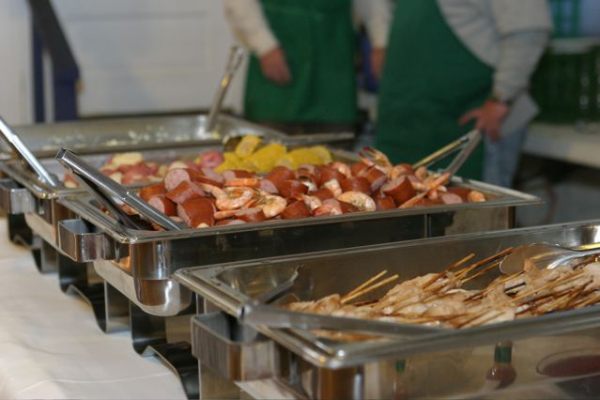 Scrumptious food and a unique cake will perfectly compliment a beach wedding party. You can include little colorful umbrellas in the tasty beverages. Soft drinks and fruity mixed drink for the adult guests can be kept cold in a dinghy or an old clean rowboat filled with ice. Seafood, such as shrimp on skewers that is barbecued and peeled with dipping sauces, shrimp scampi will be relished by the guests at the reception. You can also serve tropical fruits like oranges, grapes and sliced apples and include barbecued fish, halibut, cod and even sushi bars.
The getaway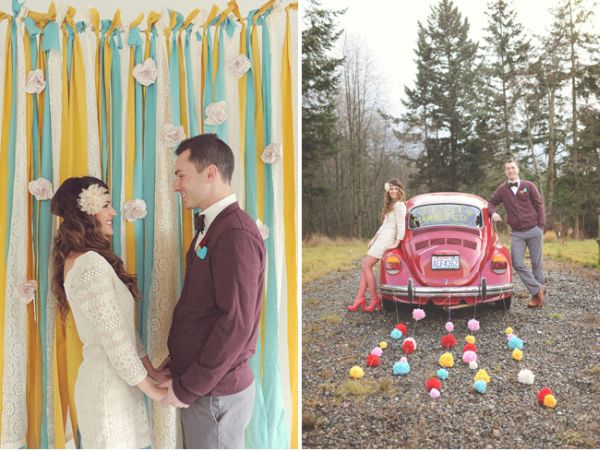 The getaway should be a smooth and comfortable departure for the couple as husband and wife. In case of a beach wedding, the groom can choose to sail in a boat or ride a horse into the sunset with his bride in a comfortable pace.