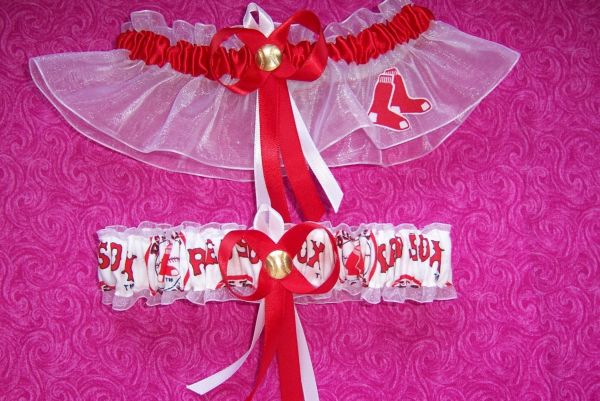 The garter toss is one of the raunchiest traditions at Christian weddings though it rates among the most enjoyable ones for friends and family as well. Even if the wedding dress has never ventured too far away from the classic white tradition; we have seen numerous avatars and reinventions of bridal garters to suit the personality of the bride or groom.
Best ways to Choose bridal garters
The concept of bridal garters is age old and breeds from various fables and tales. In fact, many hopes, rituals and emotions come along with the bridal garter. Many brides underrate it as a mere ornament. Nevertheless, it won't hurt if you give it a second thought; and select the perfect one which will suit your needs.
When you choose the right bridal garter; it brings in a confidence even when the groom removes it and tosses it to the crowd.  The perfect garter won't tarnish the outer line of your dress. This is why, it is important to choose a perfect.  Here are a few tips to help you choose the perfect wedding garter.
Under your dress
You need to have a basic idea as to what will work under the bridal gown that you have chosen. If the gown you are wearing is a full princess style gown; then you can actually choose any garter you want. Siren style dresses or fitted sheath mermaid may not complement your frilly garter perfectly.
A bridal garter with a design which is much smoother will suit your dress more. If you are keen on choosing a frilly one; then try to camouflage it by wearing it higher or lower on your leg. This way the frills blend in and it wont draw to much of attention.
Lingerie
The bridal garter falls under the category of bridal lingerie; so make sure that the garter is in sync with the other lingerie item that you are wearing. The factors that can help you decide this is the texture, color and fabric. They don't necessarily have to be exactly the same; since it will create a monotonous look. None the less do make certain that your garter doesn't stand out. Try and blend it in as much as possible. Glamor shots taken in your lingerie can be just the right thing to help you decide..
Traditions 
As per tradition, the bridal garter is said to fetch good luck. For those who are planning to go with this tradition; you can choose to buy a new one or a hand me down.  That something blue is usually connected to fidelity; so this is absolutely the best possible location to proclaim it. You also have the additional option to choose a garter, which has extra luck carrying embellishments. Some examples of such embellishments are a lucky sixpence or a horse shoe..
Keeping or tossing
Given the fact that bridal garters are expensive; it is up to you to decide if you want to toss it or not. The tossing of the garter is equivalent to the traditional tossing of the bouquet. In this ceremony; the groom removes the bridal garter and tosses it to all the single men present in the guest list. It would be best if the two of you sit down and decide whether you want to keep or toss the garter.
If you husband to be is still persistent to toss the garter; then, investing a two piece garter would be a good idea. Not only is this less expensive; however, it will make the two of you happy. This is because; you can always toss one piece and keep the other as a memory. It is also a safe option for couples who want to keep the tradition alive.
Your liking
As it is completely your day so what you like should primarily be taken care of. As much as you would want to go with your heart; keep these points in mind while choosing a bridal garter. t takes complete control of your reasoning. Garters come in different fabrics, forms of styles and decorations and colors.
There is a wide array that you can choose from and so never lose heart. Vintage lace, feathers, silks and diamante and pearls can also feature in your considerations. You can also personalize your garter with a message monogrammed on it. After all, you should not ruin your special day by making a wrong choice.
Inspirational ideas for bridal garters
Now that you know how to choose a bridal garter; let us check out a few inspirational ideas that you can consider. These ideas will help to bring in the fun and excitement during your wedding; however, they can perfectly blend in to your wedding theme as well.
Boston Red Sox-inspired Wedding Garter

Sports memorabilia is something that a fan or a collector prizes very highly. Baseball hubbies will love this Boston Red Sox inspirational keepsake wedding garter; A creation of Garters by Kristi; the keepsake garter comes with a baseball charm, red and white ribbons. Apart from that you also have a Red Sox logo appliqué and a red satin band in gathered sheer white organza.
The same ribbons and baseball charms are also a part of the Red Sox logo fabric- gathered toss garter to please your hubby's single mates. These stretchable wedding garters give you a comfortable fit. Moreover, the seller also has a plus size option for those whose thighs are bigger than 22″. There is a little blue bow that is stitched inside; you can choose to keep the bow as a keepsake for the something blue tradition.
Get Hitched, Give Hope Charity Garter

Created by garter artist Julianne Smith, this rather unique garter comes with a powerful message and can be gifted to brides who have survived breast cancer or know someone who has. The thoughtful and inspiring creation was crafted by the artists for an event in Seattle for the Get Hitched, Give Hope charity for breast cancer awareness. Matched to the Get Hitched, Give Hope theme, the garter comes with a hot pink satin bow with a white lace stripe on a black satin background.
Minnie Mouse theme garter

We know Disney princesses play a huge role in fuelling the wedding fantasies of little girls across the globe but this rare Minnie Mouse theme garter pays a tribute to the original Disney sweetheart who is still loved by kids and symbolizes the steadfastness of love the old fashioned way. The garter can be a great addition to a Disney themed wedding or can even be given to a bride who loved the adorable cartoon character as a child.
Disney licensed products like the charm and fabric make it something of a memorabilia item. Encrusted with 14 pink rhinestones; a pink hair bow adorns Minnie's hair with the center of the bow holding a Disney Minnie Mouse charm. You can remove this later and add it to a necklace or bracelet as a keepsake. For your something blue, a tiny blue heart sits in the center of the white satin double bow. A soft pink Minnie Mouse satin print complements the white satin band.
He Has It Coming Steampunk/burlesque/ Broadway musical Chicago themed garter

It's not everyday that that a bride decides to walk down the isle with a gun tied to her garter. You can use this funky He Has It Coming Steampunk/burlesque/ Broadway musical Chicago themed garter by Peterene Design; to stun the groom and evoke a tonne of laughs at the garter toss. It comes with a burlesque lighter.
The  Steampunk prohibition costume-inspired garter was created to match the theme of Broadway musical Chicago's hit tune "He had it coming". The shape of a ladies' Derringer provided the inspiration for the working refillable cigarette lighter that comes with a Swarovski crystal jewels, a wonder beaded design and tiny blue bow on the inside to serve as your "Something Blue".
Flights of Fancy bridal garters

Some brides do not like the satin, lace and frilly garters. Keeping this in mind, artist Never a Plain Jain has come up with the Flights of Fancy bridal garters. These garters have shrinking violets and butterflies on a green satin band. For the delicate wings of the butterfly motif, the designer uses bold hued peacock feathers with velvety flower petals. All these elements adds to the finishing touch of the bridal garter.
Bud Light Bottle Cap Keepsake Garter

Created by Peterene Design, the Bud Light Bottle Cap Keepsake Garter is a great and sneaky bit that can pleasantly surprise your groom and lets you playfully show him that doesn't really mind his affection for beer! The garter makes the obligatory garter toss tradition even more fun for the groom as well as the guests. The design of this garter consists of the colors of the Bud Light beer logo all around the full satin garter.
Sexy Lingerie-inspired Corset Garter

Bridal lingerie is something that men have woven their fantasies around for ages but this Sexy Lingerie-inspired Corset Garter is a design that can speed up a groom's heartbeat in no time. The perfect garter for a naughty bride who doesn't mind flaunting her sexuality, the piece comes in bold raspberry and black colors with corset-inspired laces that let a bride show off her inner diva to her new husband in a less-than-subtle way.
Transformers-inspired Autobot Garter

Since theme weddings have become such a craze, this Transformers-inspired Autobot Garter doesn't seem as a radical as it would have 20 years ago. The blue, red and silver hued design is both patriotic as well as playful and comes with fun and fancy add ons like Decepticon and Autobot charms fashioned in high gloss Chrome. Using Transformers' colors, the garter can be the perfect accessory for a geeky Transformers' theme wedding.
Climbing Vine bridal garters

This beautiful keepsake garter is inspired by a stylized vine necklace.  You can use this keepsake garter cas a delicate and sensual substitute to the traditional all-white bridal garter. The sheer crepe band, glass pearls and glittering gold seed beads complements the delicate look of the garter.
They also provide the sparkling finish which enhances the beauty of the garter. A sheer gold-striped crepe adds a touch of fantasy to the piece. The hand-cut jewel toned leaves are fashioned in peacock silk crepon, legion blue duping silk and navy blue cotton velvet. to add the something blue touch, you have leaf clusters of the vine.
Skull Halloween-themed wedding garter

Perfect for a Goth or a Halloween themed wedding; this graphic bridal garter comes with racy skull motifs that put most other bridal garters to shame with its boldness. Created by Peterene Design; this garter lets a gothic bride have her share of black lace. It also complements the white dress the bride plans to on her wedding day.