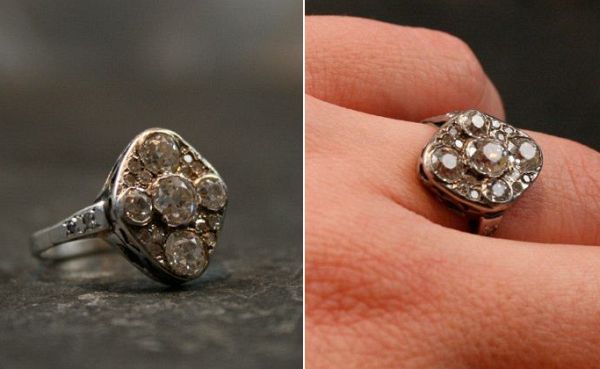 An engagement ring has various emotions attached to it and if it is studded with some antique diamonds then the ring is surely going to act as a strong bond between the two life partners. For some, rings only has a calculative characteristic and for some it means the new beginning towards the life to cherish all the magical moments that have been awaited for them. So, if you are on the shopping spree and searching a good quality of diamond ring for your beloved partner then you have reached at the right place. As, we have listed down the unique and gorgeous antique rings specially designed for the engagement day. The list consists of antique diamond rings from various hallmarked jewelers that showcase various kinds of rings like gem and diamond rings, vintage rings, etc. So, what are you waiting for? Just scroll down the list and find out the best antique jewelry companion for your darling fiancee.
Antique 18ct Gold Diamond Cluster Engagement Ring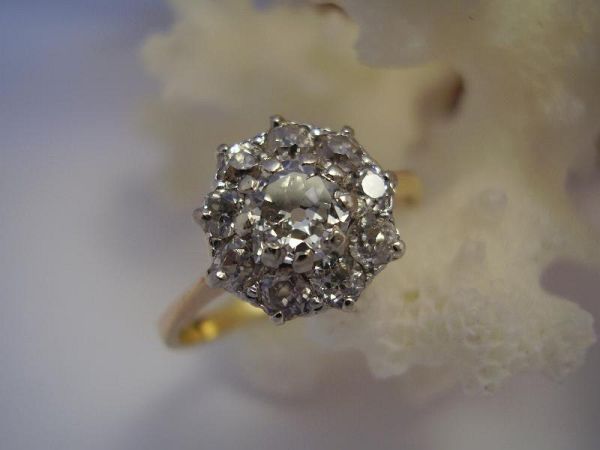 The Antique 18ct Gold Diamond Cluster Ring, ideal as an Engagement Ring, is all set with crystal white diamonds crafted out to a beautiful flowery shape. The ring has a central brilliant cut round diamond having an est of 0.30cts, which is further encircled with nine of the Old European Rose Cut Diamonds (est 0.50 carats). This white claw is all fitted on to a yellow gold mount plus a tapered shank. It measures 10mm in size and carries a total weight of 0.80 carats with tested 18ct gold and diamonds. This auspicious ring comes with two insurance valuation certificates considering February 2004/ February 2008 which is marked by a trusted and reputed Bond Street Jewelers from UK. This yellow gold antique diamond ring follows different size measurement at UK and US, i.e. size 'L' in UK and size 6 in US.
Diamond Solitaire Engagement Ring w/ Baguette Cut Shoulders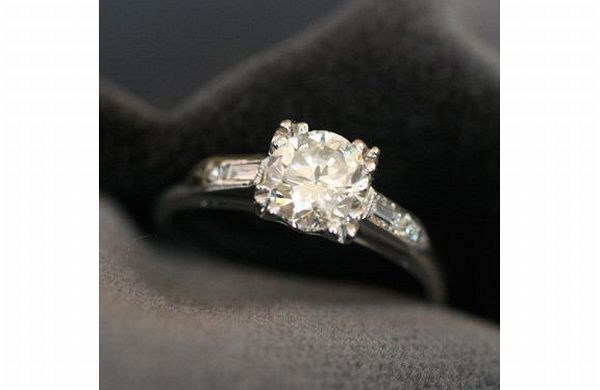 The Diamond Solitaire engagement ring by Ruby Gray is one of the antique and vintage rings from his auspicious ring collections. The four edged shape diamond at the center and sided with the two baguette cut diamonds makes the look of the ring more unique from others. The diamond weighs approx in 0.95 carat which also comes with the baguette cut diamond shoulders fitted on to the platinum ring. With inscription dated to 1937, the ring can be available in different sizes particularly by placing order for it on the Ruby Grays online shopping site.
Cabochon Sapphire and Diamond Engagement Ring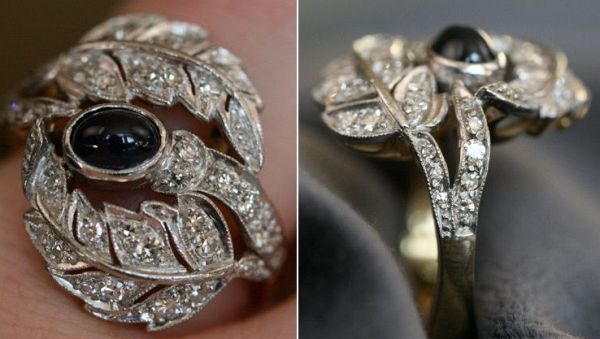 The Cabochon Sapphire and Diamond engagement ring is another unique style from Ruby Gray's collection. Do I have to described the beauty of this elegant ring? No, I don't think so. This mesmerizing beauty studded with Cabochon Sapphire and diamonds alongside is one such lovely gift you should not even wait to buy for. Coming from the vintage collection, this ring has 18ct yellow gold-plated ring with sapphire attraction and beautifully settled diamonds in the shape of leaf. Isn't that marvelous ladies?
Edwardian Oval Ruby and Old Cut Diamond 3 Stone Ring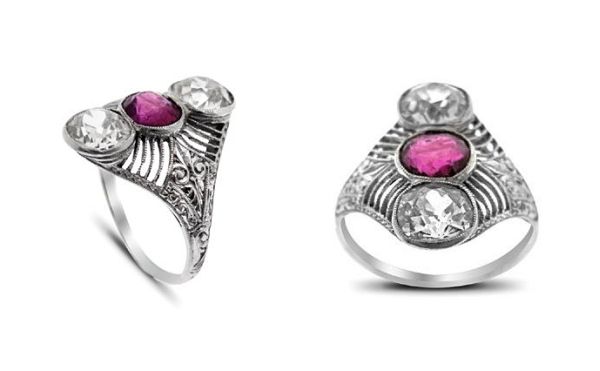 We saw the magic of sapphire, now let's move on to the glory of ruby which I am sure is favorite selection for most of the ladies. An Edwardian Oval Ruby and Old Cut Diamond 3 Stone Ring is one such beautiful admiration for all the pretty girls out there. This beauty comes with an Edwardian oval cut ruby which is set into the center along with the two diamonds that are old cut and cushion shaped. This beautiful gem and shiny diamond is all mounted over the platinum made ring that showcases a unique detail design on its shoulders.
Old Cut Cushion Diamond Ring 1.54ct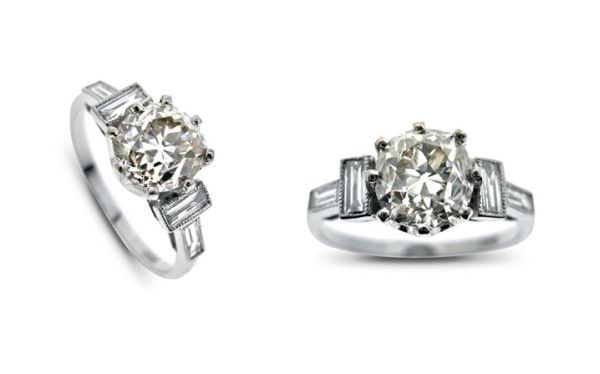 Moving on to another Hatton Jewels creation, the Old Cut Cushion Diamond engagement ring is a pure hand crafted piece of elegance. Made up of 18ct white gold, the ring is suspended with fine rub-over baguette cut diamond shoulders with an elegant diamond stone at the center weighing around 1.54ct. Amazingly awesome piece and has already became my favorite ring. The ring can be availed in all sizes.
5 diamond 18ct antique engagement ring 1910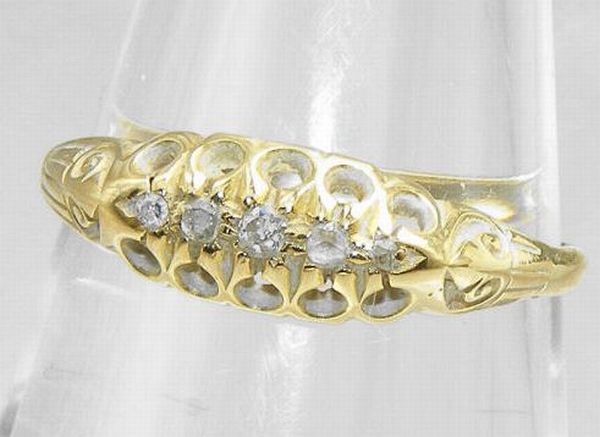 We all know old is gold and looking at this pretty piece of engagement ring then the proverb is cent percent correct. Coming from the early 1900s, the 5 diamond 18ct antique engagement ring is uniquely creative in its design and is hallmarked with 18 carat yellow gold mounted with five small rounded diamonds. The ring is said to be dated in the year 1910. The shiny white diamonds and yellow gold makes this ring an elegant wear for the auspicious engagement ceremony. The ring measures 6mm at top and is available in UK size Q and USA size 8.25.
1980s diamond engagement ring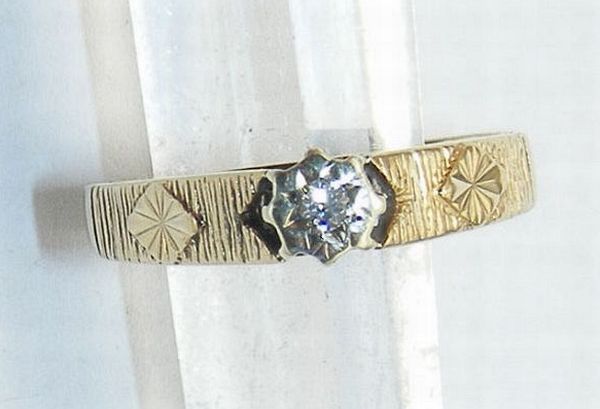 The 1980s diamond engagement ring is an awesome piece for the person who loves simplicity with elegance. Made up of 9ct gold, the ring comes in a thin band form with detailed fine working on its plate. The ring carries its beauty on the top where it holds a solitaire diamond that measures about 4mm.
Vintage engagement ring 18ct diamond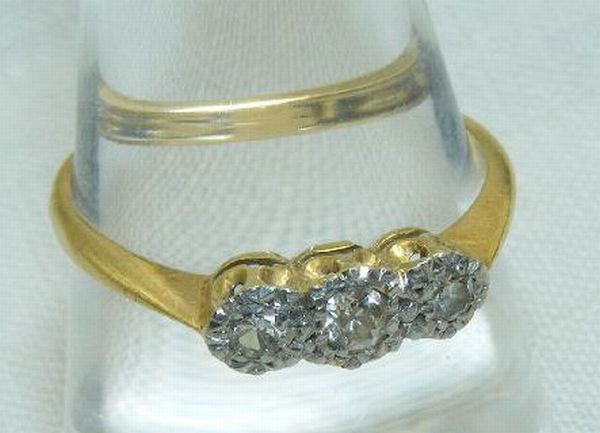 Vintage engagement ring 18ct diamond is yet another antique engagement ring from the AntiqueAvenues. Dated from early 1900s, the ring is made of 18ct yellow gold and is mounted with three shiny old European cut diamonds. These diamonds has been finished with platinum, giving the ring more sparkling look. The top of the ring measures in 0.4cms wide and 1.3cms in its length. The ring has size N in UK and size 6.75 in USA.
Vintage Emerald & Diamond Engagement Ring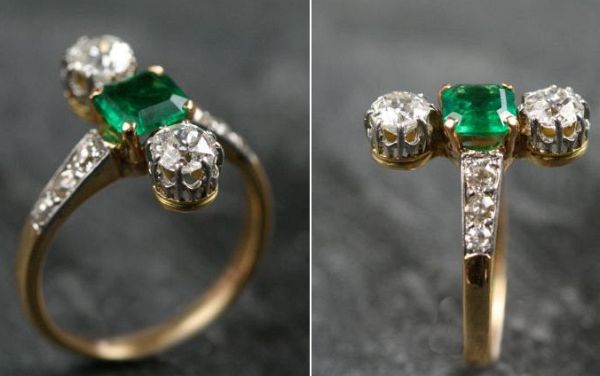 Vintage Emerald & Diamond Engagement Ring is made up of 18ct yellow gold with diamond studded shoulders. The attraction point of the ring lies in its center stone emerald which weighs approximately 0.75ct. The ring is studded with two diamonds on either side of center stone having a brilliant cut weighs around 0.50 carat. The fine quality of emerald and sparkling diamonds showcases a beautiful dressy design. The ring is available in size L ½ and can be made available on request of particular size on the online shopping site of Ruby Gray.
Edwardian Platinum & Diamond Cluster Engagement Ring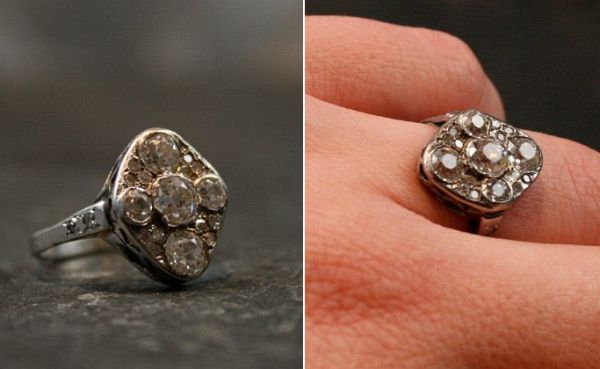 Last but surely not the least; this antique piece comes from the vintage collection of Ruby Gray. Dubbed as Edwardian Platinum & Diamond Cluster Engagement Ring, the ring comes as set of pave old cut diamonds. The diamonds have a shimmery shine which gives it antique features. This color is rated at I/J and its clarity at SI 1. The ring comes in size of M/N and can be resized at the particular size of order placed at the site.