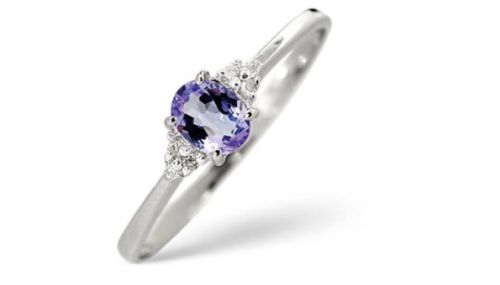 Engagement rings ought to be extra special and tanzanite, with its special character and element, adds that unique touch to an engagement ring. Tanzanite can transform the simplest of rings to a piece of admirable beauty. The gem is versatile enough to get studded in any material, whether it be white gold, yellow gold or silver, and make each one of them look astonishingly beautiful. Compiled here is a list of some unique tanzanite engagement rings crafted in different materials that would bring that priceless expression of delight on your darling's face making every penny spent on the engagement ring worth it.
9ct. White Gold 0.38ct Tanzanite Oval & Diamond Ring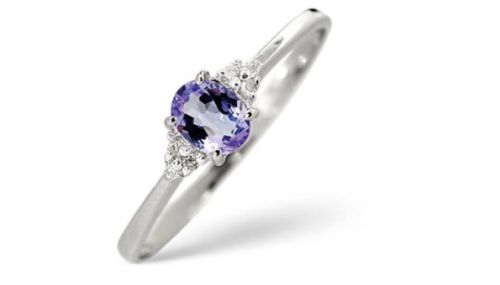 Crafted in 9ct. white gold with an oval shaped tanzanite of 5x3mm in the center and diamonds studded on both the sides, this ring is a true example of elegance and high quality. The tanzanite and diamonds used to create this ring are genuine mined. The ring carries the sign of British hallmark as an evidence of the ring being of superior quality. The ring is 5mm in width and comes in a beautifully packed box.
14k Gold Triple A Trillion Tanzanite Dimond Ring (0.90cts.tw.)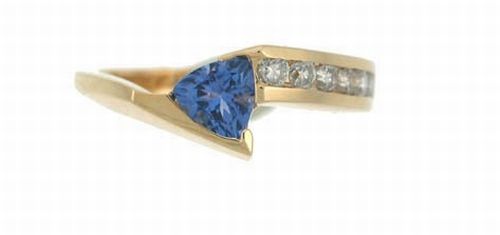 This ring created in 14k gold brings you an option of a tanzanite engagement ring in a very contemporary design. The design of this ring is quite distinct and innovative. The tanzanite in the ring is close to triangular shape which manages to draw attention to the ring with ease. The diamonds set at one side of the ring create a different, unique yet minimalistic look.
9k Yellow Gold 0.12 Carat Diamond and Tanzanite Engagement Ring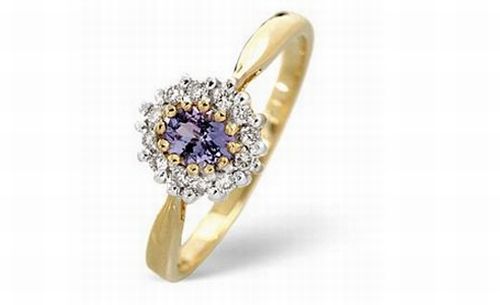 This diamond and tanzanite engagement ring with its extremely feminine and stunning look is sure to become an owner's pride. The ring is beautified with 0.32 Carat tanzanite and 0.12 Carat diamond studded on 9k yellow gold. The width of the ring is 9mm. This striking example of beauty and creativity is available in all sizes. The ring comes with a certificate that would be required to get the ring insured and which is also an assurance of the good quality of the ring.
9k White Gold 5x3mm Tanzanite & 0.14ct Diamond Ring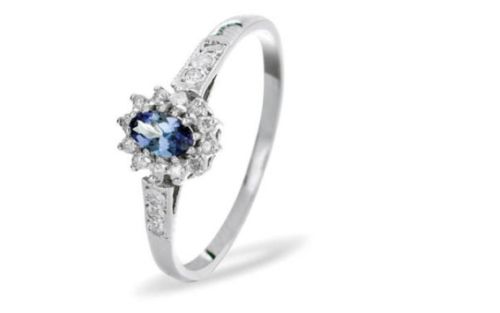 The ring carries an oval shaped genuine mined tanzanite of 5x3mm in the center. The round shaped diamonds studded around the tanzanite are genuine mined with brilliant cut. The diamonds have a carat weight of 0.14ctw and have Si2 clarity H color. The ring with 8mm width is crafted in solid 9k white gold. Designed and made in London, this ring carries the British hallmark sign as an evidence of its high quality.
9ct White Gold 0.57ct Tanzanite & Diamond Ring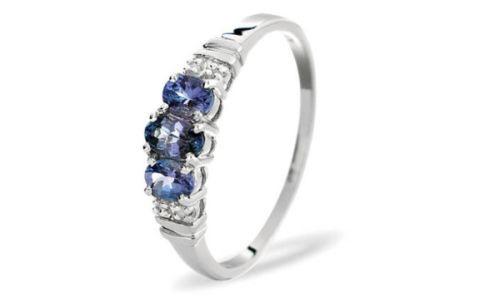 This British hallmarked ring is made of 9ct white gold. The ring is decorated with three oval shaped tanzanite in the center with diamonds guarding the gems at both the sides. Both the tanzanite and the diamonds are genuine mined and of superior quality. While the ring carries tanzanite of 0.55ctw, the diamonds set in the ring are 0.02ctw. This ring with 5mm width comes in a pretty box. This ring speaks of elegance and beauty in high volumes and is an impressive choice for an engagement ring.
Natural Tanzanite & White Topaz Sterling Silver Engagement Ring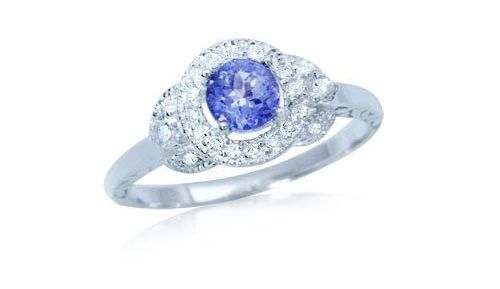 This ring in sterling silver comes studded with multiple stones. There are a number of white topaz set in the ring but the center of attraction remains the single, round shaped tanzanite in the middle of the ring. The ring comes with an anti-tarnish finish. The design of the ring is inspired from vintage styles and thus the ring carries a timeless and unique appeal to it. The look and feel of the ring has a royal touch to it along with an element of drama in it.
2.5 CT Imitation Tanzanite CZ Cocktail Engagement Ring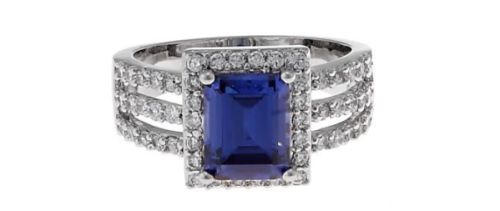 This ring in sterling silver is plated with artificial or imitation gems of extremely high quality. The stones studded in the ring look as bright and priceless as real tanzanite and diamonds. A big sized tanzanite is set in the middle of the ring with artificial diamonds set surrounding the blue stone and also beautifying a major portion of the band of the ring. So, instead of spending a hefty amount on a ring with original gems, make a bold statement with the beauty of this eye-catchy ring at a much cheaper and affordable price.
9k White Gold Tanzanite & Diamond Flower Ring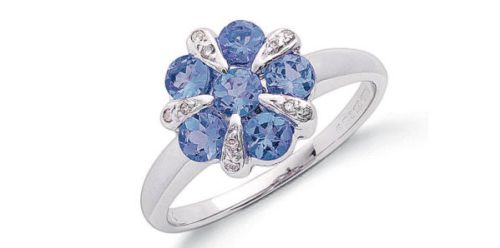 This ring crafted in 9k white gold is simple, pretty and elegant – all at the same time. Six, round shaped, genuine mined tanzanite stones of 0.90ct along with diamonds of 0.06ct are put together in this ring to give the piece of jewelry the shape of a flower. The British hallmark sign ensures of the high quality of the gems and the ring while the ring ensures of a billion dollar smile on your lady love's face.
9k White Gold Tanzanite Heart Ring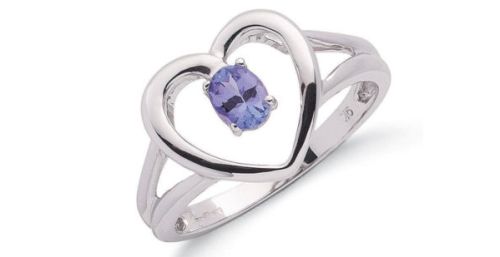 Let the world know that she has stolen your heart while you put this heart shaped ring in her finger. This British hallmarked ring of 9k white gold with a genuine mined tanzanite of 0.38ct is a great option for an engagement ring if not for anything else then for its romantic design. The ring shaped as a heart with the gem placed in the center of the hollow heart is delicate and simple in its design but screams of love and romance and is ideal for an engagement ring.
9k Yellow Gold 0.51ct Tanzanite & Diamond Swirl Ring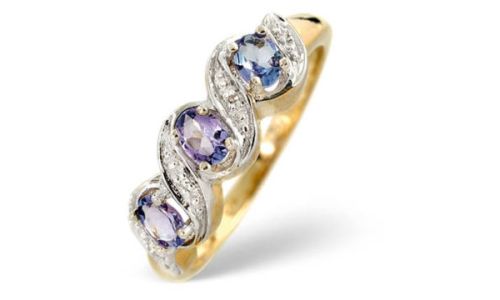 This British hallmarked 9k yellow gold ring is an artistic design that can win any woman's heart without any hassle. Genuine tanzanite of 0.50ctw are studded in the ring along with genuine mined diamonds of 0.01ctw that have S1 clarity H color. This elegant looking, beautifully crafted, high quality ring is 6mm in width. A beautiful box carries this heart-winning ring of style and sophistication.