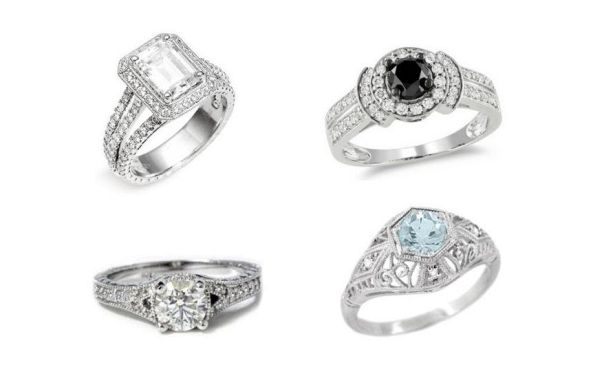 An engagement ring is the most important piece of jewelry which spills commitment. Bring the aura of bygone era in your life as you fulfill your woman's urge to own a timeless piece in the form of a vintage engagement ring. Decorate one of your most important days of your life with the best possible things that money can buy and make it a memorable affair. Have a look at a list of the most gorgeous and unique vintage engagement rings that will make a woman look like a charming princess.
"Argent Vif" Diamond Engagement Ring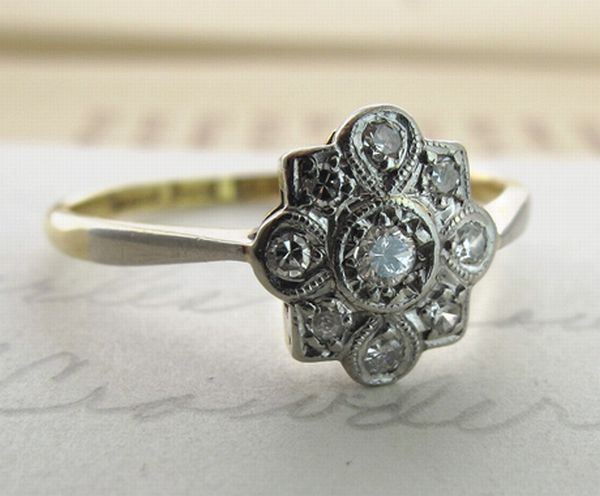 Slip the absolutely stunning Argent Vif Diamond Ring in your sweetheart's wedding finger and see her going head over heels. The ring comes smothered with a vintage charm, which spills the sensuality of the bygone era and will prove to be a perfect token of love. It looks nothing less than a piece of beautiful art with nine diamonds shinning with all their worth. The hoop has been crafted out of 18K gold and blends perfectly with the design on the top set in platinum.
Jack Kelége 'Romance' Princess Cut Diamond Semi Mount Ring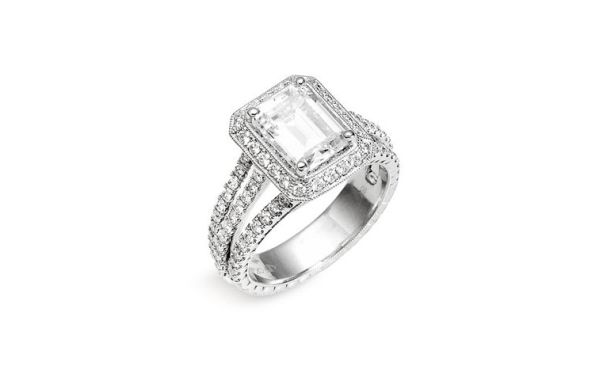 Give your princess a ring she will never let go out of sight as she gets bewitched by the sparkling diamonds. Jack Kelége 'Romance' Princess Cut Diamond Semi Mount Ring has been heavily inspired from the vintage era. The neat placement of a cubic zirconia center stone will draw attention, while the three split bands covered with diamonds put forward an unexplained charm. The beautiful ring has been crafted with utmost precision and has been set in 18K white gold.
1 Carat Black and White Diamond 14K White Gold Engagement Ring with Black Rhodium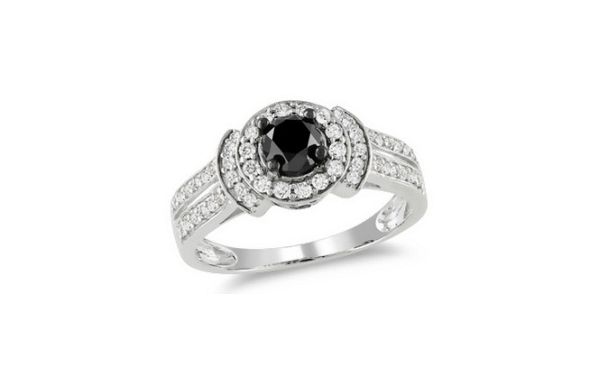 A wedding is the time of one's life; and what is better than decorating it with the awesomely crafted Black and White diamond engagement ring. The fully captivating ring has been coyly beset with black rhodium that tastefully complements the 14K white gold, lending a mystic appeal to the stunning design. The black colored stone is surrounded by white diamonds that extents till the split band, enhancing its beauty and elegance further.
Brilliant Cut Vintage Engagement Ring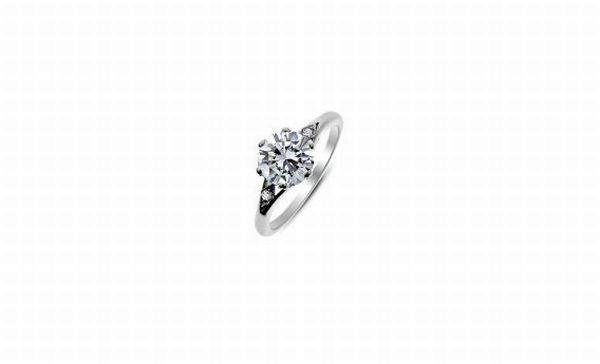 Add a little bit of vintage touch to your engagement with the brilliant cut vintage engagement ring. Given to the design is the much required richness and the brilliantly cut diamond that weighs 1.4 carat. The shimmering stone has been placed in a very classy manner. So, get ready to amass a lot of compliments because of its beautiful vintage appearance when your loved one places it nicely in your ring finger.
Edwardian Aquamarine and Diamonds Scroll Dome Filigree Engagement Ring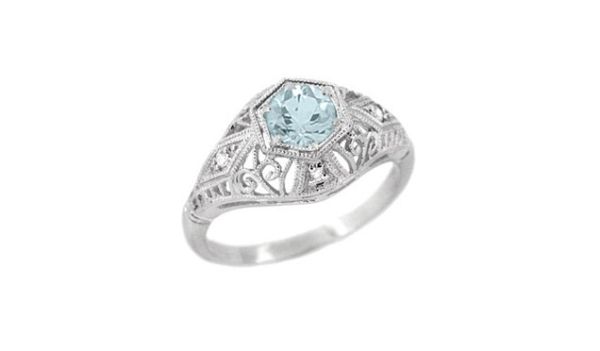 The ring is bound to steal both hearts and minds with its magical glamor quotient. The engagement ring has been crafted out of 14K white gold. A 0.4 Carat aquamarine will bring forth the blueness in your loved one's eyes as the design does its own magic. The Edwardian Aquamarine and Diamonds Scroll Dome Filigree Engagement Ring is wonderfully nostalgic and comes injected with a lot of classic appeal.
Art Deco Engraved Filigree Diamond Engagement Ring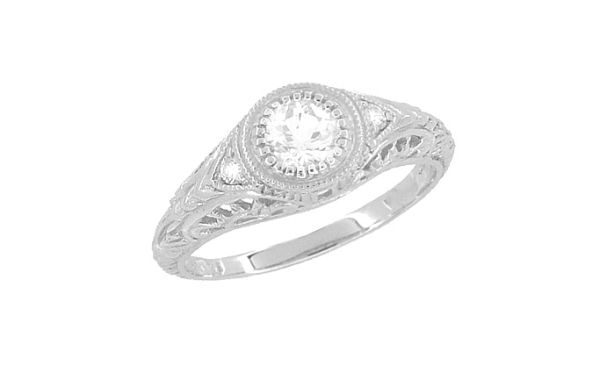 Handcrafted in dainty pierced Filigree is the art Deco diamond ring, which will force onlookers to whiff wows all through the ceremony. The timeless piece of jewelry has been set in 14K white gold and given a design as unique as its wearer, making it a perfect expression of love. The brilliantly cut center piece is very delicate and feminine, taking the ring to an altogether new level in terms of sumptuousness. The ring will make eyes swoon as it stands out on your fiancee's hand.
Art Deco 1 Carat Princess Cut Aquamarine and Diamond Engagement Ring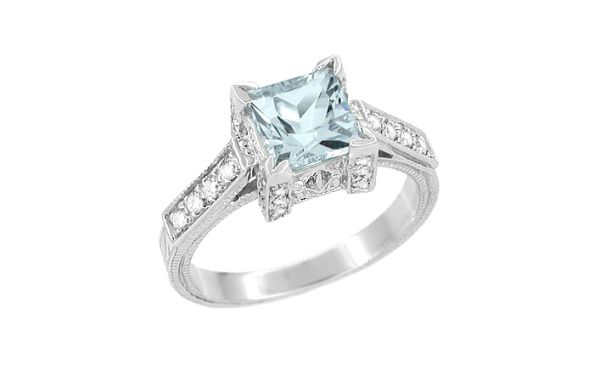 Delicate detailing and immaculate craftsmanship makes the diamond engagement ring absolutely gorgeous. It comes tagged with the much needed glitz and glamor, which has been coupled with a design that is worth cherishing. The tasteful ring has been fashioned out of 18K white gold which gives it an added touch of exquisiteness is its geometric shape. The radiant sparkle will spread all around, showing how much you love your girl as the ring graces her hand.
1.33CT SI Vintage Diamond Engagement Ring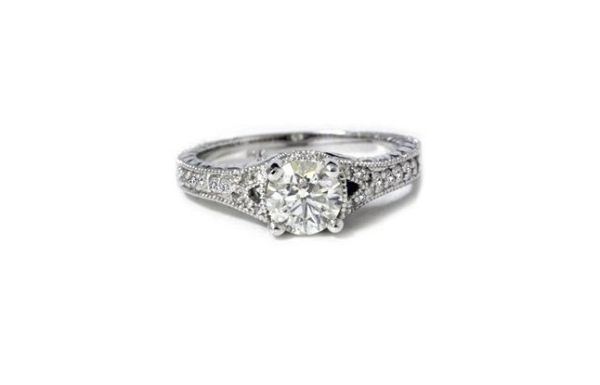 The 14K white gold ring is lavish beyond belief and vows to ring your vintage dream to life. Adding to the uniqueness of the ring is the setting of the stones that makes the delicate hand jewelry absolutely mind blowing. The ring spills class and will make your loved one feel nothing less than a superstar as she flaunts it to the world. The shine and perfect detailing will remain a stunner for years to come, making it the most amazing engagement ring ever.
14K White Gold Vintage Style Semi-Mount Diamond Engagement Ring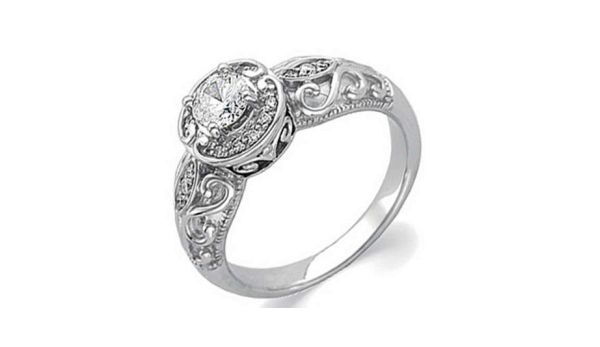 Give your fiancee a design that will remain adorably stylish forever in the form of 14K White Gold Vintage Style Semi-Mount Diamond Engagement Ring. The design gets enhanced with a round brilliant diamond placed in the center. It will prove to be a perfect symbol of everlasting love and commitment and will attract unending admiration as it graces the hand of your loved one. The size of the stone will undoubtedly make eyes pop and jaws drop.
Mad Scientist Diamond and Sapphire Ring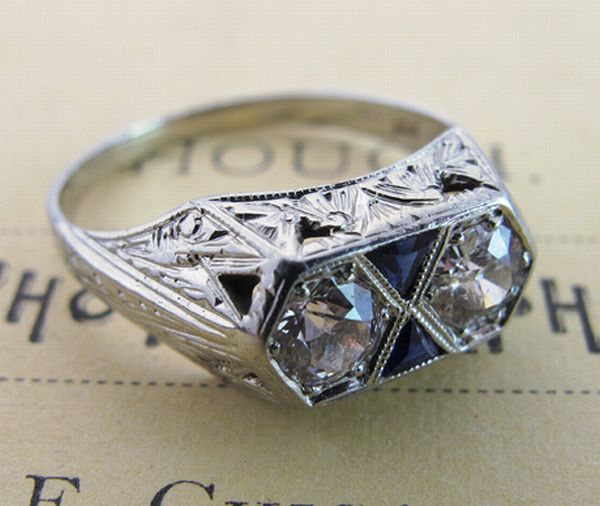 The stunning and flawlessly created Mad Scientist Diamond and Sapphire Ring which is a class apart. The glitzy engagement ring has a vintage appeal, which will cast a spell on anyone who sets his/her eyes on it. The bold yet simple design has been cast in 18K gold that has been given added beauty by the presence of intricate details on the sloped bezel and shoulders. It will pump up the sophistication of any woman who wears the timeless piece of jewel.