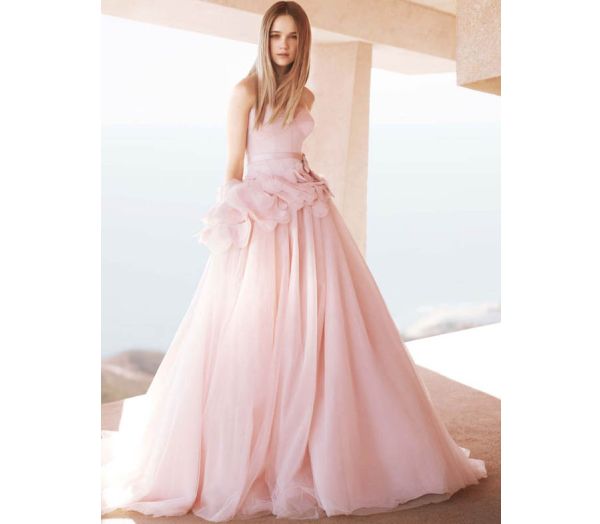 Any bride with a sense of style will tell you that she'd love to have renowned fashion designer Vera Wang design her dress. Her name is synonymous with stardom and fame, having clients like Avril Lavigne, Ivanka Trump and Mariah Carey wearing her wedding creations. But not all of Wang's works are over-the-top expensive with some of them affordable enough for those from modest families. Take a look at 10 of her creations that are beautiful and just about affordable.
Strapless ball gown with satin corset bodice style VW351112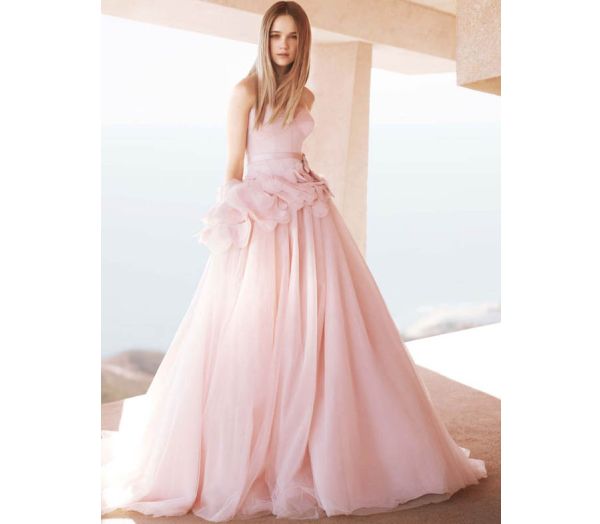 Vera Wang's strapless ball gown is a gorgeous piece with a satin corset bodice that lends shape to your body. It sports a full tulle skirt and a draped tulle overlay with a satin sash around the middle. An asymmetrical peplum in organza petals adds an even more feminine touch to the dress, making it perfect for your special day.
Price: $1,248.00
A-Line sweetheart ruffles sash wedding dress Diana

The A-Line sweetheart wedding dress called Diana is an ivory-colored floor-length gown with a sweetheart neckline. While contemporary and simple, the dress retains an old feel in terms of its femininity. Made from organza, the dress embodies a tulle draped bodice, an ivory-colored double-knotted tie at the waist and a swirling tissue organza flange for the skirt. Subtle yet elegant, the wedding dress is one of Wang's more affordable creations.
Price: $374.98
One-shoulder basket-weave organza gown style VW351090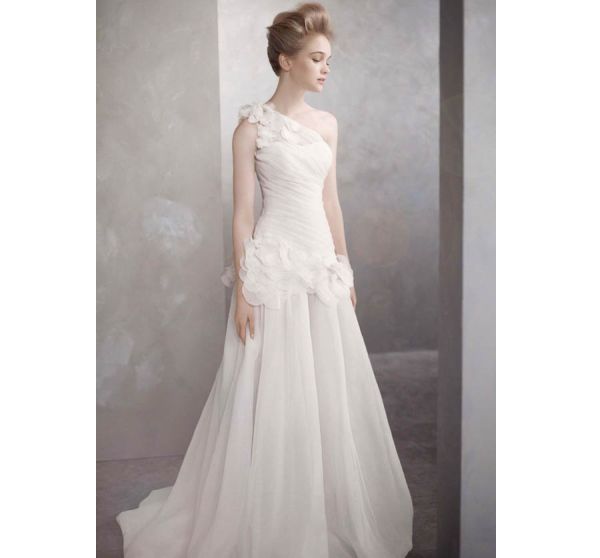 While wedding gowns are all about making a bride look her best on her special day, not all of them are easy to wear. But the one-shoulder basket-weave gown style by Wang lets brides enjoy their day without having to worry about the dress slipping down. This beautiful creation has been made from organza and features a dropped waist, a draped bodice and organza petals. The floor-length dress is available in white and soft white.
Price: $1,028.00
Mermaid gown with pleated skirt and bubble hem style VW351043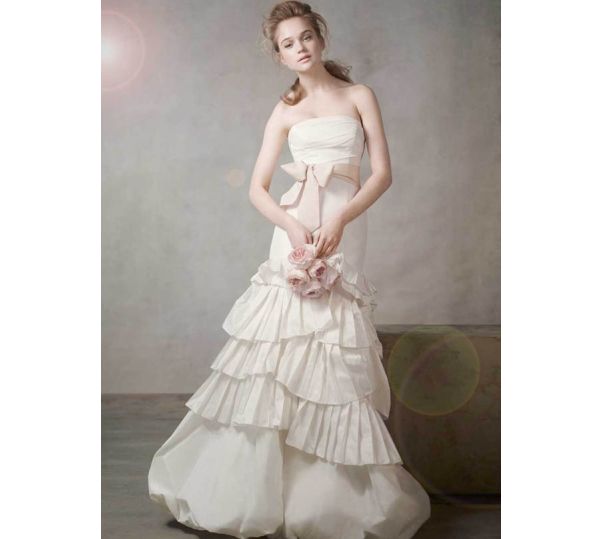 Vera Wang's mermaid gown is a beautiful piece that has a lovely form-fitting strapless bodice accentuated with an asymmetrical draping that heightens the fit. A sash around the waist serves to accentuate the curves. The mermaid skirt features layers of pleated taffeta with a soft bubble hem. The back has covered buttons running down to the thigh and also features a chapel train.
Price: $700.00
Vera Wang wedding dresses style VW11443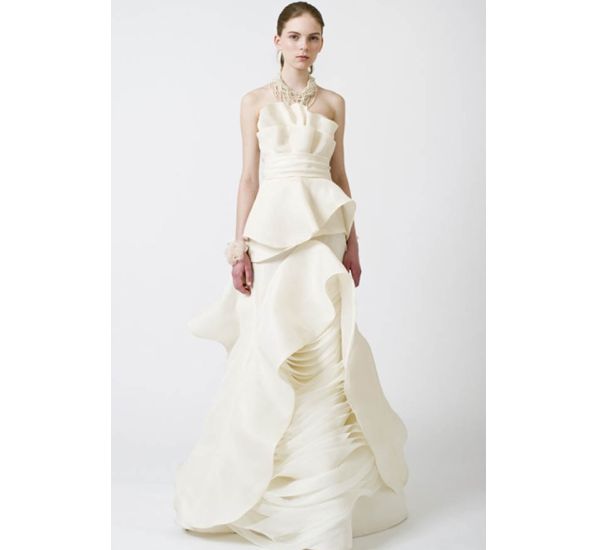 Pictured above is Fern, another superb creation by Wang. Silk gazaar and organza have been used to produce this designer wedding dress. The strapless two-piece gown has a multi-layered peplum bodice that speaks of style and class while the cascading peplum skirt designed in a tissue organza ladder technique gives the dress a very couture appearance. Perfect for those looking for a gown that's one-of-kind.
Price: $348
Basket-weave organza ball gown style VW351089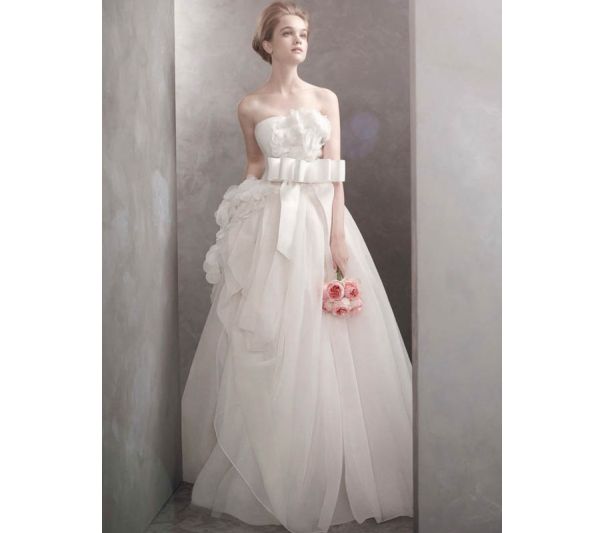 This is another organza ball gown style wedding dress that's ethereal and feminine. The gown features basket-weave organza and incorporates petals in an asymmetrical fashion. A draped skirt in a flowing fashion gives the dress an old-fashioned feel while the grosgrain bow sash acts as a lovely embellishment.
Price: $1,498.00
Vera Wang wedding dress Eleanor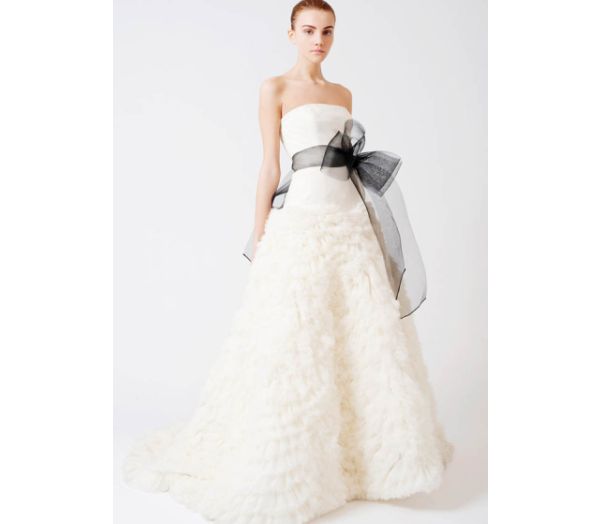 This affordable ivory wedding dress titled Eleanor is a strapless wonder incorporating a dropped waist and a full A-Line gown. The skirt features tulle feathered flower embroidery that adds a nice balance to the bodice. A sheer black horse hairbow at the waist adds class to the outfit. The back hasn't been left out of the loop with beautiful embroidered buttons running down.
Price: $554.98
Satin-faced organza horsehair A-Line gown style VW351105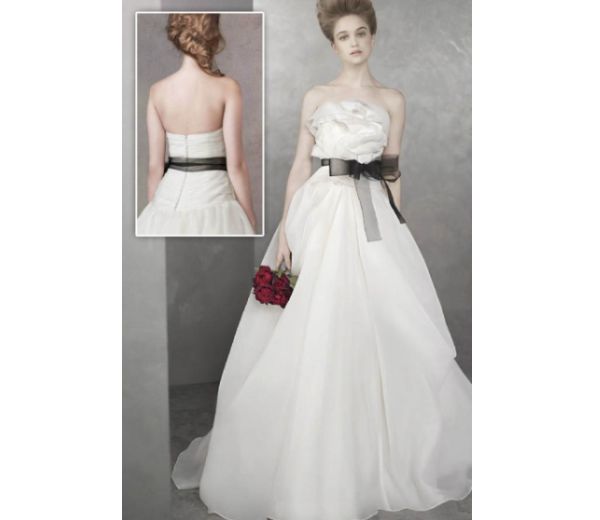 Another A-Line gown from Wang, this satin-faced organza horsehair creation features interesting designs like the gentle origami-draped bodice that gives the dress an airy look. An exposed tulle train at the back, covered buttons that run down to below the waist and a grosgrain sash make the dress fit to be worn by royalty. Like the rest of Wang's creations on the list, this piece is contemporary, whimsical and just plain gorgeous.
Price: $1,448.00
Vera Wang Spring wedding dress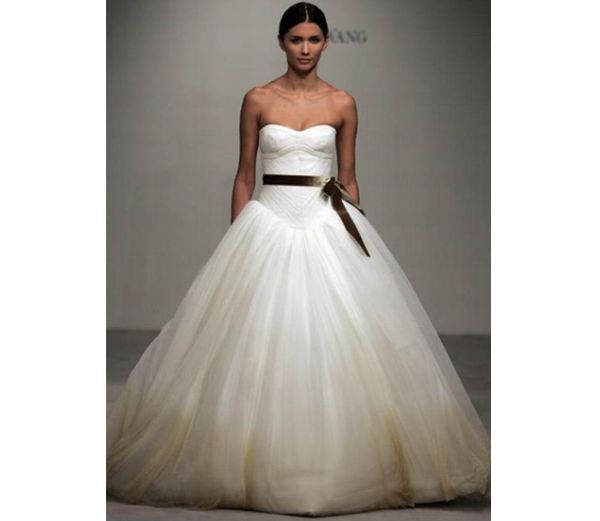 This wedding dress from Wang's Spring collection of 2009 features a sweetheart neckline and a very fitted bodice with a front lightly dropped waist. The skirt cascades down in to lend the dress a majestic look. A copper colored sash at the waist adds just the right bit of embellishment to the outfit.
Price: $ 457.5
Vera Wang Wedding Dress Fall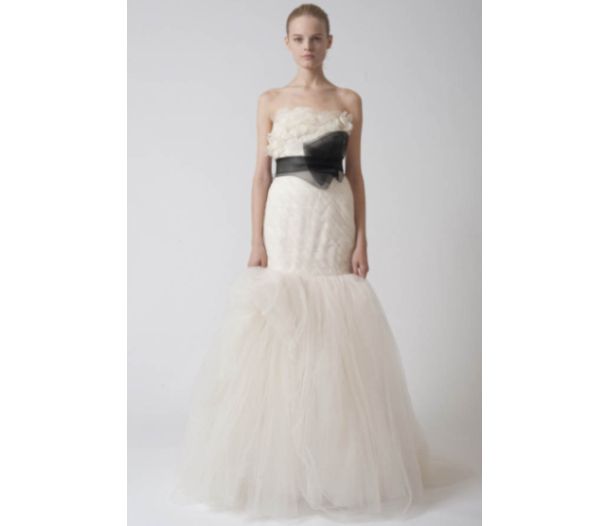 Last on the list is another stunning number by one of the world's most beloved wedding dress designers. For her Fall 2010 collection, Wang look is pure yet dramatic. The item pictured above features a beautiful dress with a mermaid silhouette and a strapless neckline. The ivory number is a floor-length gown that uses tulle topped off with a black colored ruffle sash in a sheer fabric. The dropped waist lends the outfit an old-fashioned look though the sash and ruffles add a contemporary touch.
Price: $554.98