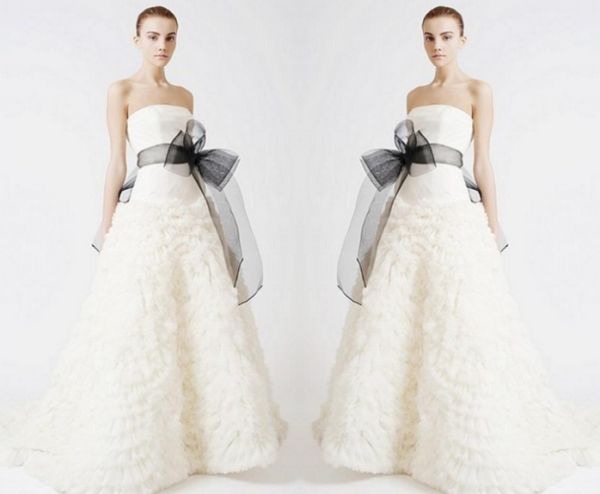 Finding a perfect wedding dress is every bride's yearning; a bride to-be would spend an age finding wedding attire to suit the occasion. Things can be really difficult when she wants to look the best on a budget, but when money is no bound, there is nothing stopping her from looking as she's always dreamt. Designer wedding dresses are one great option in that case, and what better than Vera Wang's designer wedding wear. For those who don't know about Vera – she is a master craftswoman, who has done wedding attires for the likes of Ivanka Trump, JLo and Jessica Simpson. Her collections are artistic, state-of-the-art and luxurious, crafted in feature rich fabrics with exquisite details and expertise. Here we bring to some of the most amazing Vera Wang wedding dresses to delight your eyes.
Vera Wang Eleanor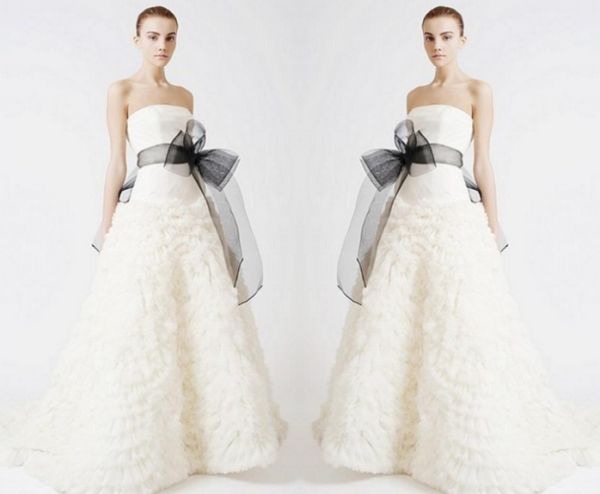 Flaunting sweetheart neckline and elegant design, this stunning floor length bridal dress is fashioned out of embroidery layered organza. The beautiful gown has an a-line silhouette with natural-waist. The feathered tulle flower embroidery, with re-embroidered buttons on back bodice adds to the aesthetics. It was also featured in Vouge magazine.
Price: $3000
Buy Here: PreownedWeddingDresses
Vera Wang Mermaid Wedding Dress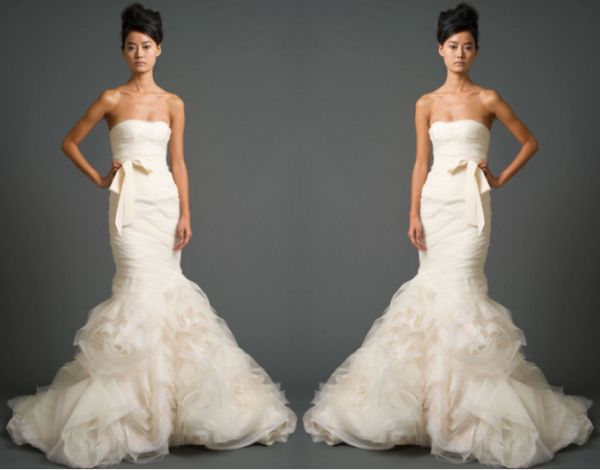 Designed by Vera Wang, this mermaid wedding dress is handmade. The strapless neckline accentuates your collar bone that you always wanted to flaunt. The belt on the waist helps to show your curves. This fishtail gown is stylish, feminine and elegant. It's just perfect to keep your man's eyes glued onto you. The best part about the dress is that you can get it custom made according to your size and color of your choice.
Price: $149.00 + $49.00 (Shipping)
Buy Here: eBay
Vera Wang Ball Gown Style VW351007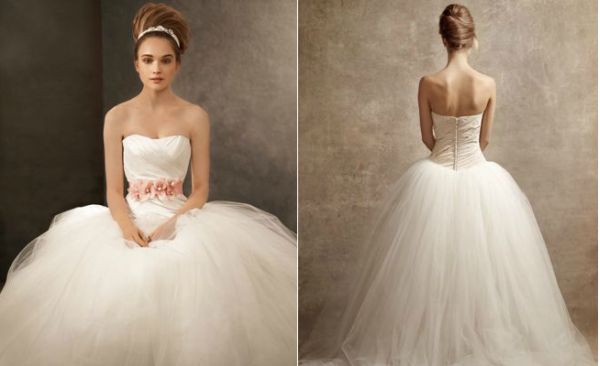 Exhibiting classic Vera Wang style, this one here will definitely make heads turn. This alluring strapless taffeta gown features asymmetrically draped bodice with scooped neckline to bring out the femininity in you. The full ball gown skirt is made using 100 yards of tulle. This beautiful wedding gown is available in different colors like blush/Ivory, vw champagne/ivory, ivory/ivory and soft white/soft white.
Price: $1028.00
Buy Here: DavidsBridal
Basket-Weave Organza Ball Gown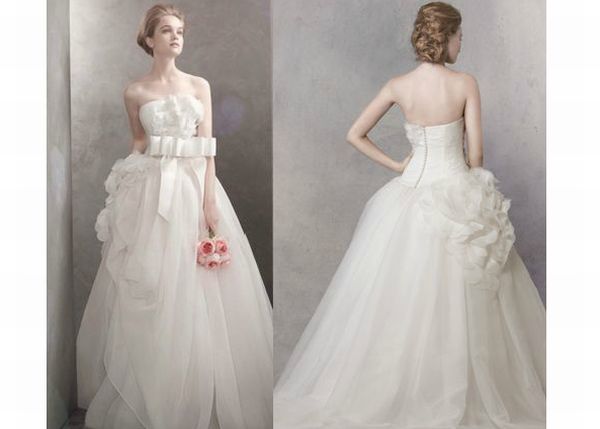 If you wish to delight onlookers' eyes, then this one should be your pick. The dramatic look of the wedding gown is what really makes it stand out. It exhibits lovely visual drama with a structured bodice, draped skirt and asymmetrical organza petals. Adding that special touch of femininity and style is grosgrain bow sash, which is grosgrain ribbon backed with horsehair. It not only defines the curves but also behaves as a beautifully crisp centerpiece. This stunning wedding is simple, yet modern and delicate.
Price: $1,498
Buy Here: DavidsBridal
One Shoulder Structured Fit and Flare Gown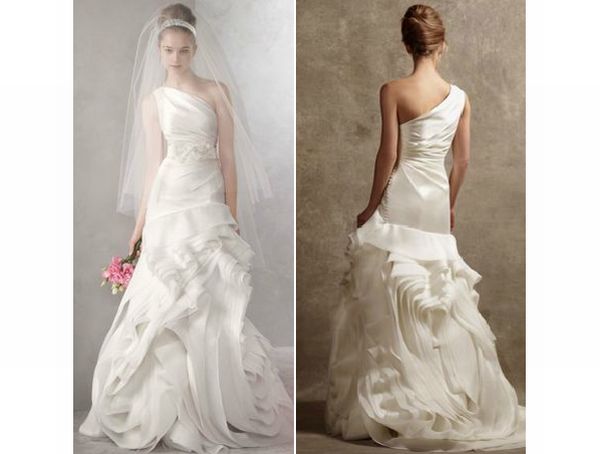 This exquisite wedding gown with dropped waist and skirt made of hand-cut organza flanges fells as if it has come out straight from the lap of nature. This organic beauty with beautifully sculpted bodice, swirling petal-like effect and grosgrain sash is reminiscent of Hollywood glamour. The modern cathedral-length train adds to the charm. Coming with the perfect amount of styling and drama, this dress is very red-carpet. So, to bring out the thrill, drama and romance on your big day, try this wonderful dress by Vera Wang.
Price: $1248.00
Buy Here: DavidsBridal
Satin Faced Organza Gown with Illusion Piece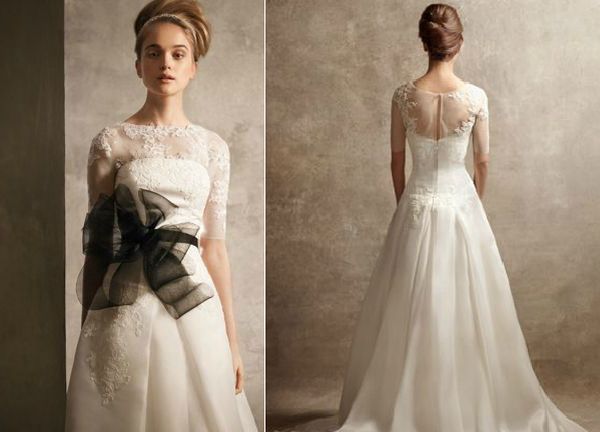 Upsetting the classical space and calmness of traditional wedding gowns, Vera Wang creates something that is more dramatic and complicated. This A-line satin wedding gown features hand-cut floral lace applique, making it uniquely stylish. What I love the most about the dress are the long, narrow sleeves that are elegant and fashionably retro. The high, see through neckline adds a touch of seduction and aesthetics to the dress. For that extra dash of style add a dramatic horsehair sash. This stunning bridal gown will make you look sophisticated and sweet at the same time.
Price: $1348.00
Buy Here: DavidsBridal
Vera Wang Hilary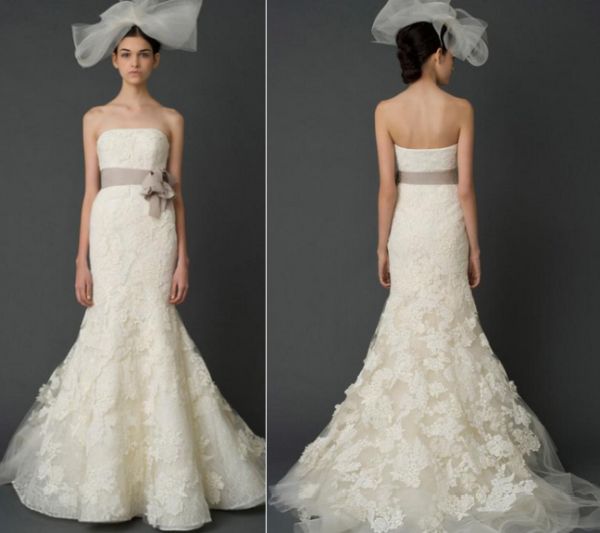 This amazing Vera Wang Hilary LUXE Line gown is reminiscent of luxury, sophistication and femininity. The timeless beauty features bodice that enhances the curves perfectly. It has a strapless straight across neckline and natural waist. It is interesting to see how the designer has constructed the floating textured lace appliqus layer by layer. This beautiful sleeveless, floor length wedding dress flaunts dramatic train with a sunburst pleated back under-train. The floating organza sprig embroidery and plain and pleated tulle layers under the lace add to the aesthetics.
Price: $7,000
Buy Here: PreownedWeddingDresses
Vera Wang Sweet Flowers Wedding Dress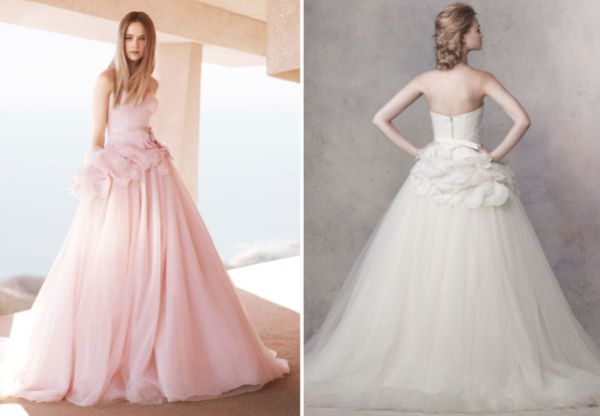 Looking like it's out right from the 1950s; this pretty looking wedding dress features a classic silhouette. The boned satin bodice veiled with a thin layer of draped tulle give the dress that special Vera Wang touch. As flowers have always been associated with wedding, so the designer wisely incorporates them into the bodice. The laser-cut petal detail hugging the bodice brings in a lot of drama and style to the dress. It is available in beautiful shades of blush, ivory and soft white.
Price: $149.00
Buy Here: eBay
Ball Gown with Corded Lace Bodice and Tulle Skirt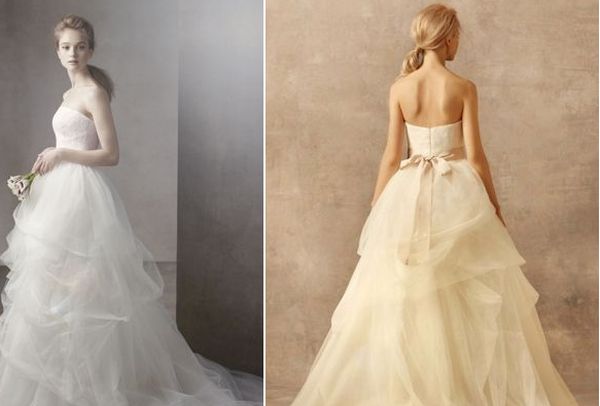 Sensuous, sophisticated and sexy are the words that come to my mind when I think of this lovely wedding attire. This fairy-tale, feather-light ball gown compliments the stylish corded lace bodice perfectly. The voluminous and gracefully falling tulle skirt is a result of technical draping that the designer has done very beautifully and intelligently. The skirt looks like a beautiful cascade of tumbled flower petals. The matching sash enhances the curves, offering a feminine and sophisticated look. This one is surely for the passionate and romantic brides.
Price: $1248.00
Buy Here: DavidsBridal
Soft Net Gown with Delicately Draped Bodice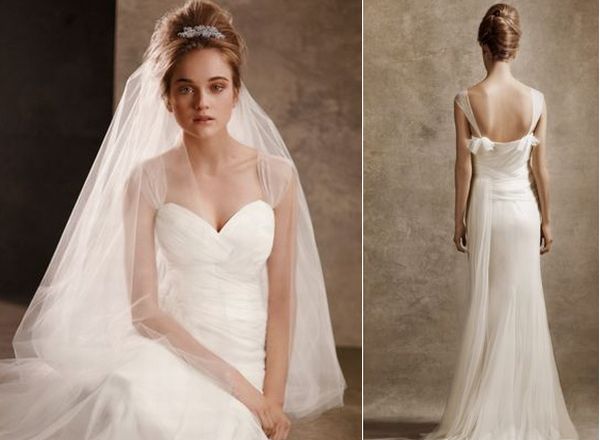 If you like to keep it sweet and simple, then this one is just for you. This soft net gown with delicately draped bodice is perfect to bring out femininity and elegance. Giving it the sensuous and sophisticated feel are the layers of charmeuse, chiffon and soft net. The illusion straps add to the charm and aesthetics, while the bodice highlights the curves beautifully. The godet skirt with a floral hip corsage increases the mercury level by a few more degrees. You have two beautiful colors to choose from – ivory and soft white.
Price: $449.99
Buy Here: DavidsBridal