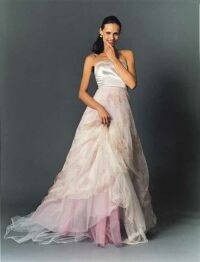 With the Valentine's Day just two days away everyone is preparing for the special day with advice from their own designers and boutiques.
Those brides, who are planning for a V-Day wedding, should go for the yesteryears vintage style gowns: this will make her look unique and real elegant. As the saying goes old is always gold.
All that you have to do to get that sophisticated ambience of a Vintage era is follow few things out.
Well, think, think hard, or if necessary take help what would suit the occasion??? Glamorous era of the 1930's should do the job.
GOWN: Slim-fitted, bias-cut gowns with jewelry embedded in it was the look of the age. The gown featured crepe back and silk fabrics.
The 1940's show the extensive use of sophisticated linen suits: while the year 1950's was full of layers of tulle and lace. The brides wore tight fitting bodice teamed up with ballerina-type skirts.