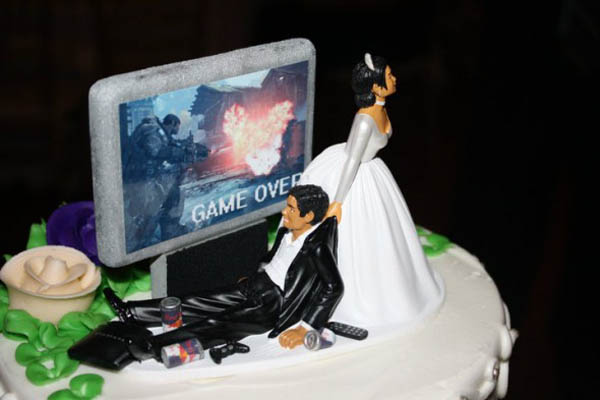 Gaming is a multi-billion dollar industry. Guys, in particular, are wired into gaming with some of them so hooked that their women are left fuming. But we can't really blame the guys; after all, games are challenging and so much fun. So what happens when an avid gamer decides to get married? How does he blend his love for games into the biggest day of his life? Well, we have a list of wedding cakes dedicated to gamers and gaming, giving them a chance to celebrate their nuptials as well as pay tribute to their passion.
Game over wedding cake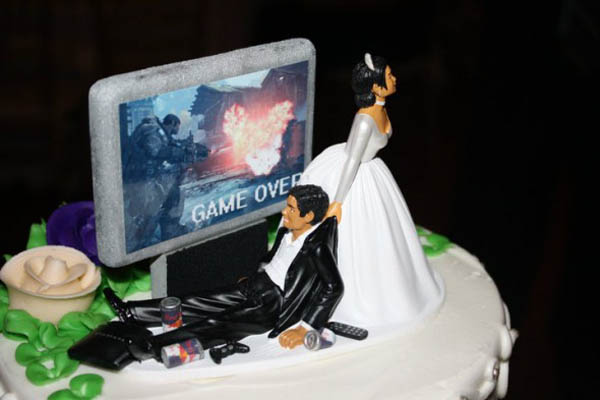 Women the world over are sure to love this game over wedding cake which depicts a bride dragging her groom in front of a large television screen with the worlds 'game over' written across. The unconventional cake is remarkably detailed, complete with soda cans, a gaming controller and a remote control strewn across the 'floor'.
Gamers wedding cake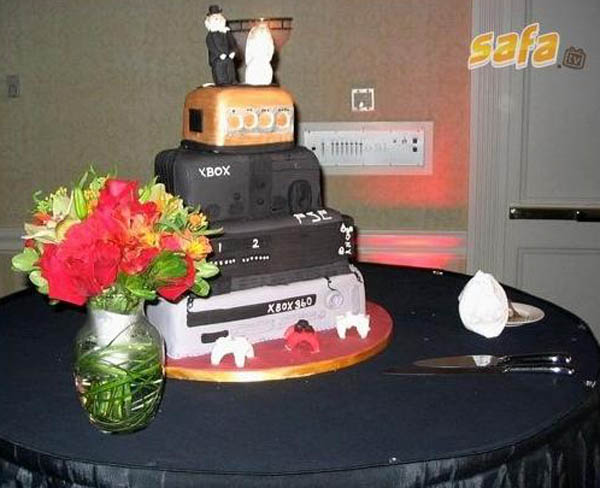 The world of gaming isn't filled only with male contenders. Here we have an ecstatic looking bride named Carol Orsini posing with her cool wedding cake. The cake's bottom layer features an Xbox 360 followed by a PS2 console which is then followed by another Xbox. The top-most layer sports a Legend of Zelda golden GameCube.
Mario-themed wedding cake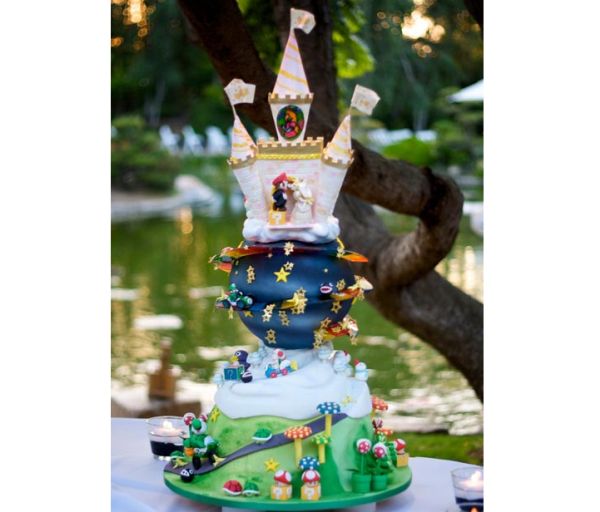 Nintendo's Mario character has continued to thrill gamers the world over. And, while we've seen many renditions of the little man in eatables over the years, this Mario-themed wedding cake is truly spectacular. The castle at the top features Mario kissing his bride in this three-tiered cake depiction of the Mario Kart video game.
Katamari wedding cake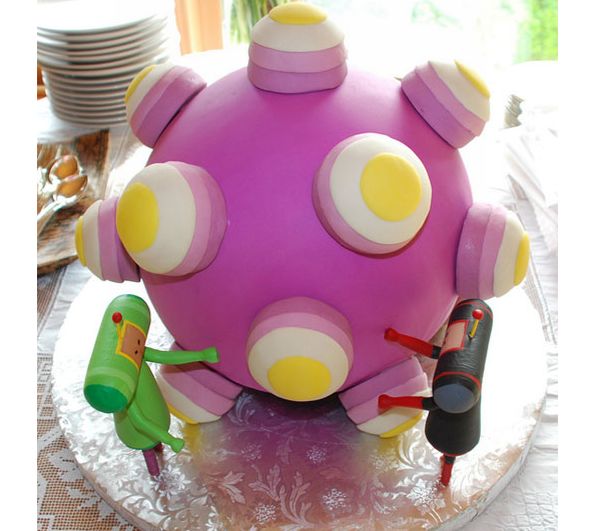 Mike's Amazing Cakes based in Redmond, Washington, designed a special cake for a wedding ceremony of a Flickr contributor with a Katamari theme. The lemon-flavored cake is beautifully designed and comes complete with cruise ships, buildings, people and cows. The avid gaming couple is also said to have played a round of music videogame Guitar Hero towards the end of their wedding.
Left 4 Dead cake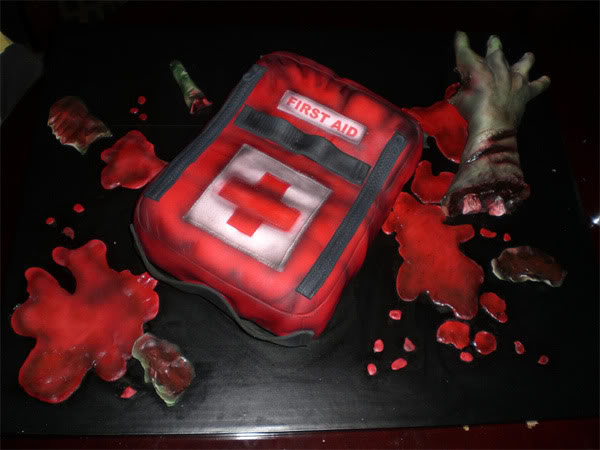 This next cake leans more towards the gory side with its disembodied hand and splatters of blood. Inspired by the Left 4 Dead video game, the cake features a first aid backpack lying on blood splatters with a gory hand (bones included) right next to it. So detailed is the rendition that you wouldn't be blamed for mistaking it for the real thing.
Pac Man wedding cake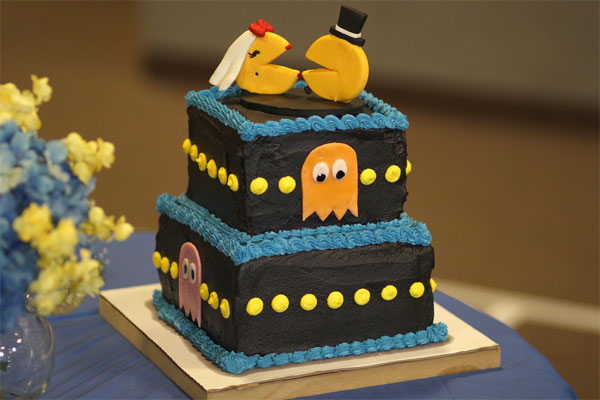 This Pac Man wedding cake was presented to a fan of this popular character by his best pal. It turned out to be the perfect gift as the wedding color theme was blue and yellow like the game. While the entire cake is edible, the toppers were created out of super sculpey so that the happy couple could save it as a memento.
Xbox 360 wedding cake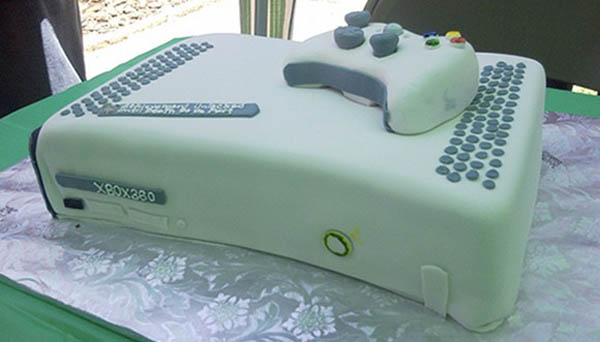 A lucky groom named Charles was presented a wedding cake modeled along the Xbox 360 gaming console by his loving wife. The cake is amazingly designed and even has a game controller sitting on a wireless cake trolley. Suffice it to say no gamer would ever ditch his wife after the manner in which she showed him her love.
The NES cake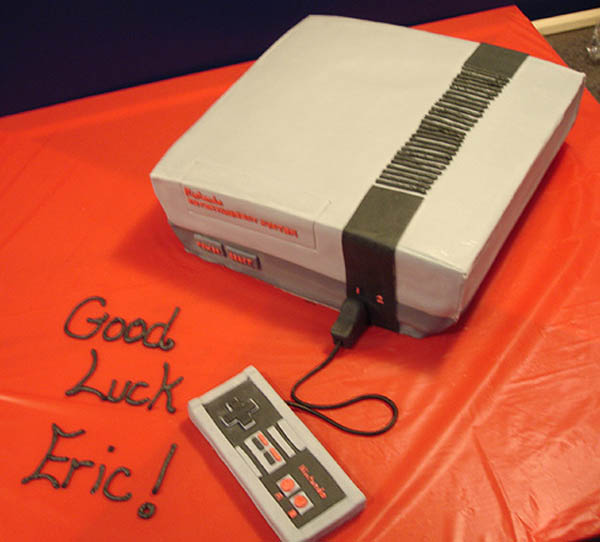 The NES cake was not intended as a wedding cake but gamers can steal the concept for their own nuptials. To make it as life-like as possible, the Nintendo Entertainment System consol cake was made out of two Hershey bars for the controller, a bit of black licorice for the wire and plenty of hard sugar frosting to keep it looking true to life.
Video game console cake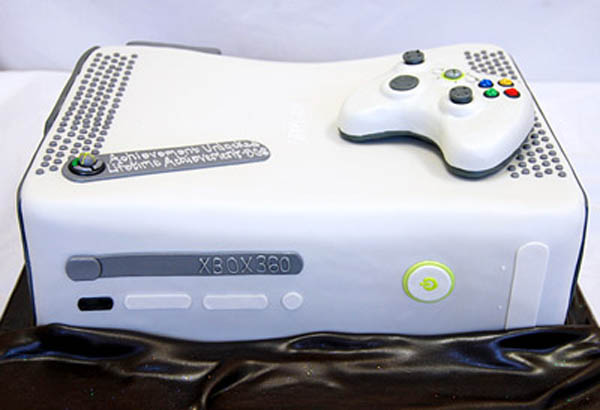 The Xbox 360 seems to be the inspiration for many cakes. Number 9 on our list features one that's so detailed that the guests apparently thought it was a real console. The cake is made out of lemon cream cheese and raspberry Chambord layers.
Best Mario cake ever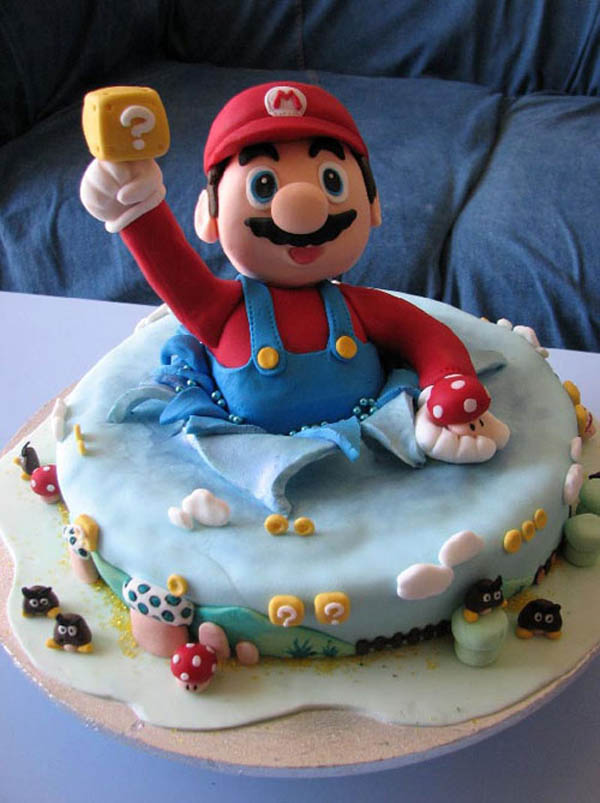 Sun Yin created this awesome Mario themed cake for her friend's housemate, a gaming enthusiast. It shows the beloved gaming character emerging from the sky blue cake which is surrounded by owls, mushrooms and question mark blocks at the base.
Nintendo wedding cake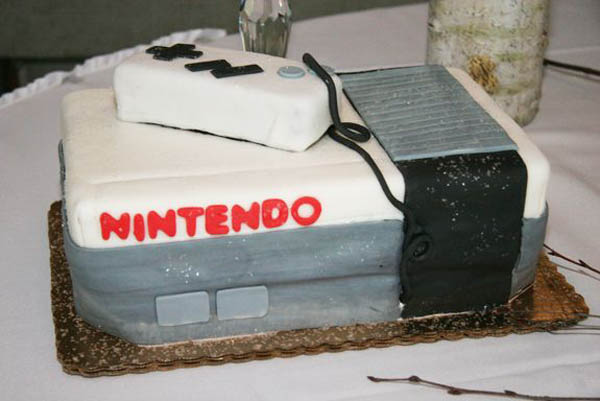 A Nintendo console is the basis for this next cake which features a controller, console and a connecting wire. We don't have details about the flavor; all we know is that it looks delicious!
Rabbid wedding cake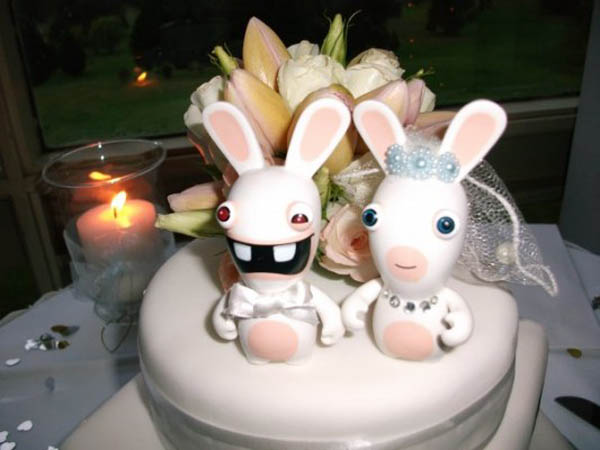 Rounding off our list of gamers' wedding cakes is a Rabbid-themed cake from the Raving Rabbids series. It features a Rabbid character with his pretty bride atop a white cake against a backdrop of flowers.