When the magic of love spell falls, no destination seems to be far. This has been proved to be very right by a couple who had their wedding at the North Pole. In fact, their wedding is the first ever wedding ceremony held at the North Pole! Borge Ousland, is a famous explorer from Norway and he decided just to marry at one of the poles of the planet with his bride named Helge. The wedding couple was also escorted by a pastor and a group of around thirty-odd wedding guests. All of the participants of this maiden wedding at the North Pole landed at Russian Bameo ice base in an Antonov An-74 aircraft. From the base they took a helicopter all the way to wed at the North Pole! Does that make you feel the chill or does that make you to say 'wow'?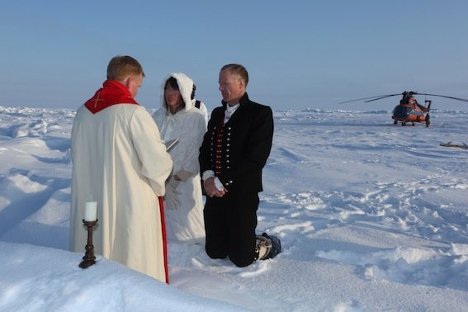 Borge and Helge have gained the news because of being first ever couple to get wed at the North Pole. It was surprising to notice a Lutheran Pastor accompanying the couple for the wedding proceedings along with the 30 wedding guests who were enthusiastic enough to be a part of this rare wedding ceremony. Even more surprising was the fact that this wedding ceremony was held with all traditional rituals and customs. Wedding couple was dressed to the perfection with the bride Helge looking adorable in her white wedding dress. Best man and the bridesmaids also enjoyed the ceremonial rituals.
There was a cross made up of skis that is actually used otherwise to glide on the snow. The wedding toast was made after the couple said 'I do' and kissed each other passionately with some champagne. Even the fireworks were added so as to give a bit more magical touch for this memorable day to the newlyweds. The people enjoying the wedding ceremony got a surprise when they met with a British explorer named Mark Wood, who was solo skiing towards the North Pole.
The finale of this North Pole wedding extended till midnight. Came the morning and then the newlyweds along with the whole wedding participants left towards the base again. What a ceremony it must have been! Check out the gallery to have a look of this 'cool wedding'.
Via: firstpost