Finding the perfect wedding dress is a nightmare no matter what size you are-from size zero to curvy to a more generous sized. Pus sized brides have the smote difficult time as it is impossible to find any designs that will look good and camouflage certain areas. Ti helps of you make up your mind on what your trouble areas are and then hit the stores or boutiques to find something to suit you.
Apple Shaped Bodies:
This body shape is the most common in Indian women, where the midriff is heavier while the thighs and legs are slimmer. Find a wedding dress that will highlight your bust line such as a lehenga, U necked or V necked choli that flares out at the bottom therefore adding more curve. Dresses that have an empire waist line and deep, low necklines will help to draw attention to your bust line and away from your heavier mid riff.
Pear Shaped Bodies:
This body shape is characterized by a heavier hip and thigh area and a slimmer upper body. The ideal dress would be one that has a lot of elaborate work around the neck area which helps to distract from your hips. Find blouses or cholis that are embellished around the neck or wear elaborate necklaces. The idea is to bring attention to your upper body. Gowns that flare out are prefect and A-line suits with heavy embroidery work.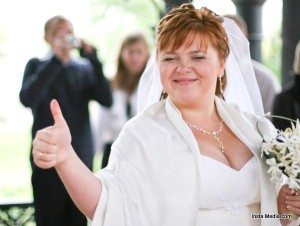 Rounder Shaped Bodies:
Almost all plus sized women have a rounder shape, with many of them gaining weight throughout their bodies rather than in specific areas. Wedding dresses that give the help with the illusion that you have a narrow waist are the best choice. Saris are also good provided that you tie the petticoat just below your belly button. Another choice would have to be a fitted gown that adds height, anarkalis and lehengas can also be worn as they draw attention to the bust create a waist and camouflage heavier thighs and hips.
Still confused:
If you still haven't decided about the type of body shape, do not wear fitted gowns or suits with many layers as they will only enhance the things that you don't want people to see. Choose one that is well tailored to give you a groomed look that accentuates the right curves. Be positive about your dress as wear it well because you are only as beautiful as you look.