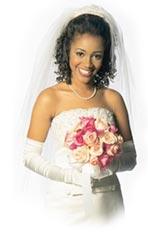 Hair is the crowning glory of all women. And for that special day in your life, you want to be the only jewel in the crowd. Every year thousands and thousands of weddings takes place. But it seems that more is spend for the event and organizing the ceremony and the ornaments and the bridal gown rather than the hair style.
It is really amazing to see that you tend to cut down the budget for the hair stylist and use it on other things. Ladies ain't it necessary that you do need to have a beautiful hairdo. When you wanna your grandchildren's to see your wedding photographs, won't you regret when they comment on your hair which you then thought was just perfect for the occasion.
Just make sure that this doesn't happen. Take time from your routine work and give a visit to your hair stylist. Give a perfect picture of what dress and make-up you gonna wear. This will help her to decide on the style.
Visit: Salonweb