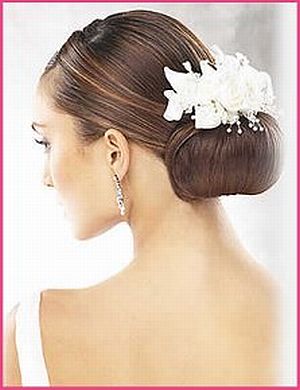 To be a bride in retro hairstyle you do not have to worry if your hair are curly or wavy. Just blow dry them and flat iron before your retro style them. I am sorry if your hair not long then you are out the list of this wedding hairstyle. But you do not be upset you can use hair piece.
Okay! lets begun now with following steps:
1. Make a low ponytail with all hair pushed at the back.
2. Roll the ponytail under and pin. Leave a small section of the ponytail to help you out to hide the hairpins and give a neat look to you.
3. You may add a small retro crystal tiara compliments the hairstyle without competing with it.
For a huge bun, you may use hair padding. After the retro hairstyle is done, you may accessorize it with headpiece or flowers.