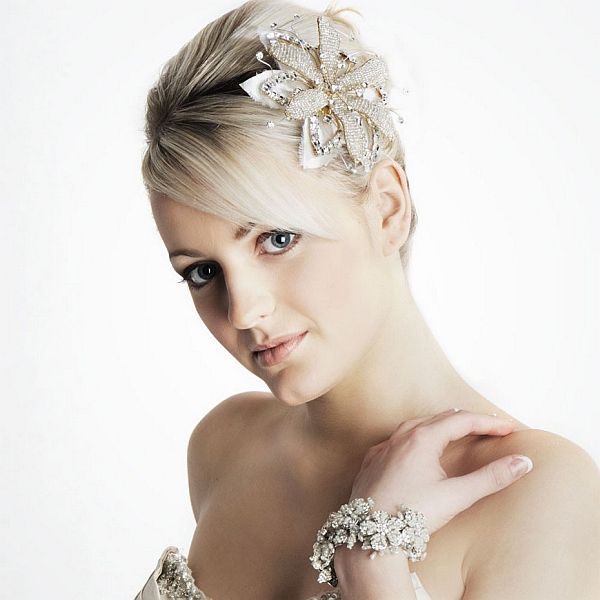 It is always complicated to decide what kind of hairstyle will be the perfect one for the wedding day as weddings are always very special moments and every bride wants to look at their best. Therefore, choosing a right kind of hairstyle for your wedding is equally difficult as finding a perfect wedding dress. You wedding hairstyle depend upon your wedding theme and your wedding hairstyle but still you need to separately focus on the kind of hairstyle you will be having for the bid-day. An equal preference should be given to the hairstyles as they can make or break your entire beatitude. Updos are often hairstyles that expose your face and make the bride feel beautiful and comfortable.Lets take a look on the best wedding hairstyles updos to achieve a romantic look.
Chignon hairstyle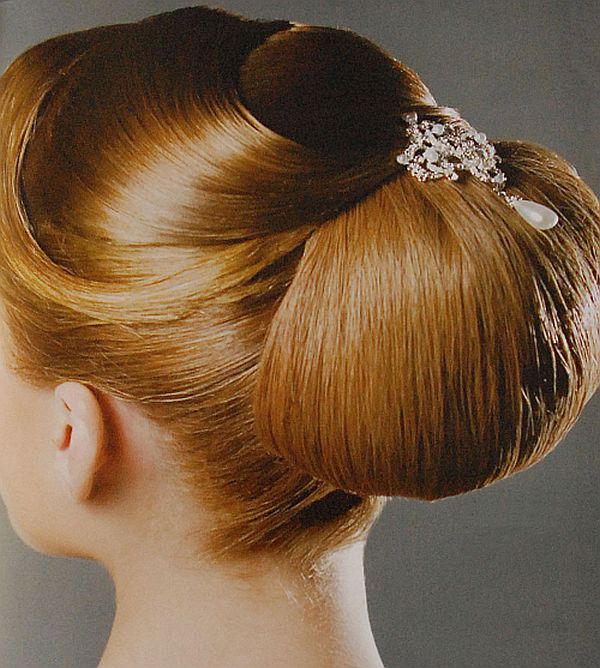 Show your charm with chignon hairstyle and make everyone around you surprise with the smashing attire. Chignon are a simple hairstyles but are perfect for wedding day as they charm your face. So, if you are having hairs that are quite long or medium-length, place your hairs bun at the nap of your neck and finish by wrapping your hairs around your ponytail. Just pin them up with some accessory holding them to make a perfect bun. There are two ways of making a chignon updo; the first one is centered at the nape and the second one is at one side. And the other one is side chignon; you can even make this hairstyle without taking help from any hairdresser. If you have shoulder length hairs then set them up in Velcro rollers. You can also hold your hairs with the help of gels and then wrap the section of hairs around the roller. With the help of your paddle brush, you can simply comb the roots of your hairs and then sweep them to one side. Then create 'X' with the help of pins. Then pull the front hairs back and pin them where they need to hold the style. Do the same with the side hairs. You may also use some hairspray to give your hairs a lasting effect.
Braid with a Twist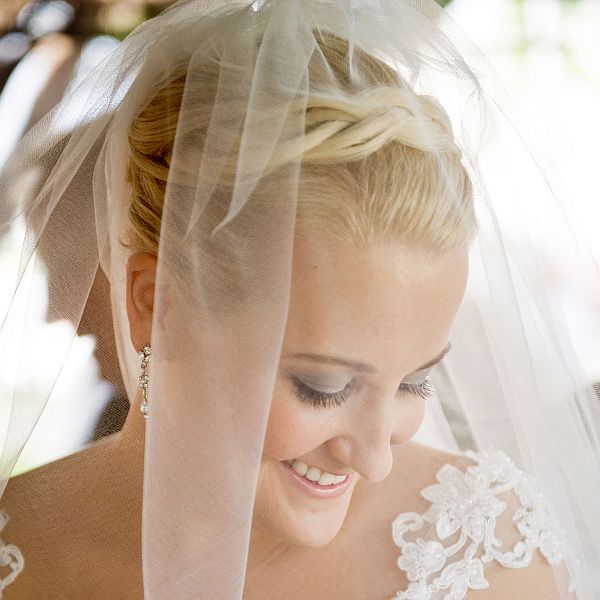 This hairstyle is in trend these days and most of the brides love this hairstyle because it does not need many efforts. This hairstyle is easily achievable if you have long hairs or use extensions if you don't have long hairs. You just have to make a sweet ponytail at the back of your head and then braid the hairs into one piece and tie off the ends. You can also make multiple braids and then tie them off and wrap around the base of ponytail to make a perfect twisty braid updo. You should also use booby pins to hold you hairs tightly. Accessories like tiaras and golden pins increase the beauty of you hairs and thus make you look beautiful. Updos can be trouble, if your hairs are not hold together and after a little time, your hairs begin to fly in various directions so use some branded hair gel to get a firm look.
Messy Updo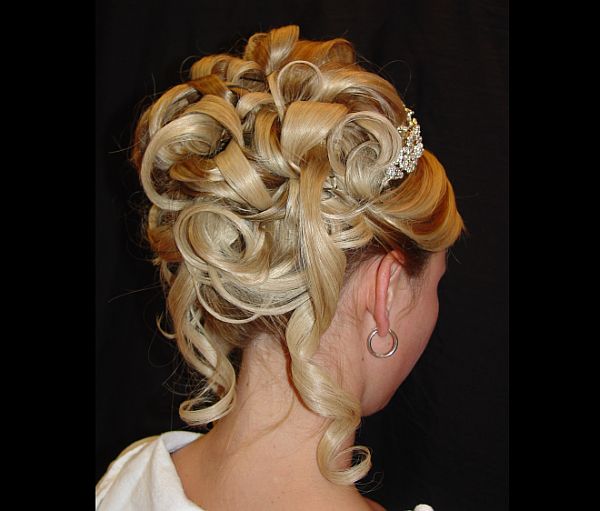 Messy updos can be achieved in various ways; the first one is to make a horizontal part above the crown and then just pull your hairs into a ponytail. Then you will have to start pinning them loosely. Then sweep all your hairs to one side after you finish them pinning. You will not be able to achieve this look if you have short hairs but bride with long hairs can pin the end of the section to the back of your head. A sweet bang at the front will look really amazing!
French Twist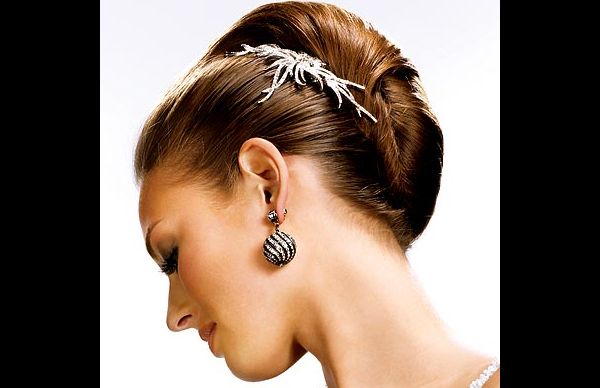 This hairstyle works perfectly with long hairs so if you have long hairs or medium- length hairs, its certain that you are going to make a bashing entry while you walk down the aisle. The French twist is also called a classic up and if your wedding theme is classical, you can astonish all came in your wedding ceremony. Just brush your hairs thoroughly and then smooth around one side. Then just place the bobby pins around the back of your head so as to hold your hairs back to the top. Then hold all the remaining hairs and tighten them up and pinning at one place. This twist gives you a really glowing look. In the same way, you can use many variations in different directions. Brides with curly hairs can also look forward to have a French twist. You just have to leave the look loser. By doing this, you will be able to frame your face and you can let a few curls fall on your cheeks. It looks really beautiful!
Intricate Updo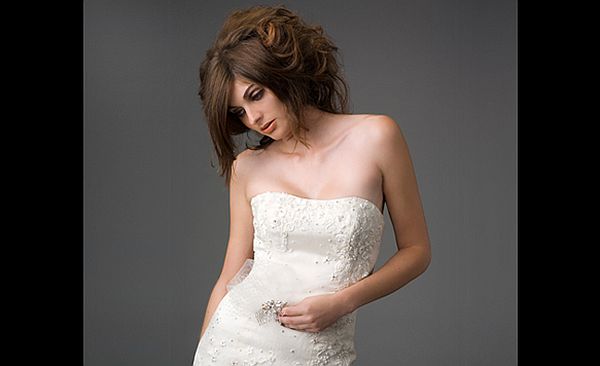 As the name suggest, this hairstyle is little intricate but we are sure you will look like a princess this hairstyle. You just have to make a ponytail centered just below the crown of your head. Remember your ponytail should exactly be just below the crown. If your hairs are wavy or curly, you can simply pin a small patch of hairs around the base of the ponytail. This hairstyle may take time so you can better consult some hair dresser to make yourself look perfect. For a bride having straight hairs may not find that much advantage achieving the intricate updo looks but for curly hairs, this hairstyle works really well. You just have to keep pinning your curly hairs to the head until they don't make a big pinned up intricate updo. You may also use beautiful flowers to modify the looks. You can even use bobby pins finished with faux diamonds or pearls.
Finger Wave Updo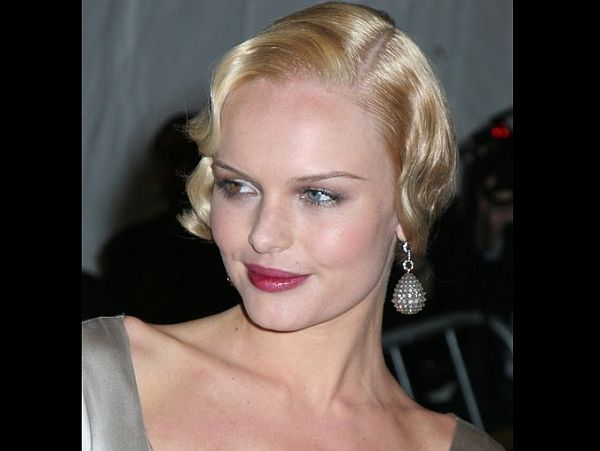 Look gorgeous with this beautiful finger wave updo hairstyle. This is a perfect hairstyle idea for a vintage theme wedding and you just need to make finger waves with the help of your fingers, pin curls or by setting lotions in an upward motion and thereby making S shaped curves. The more will be the finger wave; the more you will look beautiful, so try to make as many as finger waves as you can. This hairstyle is perfect for those people who have straight or curly hairs. You can always use accessories with this hairstyle to increase your overall look.