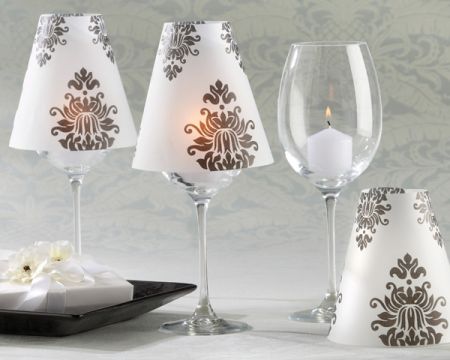 It is your wedding! So, you must have an earnest wish to thank all your esteemed invitees for attending the occasion and felicitating it. There is nothing more perfect than a nice wedding favor. Unfortunately, your tight pocket might not let you choose wedding favors of your choice. But there nothing to worry about. Here we present some of the most beautiful wedding favors that will not cost you a fortune but reflect your thankfulness and gratitude for your guests.
Damask Vellum Shades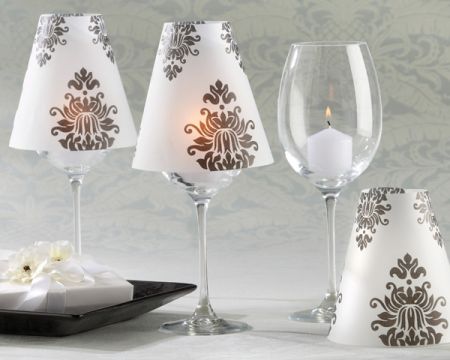 The reception tables at your wedding venue will get a different makeover when you set these beautiful Damask lampshades over each of them. The reflection of soft like from these translucent shades will set up a spell of enchantment which is sure to make your wedding guests dumbstruck. The maker stressed upon the idea of simplicity and sophistication which is evident from the dual color of the lampshades. These white shades with black oriental motifs harmonize with every wedding décor. The most innovative thing about these lamp shades is that they are not the typical companions of artificial light. But they shade the flickering flame of the candles to create a romantic spell at the dinner table. You just need to spend $25.80 to buy a set containing twenty four such brilliant shades.
Reflections Collection Mirror Compact Favors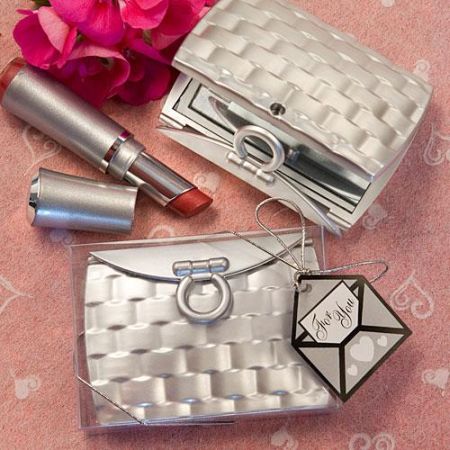 If your wedding guests include lots of beauty queens and fashioniastas then you just need to spend just $1.92 to get hold of a chic and stylish favor. It is an ultra modern, shimmery silver purse inspired mirror compact. It is in a dimension of 3 ¼ " x 2 ¼ " and comprise of a hard plastic molded outer cover so that it is capable of enduring accidental water spills and raindrops. The hinged clasp right on top of the opening takes care of the safety of all the grooming tit bits kept inside it. The interior is even more stunning and comes with a double sides mirror surface to maintain a balance with its glittery appeal.
"Maison du Vin" Wine Cork Place Card/Photo Holder with Grape-Themed Place Cards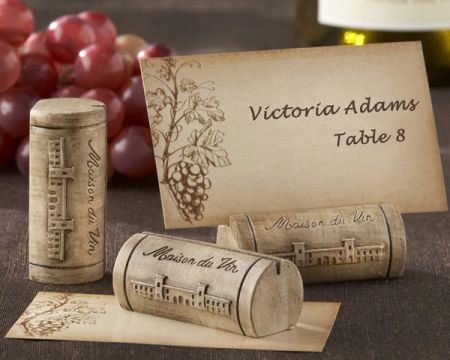 Your wine loving wedding guests will always treasure this wedding favor as a keepsake. But you just need to spend a pocket friendly $7.88 to get a set of five such a brilliant wine collection. It comprises of wine corks and a place card or photo holder. The impression of luscious grapes on a vine on the place card reminds of rich grape wine. The engraved words " Maison du Vin" on each of the items capture the sense of age old intoxication associated with the oldest winery of the world.
Silver Bride and Groom Wedding Bell/Place Card Holder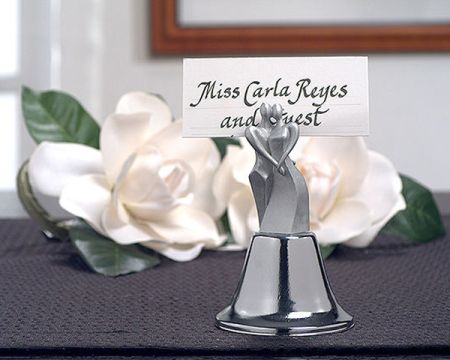 Make your wedding guests mesmerized in the charm of togetherness by gifting them this silver bride and groom who look absorbed in each other. But the surprising thing about this wedding favor is that it is a place card holder with a subtle twist that your wedding invitees will love to store as a beautiful keepsake. What will make you even more dazed to know is that it is a wedding bell too. The mount on which the statuettes stand is basically the wedding bell! So, what can be more pricey a gift for your guests than this one which costs you just $1.69?
Cowboy Boot Wedding Bubble Favors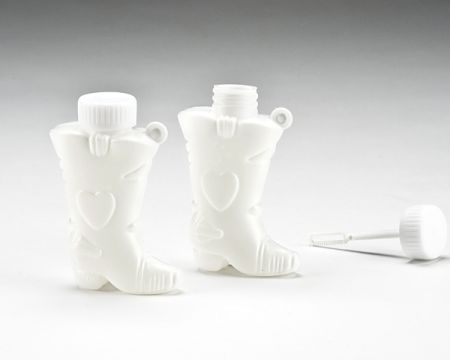 When you say that a right wedding favor kicks start the most successful nuptial you must justify that too in your actions. So, here we bring Cowboy boots that are out of the lot wedding favors. These unconventional soap filled containers emit high floating soap bubbles that set the perfect ambiance of a fairy tale wedding. Your wedding guests will be all the more happy with this meaningful footwear that comes with an economical price tag of $7.99 for a set of two.
Wedding Ring Glass Coasters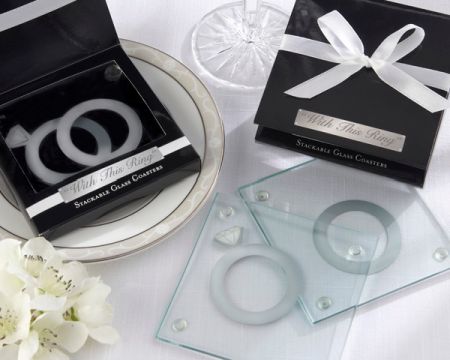 At a first glance you will hardly find anything uncommon in these glass coasters expect for the frosty sphere right at the middle of the same. But the twist in the tale is present in these frosty spheres only. When you stack these 3 ½ "square coasters uniformly one over the other, the frosty rings give a virtual feeling of a real diamond studded wedding ring and a simple grooms band. We are sure this economical $3.30 coaster will please your esteemed guests.
Winter Snowflake Place Card Holder & Ornament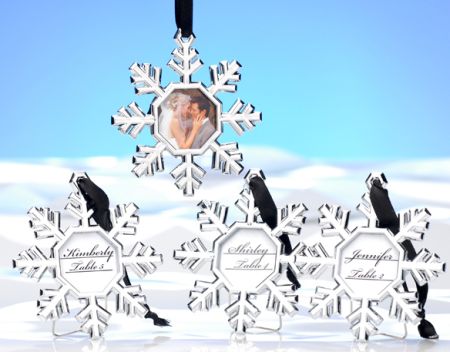 A memoir to store, this collection is undoubtedly the best wedding favor option for a winter nuptial at a meager price of $2.40. The German silver base with its shiny nickel plating complies aptly with the glitz and glam of the event. The frizzy winter leaf line branching prevalent all over the circumference of the same brings in the sensation of chilly winters. As for the functional part, the blank space within it is perfect for inserting the names of the wedding couples or their picture or the names of the wedding guests so that they look highly personal gifts.
Rose Ball Candles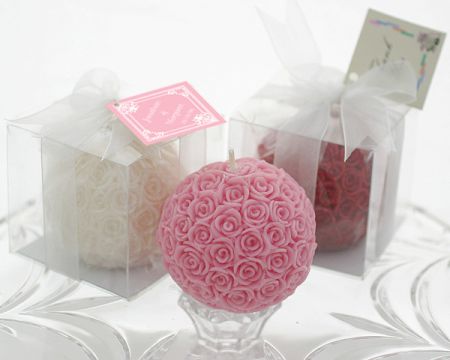 Roses hold the most promising position in reflecting the romance and passion associated with wedding. So, make your wedding guests too realize that love is in the air. At a pocket friendly price of $2.80 per unit, gift them these rose ball candles that feature a compact cluster of gazillion of mini roses. The colors of these roses also harmonize with wedding. So, the maker chose to be restrictive with pale pink, white and red only. Further technical information is that they will burn for four hours at a stretch. But don't you think your wedding guests will like to store them as keepsake rather than burning them?
'Laughing Buddha' Golden Buddha Place Card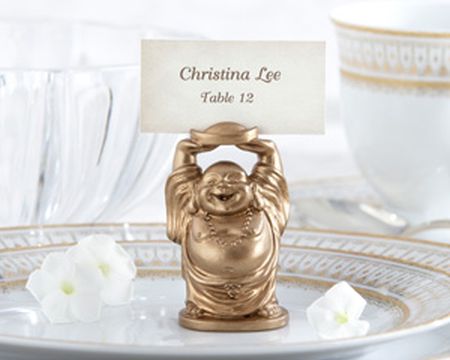 If you wish to reciprocate back to all the wishes and blessing of your wedding invitees by opening their doors of good fortune then this "Laughing Buddha" is worth considering. The fine detailing and the gold finish give this Feng Shui icon a rich look while the place card on top makes it perfect as a keepsake. But you can be rest assured that it will never make a hole in your pocket. It comes at a cheap price of $7.05.
'Apple of My Eye' Mini-Candle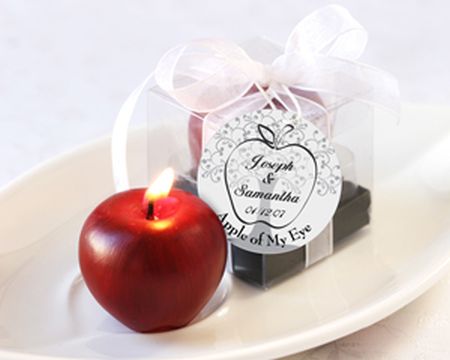 In case if you consider wedding favors must be practical as well as pretty then this candle is your best pick for sure. A real apple got an unusual makeover by the incorporation of a wick. So, your wedding guests will munch the apple instead of lighting the candle as common with run of the mill wedding candles! It is priced at a generous $1.87 only.