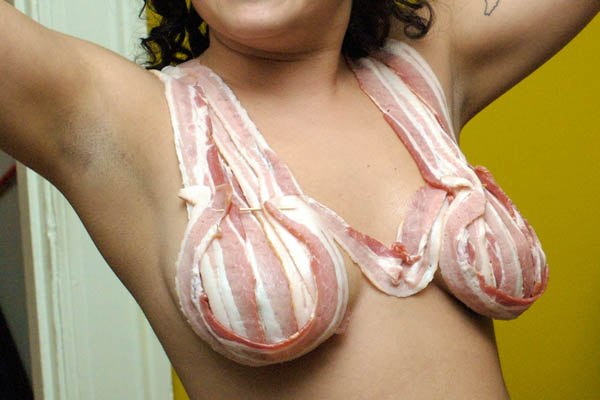 The word weddings immediately brings to mind sweet smelling flowers, flowing gowns, exquisite décor and delicious food. When it comes to accessories, no one is more excited than the bride. The chance to doll herself up on the most important day of her life means that she has a range of accessories to choose from. But a few among us have a taste for the bizarre and the macabre and wouldn't think twice before incorporating their strange taste into their wedding. We bring you examples of some of the strangest bridal accessories for the quirky at heart.
Bacon bra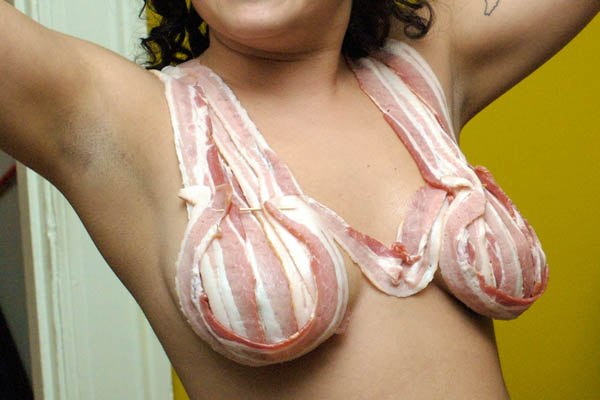 It's said that the way to a man's heart is through his stomach. Well, this next entry could just about seal the saying. The bra is made out of bacon and though it hasn't been mass produced, could give you some ideas of how to go about making one. Perhaps brides could wear it on their wedding night and give their guys a delicious surprise? Needless to say, we doubt any guy could turn away from the crazy invention. The concept came about after a group of friends had too many drinks and discussed how to get men attracted to them. The joking reply was to combine bacon and boobs together and at a party months later, one of the friends modeled her bacon bra prototype.
Dangerous hoof heels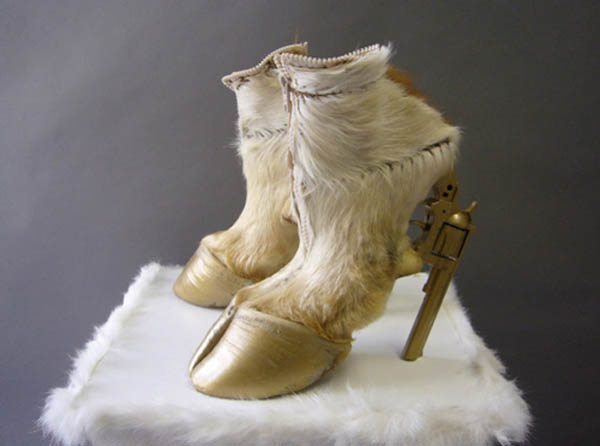 Iris Schieferstein is a designer who creates macabre fashion pieces out of already dead animals. Shocking to many but appreciated by a few, she uses only the hooves of dead beings. Based out of Germany, she was once almost incarcerated by the government as Germany prohibits using deceased animals for artistic purposes. However, according to the designer her hoof heels attempt to breathe new life into the animals. Fusing taxidermy and art, she's made quite a name for herself and has gathered quite the fan following. The unique pieces, while bordering on the bizarre, are a hit among women with a love for the dark side though we can't really see a bride choosing them as her wedding shoes.
Fox engagement ring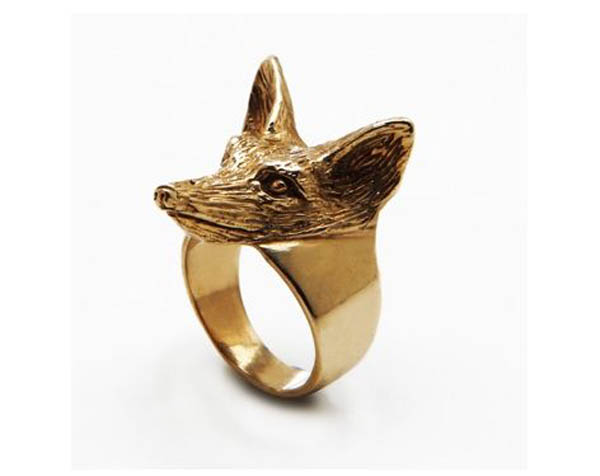 Why opt for the usual jeweled engagement ring when you can go for something with a difference? Designed by Emilie Thomas, the fox engagement ring is a unique piece that's crafted out of sterling silver and 18 karat gold plating. The broad band with the fox's head mounted on top makes a bold fashion statement while being comfy enough to be worn every day alongside your wedding ring. Sold for close to $500, the creative item is presented inside a velvet gift pouch.
Headpiece from Chatham Girl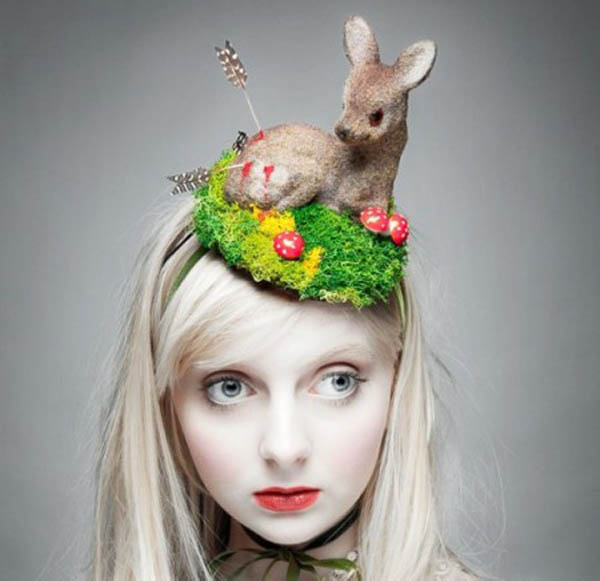 Chatham Girl has designed a unique yet slightly macabre headpiece. The toadstool hat features an injured fawn with arrows sticking out of it. The strange headpiece is definitely a head turner and we can imagine the looks on the faces of the wedding guests as you walk down the aisle. What makes it even more unique, however, is that it could also be displayed as a showpiece once you're done wearing it. Place it on a mantle and have visitors curiously inquiring about your strange showpiece and weird taste buds.
Secret part pendant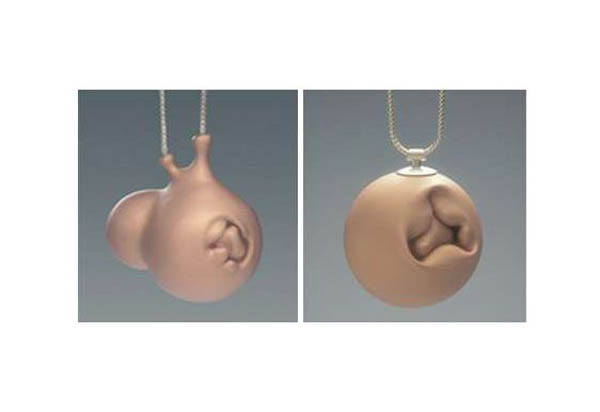 Taiwanese designer Yuyen Chang's Orifice collection is as the name suggests. It depicts various orifices of the human body with metal and flesh colored material in life-like results. The pieces are available as pendants, brooches and rings and are guaranteed to make for interesting conversation topics. Chang has also received a dedicated fan following and has exhibited her works at many galleries in the United States. Not exactly a traditional bridal accessory, the orifice pendants will definitely make a statement with brides who love to experiment.
Meat tiara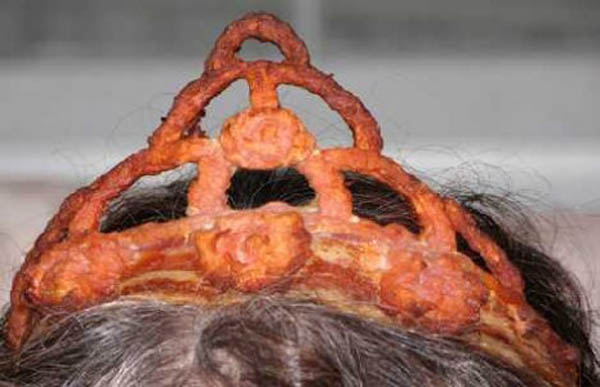 As if the bacon bra wasn't weird enough, there's even a meat tiara! We don't know if any bride would be willing to sport a piece of meat on her head as she makes her way down the aisle but there's no denying that it's unique. No details have been provided on the designer and how the concept came about but this goes to prove that there seem to be quite a few quirky souls with a love for bacon who use it to create 'art'.
Garbage necklaces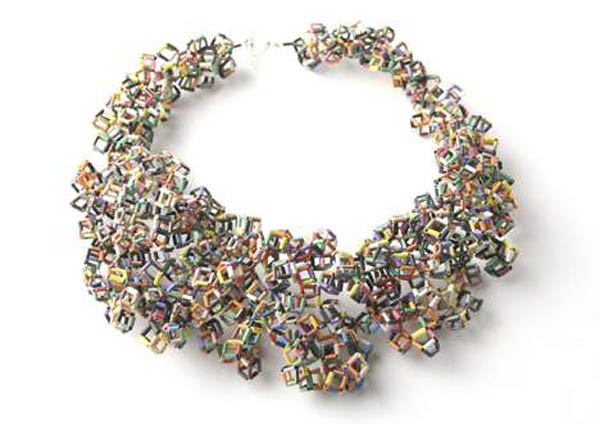 Eco conscious brides can proudly announce their love for the planet by sporting these garbage necklaces. If you have a green heart, ditch the traditional wedding jewelry for one of these unique pieces. Made out of discarded rubber, metal and other waste items, the necklaces were designed by Indregru to promote environmental awareness among the masses. Each piece is uniquely designed and handcrafted like many recycled jewelry products and other goods.
Weird handbag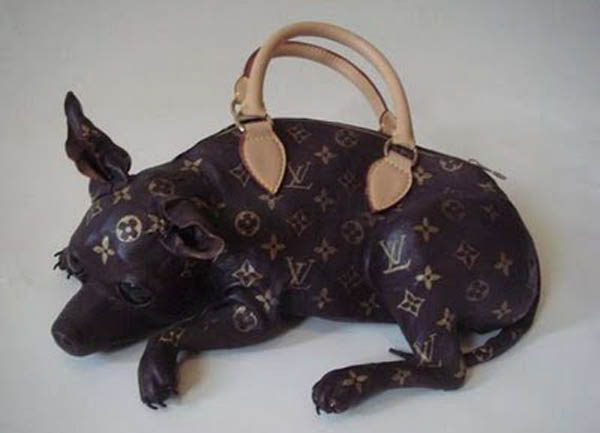 We've seen some weird accessories already but this next entry gives one the shivers. Life-like and kind of disturbing, it's a handbag that's made to look like a dog. There's no word on the maker or even why it was made though it sports the motifs of Louis Vuitton. The creepy piece has been designed and created complete with life-like eyes, ears, a tail and claws. The weird handbag could perhaps be a bit too much even for those brides with a dark sense of humor.
Floral Lemon Penis Brooch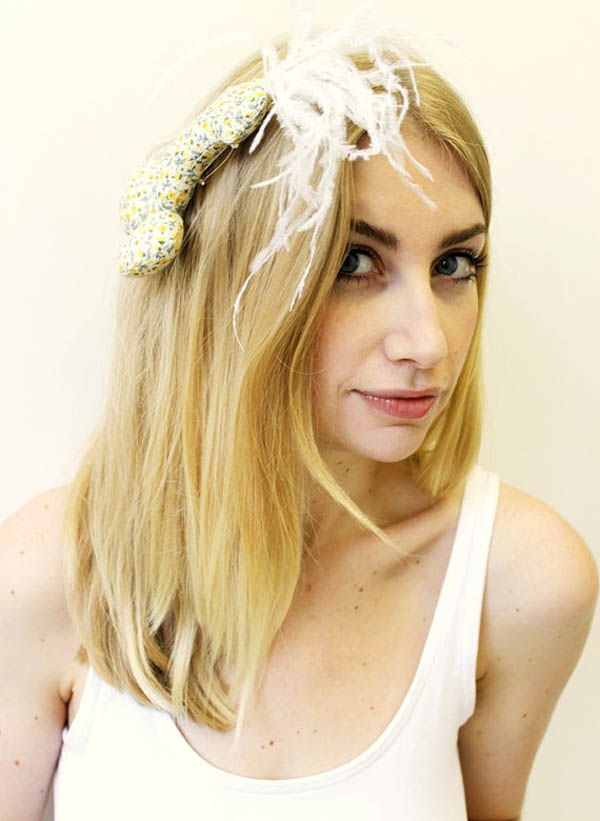 We've covered vulvas and orifices and now it's time to take a look at this floral lemon penis brooch. The quirky piece can also be worn as a hair clip by those daring enough. Handmade by a designer called Kristy, the naughty accessory can be custom ordered for a price of 25 pounds. Wear it on your hair or as a brooch and see the heads turn as you walk down the aisle with a smile on your face.