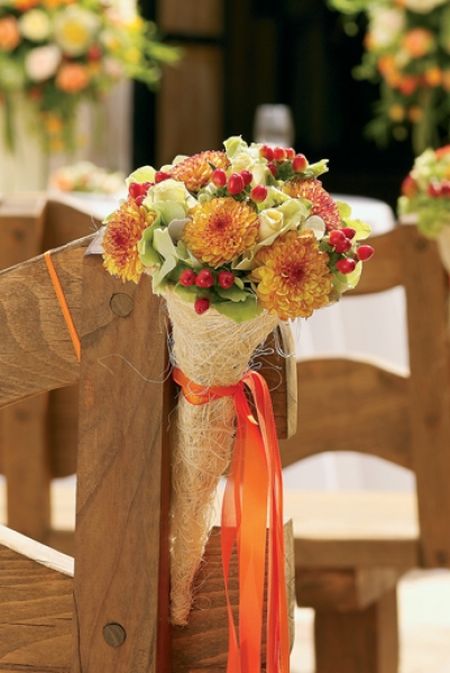 A bride-to-be is excitement for almost everything, from the wedding dress to shoes to bouquets. When it comes to fall weddings, finding the perfect bridal bouquet might be a bit of problem owing to the non-availability of all type of flowers. For a fall wedding, one can go for a bouquet that will capture the essence of the falls season. In order to make sure that your wedding bouquet is beautiful, artistic and unique, you can consult with your florist for the choice and arrangement of the flowers to match your wedding theme and colors. Some of the best options include a Posy Bouquet, Cascade Bouquet, Arm Bouquet and Creative Bouquet. Here are some the most beautiful bouquets that are sure to make a statement and could make your fall wedding truly special.
Chrysanthemum Wedding Flower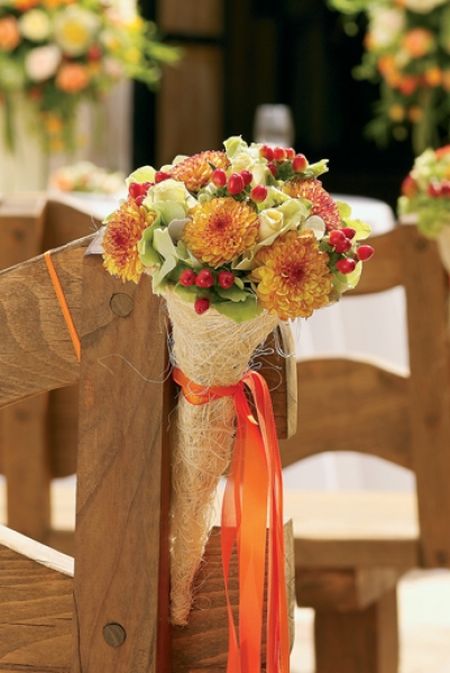 Chrysanthemums, as we all know, are the most decent and spectacular choice for a fall wedding bouquet. These lovely blooms can look more gorgeous if arranged correctly in a bouquet or even in other wedding decors. Since these natural flowers are available easily and at very affordable prices, therefore they make out to be a perfect alternative for economical couples. Another reason for opting for these beautiful flowers is that these flowers are very stylish, impressive and come in a variety of colors like shades of orange, purple, pink, yellow and of course red.
Mini Calla Lilies bridal bouquet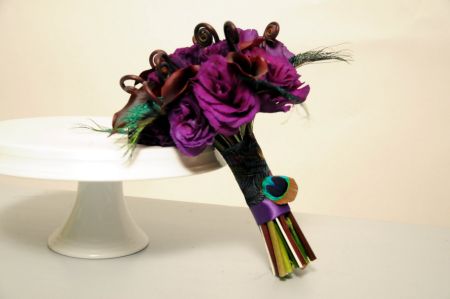 Another choice for the fall wedding bouquets is Mini Calla Lilies. These popular trumpet shaped cut flowers can be beautifully arranged for a bride's bouquet or bridesmaid's bouquets, boutonnieres or even for petite centerpieces. These magnificent flowers express your heart felt love and passion for someone special and are therefore the flower is majorly used for wedding purpose. The Mini Calla Lilies are available in different hues of white, pink, purple, orange, red and yellow. The flowers can be arranged in various styles with other flowers like roses thus making the occasion feel lively.
Marigold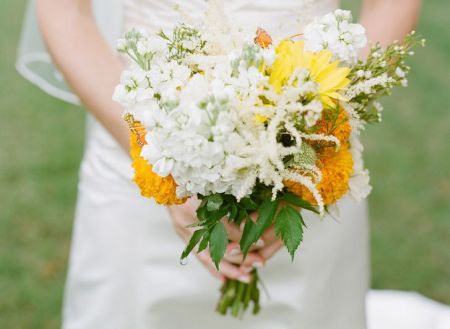 The marigold blooms during the summer, last throughout autumn and dies off when winter starts. Marigold is available in golden yellow, orange and red color. They make a striking combination with a variety of other flowers and even wild berries like ilex berries gold roses, clementines, and perfumed freesia. When marigold is coupled with while dusty-miller leaves, blue-gray succulents etc., an eye pleasing contrast is formed making the bouquet look more sophisticated. You can enhance the charm by tying satin ribbons in gold and pewter.
Dahlia wedding flower bouquet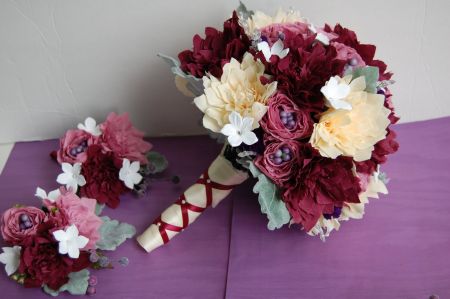 Dahlia is one of the favorite flowers that is picked by the bride to be for her special day. This flower is available from august until first winter frost. This gorgeous flower is available in different colors, even black but not blue. The petals are often flecked with different colors making the flower appear just outstanding. A bouquet created with many dahlia stems of the same or contrasting colors look amazing. The flower when combined with other blossoms like a combination of Silk Orange Dahlia White Rose just looks awesome for a bridal bouquet.
Gerbera Daisy Flowers bouquet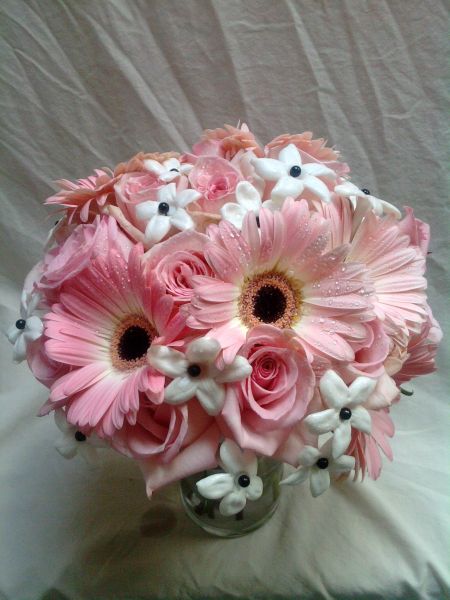 Commonly known as 'African daisy', the Gerbera daisy is treated as an annual plant and is available throughout the year. The versatile color availability makes the flower quite popular amongst the brides as for bridal bouquets and also other wedding decorations. The gerbera daisies express fun and cheerfulness and since these flowers come in a variety of colors like pink, orange, red, yellow and even two toned colors they become a preferred choice for bridal flowers matching the bridal gown. A bouquet carrying flowers of single tone gerbera or one carrying a combination of different hues or even different flowers like tulips and roses makes marvelous wedding bouquets for even a fall wedding.
Sunflower Bridal Bouquet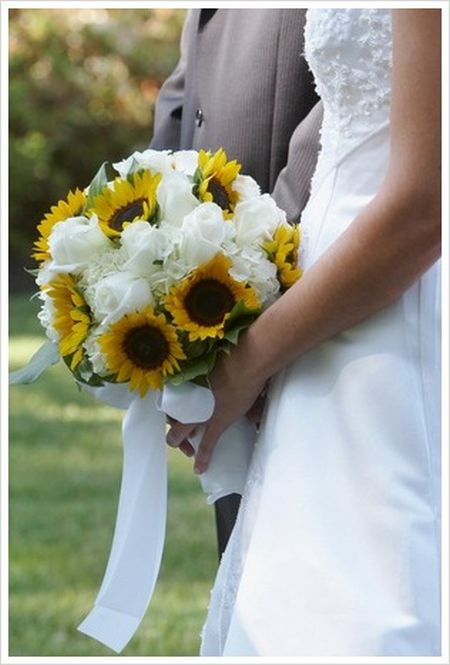 Roses, although are the most popular and favorite of all wedding flowers, but many other beautiful flowers are being widely used now days for bridal bouquets and wedding embellishments. Sunflower is one of such blossoms. The rich yellow color of the petals surrounding the brown center signifies longevity and loyalty, thus suiting a vibrant and radiant bride. A sunflower wedding bouquet is a nice addition to a fall wedding. These flowers can be used alone in a bouquet or can be mixed and matched with other flowers for a fascinating appearance.
Gladiolas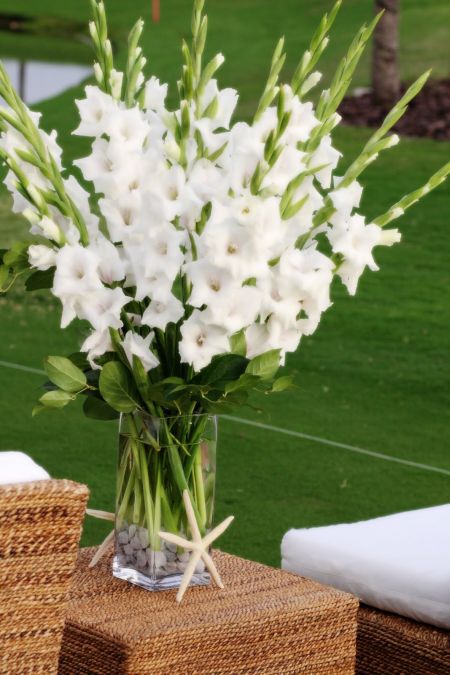 While selecting the fall wedding bouquet, it's the best option to go for flowers available easily in the fall season, such as Chrysanthemums, Mini Calla Lily, Marigold and Dahlia. Some of the most commonly used colors for wall weddings are orange, brown, red and gold, so you must plan your wedding bouquet accordingly. Gladiola flowers are one of the best options. If you have an early fall wedding, you can go for orange, yellow, burgundy and gold easily, but these flowers get a bit expensive during the late fall season.
Black-eyed Susans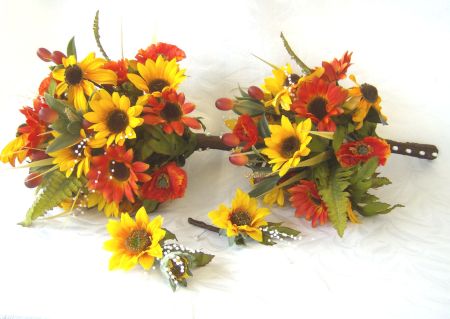 Another good flowers option for the fall wedding bouquet is the black-eyes Susans. Black-eyed Susans start blossoming in the starting of summer season and are available through October. These flowers are widely used for the September weddings. Your florist can make a unique and amazing bouquet with Black-eyes Susans. The yellow petals of these flowers complement the rich fall colors perfectly.
Roses wedding bouquet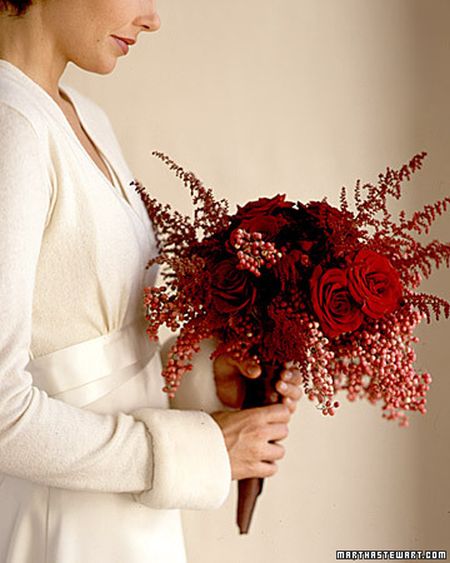 Roses are the most preferred of all flowers to be used as wedding decor and wedding bouquets. Some specific roses look wonderful for a fall themed wedding. This is because the color of those flowers is quite appropriate for the season's color scheme. For instance, Red Berlin roses with a tomato red color or Terra Cotta roses with burnt orange hue or Black Magic rose with a dark burgundy tone are some of the popular choices for a fall wedding. These can be used alone or in harmony with other contrasting flowers to make a gorgeous bridal bouquet.
Hydrangea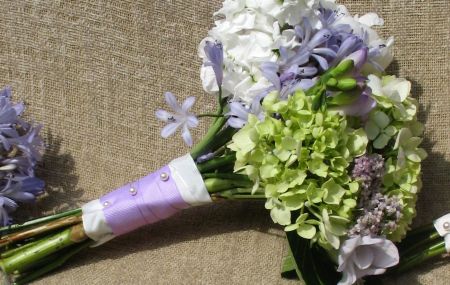 These ornamental flowers are popular for their large flower heads. For a fall wedding, hydrangeas are quite usually used as bridal as well as bridesmaid's bouquet. These beautiful blossoms are available in various shades of pink, blue, green, lavender, purple etc. these blooms tend to create a rustic feel for a fall wedding. They look gorgeous when clustered together alone or when coupled with other flowers.