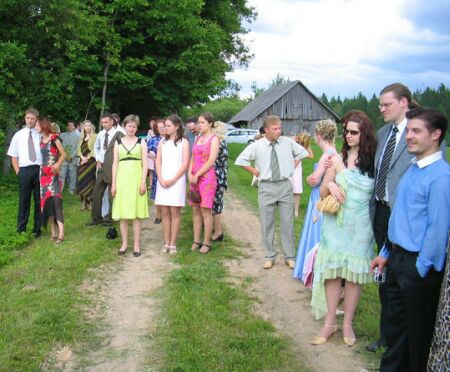 Guests who have to grace a summer wedding party are most of the time confused as to what to wear during the ceremony. To beat the scorching heat here are few tips:
-You may wear white but strict no…no…for the bridal looks. Go for apparels that are made of linen such as white short linen skirts, cashmere seductive tops with stunning heels and little bit of light jewelry.
-Women should never wear covered shoes it gives a rough look: try to keep it simple and stylish. Strap sandals, sling backs are the best picks for the occasion.
-Black is another color, which looks very much glamorous. Hey people, just remember that this is a wedding party and not a funeral. You can wear revealing dresses in black, may be a backless top teamed up with a knee length slit skirt and sandals with little bit of heels.
-It is best to avoid the office executive looks. I mean to say you better do not try on the formal pants.
-As for the accessories, you may try out beaded jewelry and the smaller the bags the fancier it looks.
Via: PARAMUSPOST