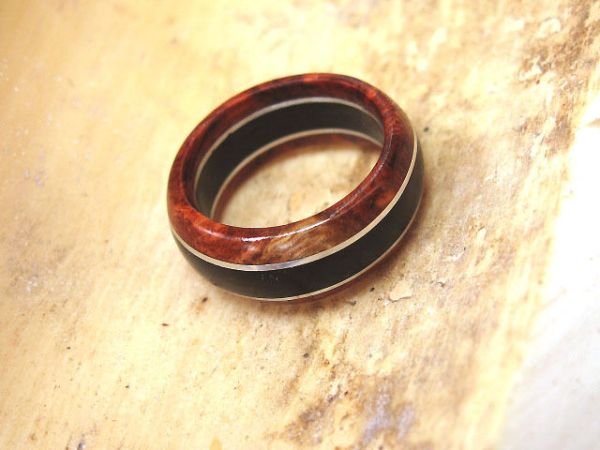 Wood is forever and so is a wedding. Getting married is a time of one's life and it should be decorated with the best possible things around. A ring seals the bond between a bride and a groom. Make the day special and exchange vows as you exchange a wooden ring and make the day a memoir for the both of you. The styles and colors available are endless, which will surprise you further. Here is a list of 10 wooden wedding rings for the eco conscious will spell your unending love for nature.
Wood Geo Wide Ring 14 Carat White Gold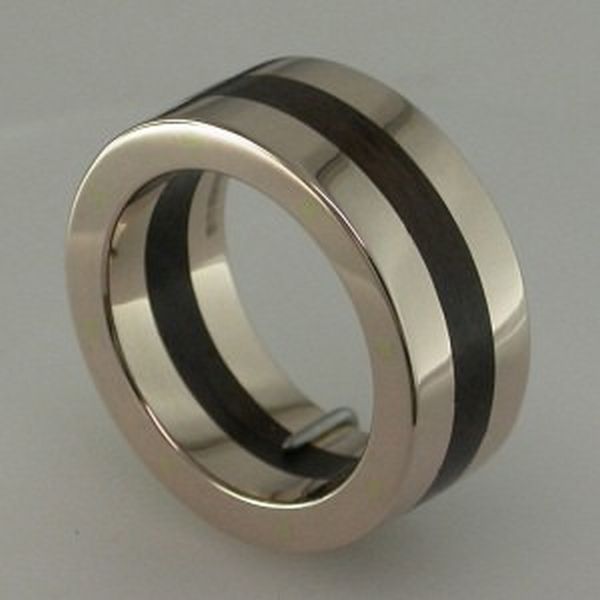 Wood Geo Wide Ring is a design that you will never forget. Set in 14 Carat White Gold, the handmade beauty has center section that has been crafted from 2000 year old oak. The wooden section has been neatly sandwiched between metal, which looks aesthetically appealing. Each section measures 3mm and the ring has a width and depth of 9mm and 2.5mm, respectively. One can flexibly choose from a list of metals, which will give the ring an authentic appeal. The design is plain and will intoxicate senses with its simplicity.
Price: $ 6729
Buy Here: Stepheneinhorn
Titanium Rings with Waterproof Wooden Ring Inlay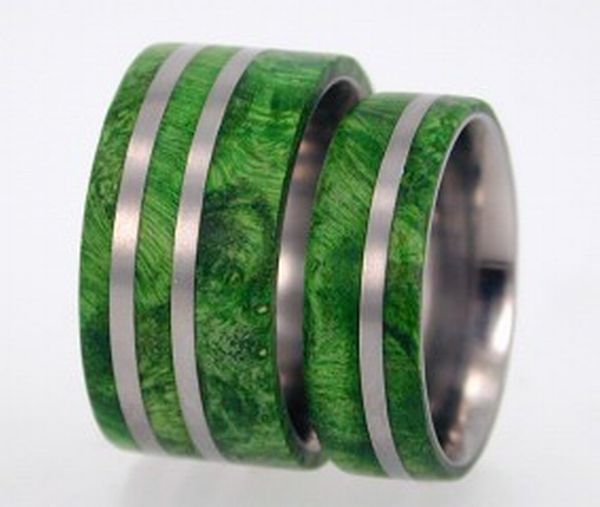 Titanium Rings with Waterproof Wooden Inlay are sure charming and unique. The adorably stylish design has been crafted from Green Box Elder Burl Wood, which would have otherwise sold as firewood. The most striking feature is that the wood used is water resistant, which means that it won't spoil if the ring comes in contact with water. The ring comes sans any joints or seams and the titanium edges give the wood added protection. The sumptuous wedding ring can be worn by both the genders, which will show their deep love for each other.
Price: $ 476
Buy Here: Etsy
9mm Artificial Wood Black Tungsten Ring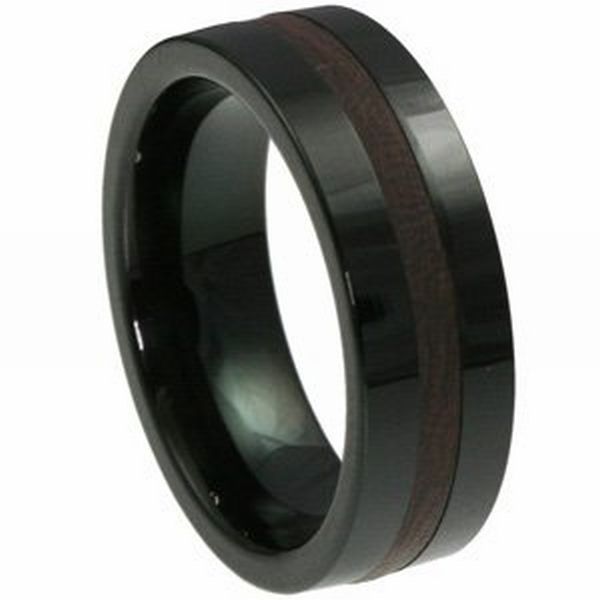 Built using beautiful piece of wood is this 9mm Artificial Wood Black Tungsten Ring, which will definitely make a statement. With a guarantee to give the money's worth, this men's ring won't let you down and will make you wedding all the more special. Its color will make the ring stand out and a pretty unique design makes it all the more desirable.
Price: $ 22.00
Buy Here: Amazon
Wood Ring with Amboyna burl and Ebony wood Wedding ring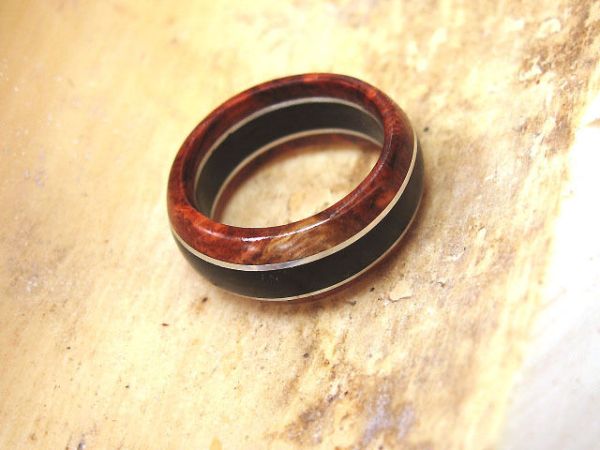 The good looking ring has been fashioned out of a piece of Amboyna burl and Ebony wood. Its trendy yet simplistic design makes it all the more beautiful. The handcrafted piece of jewelry looks all the more ravishing because of the presence of tin in its frame. The delicate ring gets all the protection against water and other elements because of the presence of a two component finish. The artful piece has a thickness of 2mm and its polished surface will leave an everlasting impression.
Price: $ 120.543
Buy Here: Dawanda
Wood Geo Elipse Slim Ring Titanium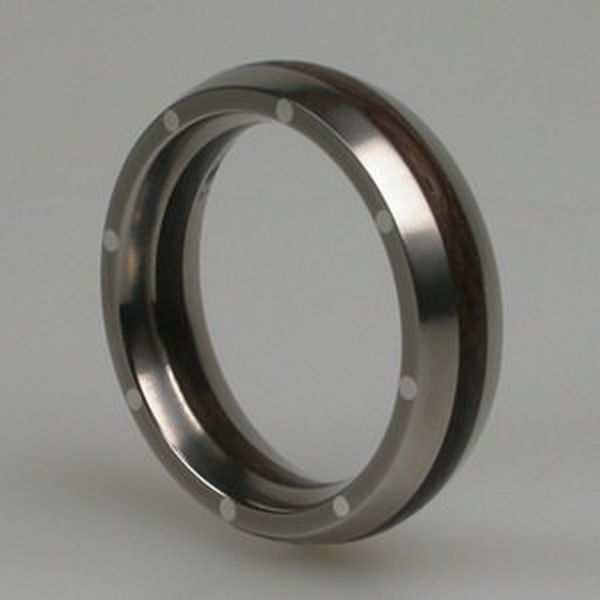 Wood Geo Elipse Slim Ring is the perfect gift for a special person. It is nothing less than a fashion statement, thanks to the presence of a single section of Thames wood that is almost 2000 years old. It has three 2mm sections and the wooden part has been placed in the center. The ring will cast a sophisticated spell with its smooth outer skin. It can be further customized according to the size specifications of a person and various metal as well as carat combinations are possible. Each ring will have contrasting metal pins, which lends added grace.
Price: $ 1505.00
Buy Here: Stepheneinhorn
VVS DIAMOND and Wood inlay Titanium Ring Wooden Wedding Band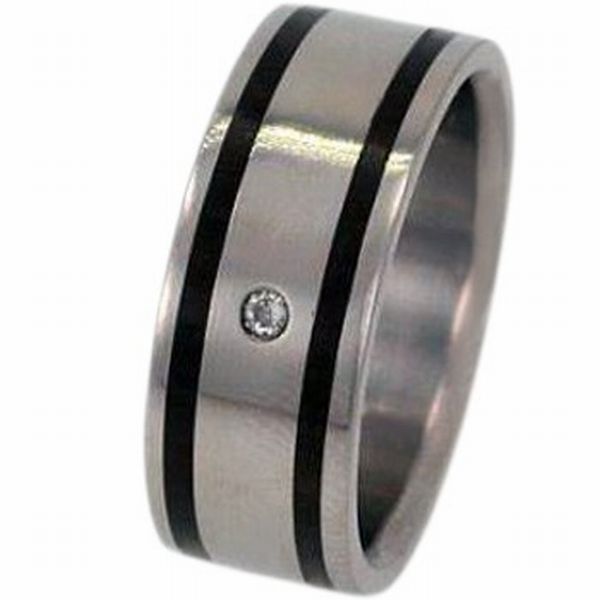 Check out this fiery combination of wood and metal that spells out elegance. The Titanium Wooden Wedding band is 8 mm wide and features a striking African Blackwood, which has been caked all around the Titanium ring. Cherish every moment of your wedding seal it forever with this piece of jewelry that will sparkle with all its worth with the presence of a 2mm VVS round diamond. The ring can be customized with different kinds of woods and if you are particularly fond of things that glitter, then add more diamonds and see your better half jump with surprise.
Price: $ 266.00
Buy Here: Etsy
Tungsten Carbide Ring Wedding Band with Wood Inlay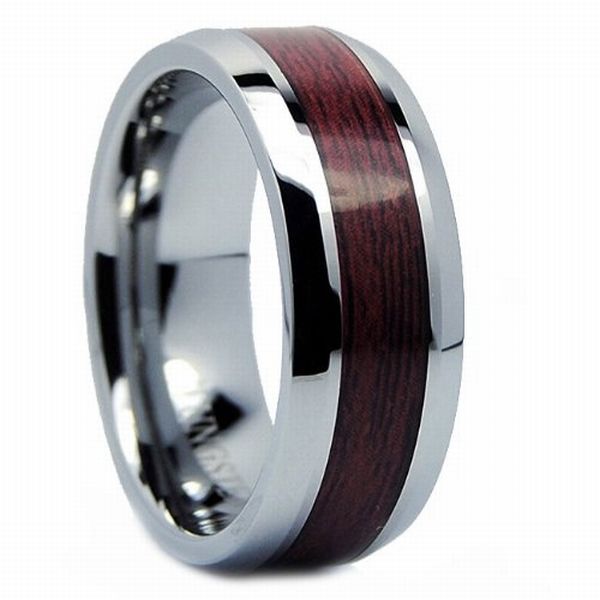 Affordable and fashionable at the same time with a unique design is this wooden ring band, which will appeal to the classes if not the masses. This unique wooden inlay wedding ring features rich coloring and lush contrasts. Framing it all is a glistening tungsten base that simply can't be ignored. The 8mm ring for men will make jaws drop with its delicate structure.
Price: $ 62.99
Buy Here: Amazon
Wood Inlay Tungsten Wedding Band Ring Size 8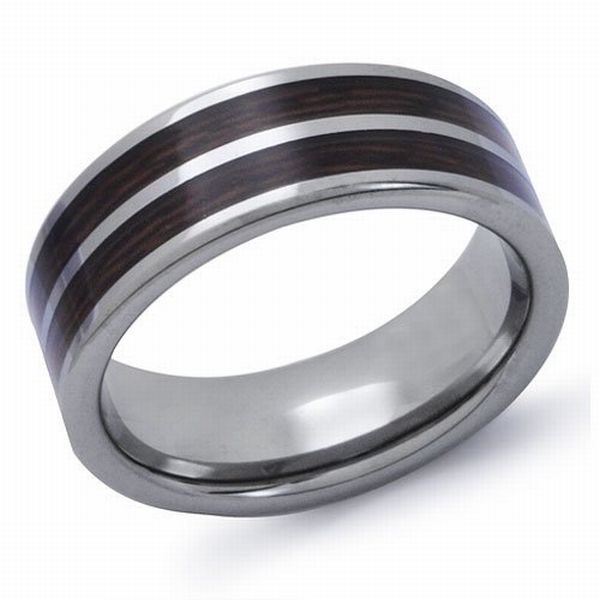 Complete and contrasting elegance, this is what the lustrous luxury of this Wood Inlay Tungsten Wedding Band offers. This exceptional wood wedding ring showcases a constant inlay of wood, which gives it a mystic appeal. It is a totally unique ring for unique people. The size 8 band will definitely be the ring of your dreams as the characteristic shades of brown make it timelessly modern and classically stylish.
Price: $ 49.99
Buy Here: Amazon
Kumaru rung, sterling silver and wood ring OOAK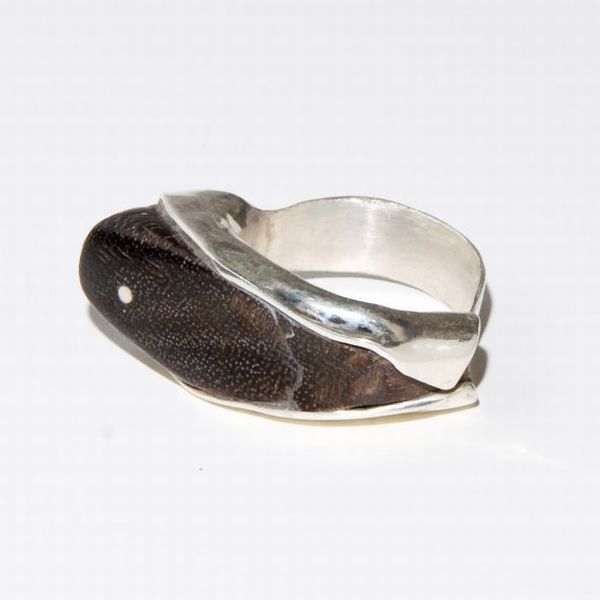 The shine of wood in this exquisite handmade ring is simply mind blowing. The sterling silver ring is classy and the presence of dark kumaru wood is pleasant for the eye. The awe amazing piece of piece of jewelry is one of its kind and no two will look the same. Slip it into your loved ones finger and hear them whiff a wow.
Price: $ 80.00
Buy Here: Etsy
Wood Geo Square Ring Titanium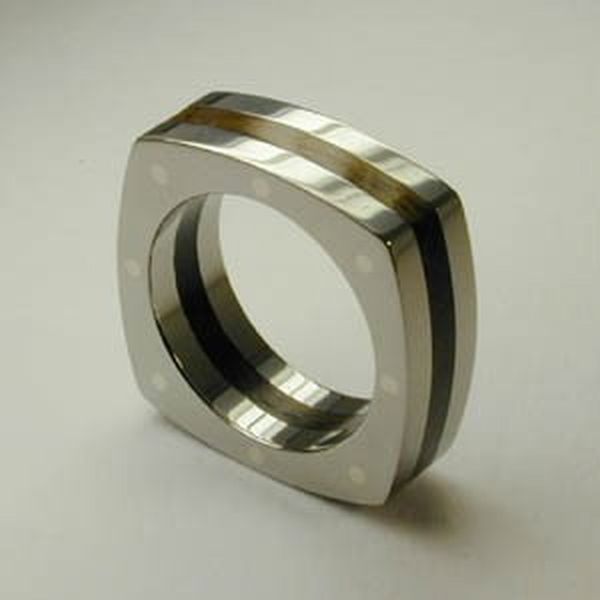 Wood Geo Square Ring Titanium will set the mood for the wedding ceremony. Get ready to fetch unending praises as everyone goes gaga over this little hand ornament. The ring's square shape has been fitted with Thames wood, which is 2000 years old. The chunky jewel piece is light in weight and looks ravishing.
Price: $ 80
Buy Here: Stepheneinhorn