We have shown you every kind of wedding dresses; unusual, weird or strange, but this wedding dress is something special and seems to be changing all the previous records by registering itself in Guinness Book of world records "longest wedding gown" category. On 20 March, 2012, this longest ivory wedding gown train was billowed out by a model in Romania's capital Bucharest. Emma Dumitrescu, a 17 years old beauty went up in a hot air balloon flaunting the 2,750 meter long train of the gorgeous silk and lace wedding dress. On Monday, this spectacular bridal train made it to the Guinness Book of World Records, beating the previous record of a Dutch designer, who had made a 2,488 meter long train.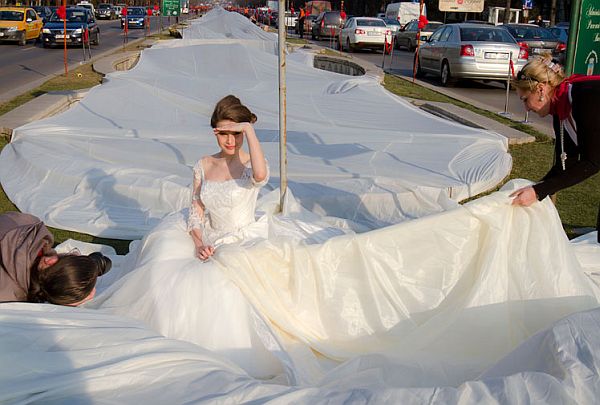 The Andree Salon fashion house and the organizers of this year's biannual Wedding Fair in Bucharest had organized the event. A good 100 days effort went into making this world record breaking wedding dress a reality. It was fashioned using 10 seamstresses and many items like silk and taffeta that were imported from Italy and France. Costing some $7364, this amazing wedding gown is made of 1,857 needles.
Although the wedding gown has busted the previous record, but still Netherlands is defiant about its entry into the European Union's visa-free travel zone. The dress did not really succeed in grabbing attention of the people of the surrounding areas though, but his wedding gown can be a real inspiration for those aspirant brides, who want to marry in such an adventurous way.
Via: Heraldsun