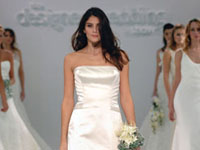 A Bridal couture designer Martin Katz Jewelers and Renee Strauss recently carved out the costliest wedding gown ever made by any designer.
Created to hail the celebration of the fabulous Bridal Show scheduled to be held on the 26th of Feb at The Ritz-Carlton on Rodeo Drive in Marina Del Rey, the diamond wedding gown is sure to be the centre of attraction for all the wealthy brides to be.
Even if you think that you don't have enough money to afford this gown no problem you can of course have a look at it, as it won't cost you a penny.