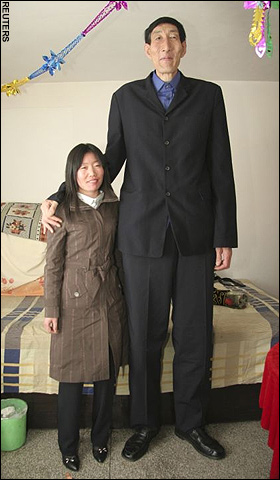 A good marriage is at least 80 percent good luck in finding the right person at the right time. The rest is trust.
The world's tallest man, 54 year old Bao Xishun(7 ft 9 in) has finally found a bride in his hometown after a global search. The bride Xia Shujian, a saleswoman is half his age and two-thirds his height.
The Beijing News reported:
After sending out marriage advertisements across the world and going through a long selection process, the efforts have finally paid off
Bao was confirmed last year by the Guinness Book of World Records as the world's tallest person. He shot into limelight last year when he saved two dolphins by pulling dangerous plastic from their stomachs. He used his long arms when the surgical instruments failed to remove shards that the animals had swallowed at an aquarium in Fushun, north-east China.
In addition to herding livestock, he hires himself out for publicity stunts for a living.
Image: Reuters