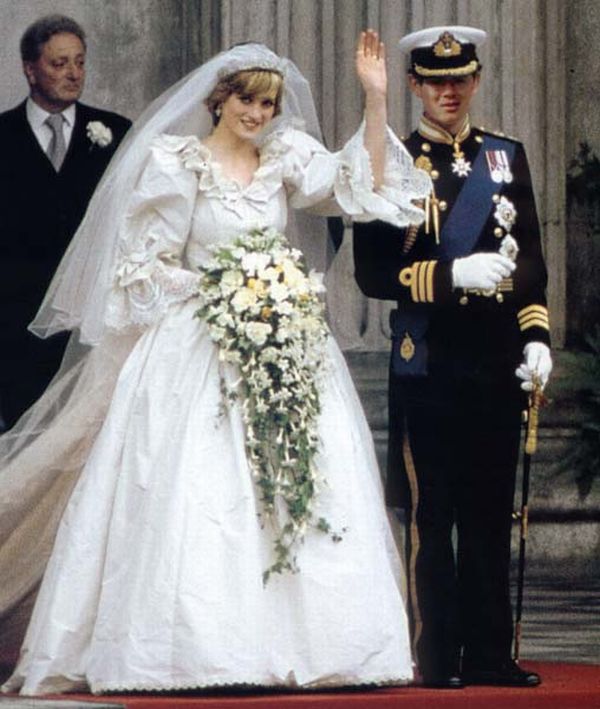 Wedding is surely the most important day of one's life and with the tag 'Royal' it becomes all the more special and the most anticipated moment for everyone around. It is not a cake walk to create a fit for a future queen and designers are given the task to craft a Royal Wedding dress that creates ripples when worn. Below is a list of ten most appealing royal wedding dresses that were nothing less than a classic and timeless creation:
Kate Middleton's Royal Wedding Dress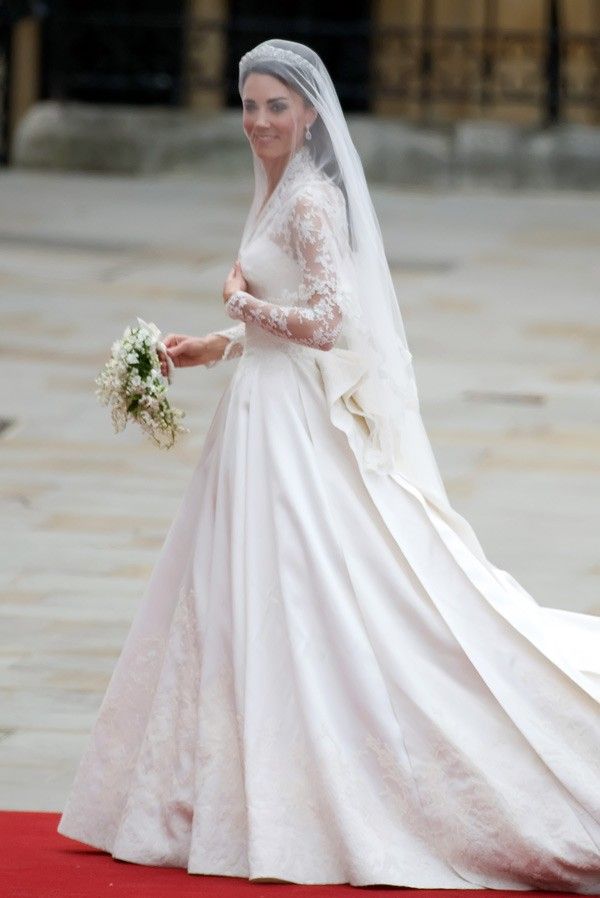 Year: 2011
Designer: Sarah Burton of Alexander McQueen
The whole world froze when Prince William took Kate Middleton's hand in marriage. It is tagged as 'Wedding of the Millennium' which was a fairytale romance between a prince and a commoner. Kate Middleton looked like Cinderella in the royal wedding dress by Sarah Burton of Alexander McQueen.
The dress was a fine example of delicate and traditional craftsmanship. The bodice, under-body and body were made of French Chantilly lace and English Cluny lace. The dress was made from ivory and white stain gazar and had a nine feet long train. Kate Middleton looked ravishing and the dress became popular in no time at all.
Mary Donaldson's Royal Wedding Dress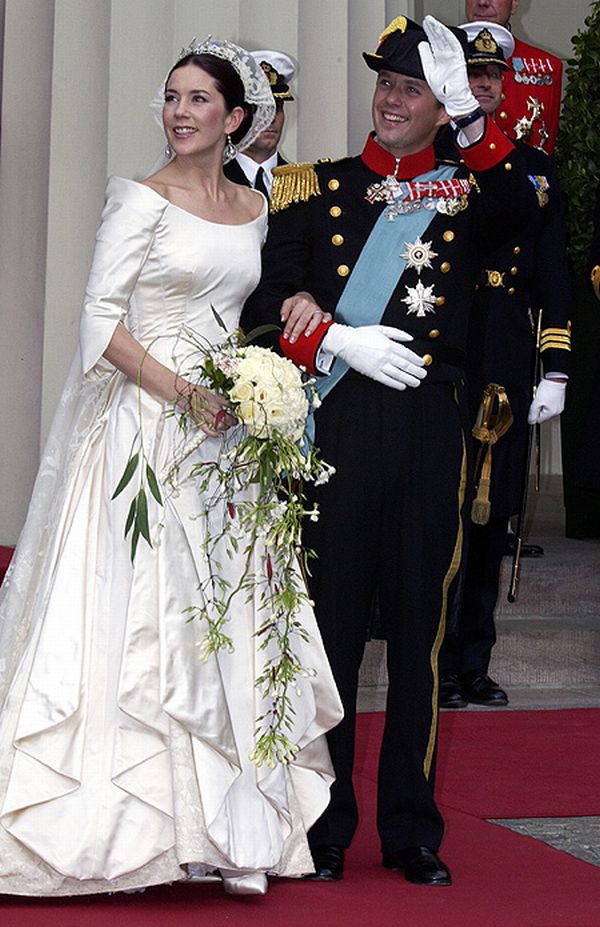 Year: 2004
Designer: Uffe Frank
Wedding between Crown Prince Frederik and Mary Donaldson was definitely a grand affair. The wedding ceremony took place on May 2004 in Copenhagen Cathedral, Copenhagen. Uffe Frank, a Danish designer, was roped in to design the ivory colored wedding gown. Australian-born Mary carried the gown elegantly and looked every bit a royal beauty as the gorgeous brunette walked down the aisle. The gown was topped off with a veil that was first used by Crown Princess Margret of Sweden in 1905. The bouquet she carried consisted of Snow gum plus flowers that were picked from the palace garden.
Princess Maxima's Royal Wedding Dress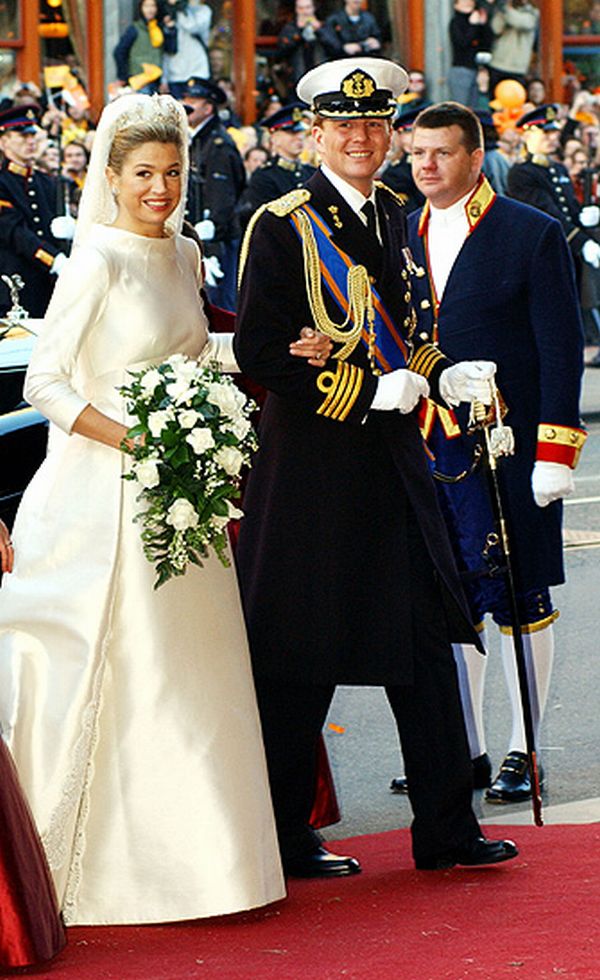 Year: 2002
Designer: Valentino
Princess Maxima and Prince Willem-Alexander exchanged weddings vows in front of 1500 guests on February 2, 2002. Valentino was chosen to design the dress for the high-profile bride. She specially traveled to Rome with her mother-in-law to the designer's studio, where requirements for the gown were discussed. A long-sleeved cowl necked confection was created from ivory Mikado Silk. The dress highlighted Princess Maxima's figure and slightly flared out from the waist. A five meter train was made from the same fabric and had panels of embroidered lace. In the Valentino couture gown, she definitely looked very graceful.
Autumn Kelly's Wedding Dress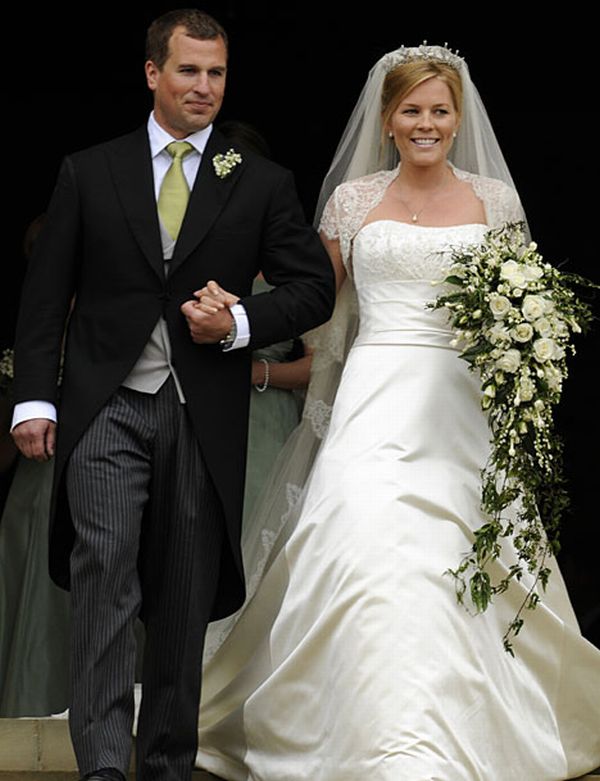 Year: 2008
Designer: Sassi Holford
When Autumn Kelly, from Montreal, got married to Britain prince Peter Philips, she sure did it in style and even heavy rain couldn't act as a spoilsport. She looked elegant in a cream-colored wedding dress that was made by Sassi Holford. The strapless stain dress with a lace jacket expressed her personality and a train of ruffles accentuated the look further. The elegant, luxurious and timeless wedding dress was handmade, which made the high-profile Royal event all the more spectacular.
Rania Al-Yassin's Wedding Dress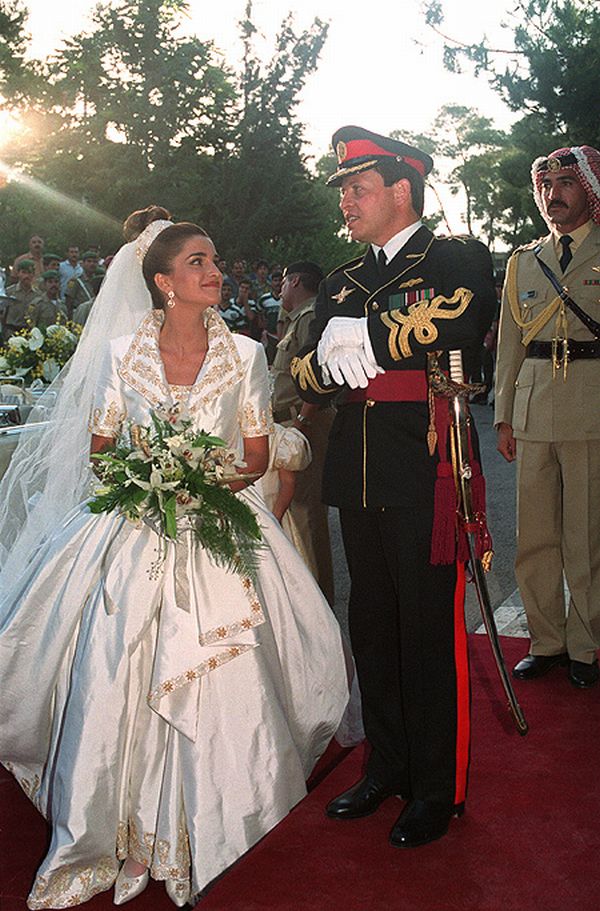 Year: 1993
Rania Al-Yassin and Prince Abdullah bin Al-Hussein of Jordan married on June 10, 1993. Rania Al-Yassin looked stunning wearing a silk-satin A-line wedding dress, which had a lace bodice and half sleeves made out of lace. She sure made a dazzling bride as everyone got mesmerized with her beauty as she walked with the Prince of Jordan.
Marie-Chantal's Wedding Dress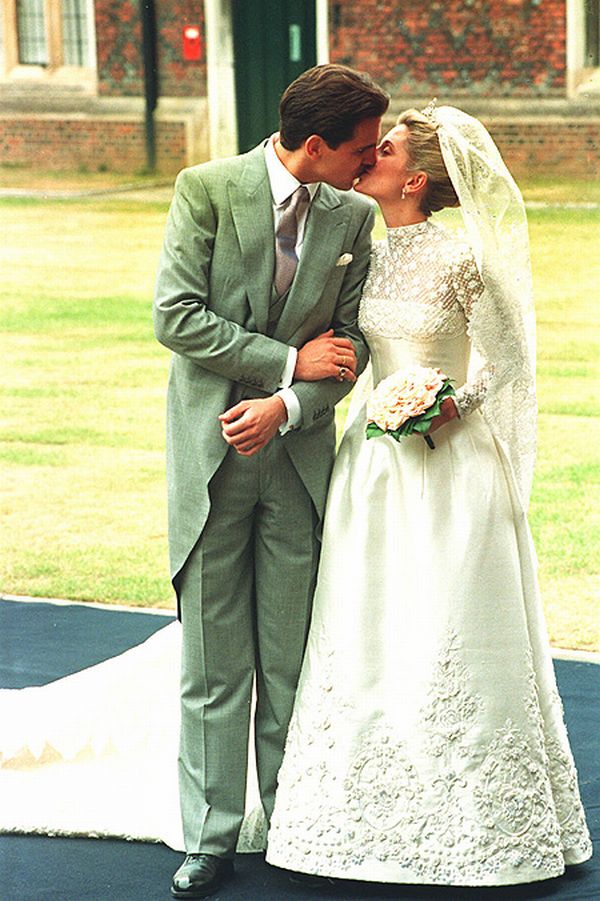 Year: 1995

Designer: Valentino
The romantic wedding of Prince Pavlos of Greece and Marie-Chantal Miller was a grand affair. Marie-Chantal donned a pearl encrusted ivory silk wedding gown that was designed by the very famous Italian couturier Valentino. The dress had a tulip shaped front that was beautified by a Chantilly lace train that measured 4.5 meter. The 150,000 pound wedding dress required 25 seamstresses to work on it for four months and 12 different kinds of lace was used to make the gown look every bit royal.
Marie Cavallier's Wedding Dress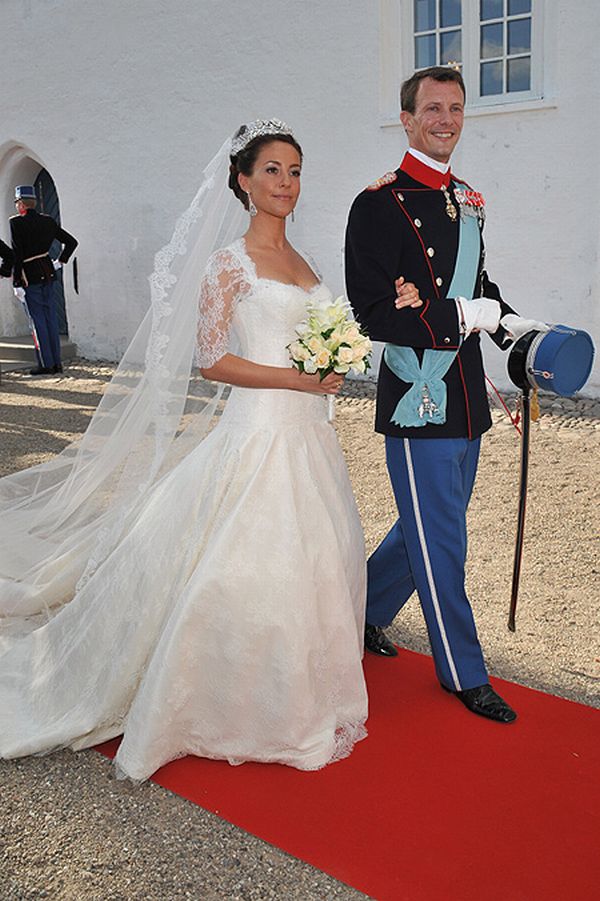 Year: 2008
Designer: White Arasa Morelli
Marie Cavallier married in true fairytale style to Prince Joachim of Denmark on May 24, 2008. The stunning gown came from Spanish-Italian fashion house, White Arasa Morelli. The off-white full gown was made of Calais lace and tulle, which had a lace bodice. Marie Cavallier looked radiant as she walked down the aisle with a train measuring three meters complementing each move of hers.
Letizia Ortiz Rocasolano's Wedding Dress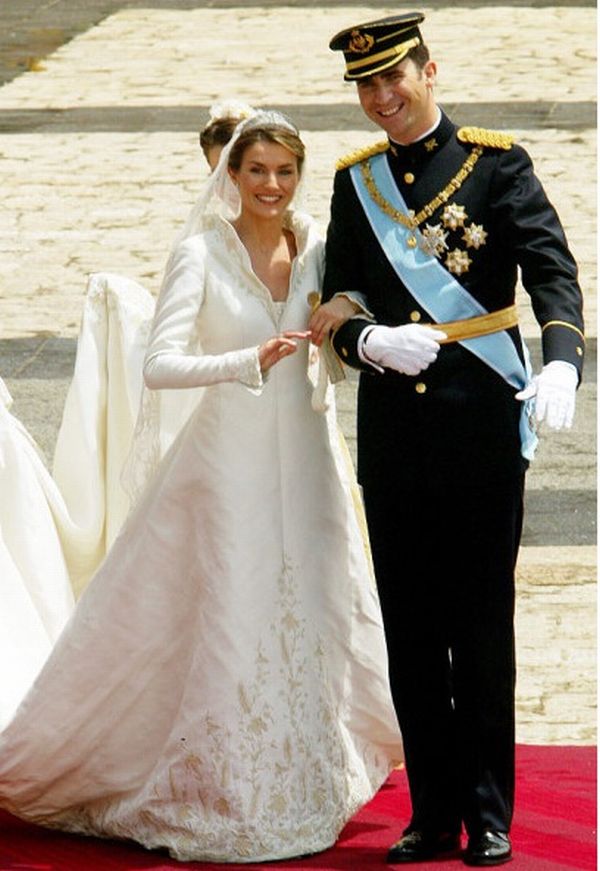 Year: 2004
Designer: Manuel Pertegaz
Prince Felipe of Spain and Letizia Ortiz Rocasolano got married on May 22, 2004, while 25 million people viewed the wedding on television just in Spain. Letizia Ortiz Rocasolano chose to wear an off-white wedding gown that looked lovely with a flowing silk veil and a 4.5 meter train, which had embroidered heraldic symbols. The bridal gown was created by Manuel Pertegaz, a Spanish designer, and Ms Ortiz looked breathtaking in a sweeping skirt and train with a tight fitting bodice that had a turned-up collar.
Mette-Marit's Wedding Dress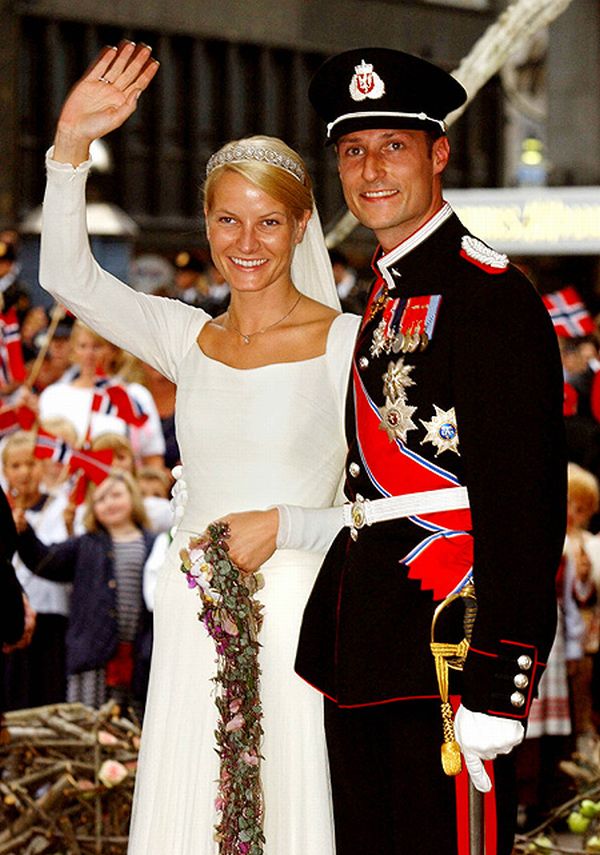 Year: 2001
Designer: Ove Harder Finseth
The wedding dress worn by Mette-Marit was not a bling-bling affair. She wore a white silk crepe gown, which had a bodice, a flared skirt and a two meter train. The veil she wore was six meters long and the train was edged with tulle that looked like waves in the sand. Mette-Marit looked gorgeous as she got draped in 125 meters of tulle silk.
Princess Diana's Royal Wedding Dress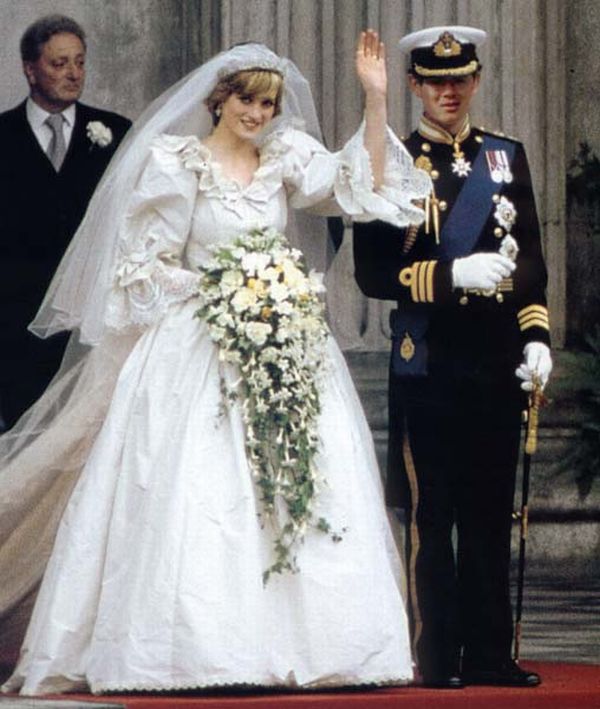 Year: 1981
Designer: Elizabeth and David Emanuel
Princess Diana's wedding is still remembered till date. The splendid gown was made using ivory silk that had an eight meter long veil. The royal wedding dress was designed by David and Elizabeth Emanuel, which had a narrow bodice that was made using precious lace. The sleeves were ornamented with ribbons as the Princess walked elegantly with the heavy 25 meter train.