Why should men have all the fun? If men can get all their naughty desired fulfilled at a bachelors party, then why not women. All you lovely ladies too can get all wicked and playful at a bachelorette party. Let your dress do the trick for you. Adorn a dress that is not just stylish but fun too. All you need is a little creativity and a pinch of style. You could accessorize your dress with nice pumps, a necklace or earrings to add that extra elegance and drama. Here we list a few stunning dresses that are just perfect for a fun bachelorette party.
1. Herve Leger Dress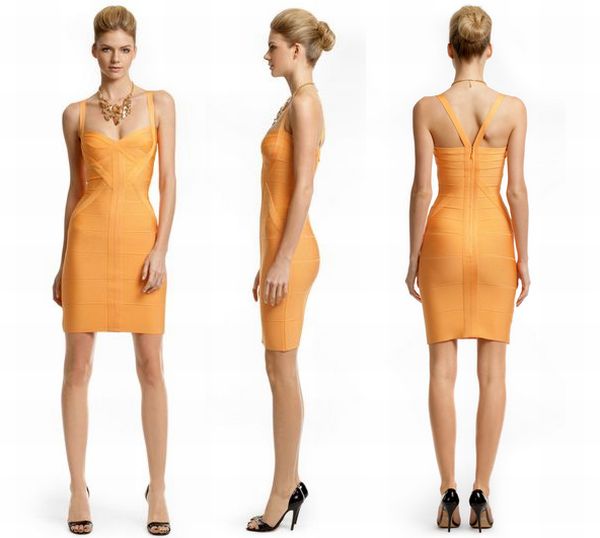 If you are invited to a bachelorette party bear the beach this weekend, then do go for the tangerine Herve Leger dress and you'll be dressed to kill. This stunning dress is actually made of a stretch bandage material that makes it very body hugging, so you need to have the right kind of body to carry this off well. This dress has a square neckline and you can flaunt it will a perfect necklace that will add grace to the dress. The dress has a cross back and the back zip is hidden. This dress is quite tiny and therefore women with bigger built would be advised against it, furthermore the bust size is pretty small, so cup sizes exceeding C cup size would not find a dress for themselves. The dress falls above the knee and is a very sexy dress with its elegant self pattern on the front of the dress which looks very classic.
2. Nicole Miller Sequin-Inset Long-Sleeve Dress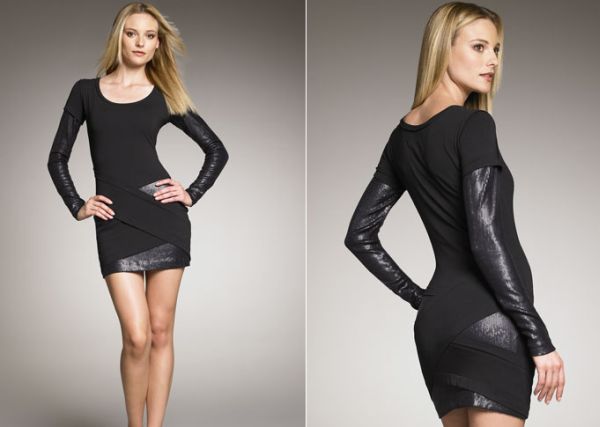 The Sequin Inset Long Sleeve dress by Nicole Miller is a very chic evening creation with its layered form which looks very stylish. The dress is very body hugging and can flatter a great body. The dress has a scoop neckline and the sequined insets within the crisscross panels of the dress look very enticing. You can enhance the look of this dress by wearing high heels and carry a glittering clutch and chandelier earrings. You can also give your eyes a smoky look with nude lipstick that would make you look like a showstopper.
3. Bam Bam One Shoulder Dress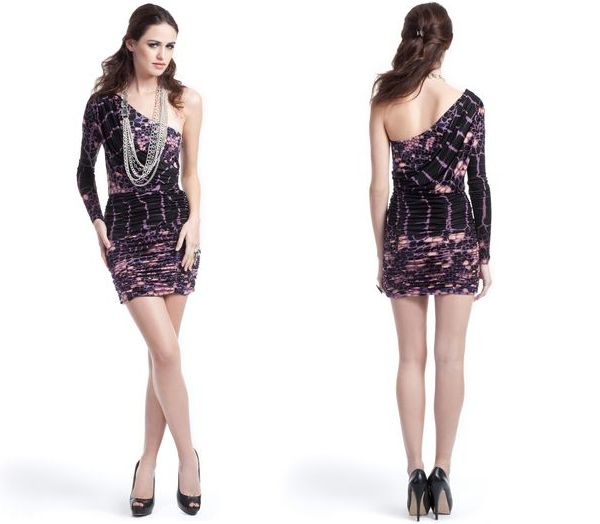 This amazingly stylish dress called the Bam Bam One Shoulder dress is from Tibi and is perfect for any party or a girls night out. This dress has a multiprint jersey with one long sleeve which is snugly fitted. The dress has a draped bodice and a skirt that is ruched. This dress has a flexible bust fitting, so it would do for all cup sizes. The dress is loosely fitted around the waist and the ruching on the skirt is great for hiding the hips . This dress is great for all body types and looks very sensuous.
4. Platinum Paiette Cocktail Dresses by Scala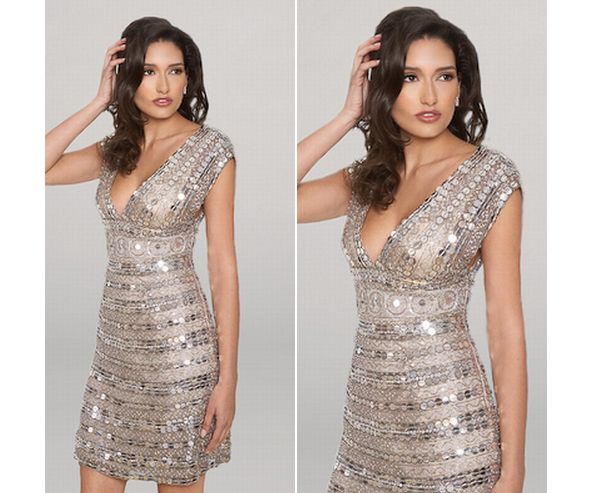 This jazzy dress called the Platinum Paiette Cocktail Dress is designed by Scala and is a short silver-colored short dress that has tank straps and is sleeveless. This pretty dress has a plunging V-shaped neckline which looks very sensual. The dress is of a mid-thigh length and is well fitted. This shimmering dress is very classy with its sequin detailing and would look great if teamed up with metallic stilettos or pumps and a chunky bracelet.
5. Mara Hoffman Dress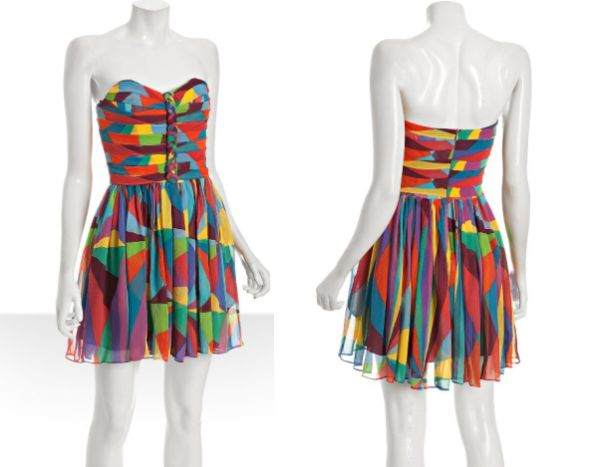 This multicolored strapless dress from Mara Hoffman is a jazzy short dress that looks very lively and spunky. The dress has a fitted bodice which is pleated with a vertical braided pattern going from the center of the bodice that ends at the point where the gathered skirt flows out. The geometrical print of this dress is very striking and is perfect for any party or occasion.
6. French Connection Penny's Party Tiered Dress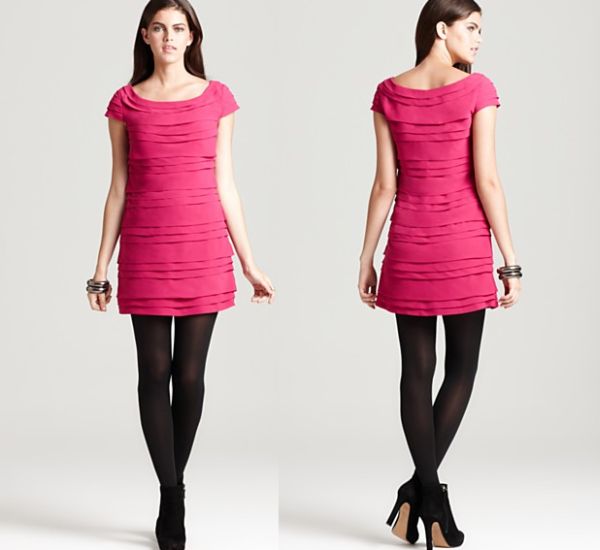 If you're going in for the simple yet classy look, this this French Connection outfit by penny is a frilly or tiered outfit that gives a very playful look. You can probably play around with the bright pink color of the dress by teaming it up with some tights and glossy pumps.
7. Strapless Party Dresses by Xscape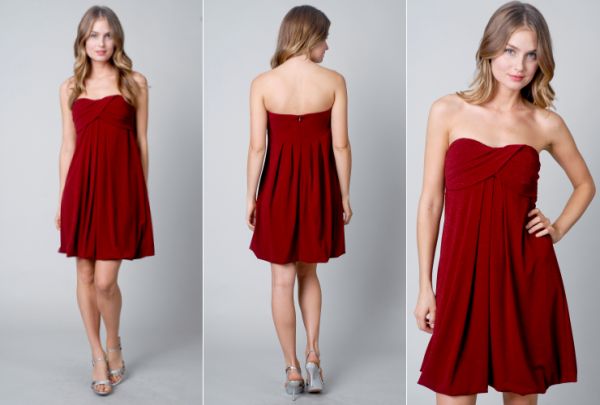 This strapless red party dress by Xscape is great for any occasion. The deep red color combined with a sweetheart neckline, an empire waist and an A-line skirt is perfect for any body type. This dress will surely look very sensual and flirty. You can team up this strapless number with a heavy choker necklace and stilettos that will make many heads turn for sure.
8. BCBG Max Azria Strapless Dress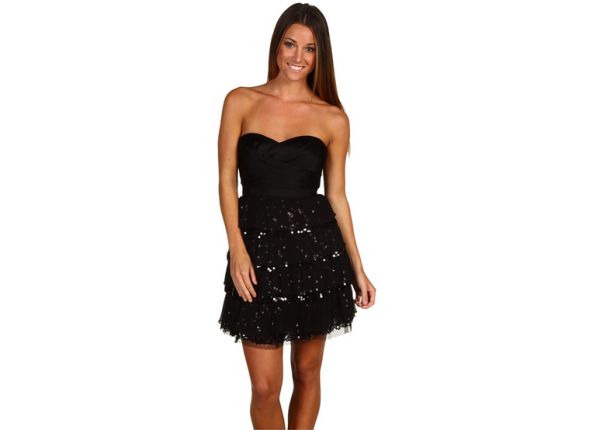 The BCBG Mac Azria black strapless dress is a classic short dress that is perfect for any occasion. The dress can also be worn with straps that can be removed to make it strapless. This cute dress has a sweetheart neckline that can be highlighted with the help of a necklace. The bodice is well-fitted with a ribbon affixed onto the waistline. The skirt has an A-line shape and has a silk chiffon overlay, sequins and tulle to make it look very glittery and fun.
9. Ana's Beaded Party Dress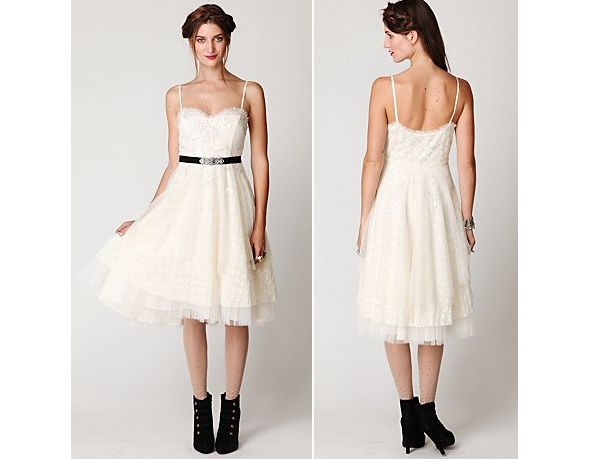 This classic Beaded Party Dress by Ana is made out of lace and mesh that are put together in a layered manner with sequins that are used for the detailing on the straps and the bodice. The dress has a ruffled skirt that looks very flattering. This dress is great for all body types and the white color of this dress is great for all occasions.
10. Naven Party Dress in Turquoise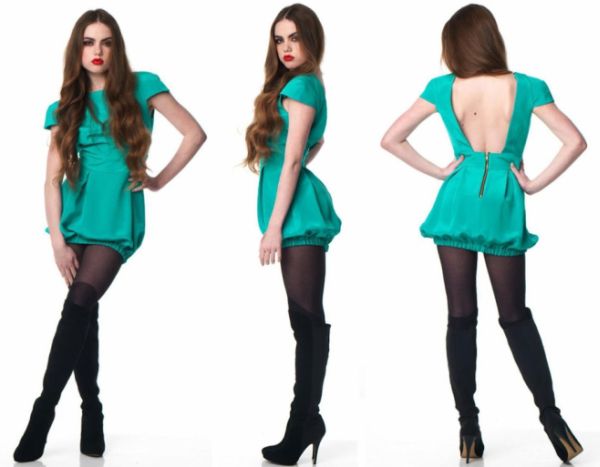 The Naven Party Dress is a very short outfit in turquoise color and looks extremely chic. This dress is made entirely our of silk and has an elastic hemline that ends mid-thigh. The capped sleeves and modest neckline at the front make it look very stylish and when you see the V-shaped plunging neckline at the back, then it looks very sexy with the bit of skin show. You can team this dress with a pair of black tights and high black suede boots that would lend the outfit a modern chic appeal.