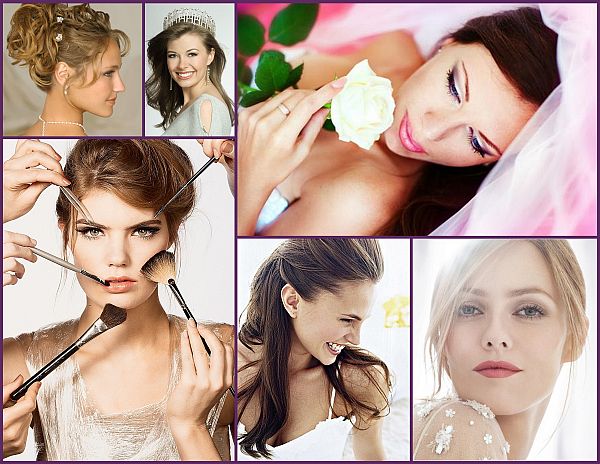 It is quite an obviously stated fact that the bride has to look beautiful on her wedding day. It is not very difficult to do such a thing. You just need to know that there are few simple steps to keeping yourself gorgeous looking on your wedding day. You would not want someone else stealing your thunder, would you? Makeup, tanning, the perfect dress, the hairstyle everything combined is what churns the stunning look out on the D-day. Read on and know a few things that it takes to look naturally elegant on your wedding day. You should know that too much of anything could ruin the appearance too. Make sure you have an expert around at all costs. You desire a certain glow that every woman does and you shall get it.
1. Sleep well
The importance of sleep reflects on your skin. Sleep is very important because your body replaces the dead skin cells when you sleep. So you need to have good sleep to have a beautiful and healthy skin. Sleep well, especially on the previous day of your wedding. You can wake up fresh in the morning. One always needs their beauty sleep and specially women.
2. Tanning
If you want to tan before your wedding day, remember a few things. Wear an SPF of 50 or more if you are tanning under the natural sunshine. Try to avoid the bright red sunburn. If you are planning for the mystic tanning, trial run it for a few months and then check if you are getting the right shade.
3. Avoid last minute hassles
The best thing to follow is not to go for any drastic changes in the last few days just before your wedding. Try to finish all the beauty therapies and other procedures a few days ahead of the special day. So you will get a lot of time to look naturally beautiful and have a perfect makeup. Doing your eyebrows and waxing your body, etc., can be done at least one week before instead of doing them on the previous day of the wedding.
4. Makeup
The most important thing to take care of on the special occasion is your makeup. Remember not to overdo it. Keep it very simple and elegant. Simplicity never goes out of fashion. Try to match the makeup to your wedding gown. Everything would most probably be neutral because the wedding gown is going to be white.
5. Styling your hair
Your hairstyle should be elegant and different from all the other people attending the function. It should match well to your wedding dress too. Ensure that the hair style is comfortable as you will have to wear it for a long time. You could style your hair up in a bun, in case you are wearing a veil. It depends on what kind of a veil you are planning on having too. If you are not planning on wearing a veil then it is always good to leave the hair loose.
6. Mascara
Choosing proper mascara is very important. Try to use waterproof variety on the special occasion. When your eyes become a bit misty during the vows, they need to remain in place at least till the ceremony and the reception is over.
7. Enhancing your lips
Look for long-lasting lip wear. You may not get the opportunity to reapply it. The color and shade depends on what look you want to achieve. If you want to highlight your lips, use bright colors. If you want them to remain subtle, use lighter shades with gloss.
8. Highlight
You need to look your best on your wedding day. Highlight the best feature on your face. If you have beautiful eyes highlight them or if your lips are more beautiful, highlight them using appropriate colors of lip wear.
9. Wedding dress
The most important thing to consider is the wedding dress. Plan the design, style and color well ahead of the day. Check the fittings and see whether you are comfortable in it. If you have to make any alterations do them immediately. If you have a wedding theme, choose the dress accordingly. Ensure that it helps to highlight the beauty in you.
10. Accessories
While choosing the accessories, ensure that they go well with your wedding gown. From the veil to your sandals, buy each and every item with great care. Do a rehearsal by wearing everything and ensure that you are comfortable in the wedding attire.
When you take care of all these things you will be very comfortable and look your best on your wedding day.