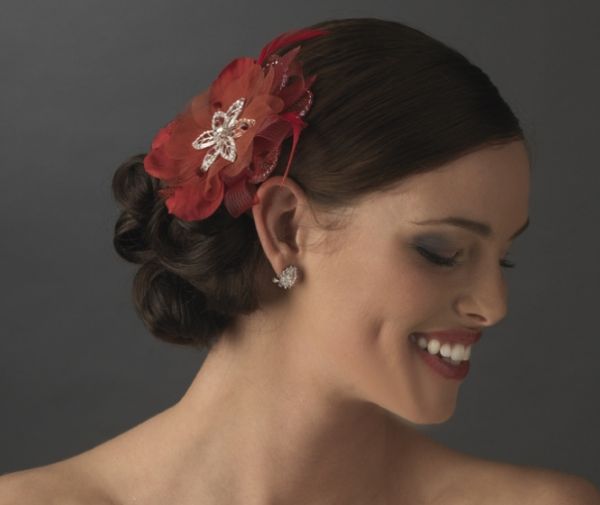 The style guru suggestion for you on your wedding is to pour in generous quantities of the color red in your bridal accessories if you wish to sport a flirty, peppermint crisp look. So, red detailing in head wear, neck wear, jewelry, attire, clothing accessory and everything you wear will be a ravishing idea. Although it will be unconventional but who can deny that red is the color of love, passion and power and brings out the sexy, naughty look in you in the most appropriate manner? So, be different from the run of the mill brides and sparkle on your D-Day with the red as your theme color. Read on the suggestions:
Red Bridal Feather Fascinator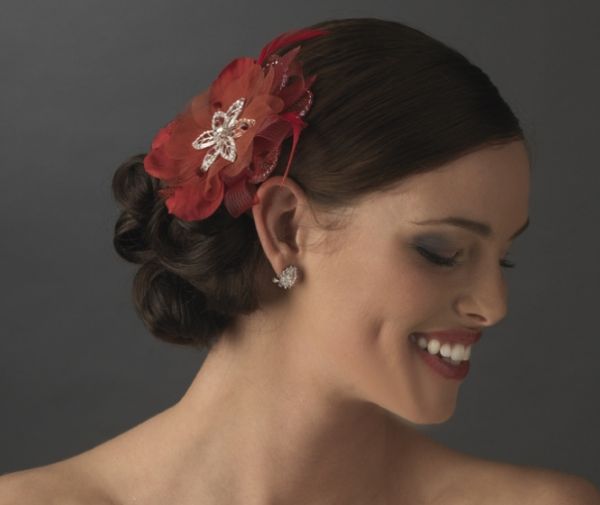 Incorporating a beautiful accessory with flashing red color as a part of your bridal hair do or brooch of your wedding gown will be a great idea. Thus, here is a red fashion accessory for you. It is made from tulle ribbon and fabric detailing. Your eyes will definitely get attracted towards the center of this accessory where there is a glowing, silver flower embellished with sequins and beads embroidery. The accessory has to be worn on your hair or your dress by means of a clip at the rear side of the same.
Price: $49.99
Buy it here: Weddingfactorydirect
Red Crystal Bridal Tiara with Side Ornamentation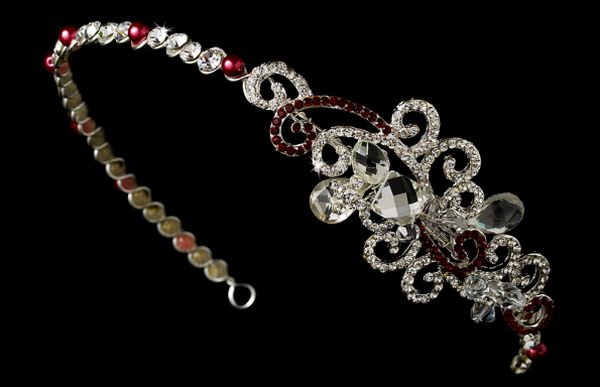 What could be a more apt accessory for your bridal hair do than a beautiful tiara? Take a look at this stunning jeweled tiara. The vintage jewelry inspired design of this tiara has the sleekness and sophistication of a modern ornament. The entire tiara has been decorated with series of glittering rhinestones, pure Swarovski crystals and most importantly, red faux pearls which add a different dimension to this bridal ornament.
Price: $40.60
Buy it here: Weddingfactorydirect
Red Swarovski Crystal Flower Hair Pin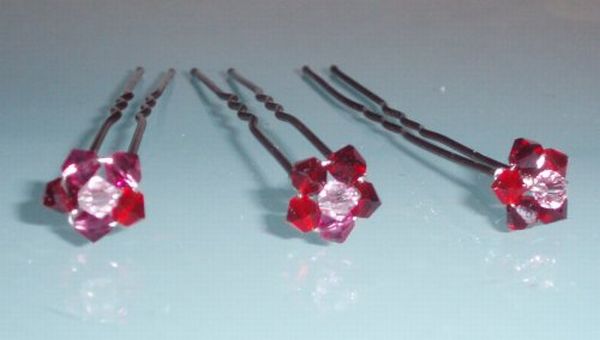 It is another hair accessory in the line that is worth buying for your wedding. Cute yet bridal femininity of the accessory is in the bright red flowers with white center that adorn the tips of each of the hairpin. The red colors of the flowers are due to the beautiful red Swarovski crystals and the center of each of them is made from a colorless one.
Price: $11.03
Buy it here: CharmsBridalWear
Kenneth Jay Lane Joanna Necklace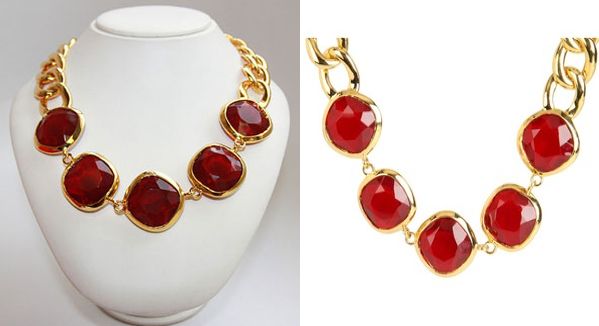 Nothing can add spark to a bridal attire in a more innovative fashion than Kenneth Jay Lane Joanna collection. This time it is an exclusive necklace you will surely fall in love with. Its red color is worth praise part that will be the perfect choice for your red theme wedding. When worn with an all white gown it will bring out the whiteness further.
Buy it here: Zappos
Woven Ring with Diamond and Rubies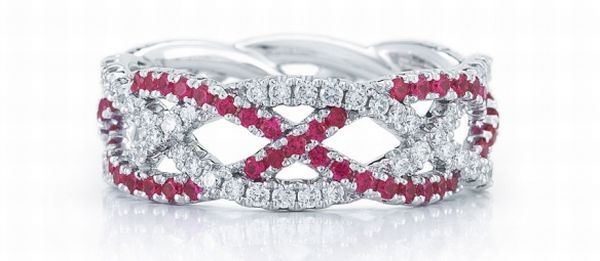 The inclined and bejeweled rows of this ring is its plus point that is worth appreciation. This unique designer wedding ring is as rich as it looks. The white and red color combination which is its stunning feature is by virtue of the diamonds and rubies that have been studded into it.

Price: $5,550

Buy it here: Kwiat

Pearl-Tassel Drop Earrings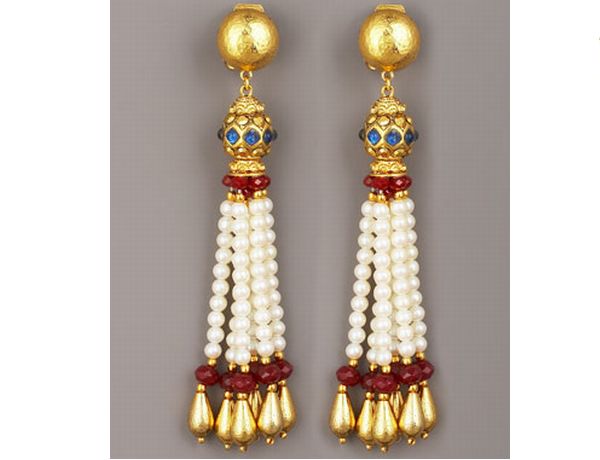 Your dressing for the wedding will never be complete unless you have a pair of nice earnings. This time you can replace your typical wedding chandeliers with these 24 Karat gold plated pearl tassel drop earrings. The red, golden and white beads add beauty to this beautiful creation of designer duo, Jose and Maria Barrera.
Buy it here: Bergdorfgoodman
Moda Spana Women's Quid Sandal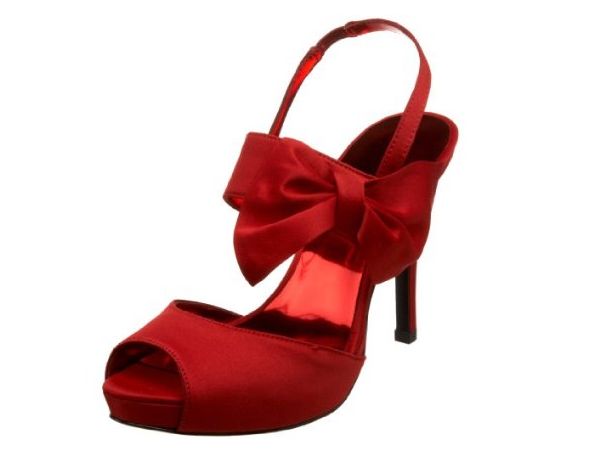 No discussion can be complete until we talk about a beautiful pair of footwear. Step into the stunning pair and sport a flirty glamorous bridal look for your special evening. The fabric upper panel, leather bottom part, prominent bow at the vamp, high heel and open-toe feature makes this footwear perfect for your D-Day.
Price: $59.50 – $61.12 (depending on the size)
Buy it here: Endless
Bow Belt from Paleari Milan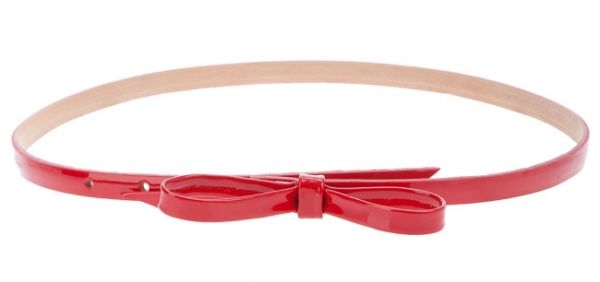 Get hold of this slim and smart red colored belt that will be perfect and elegant juxtaposition with your white bridal trousseau. This designer belt is made from pure leather and belongs to Amantes Amantes. The designer had been careful about incorporating all the features that make it look feminine. So, the bow detail and the red color are notable attributes that need mentioning in this context.
Price: $87.38
Buy it here: Endless
Strapless Wedding Gown from St. Pucchi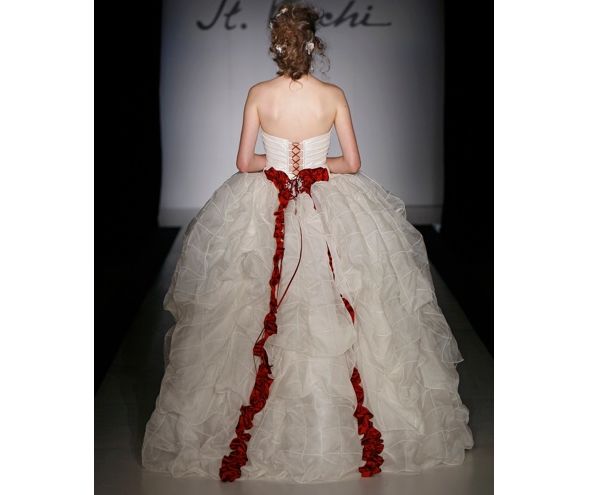 The all white gown and the shiny red silk scarf detailing at the waist with its loose ends dangling carelessly over the balloon skirt of the gown is a great ballroom wear. The corset bodice also has red detailing in the form of draw strings. Thus, this attire makes a bride look the most attractive.
Buy it here: Stpucchi
Strapless Princess Pleat Taffeta Red Wedding Dresses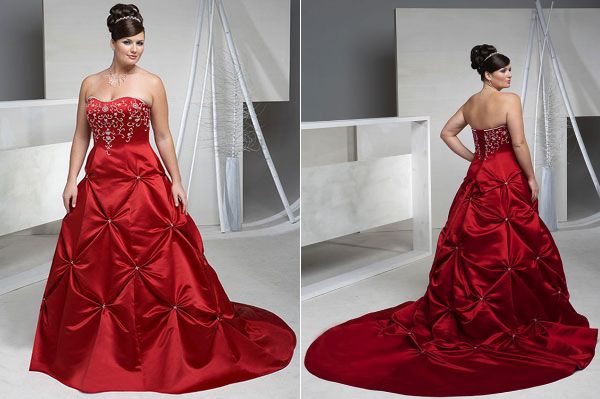 A wedding dress in red color? Do you find it a bizarre idea? Not at all. Try this red taffeta wedding dress and you will make your guests mesmerized with your unique and unconventional dressing sense. The floor touching gown has a shirt train and corset style bodice. Further, the stylized pin tucked features all over the lower panel of the gown makes it really beautiful.
Price: $309.99
Buy it here: HeleneBridal