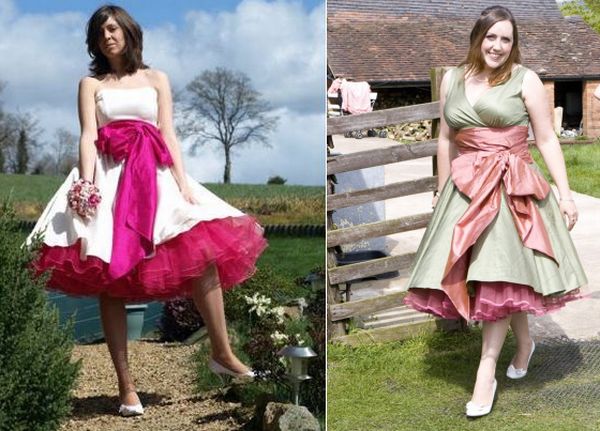 Wedding is the most blessed occasion in a woman's life. Every bride wants to look unique and best on her wedding day. Bridal gown is one thing that makes the day more special for the bride. Among all the other bridal gowns, vintage gowns are in vogue this season.The fashion era of fifties is a good choice as that era dressed the hour-glass shaped woman. Its rich design enhanced a woman's curves in an elegant way. Here are some designers who have drawn inspiration from the fifties in designing these wedding dresses.
Lizzie Jayne vintage wedding dress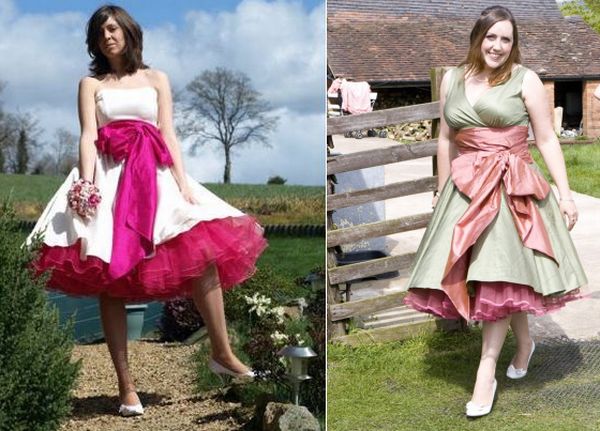 While designing, Lizzie chose to create something that takes the 50s shape and then gives a modern twist to it. According to her, the simple necklines, big skirts and natural waists flatter the curves in an elegant manner.The design can be enhanced with chiffon or lace, a full tulle skirt or an evenly spotted tulle overlay. A silk dupion sash or a belt is at times preferred by brides and Lizzie has a whole variety of colors to choose from. Small changes can be made to the design as the dresses are all hand made.
Candy Anthony bridal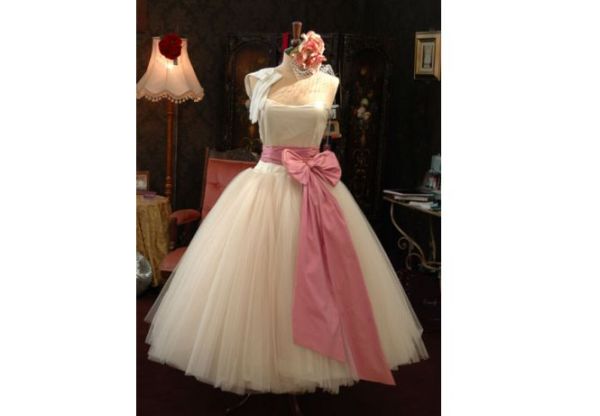 Wedding dresses by Candy Anthony are carefully designed keeping the past in mind. The dresses are handmade and individually cut using Duchess satin, soft tulles, vintage inspired lace and polka dotted overlays. Her bridal gowns come in shades of almond, ivory, oyster, blush, pure white and taupe.
Silk satin Ivory and black lace wedding dress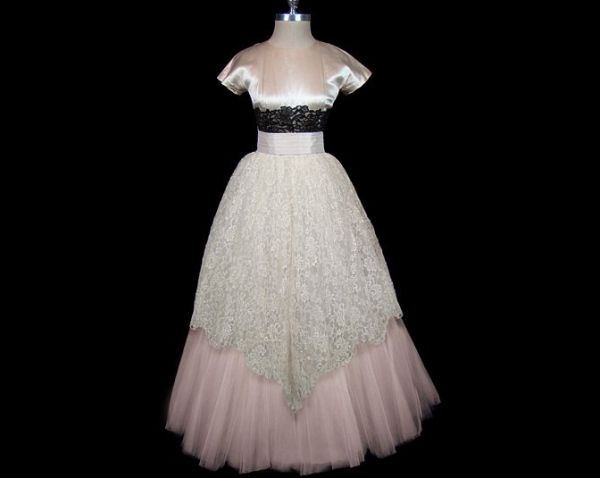 This dress comes with an Elizabeth Arden ivory silk satin bodice. The waist has a spray of black laces cinched under a knife pleated cumberbund. Over the full tulle underskirt is an ivory lace skirt with scalloped hem. It has a rear zipper entry. The bust size of the dress is 34″inches, waist 26.5″inches and the length is of 59″inches. The dress has a fantastic midcentury style.
Beautiful Victorian-Inspired Wedding Gown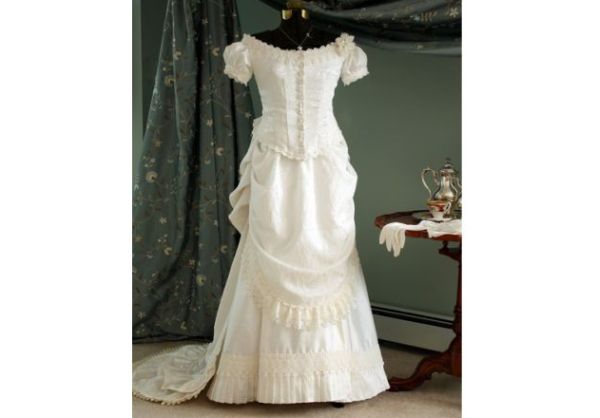 This dress is seen having a sheer standing collar with yoke and a raised waist. The lace has feathers, daisies and drawn work. It is a formal style outfit that finishes with satin bands to the waist and bordering the skirt hem. The bust size of the dress is 35.5″inches, raised waist is 29″inches, neck to raised waist is 14.5″inches, neck to train hem is 84″inches and the front waist to front hem is 45.5″inches.
Beautiful Organdy & Lace Wedding Gown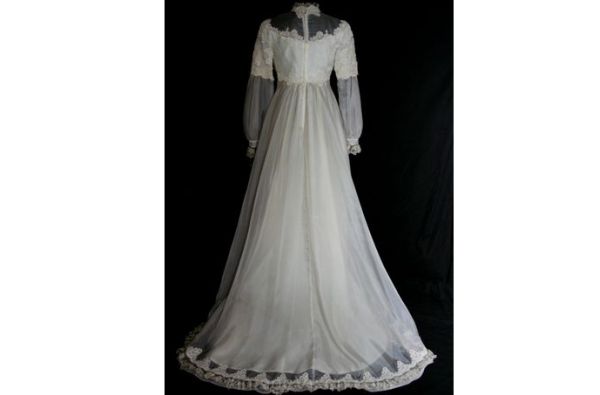 This gown has a charming beauty with floral lace covering the Empire bodice and raised neckline. Dainty antique-inspired hem trims the hem, waists and neckline. The sleeves are dramatically Victorian. The formal skirt has matching lace appliqués. The trailing hem extends about three feet. The bust size is 35″inches, waist is 27.5″inches, neck to raised waist is 13.5″inches, front waist to front hem is 46.5″inches and neck to back hem is 77″inches.
Maggie Sottero Isadora wedding dress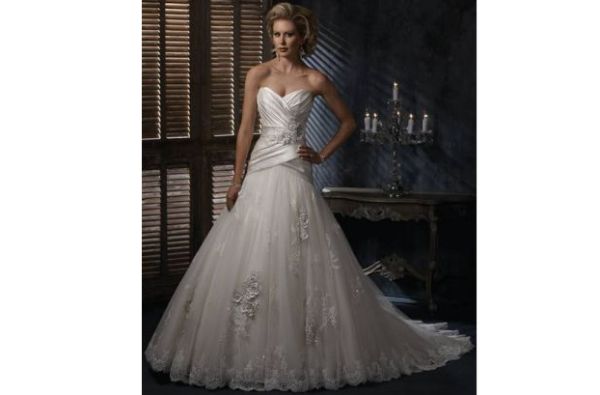 This slightly worn dress has been put up by the former wearer for a price of $800. It is a size 4 dress of regular length. The alterations made were the addition of cups and the removal of the hip wires. It has a corset back that will enable some adjustments. The skirt flairs at the hips and comes with an ivory veil.
Historic and Vintage Wedding Gown

This gown is full of frills and ruffles that highlight femininity. In the 50s buttons and bows were used in details. The silk gown is festooned with rhinestones and large ribbon ties.It gives a very elegant and sophisticated looks.
Vintage-Inspired Style wedding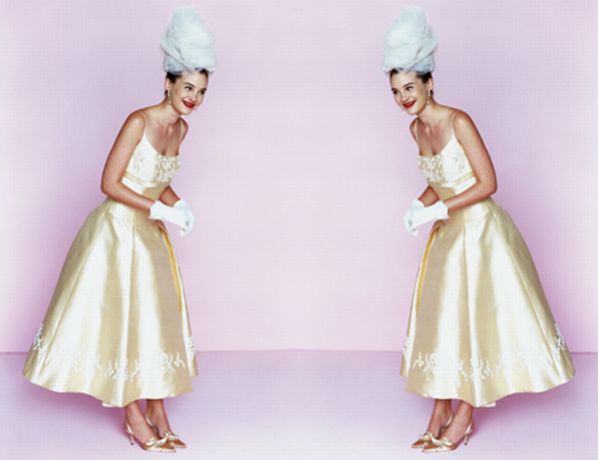 This gold silk Mikado dress has an embroidered Empire bodice and hem. It has a hand-beaded pearl headband with a veil.The cotton-blend gloves having flower appliqués and satin sling backs add to its style.
Stephanie Allin 50s style Wedding Dresses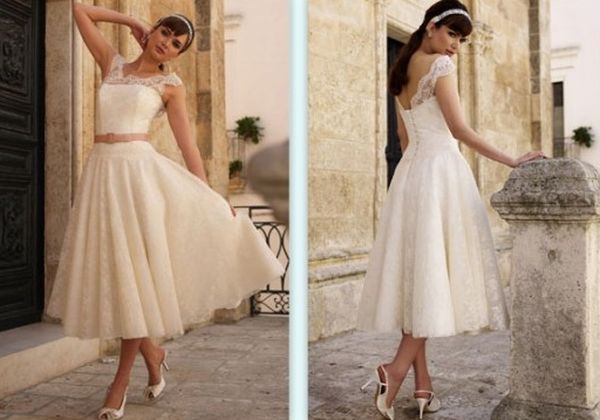 Stephanie Allin has captured the elegant, delicate and demure style of the 50s in her wedding gown collection. They feature the 50s style of full skirts, strapless cuts and wide collars.You can easily buy Stephanie's wedding dress online.
Ivory Silk Tea Length Halter Wedding Dress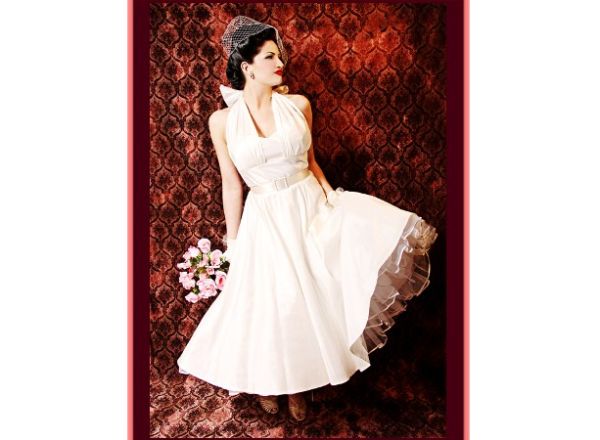 Blue Velvet Vintage, an online boutique, has come with the 50s 'True Romance' tea-length wedding dresses. This one here is completely lined with ivory silk shantung fabric. It dress is simply gorgeous with a perfect touch of sex appeal.